Ducati Multistrada 1200 DVT (2015-2017) Maintenance Schedule
This is the maintenance schedule and service intervals for the Ducati Multistrada 1200 DVT — sourced from the service manuals. The Ducati Multistrada 1200 DVT is an evolution of the long-line of Ducati Multistrada adventure sport touring motorcycles.
This is for the DVT models of the Ducati Multistrada 1200, made from 2015-2017, replacing the original Ducati Multistrada 1200 (2011-2014).
The 2015-2017 Ducati Multistrada DVT is based on a liquid-cooled 1198 cc Ducati Testastretta "L"-twin with DVT, Ducati's "Desmodromic Variable Timing" system. The engine runs a compression ratio of 12.5:1 and makes impressive peak power of 17.7 kW (160 CV / 158 bhp) at 9500 rpm, with peak torque of 136 Nm (100 ft-lb) at 7500 rpm
The Ducati Multistrada 1200 DVT (not its official name) was a significant upgrade to the Multistrada 1200 that came before it.
Here are all the models of Ducati Multistrada that Ducati has released:
Many of these models come in a number of variants, e.g. S, Pikes Peak, Enduro, and Grand Touring, which change their options including brakes, suspension, wheels, electronics, and external accessories.
The new DVT model received
That DVT engine — variable valve timing for the intake and exhaust shafts, optimising for torque and power everywhere
Electronic cruise control
An IMU with all the related features — cornering ABS, wheelie control, and cornering lights (S)
S models: A TFT display, race bike-spec brakes, Skyhook semi-active suspension, Bluetooth multimedia system, and cornering lights
From 2018, Ducati replaced the Multistrada 1200 DVT with the Ducati Multistrada 1260.
This site has links for things like oil and spark plugs from which we earn a commission (which unfortunately nobody can save, not even us). If you appreciate this work, then please use those links. Thanks!
Ducati Multistrada 1200 Service Intervals
Service intervals for the Multistrada 1200 DVT (2015-2017) is much like maintaining other liquid-cooled Ducati motorcycles with desmodromic valve trains.
The basic service interval is every 9000 miles (15000 km) at which you change the oil and filter and do a list of checks.
The "Desmo" service (a full valve inspection) comes every 18000 miles (30000 km), at which point you also have to change the belts. If you don't do the mileage for the valve inspection in five years, you have to change the belts anyway.
What you need to service the Ducati Multistrada 1200 DVT
If you're servicing your Ducati Multistrada 1200 DVT, below are the consumables / replaceable items.
Part
Ducati Multistrada DVT Spec
Oil
Ducati recommends Shell Advance Ultra 15W-50 motorcycle oil for all its motorcycles, or alternatively "motorcycle engine oil having the same degree SAE 15W-50 and meeting the following specifications JASO: MA2 and API: SM". You need 3.4L for a complete oil change. A high-end alternative is Mobil 1 Synthetic 15W-50.

Oil filter
Genuine Ducati part is 44440038A for the Ducati Multistrada 1200. I'd suggest removing that and using a HF153RC oil filter which can be changed with a normal wrench.
Brake/ Clutch fluid
Ducati recommends Shell Advance DOT 4, but that's quite hard to find, so Castrol DOT 4 Synthetic is a good and very high-quality alternative.
Coolant
Ducati recommends Shell Advance Coolant or a 35-40% mix of Glycoshell, a Nitrite, Amine, and Phosphate-free coolant. In more recent years Ducati recommends ENI Agip Permanent Antifreeze.
Timing belt
Remember to change those timing belts every five years… if you've gotten there yet! Part number is 73740322A for the DVT.
Front brake pads
Part number for the front brake pads is:
* Base model (Brembo M4.32): 61340121A (EBC FA630HH)
* S models (Brembo M50 calipers): 61341101A (EBC FA447HH)
Rear brake pads
Part number for the rear brake pads is 61240311A (EBC FA181HH).
Air filter
Air filter part number is 42610491A. You can also use K&N part DU-1112.
Spark plugs
NGK code MAR10A-J. Note they're sold individually.
Consumables for Ducati Multistrada 1200 DVT
Regular maintenance for the Ducati Multistrada 1200 DVT
This is maintenance that you can do yourself (though the manual says you need a dealer to do it).
Every 1000 km/ 600 miles OR 6 months (whichever comes earlier, perform the following maintenance:
Ducati Multistrada 1200 DVT regular maintenance
Check engine oil level (Mobil 1 Synthetic 15W-50)
Check brake fluid level (Castrol DOT 4)
Check tire pressure and wear (see below for tire specs)
Check the drive chain tension and lubrication (Motul chain care kit to maintain)
(See below notes on chain maintenance)
Check brake pads. If necessary, contact your dealer to replace pads
Ducati Multistrada 1200 DVT regular maintenance
Ducati Multistrada 1200 DVT Maintenance Schedule Table
The following is the list of maintenance operations and to be done on the Ducati Multistrada 1200 (DVT).
Notes:
Follow the earlier of the distance- or time-based interval.
The break-in service is omitted (as this motorcycle has been superseded)
Items marked [D] need specialist workshop equipment.
This maintenance schedule is in the same format as in the manual, though altered to fit this screen.
| km. x 1000 | 15 | 30 | 45 | 60 | Every |
| --- | --- | --- | --- | --- | --- |
| mi. x 1000 | 9 | 18 | 27 | 36 | Every |
| Perform standard annual inspection (see below) | ✓ | ✓ | ✓ | ✓ | Year |
| Change engine oil and filter (Mobil 1 Synthetic 15W-50) | ✓ | ✓ | ✓ | ✓ | Year |
| Change oil filter | ✓ | ✓ | ✓ | ✓ | Year |
| Check and/or adjust valve clearance | | ✓ | | ✓ | |
| Change timing belts (73740322A) | | ✓ | | ✓ | 5 years |
| Change spark plugs (MAR10A-J) | | ✓ | | ✓ | |
| Clean plugs with metal mesh filters on heads | | ✓ | | ✓ | |
| Clean air filter | ✓ | | ✓ | | |
| Change air filter (DU-1112) | | ✓ | | ✓ | |
| Change brake and clutch fluid (Castrol DOT 4) | | | | | 3 years |
| Check frame-to-engine fasteners tightening | ✓ | ✓ | ✓ | ✓ | |
| Check wheel hub bearings | | ✓ | | ✓ | |
| Check and lubricate the rear wheel shaft | | ✓ | | ✓ | |
| Check the cush drive damper on rear sprocket | | ✓ | | ✓ | |
| Check steering bearings and lubricate, if necessary | | ✓ | | ✓ | |
| Change front fork fluid | | ✓ | | ✓ | |
| Change coolant | | | | ✓ | 4 years |
Maintenance schedule for the Ducati Multistrada 1200 DVT
Standard Annual Inspection
Below are the items to do in the standard annual inspection, separated out for clarity.
Ducati Multistrada 1200 Standard Annual Inspection
[D] Read the error memory with DDS 2 and check software version updates on control units
[D] Check the presence of any technical updates and recall
campaigns
Check brake and clutch fluid level
Check brake disc and pad wear. Change, if necessary
(See above for brake pad parts. Note the S has different callipers and brake pads to the non-S.)
Check the proper tightening of brake calliper bolts and brake disc flange screws
Check front and rear wheel nuts tightening
Check the proper tightening of final drive front and rear sprocket nuts
Check final drive (chain, front and rear sprocket) and sliding shoe wear
Visually check the front fork and rear shock absorber
seals
Check the freedom of movement and tightening of the side and central stand (if any)
Visually check the fuel lines
Check rubbing points, clearance, freedom of movement and positioning of hoses and electric wiring in view
Lubricate the levers at the handlebar and pedal controls
Visually check the coolant level and sealing of the circuit
Check tyre pressure and wear
Check the battery charge level
Check the operation of the safety electrical devices (side stand sensor, front and rear brake switches, engine stop switch, gear/neutral sensor)
Check lighting, turn indicators, horn and controls
[D] Activate LED front lighting (if any) through DDS 2.0
[D] Reset the Service indication through the DDS 2.0
Final test and road test of the motorcycle, testing safety devices (ex. ABS and DTC), Cruise Control device, electric fans and idling
Softly clean the motorcycle
Fill out that the service was performed in on-board documentation (Service Booklet)
Multistrada 1200 DVT — Standard Annual Inspection
Ducati Multistrada DVT's Chain Tension Check / Adjustment
It's important to maintain the chain tension of the Ducati Multistrada, as it's a motorcycle you're likely to ride in all kinds of conditions.
Below is the general guidance for chain maintenance, as you have to take care of it more frequently than just every service interval.
Find the spot on the chain where it's tightest. You can do this by rolling the motorcycle forwards until you see the chain tighten up, or you can do it with the bike on a rear stand.
Put the motorcycle down on the side stand. Get a ruler.
FInd the spot equidistant between the front and rear sprockets (at the middle of the chain). Push the chain down at the point of measurement and release it, letting it come back.
Measure the distance between the centre of the chain pins and the aluminium section of the swing arm.
Target chain tension (distance between chain pins and swing arm): 38-40mm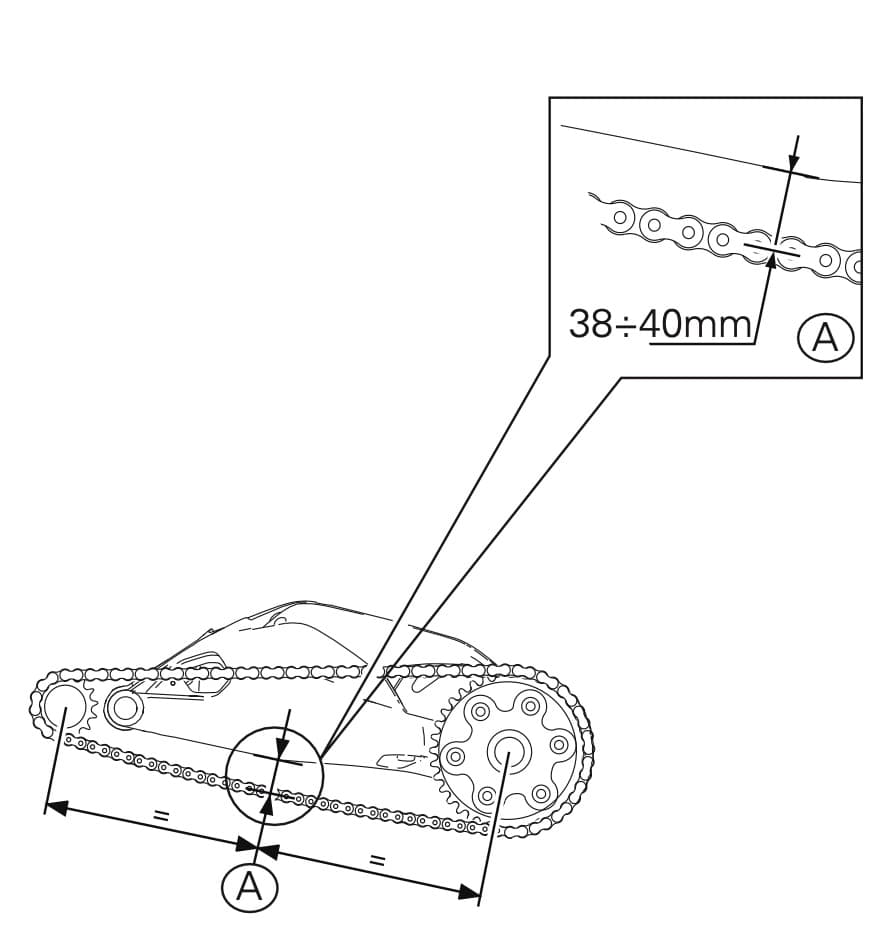 Ducati recommends that you get the chain tension adjusted by a service centre. But the general procedure is much like other Ducati motorcycles with a single-sided swing-arm:
Remove the splash guard
Release the two pinch bolts on the hub carrier
Use a C-spanner to adjust the eccentric hub (on the adjustment ring), which adjusts the swingarm length and thus the chain tension.
Turn counter-clockwise to tighten the chain. (Lefty tighty!)
Re-tighten the pinch bolts to the correct torque – 35 Nm / 25 lb-ft, in a 1-2-1-2… sequence.
Re-fit the splash guard. These screws only need to be torqued on gently (10 Nm / 7 lb-ft)
About the Ducati Multistrada 1200 DVT (2015-2017)
The Ducati Multistrada 1200 DVT is an adventure sport touring bike in a long line of bikes that started in 2003 with the air/oil-cooled Ducati Multistrada 1000DS.
Over time, the Multistrada found its identity in terms of style and role, and the DVT Multistrada 1200 is the latest in that line, with a high-power liquid-cooled engine and design that looks as sharp as it is comfortable.
The Ducati Multistrada 1200 was a big change for the Multistrada line when it was released in 2010, replacing the air/oil-cooled 2-valve Multistrada 1100. The 1200 brought with it the liquid-cooled 4 valve-per-cylinder design.
But the Ducati Multistrada 1200 from 2015 sets a new standard in the world of sport touring. It's an incredible bike — all day comfortable, very fast, agile, and full of character.
The heart of the Multistrada 1200 is that DVT engine. It's similar conceptually to the former engine, being an 1198cc liquid-cooled L-twin with a Desmodromic valvetrain and belt-driven cams.
Ducati, however, have implemented DVT — a variable valve timing system that independently controls the intake and exhaust camshafts. The goal of this is to optimise both for low-rpm and high-rpm cam timing, for low-end torque and efficient fuel consumption, and maximum power up top. Incidentally, this also complies with Euro 4 regulations.
All variants of the Multistrada 1200 DVT (2015-2017) have the same engine with the same specs. It makes 117.7 kW (160 CV / 158 bhp) at 9500 rpm, with peak torque of 136 Nm (100 ft-lb) at 7500 rpm. It's huge power and torque made at quite modest RPMs… this Multistrada really hauls.
The base model Multistrada 1200 differs slightly to the other, higher-spec models (which are all S models). Here's how they differ in brief:
| Part | Base model Multistrada 1200 (2015-2017) | Multistrada 1200 S (2015-2017) |
| --- | --- | --- |
| Front suspension | 48mm fully adjustable Kayaba USD fork | Sachs fully adjustable USD fork with electronic compression/rebound adjustment with DSS Evo |
| Rear suspension | Fully adjustable Sachs monoshock with remote preload adjuster | Fully adjustable Sacks unit with electronic compression and rebound adjustment, and electronic pre-load adjustment with DSS Evo |
| Front brakes | 2 x 320 mm discs, radially mounted monoblock Brembo M4.32 calipers | 2 x 330 mm discs, radially mounted Brembo monoblock M50 calipers |
| Display | LCD | TFT |
| Electronics | RbW, IMU, Cruise | DSS Evo (Skyhook Suspension), LED headlamp with cornering lights, hands-free, multimedia system |
Base model Multistrada 1200 (2015-2017, DVT) vs S model specs
Note that the S model has bigger front brake rotors and Brembo M50 calipers, which are the same calipers you see on some Ducati Panigale race bikes. In theory, you could take your Multistrada 1200 S to the track and have a pretty good time.
The most important part of the S model is the DSS system — Ducati Skyhook Suspension. In a nutshell, this is an electronic control unit coupled with suspension whose parameters can be changed electronically.
The DSS system takes its input from riding conditions from the ECU, various accelerometers around the bike (including on the suspension), and the ABS system to dynamically determine suspension parameters to keep the motorcycle balanced and stable.
The Skyhook system is named because of the feeling it gives of the motorcycle being suspended from an invisible hook in the sky — always upright.
The Multistrada is a capable machine. To make it specifically more capable in various environments, you can get it pre-configured with a number of packages:
Touring pack, with heated grips, panniers, and a centre stand
Urban pack, with a top case, tank bag, and USB hub
Sport pack, with a Termignoni exhaust and some carbon fiber and billet aluminium features
Enduro pack, with supplementary lights, crash bars, an oil sump guard, a bigger kickstand base, and off-road footpegs
Reference — Ducati Multistrada 1200 DVT Owner's Manual
The above info was sourced from the owner's manual for the Ducati Multistrada 1200 from various years between 2015-2017 and confirmed it's the same between years.
You can download it from the Ducati website here.