The Four Best Brake Pads for Yamaha R1 — Compared
Comparing the three best brake pads for Yamaha R1 sportbikes, alongside the OEM recommendations. You want to change the brake pads according to the maintenance schedule for the Yamaha R1, as well as checking them at pre-ride checks.
So you ride a Yamaha R1. So you like to go fast. You can, because you have somewhere north of 175 hp and 200 kg total weight — or less.
But just because you can go fast, can you also stop quickly?
Be careful if you take a random recommendation from someone for the best brake pads for your Yamaha R1. You might buy the wrong size — make sure you get the right size brake pad for your bike below!
We trawled through forums and Facebook groups until we got to the final answer — the best brake pads for Yamaha YZF-R1 sportbikes, here.
Mind you — these are the best brake pads for street and track use. There are other pads that are less easy to find and that are race-only — they offer little to no bite until they're warmed up. The below pads from EBC, Vesrah, and Galfer, are all well-respected brake pads that you can use on the street and track.
But why not use the stock brake pads for a Yamaha R1? Actually, you can. There's nothing wrong with them. Yamaha didn't put cheap components on their bikes. If your bike is fairly new and you ride basically only on the street, you will be fine with stock brake pads.
This site has links for things like oil and spark plugs from which we earn a commission (which unfortunately nobody can save, not even us). If you appreciate this work, then please use those links. Thanks!
Overall — What are the Best Brake Pads for Yamaha R1?
Here's the skinny on which brake pads to get for your Yamaha R1.
OEM: Get these if you ride mostly street, and if they're easily available.
EBC HH: Get these for an easy upgrade over street, especially if you ride hard, and occasionally do track days. These are also OK for street.
Vesrah: Get these if you always ride hard and go to the track. Don't get these if you ride mostly street.
Galfer HH: Get these just as an alternative to Vesrah, basically whichever one you can get more easily. Don't get these if you ride mostly street.
All those options for brake pads for Yamaha YZF-R1 superbikes are going to work in many situations, especially the Vesrah and Galfer.
OEM Yamaha R1 brake pads — For Street Riders
The front brake pads are fine for moderate street use and light track duty for the R1.
You might also want to go with front brake pads because you prefer to keep things stock and you don't want to mess around too much. That's your prerogative.
One thing to bear in mind is that stock brake pads aren't necessarily cheaper than aftermarket brake pads from Galfer, Vesrah and so on. Also, even though you can order stock brake pads from Amazon, the lead times might be a bit greater as there are fewer sellers (because of less demand).
For this reason, if you want that stock feel but wouldn't mind increased performance, I'd recommend EBC pads.
EBC Double Sintered HH Pads — Hard Street Riding/Light Track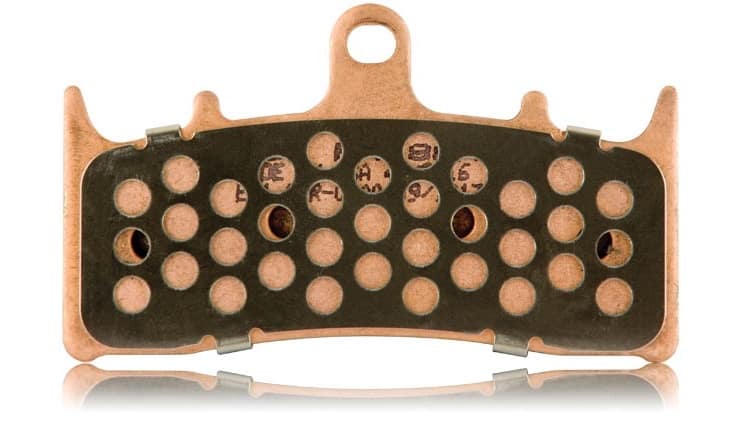 EBC is a well-respected brand of brake pads from the UK. They're affordable, have great bite, and long life. They are good as soon as you get them, but they get better as they wear in. I recommend them strongly as a first upgrade to your brake pads.
The EBC HH brake pads are a definite upgrade over stock. They're some of the best brake pads for Yamaha R1 superbikes you can find. If you're a serious track rider, you'll enjoy the upgrade over stock. A lot of racers use them and they're fine.
EBC pads are also good because they're cost-effective while giving you a huge performance improvement!
What they say (forum posts contain some typos)
I've just ridden my R1 with a Fabbri DB screen and some EBC HH pads I fitted – wow what a difference!!! – user biaggi

i have been useing them on my 02 for 6000 miles and i love them they work so much better than the factory pads. – user aznomic

EBC is what i raced with and rode street with and loved them . I have galfer on the NSR and there being swapped out for EBC's pretty soon – user terrasmak
Below is the table of which front and rear EBC brake pads you need for each generation of Yamaha R1.
Vesrah RJL — Hard Street Riding/Track Use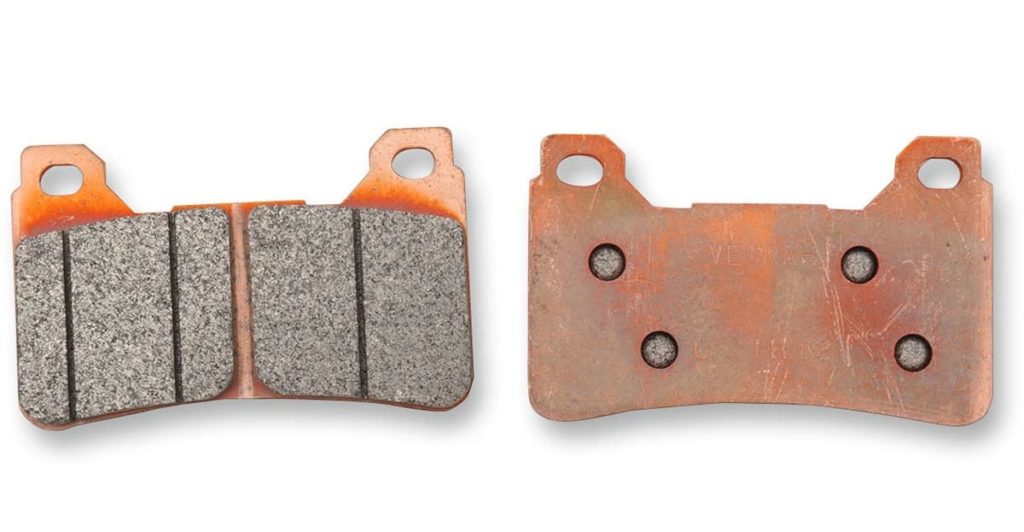 The next level up from EBC brakes are Vesrah brake pads for Yamaha R1 motorcycles. People say that the jump from stock to EBC is great; the jump from EBC to Vesrah is just as great!
The pads you want from Vesrah are RJL pads. They're inexpensive replacement pads that don't fade in high temperatures and give good control in all weather conditions.
What they say…
On my track bikes, I have a preference for Vesrah RJL race pads, but I would not recommend them on the street. – Eyespy

I moved from stock to EBC and thought they were a big improvement. When I started doing a lot of trackdays, I moved to the Vesrah, I'll never go back. For street and track, strong and linear. – bsgesch
Frankly it's pretty easy to find praise for the Vesrah pads.
Vesrah also has a next-level brake pad called the RJL-XX, which has less initial bite but more overall stopping power and longer durability. The XX is also more "progressive" meaning that they brake more the hotter they get.
Galfer HH Brake Pads for Yamaha R1 — Hard Street Riding/Track Use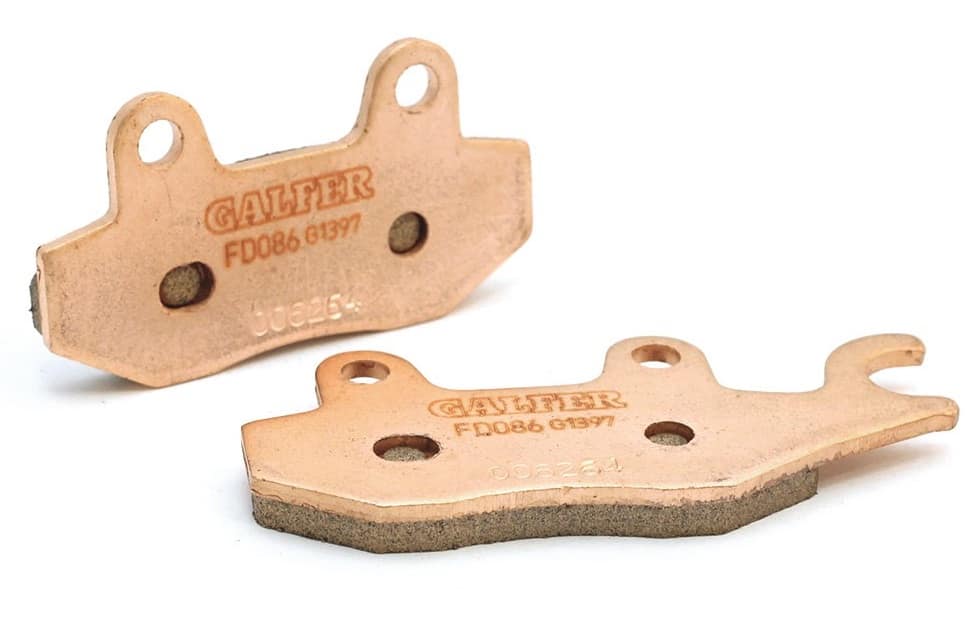 Finally, many R1 riders swear by Galfer HH Sintered. I don't think they're any better than Vesrah ones, but people love them.
The pads you want are HH Sintered. These are for moderately aggressive every day and sport street riding. Galfer also offer a few other kinds of brake pads, like ceramic (super expensive and aggressive), semi-metallic (like stock), and kevlar (organic), which are quite soft.
Galfer HH pads are not that good when they're cold. Everyone on forums say they have to be warmed up, and will have comparatively little bite from the get-go. They're not an ideal commuter brake pad!
But once they're warmed up, the Galfer HH pads withstand higher temperatures than regular semi-metallic carbon brake pads. They also have HH friction rated compounds for excellent feel and modulation.