Ducati Diavel V4 (2023+) Maintenance Schedule and Service Intervals
This is the maintenance schedule and service intervals for the Ducati Diavel V4 — sourced from the owner's manual, and consulting with the service manual and parts diagrams.
The Ducati Diavel V4 was a new model released in 2022 for the 2023 model year, replacing the Ducati Diavel 1260 and 1260 S. It has as its core the V4 Granturismo engine first seen in the Ducati Multistrada V4. The engine is a 1158 cc liquid-cooled 90-degree V4 with four valves per cylinder. With a 14.0:1 compression ratio, it makes a whopping 124 kW / 168 hp at 10750 rpm, with peak torque of 126 Nm / 93 lb-ft being reached at 7500 rpm.
The Diavel V4's engine has chain-driven camshafts and doesn't have a Desmo valvetrain, two things which give it very long service intervals, especially compared to previous Diavel motors.
Final drive is via a 6-speed box and chain.
Here are the other motorcycles in the Ducati Diavel and XDiavel range:
Ducati Diavel 1st gen (1198 cc, 2011-2014): Base model, 7500 mile / 12000 km service intervals
Ducati Diavel 2nd gen (1198 cc, twin spark, 2015-2018): Twin spark engine, 9000 mile / 15000 km service intervals
Ducati Diavel 1260 DVT (2019-2022): Base model, Brembo M 4.32 calipers, Marzocchi / Sachs suspension
Ducati Diavel 1260 S DVT (2019-2022): Brembo M50 calipers, Öhlins suspension
Ducati XDiavel (2016-2020): Base model
Ducati XDiavel S (2016+) (WIP) — M50 calipers, other cosmetic components
Ducati XDiavel Dark (2021+) (a blacked out version, but with similar base model components) (WIP)
Ducati Diavel Black Star 2021-2022 (WIP) — M50 calipers
Ducati Diavel V4 (2023+) — V4 Granturismo engine, Stylema calipers
This site has links for things like oil and spark plugs from which we earn a commission (which unfortunately nobody can save, not even us). If you appreciate this work, then please use those links. Thanks!
Ducati Diavel V4 Service Intervals
The service interval for the Ducati Diavel V4 is every 9000 miles or every 15000 km, at which point you change the oil and filter, and do a whole bunch of checks.
The major valve service service interval for the Ducati Diavel V4 is every 36000 miles or 60000 km. The long valve service interval is a feature of the V4 Granturismo engine.
Finally, make sure to keep the coolants (engine coolant and brake / clutch fluid) fresh per the schedule.
What you need to service your Ducati Diavel V4
Here's a list of maintenance items that the manual specifies. Parts catalogues are still in development, so this list is fairly limited for now.
| Part | Ducati Diavel V4 Spec |
| --- | --- |
| Engine oil | The manual recommends Shell Advance 4T Ultra 15W-50, or another 15W-50 oil that meets JASO MA2 spec or API SN, e.g. Mobil 1 15W-50. |
| Chain maintenance | The Diavel has a chain. Keep it maintained with a Motul chain care kit. |
| Spark plug | Type NGK SILMDR9A-8GS. |
| Brake and clutch fluid | Use a high-grade DOT 4, e.g. Castrol DOT 4. |
| Fork oil | Ducati recommends Shell Donax TA in the Diavel V4's fork (755 cc per leg). |
| Coolant | Ducati recommends ENI Agip Permanent Spezial Antifreeze (pure). You can also use Zerex G30. (See this analysis) |
Maintenance parts for Ducati Diavel V4
Ducati Diavel V4 Maintenance Schedule
The following is the maintenance schedule for the Ducati Diavel V4. It's quite different from the previous generation 1260, as the engine is entirely new.
We've broken the mainteannce into three sections:
Regular maintenance to be done by the owner (this is also in the manual)
The service schedule of major items, like oil changes and spark plug swaps, and
The annual inspection checklist, which is a standard list of things to check at every service.
Regular maintenance for the Ducati Diavel V4
This is maintenance that you can do yourself (though the manual says you need a dealer to do it).
Every 1000 km/600 miles miles OR 6 months (whichever comes earlier, perform the following maintenance:
Ducati Diavel V4 regular user maintenance
Check engine oil level
Check brake and clutch fluid level (top up with Castrol DOT 4)
Check tyre pressure and wear
Check the drive chain tension and lubrication (see below)
Check brake pads, replace if necessary
Regular maintenance of the Ducati Diavel V4
To clean the chain:
Elevate the rear wheel
Clean the chain with a soft damp cloth. Don't use steam, fuel, solvents, hard brushes, or anything that might damage the O-rings. While cleaning it, check it for wear, e.g. damage, stuck kinks, or rust.
Assuming everything is normal, dry the chain with compressed air.
Lubricate the chain. Ducati recommends Shell Advance Chain.
To measure chain tension on the Diavel V4:
Put the motorcycle on the side stand. Get a ruler.
Find the point of measurement — halfway down the chain, the bottom section
Push down gently on the chain with a finger
Measure the distance between the middle of the pin and the aluminium section oc the swinging arm
The tension should be 32-34mm (1.25-1.33 in).
If the chain tension is out of spec, Ducati recommends you get a dealer or service centre to adjust it.
Service schedule
Below is the service schedule of major maintenance items for the Diavel V4.
It's the same content as the manual, but formatted a bit differently for ease of reading, separating the annual inspection items out into a separate list.
Notes
Follow the earlier of time-based or distance-based intervals.
At the end of the schedule, keep following it in the pattern shown.
| km x 1000 | 1 | 15 | 30 | 45 | 60 | |
| --- | --- | --- | --- | --- | --- | --- |
| mi x 1000 | 0.6 | 9 | 18 | 27 | 36 | Every |
| Perform annual inspection checklist (See below) | ✓ | ✓ | ✓ | ✓ | ✓ | 12 months |
| Change engine oil (Mobil 1 15W-50) and filter | ✓ | ✓ | ✓ | ✓ | ✓ | 24 months |
| Check and clean air filter | | ✓ | | ✓ | | |
| Change air filter | | | ✓ | | ✓ | |
| Check the cush drive damper on rear sprocket and lubricate the rear wheel shaft | | | ✓ | | ✓ | |
| Change brake and clutch fluid (Castrol DOT 4) | | | | | | 2 years |
| Change front fork fluid (Shell Donax TA) | | | | ✓ | | |
| Check and/or adjust valve clearance | | | | | ✓ | |
| Change spark plugs (SILMDR9A-8GS) | | | | | ✓ | |
| Change coolant (Zerex G30) | | | | | ✓ | 48 months |
| Check the tightening of frame fasteners to engine, swinging arm and rear shock absorber | | | | | ✓ | |
| Replace the final drive chain kit (recommended) | | | | | | Within 20,000 km/12,000 mi. |
Ducati Diavel V4 service schedule
Annual inspection checklist
Below is the annual inspection checklist for the Ducati Diavel V4. Do this according to the schedule above.
Items marked [D] need Ducati mechanic/dealer-specific tools.
Ducati Diavel V4 annual inspection checklist
[D] Read error memory with DDS 3.0 and check for technical updates and recall campaigns on DCS
Visual check of the front fork and rear shock absorber seals
Check brake and clutch fluid level
Check front and rear brake disk and pad wear. Change if necessary
Check the proper tightening of brake calliper bolts and front and rear brake disk screws
Check front and rear wheel nuts and rear sprocket nut tightening
Checking the front and rear wheel hub bearings and the steering tube bearing play
Check wear of chain, front and rear sprocket, and final drive chain elongation, tension and lubrication.
Detected elongation value:___________ (cm/in)
Check the freedom of movement and tightness of the side stand
Check that all rubber gaiters and flexible hoses in view (e.g. fuel, brake and clutch hoses, cooling system, bleeding, drainage, etc.) are not cracked, are properly sealing and positioned
Check free play of rear brake lever
Lubricate the levers at the handlebar and pedal controls
Check tyre pressure and wear
Check the operation of all electric safety devices (clutch and side stand sensor, front and rear brake switches, engine kill switch, gear/neutral sensor)
Check lighting devices, turn indicators, warning horn and controls work
[D] Final test and road test of the motorcycle, testing safety devices (e.g. ABS, DTC,ACC, BSD, and VHC), electric fans and idling
Visually check the coolant level and of sealing of the circuit
Softly clean the vehicle
[D] Record the service coupon, turn off the warning light on the instrument panel using the DDS 3.0, and fill out that the service was performed in the service booklet
Ducati Diavel V4 annual inspection checklist
About the Ducati Diavel V4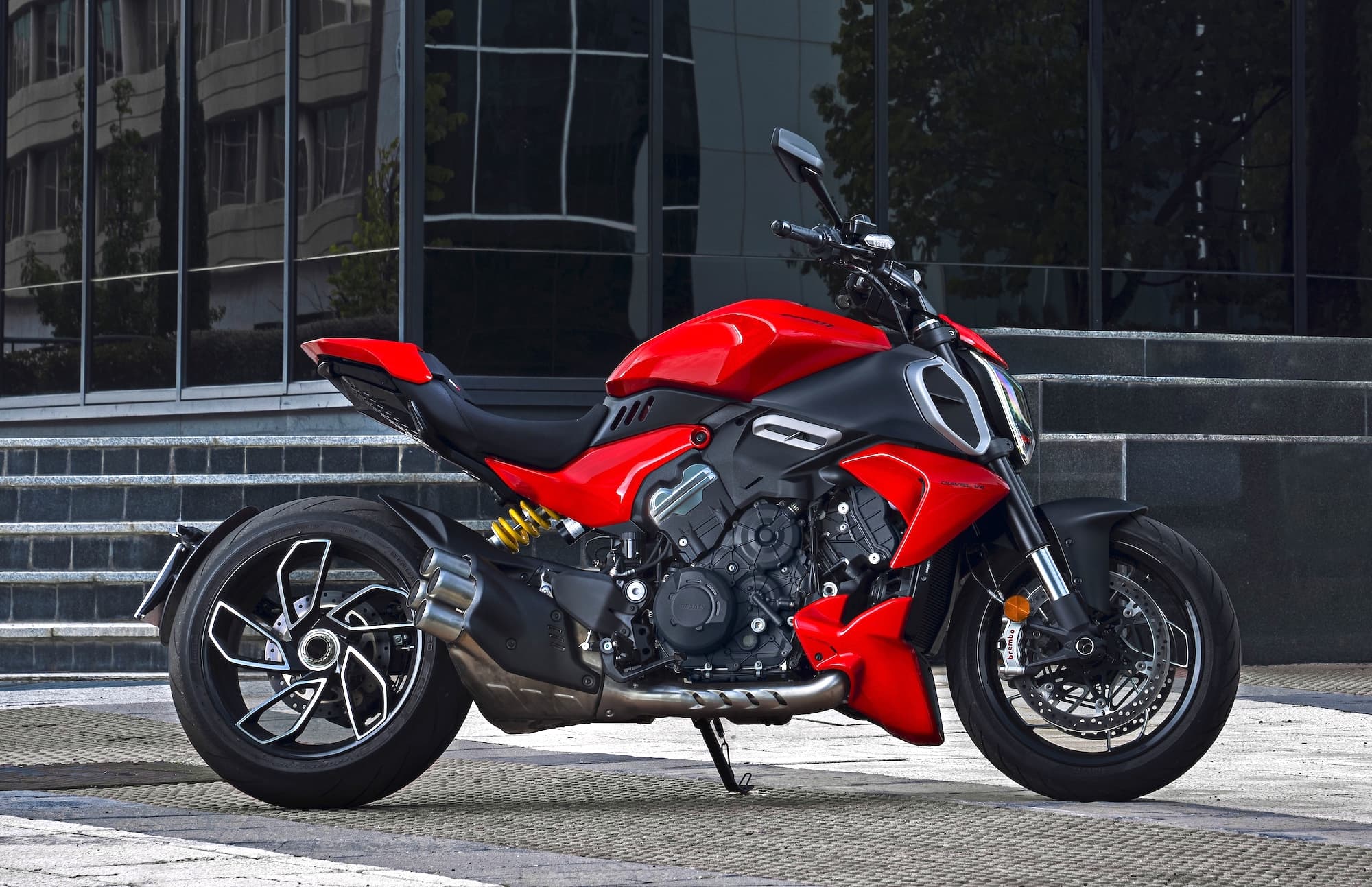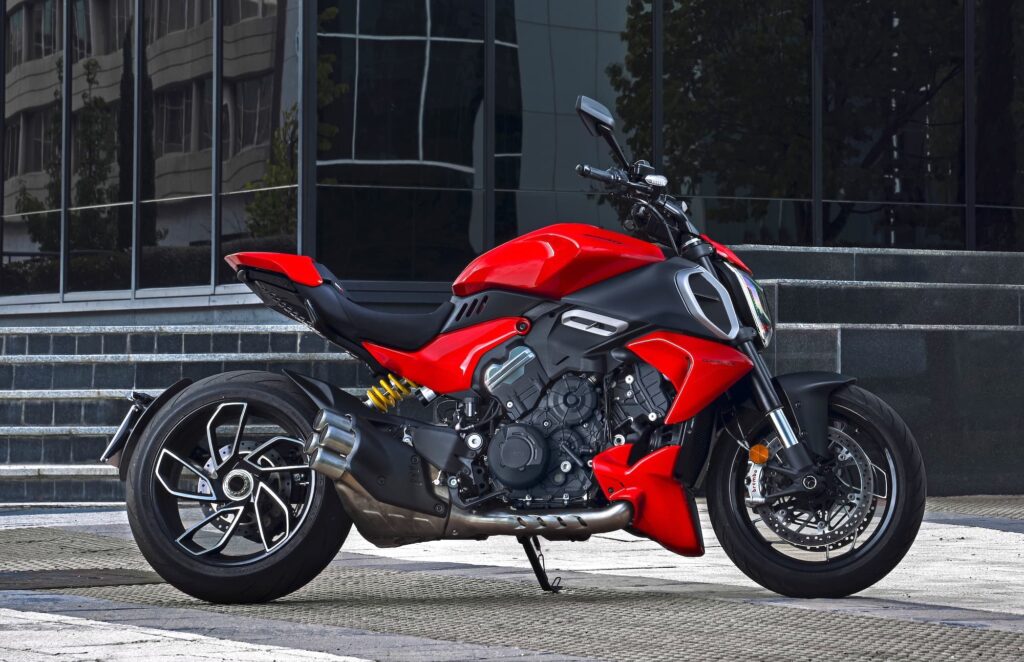 Ducati announced the Diavel V4 in late 2022 for the 2023 model year.
It's a huge update on the previous generation 1260, and not just from the addition of two new cylinders. The V4 engine is a huge leap forward for Ducati in terms of performance, reliability, and even maintenance cost.
The core of the Ducati Diavel V4 is the "V4 Granturismo" engine — a 90-degree liquid-cooled V4 with a counter-rotating crankshaft, helping reduce net angular momentum (the "gyroscopic effect") and thus increasing ease of tip-in. This is an engine design choice seen on very few production motorcycles.
When riding the Ducati Diavel V4, you can immediately feel how much "lighter" it is than the outgoing generation. This isn't just weight (though it is lighter) — it's the effect of the counter-rotating crankshaft. Superbike tech!
On paper, the Ducati V4 makes slightly less peak torque than the outgoing Testastretta DVT engine, and slightly more peak power. For a muscle cruiser, this might appear to be going in the wrong direction. But in reality, the Ducati Diavel V4 is every bit a Diavel motor, with oodles of torque from down low, and pull that doesn't stop until you're well past the point you think a cruiser motor should be revving (engine cut-off is 11500 rpm).
Ducati has gone to great lengths to improve the handling characteristics of the Ducati Diavel V4. It's a significant 8 kg / 18 lb lighter than the outgoing model, despite what you might assume about the more complex engine being heavier. It's not! Ducati has also shaved off weight from other areas, replacing the trellis frame with a new aluminium monocoque design, and also by using lighter rims and brakes (the Diavel V4 has Stylema calipers).
In terms of maintenance, the banner news for the Ducati Diavel V4 is that it's one of the lowest-maintenance Ducatis every produced, along with the Multistrada V4. Ducati did away with belt-driven cams in the superbikes a while ago, and that change is finally trickling back to their non-superbikes. Chain driven cams means you no longer have to worry about changing drive belts every five years, as was the case with the previous-gen Ducati Diavel, as is still the case for many other Ducati motorcycles with V-twin motors (like the 2021 Ducati Monster 937, for example).
But the other big news is that Ducati isn't using a Desmodromic valve system in the Granturismo V4 motor. This means that valves are opened via cams, but closed via springs, just like on the vast majority of high-performance motorcycles. Because of this, and other innovations Ducati has made, the valve service is every 60000 km / 36000 miles, which should take most Diavel V4 owners quite a while, unless this is your daily commuter…
One part of maintenance that Ducati owners might find a bit tricky on the Diavel V4 is the chain. On older motorcycles, this was a doddle — elevate the chain, release the rear axle, and adjust the chain tension adjusters. But on the Ducati Diavel V4's single-sided swingarm with a massive 240-section tire, Ducati actually recommends you take the Diavel V4 in to a mechanic to just adjust the chain tension — normally a trivial part of motorcycle ownership.
If you do want to adjust the chain tension yourself, you'll need to invest in special tools to change the tension on a Ducati single-sided swingarm motorcycle. This means a specific wrench to adjust the elliptical hub.
Diavel V4 — Tire sizes and pressures
The Ducati Diavel V4 runs a massive 240-section rear tyre, which means tire choices are limited. Below are the recommended tire sizes, brands, and pressures (optimising for longevity).
The Diavel V4 ships with Pirelli Diablo Rosso III tires.
Wheel
Tire size
Tire pressure (cold)
Front
120/70-ZR17
2.5 bar / 250 kPa / 36 psi (rider only)
2.6 bar / 260 kPa / 38 psi (with passenger and/or bags)
Rear
240/45-ZR17
2.5 bar / 250 kPa / 36 psi (rider only)
2.9 bar / 290 kPa / 42 psi (with passenger and/or bags)
Tire sizes and pressures
Reference — Ducati Diavel V4 Owner's Manual
The above info was sourced from the owner's manual for the Ducati Diavel V4, as well as from consulting various other online resources.
You can download it from the Ducati website here.