Aprilia RS 660 (2020+) Maintenance Schedule
This is the maintenance schedule for the 2020+ Aprilia RS 660, Aprilia's entrance into the "middleweight sports" category.
The Aprilia RS 660 uses an all-new 659cc liquid-cooled DOHC parallel twin engine with a 270/450-degree firing order, giving it a nicely aggressive bark.
The RS 660 is a high-end middleweight sportbike. With premium features like fully adjustable front suspension (and rear suspension adjustable for preload and rebound damping), cornering ABS, and cruise control, it offers a lot in a package which doesn't require you to go to a race track to enjoy it.
Its modest (but fun) 75 kW / 100 CV engine produces peak power at 10500 rpm and peak torque at 8500 rpm, both of which mean that this bike is very street-usable.
The same engine is used in the Aprilia Tuono 660, which is a very similar motorcycle to the RS 660, just positioned more as a standard.
This post was originally published on April 21, 2021, but has since been significantly updated.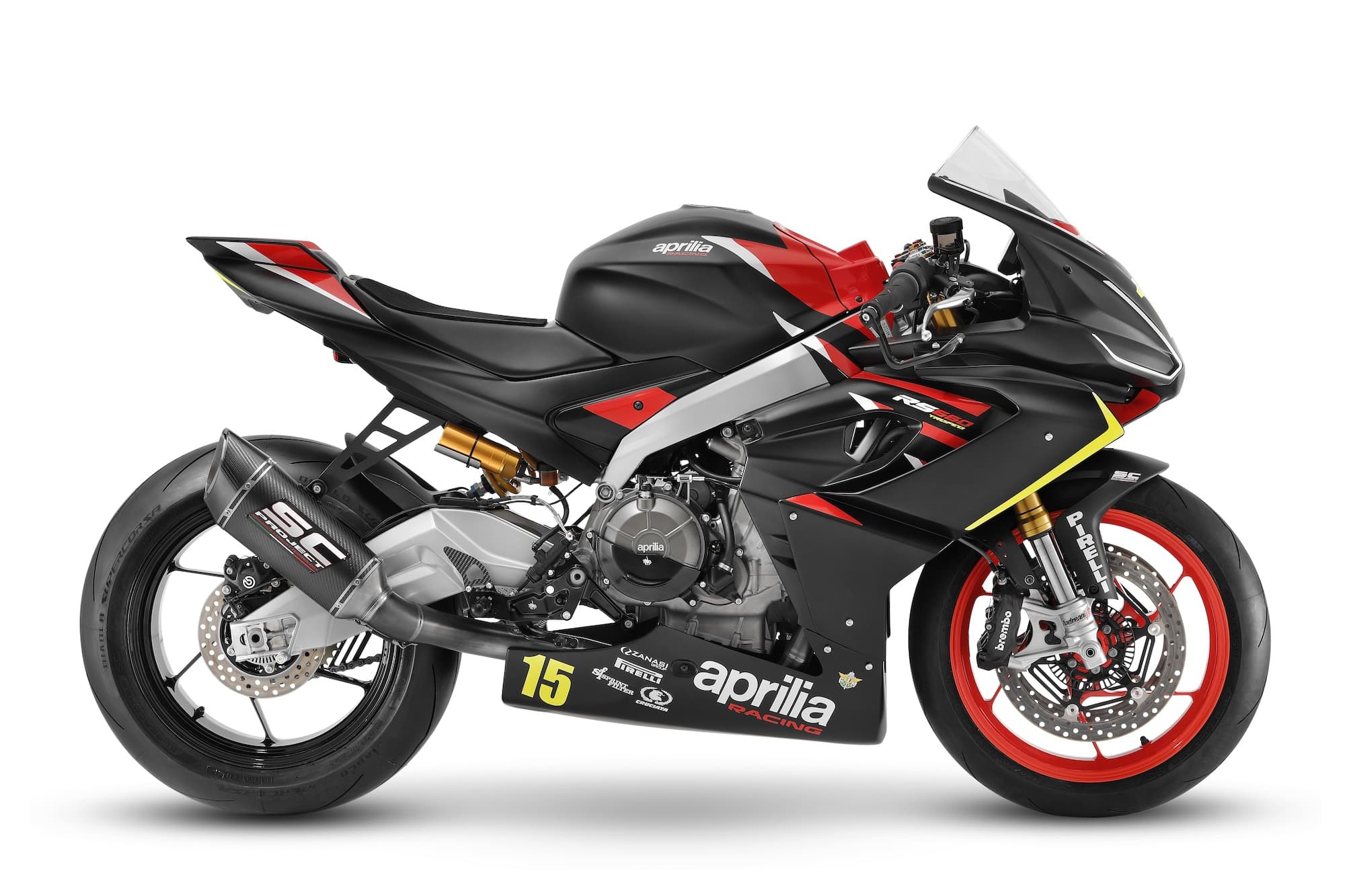 This site has links for things like oil and spark plugs from which we earn a commission (which unfortunately nobody can save, not even us). If you appreciate this work, then please use those links. Thanks!
Aprilia RS 660 Service Intervals
The Aprilia RS 660 has a 6200 mile / 10000 km service interval. At every service, change the oil and filter and perform a list of standard inspection or lubrication tasks.
The RS 660 also has an annual service interval for many tasks (e.g. oil change) which you should attend to even if you don't make the distance requirement.
The major service interval for the RS 660 is every 12400 miles or 20000 km. At those services, change the spark plug, change the air filter, and check / adjust the valve clearances.
Aprilia also recommends replacing the fork oil — either every four services or four years.
Apart from that, keep the coolant and brake fluid fresh, and maintain the chain.
What you need to service your Aprilia RS 660
Below are the recommended products and some common alternatives. This is from the service manual (screenshot below).
| Product | Aprilia RS 660 spec |
| --- | --- |
| Engine oil | Synthetic motorcycle oil, 10W-50, API SL, JASO MA2., e.g. Castrol Power 1 10W-50. |
| Oil filter | Same oil filter as many Aprilia motorcycles — OEM part 857187, Hiflofiltro HF138RC. |
| Spark plug | NGK IR MR9DI-7 (gap 0.7-0.7mm) |
| Air filter | DNA air filter P-AP6S21-01, Sprint PM176S |
| Grease | Lithium-calcium soap based grease |
| Coolant | Ethylene glycol-based coolant with organic inhibition additives, Red, ready to use. |
| Brake pads | EBC brake pads parts are front: FA630HH, rear: FA266HH |
| Brake fluid | Synthetic DOT 4 brake fluid, e.g. Castrol DOT 4 |
| Fork oil | SAE 7.5W fork oil. Aprilia motorcycles generally recommend a distance or time interval for fork oil. |
| Battery | Yuasa YTZ10S or BS Battery BSLi-04 |
Aprilia RS 660 recommended consumables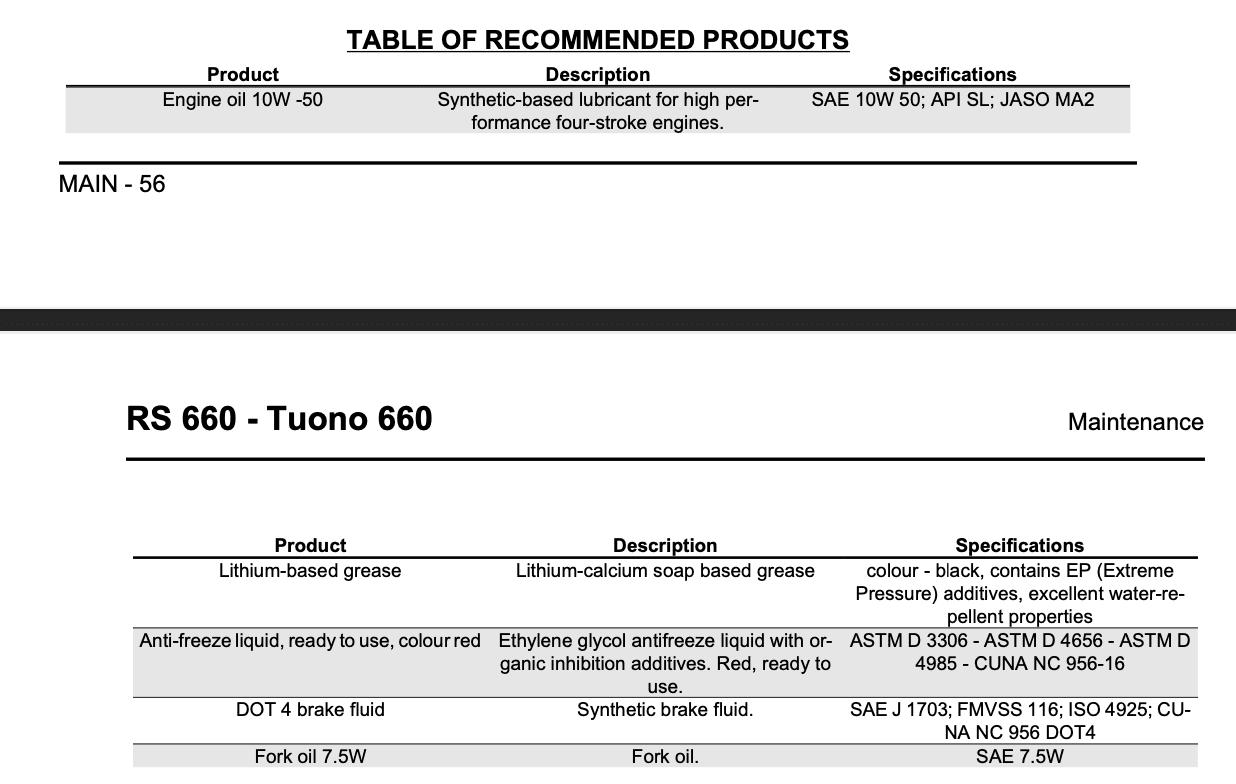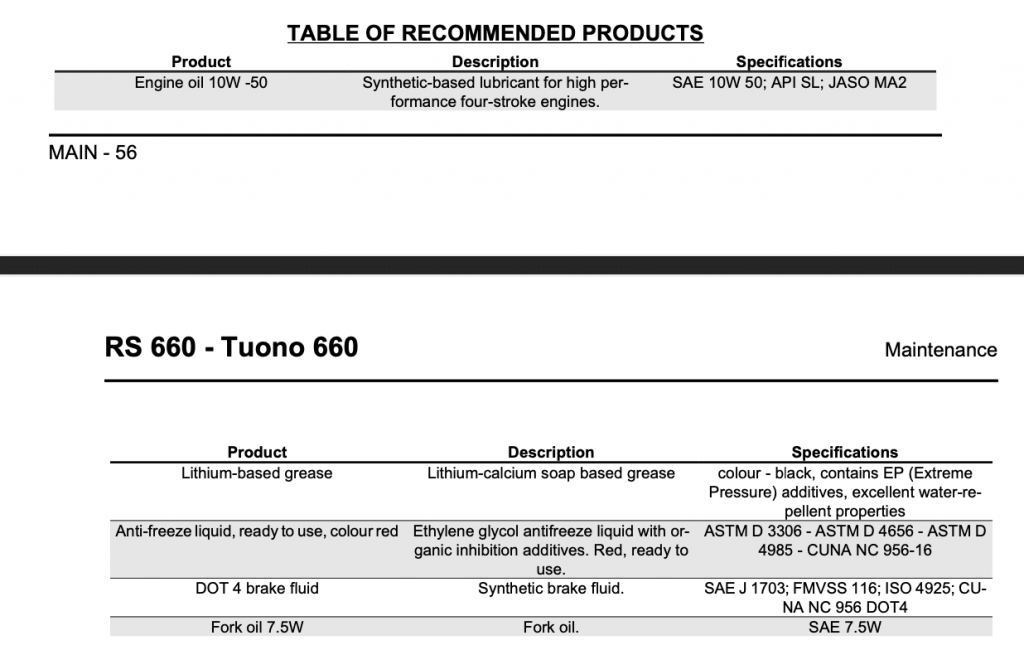 Pre-trip / ride checks
The manual for the RS 660 recommends checking the following things before every trip.
You generally do these checks by getting on the bike and making sure it works, but a couple of items (like brake pad wear level) may not factor into your usual routine.
Aprilia RS 660 — Pre-ride / daily checks
Brake pad / disc wear levels
Tire wear / tire pressure
Oil level
Lights, signals, and switch operation
Aprilia RS 660 Pre-ride / daily checks
When doing regular scheduled maintenance, do the daily pre-ride checks too.
Maintenance schedule for the Aprilia RS 660
Below is the maintenance schedule from the Aprilia RS 660's service manual.
The service manual for the RS 660 has the items in an unintuitive order. The order below makes more sense intuitively, e.g. with things grouped together, and "things to replace" more up the top.
Notes:
The US maintenance schedule doesn't include recommendations to regularly change the brake fluid or coolant. The European schedule does. Since the European schedule for the Aprilia RS 660 is more in line with many other manufacturers' schedules (which nearly ALL recommend changing the brake fluid every 2 years, and coolant every 2-4 years), we're including the European schedule below.
Do the pre-trip checks along with regular maintenance
The below schedule shows items that have a distance and/or time interval (e.g. every 10000 km or year). Follow the earlier of the two.
Legend for the maintenance schedule
I = check and clean, adjust, lubricate, or replace, if necessary
C = clean
R = replace
A = adjust
L = lubricate
mi x 1000
0.6
6.2
12.4
18.6
24.9
km x 1000
1
10
20
30
40
Every
Vehicle general operation
I
I
I
I
I
Year: I
Engine oil (Castrol Power 1 10W-50)
R
R
R
R
R
Year: R
Engine oil filter (HF138RC)
R
R
R
R
R
Year: R
Air filter (P-AP6S21-01)
I
R
I
R
Spark plug (MR9DI-7)
R
R
Valve clearances
A
A
Clutch cable (Protect all cable life)
L
L
L
L
L
Year: L
Front sprocket – rear sprocket – chain slider
I
I
I
I
Steering bearings and steering play
I
I
I
I
I
Year: I
Rear shock absorber (bearings – linkage mechanisms)
I
I
Year: I
Fork oil (SAE 7.5W fork oil)
R
4 years: R
Fork oil seals
I
I
Brake discs & brake pads wear (front: FA630HH, rear: FA266HH)
I
I
I
I
I
Year: I
Brake systems
I
I
I
I
I
Year: I
Brake fluid (Castrol DOT 4)
I
I
I
I
I
Year: I
2 years: R
Wheel bearings and wheels
I
I
I
I
I
Year: I
Tires – pressure/wear
I
I
I
I
I
Year: I
Cooling system
I
I
I
I
Coolant (Motorex M3.0 Coolant)
I
I
I
I
I
Year: I
2 years: R
Safety switches (stand, stop, clutch, extra negative stroke, gas control)
I
I
I
I
I
Year: I
Headlight aim
I
I
I
I
Nut/bolt tightness
I
I
I
I
I
[D] Diagnosis by tool
I
I
I
I
I
I
Aprilia RS 660 maintenance schedule
Chain Maintenance on the Aprilia RS 660
It's important to maintain the Aprilia RS 660's chain regularly. Use a good-quality chain lubricant like Motul chain paste, or a Motul chain care kit which comes with a couple of handy tools to maintain the chain.
Aprilia recommends you follow the following chain maintenance schedule:
Chain maintenance item
Every
Check drive chain lubrication condition, lubricating if necessary
600 mi / 1000 km or year
(whichever earlier)
Check drive chain slack, adjusting if necessary
Target chain slack: 30mm / 1.2 inches (vertical deflection of the chain in the middle, between the sprockets)
600 mi / 1000 km or year
(whichever earlier)
Chain maintenance — Aprilia RS 660
Notes:
Do these items (checking/adjusting slack, and checking/applying lubrication) more often if you ride your RS 660 in harsher than usual conditions – e.g. dusty roads, rain, muddy roads, or if you ride aggressively or track your bike.
Always lubricate the chain after washing the motorcycle (assuming the chain has become wet).
About the Aprilia RS 660
The Aprilia RS 660 is an entrant into the growing arena of modest-powered middleweight sport bikes that are high-spec but usable in everyday riding.
Like the 2021+ Yamaha YZF-R7, for example, the Aprilia RS 660 has high-end suspension, brakes, and ride electronics — being one of the very few middleweights with cruise control.
The RS 660's 75 kW / 100 hp motor, while "middleweight", is very well-matched with the motorcycle's modest weight of 183kg — wet, with a full tank of gas. It's a very lightweight motorcycle, especially considering the high level of spec.
The engine, while low-capacity, runs quite "hot" with an aggressive 13.5:1 compression ratio. This both helps the engine get higher power peaks as well as keep it very efficient (maximum combustion), for Euro 5 compliance.
To keep the engine cool there's both a radiator AND a water-oil heat exchanger.
The Aprila RS 660 is a motorcycle designed to appeal to a growing majority of riders who want a sportbike but don't necessarily want to rev much past 10,000 rpm on a regular basis, and who might only rarely make it to the track.
The comfortable seating position of the RS 660 (compared to aggressive track-first bikes, anyway) means that it's usable every day. Aids like cruise control add to that experience.
The RS 660 distinguishes itself by having quite high-end running gear. Its Kayaba adjustable forks and Brembo brakes on 320mm discs are the kind of equipment you might see on motorcycles with 50% more engine capacity and peak power.
But the lower power output of the RS 660 means that you might actually see the redline in everyday use — on the weekends, maybe. And when you do it, you won't be chewing through the most expensive tyres in the world.
Some of the comfort gear to make the Aprilia RS 660 usable as an everyday bike include
Cornering ABS and lean angle-aware traction control, via an IMU
Ride modes (five of them!)
A quickshifter
Cornering lights
Automatic high beams
Self-cancelling turn signals
Full LED lighting
A colour TFT display
Basically, while a sportbike, the Aprilia RS 660 is the Rolls Royce of middleweight sportbikes. Many of those features (like self-cancelling turn signals) are the kind of gear you might more often see on a high-end BMW or Honda touring rig.
Some owners have complained of small oil leaks in the early models of the RS 660. While these may have been random failures and not representative of the majority, it's prudent to be observant.
Maintaining the RS 660 isn't too complicated thanks to the fact that there are only two cylinders and only one head. The valve service has a relatively infrequent 20 000 km (12 000 mi) interval, but with one head and only two cylinders, it's much less work than inline four motorcycles, let alone the Aprilia RSV4 with its V4 engine.
Aprilia also announced a special "Extrema" edition of the Aprilia RS 660 for the 2023 model year. It includes an SC Project exhaust system, carbon components, a single seater tail fairing, and new software that quickly lets you set up the quick shifter into upside-down ("GP shifting") configuration.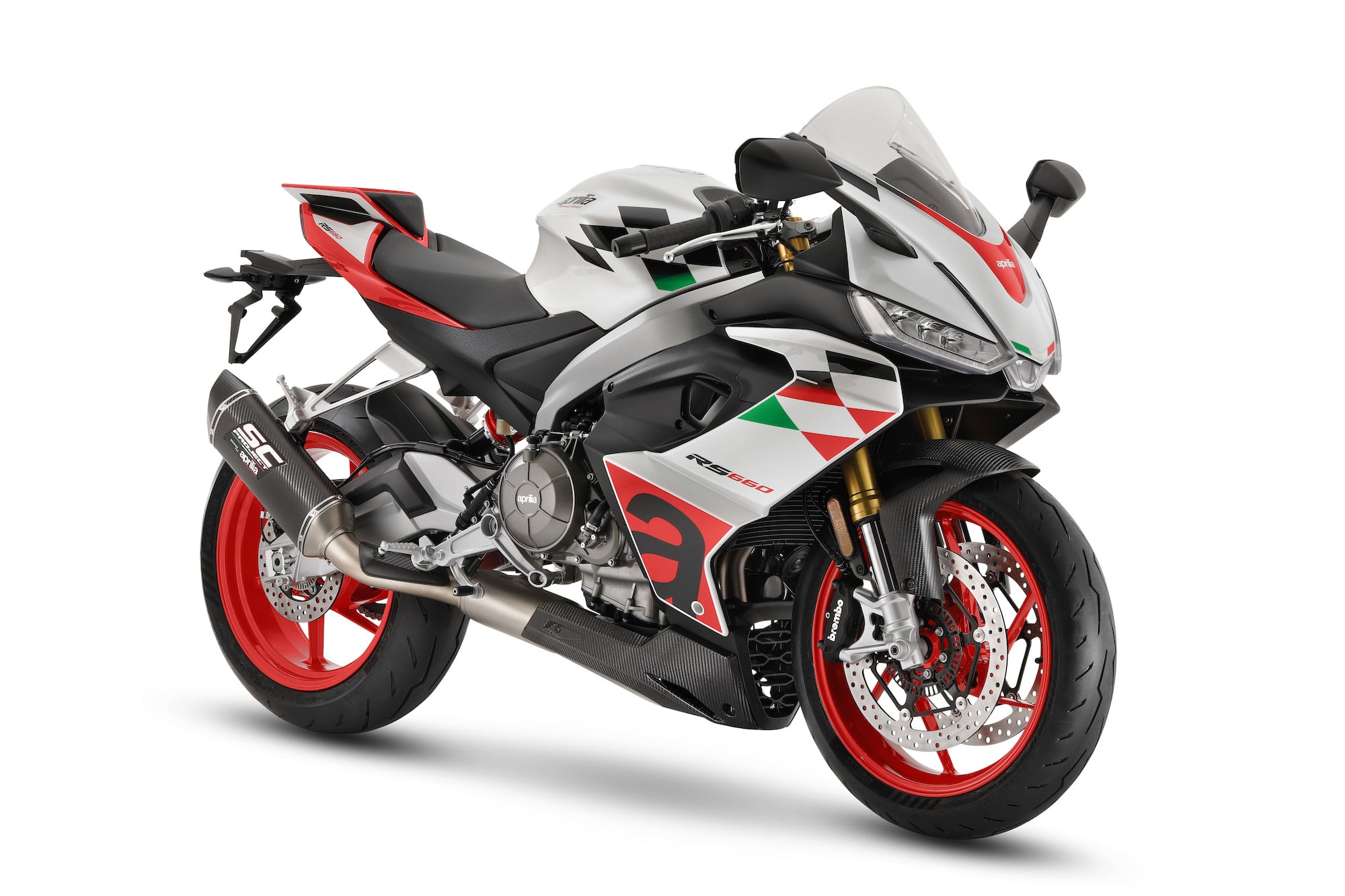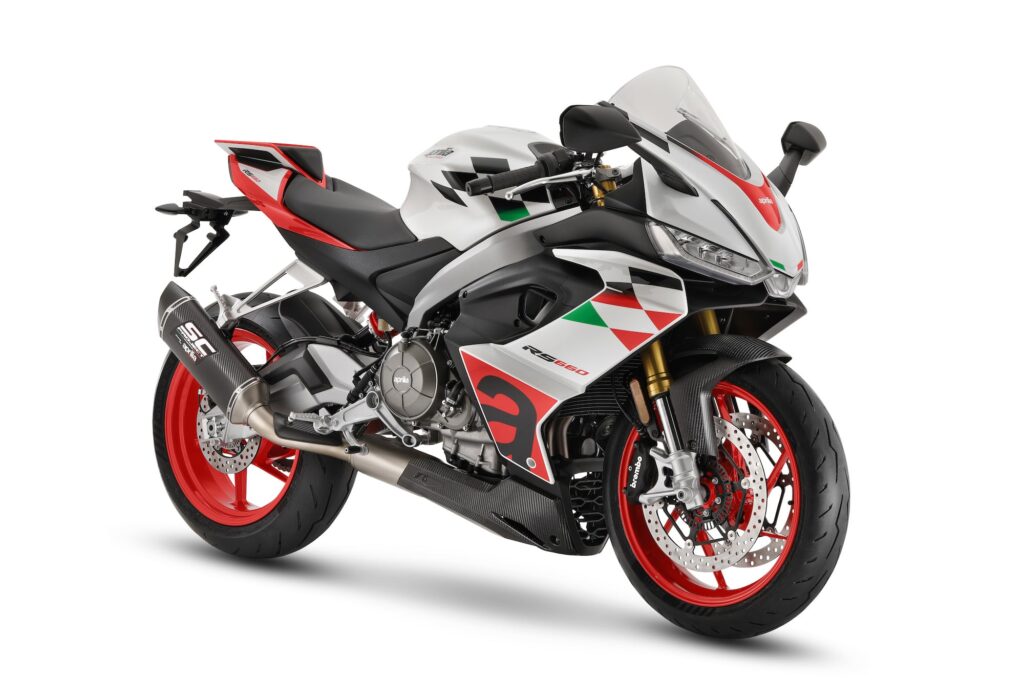 Reference — Manual for the Aprilia RS 660
The above maintenance schedule came from the service manual for the Aprilia RS 660.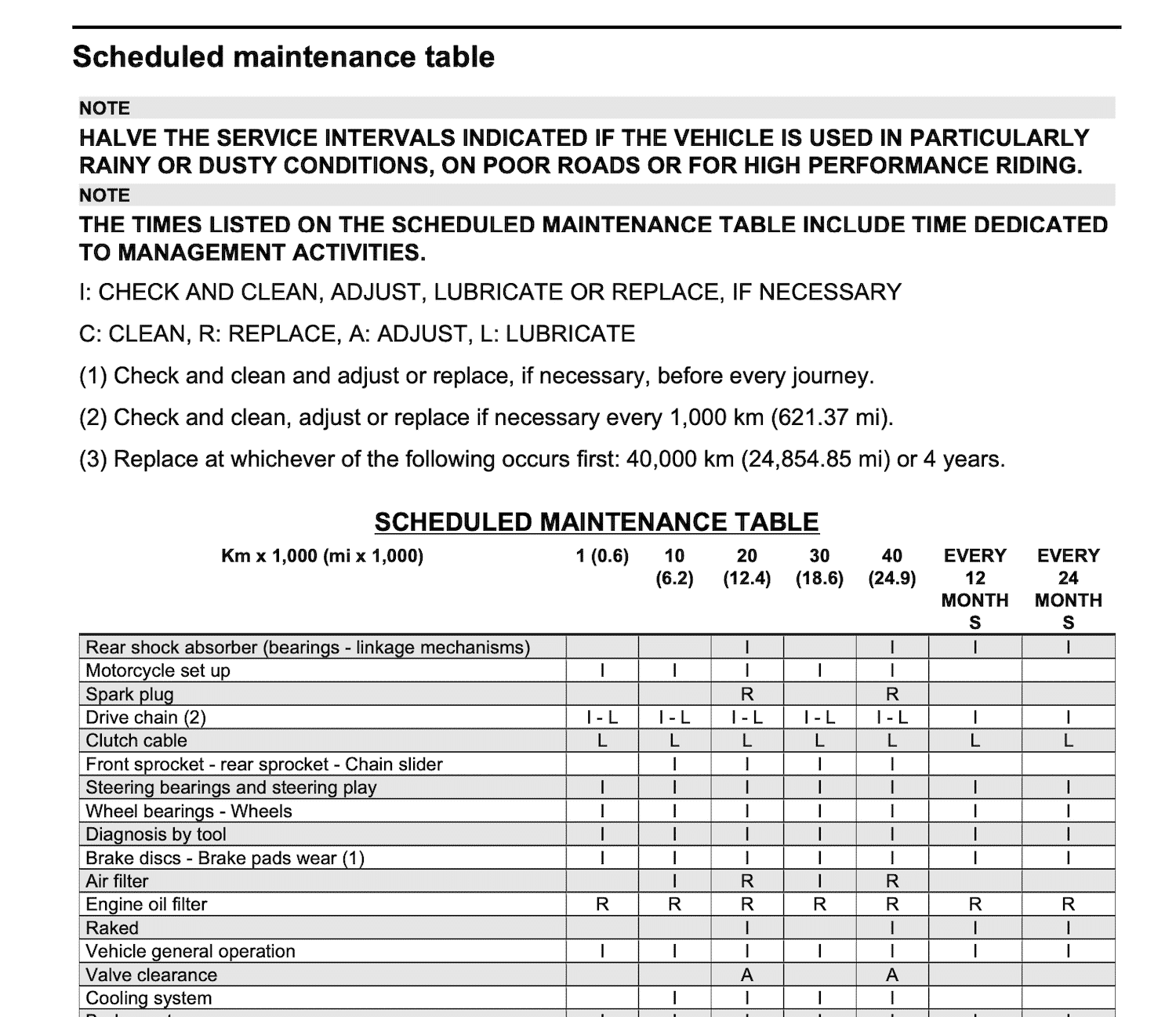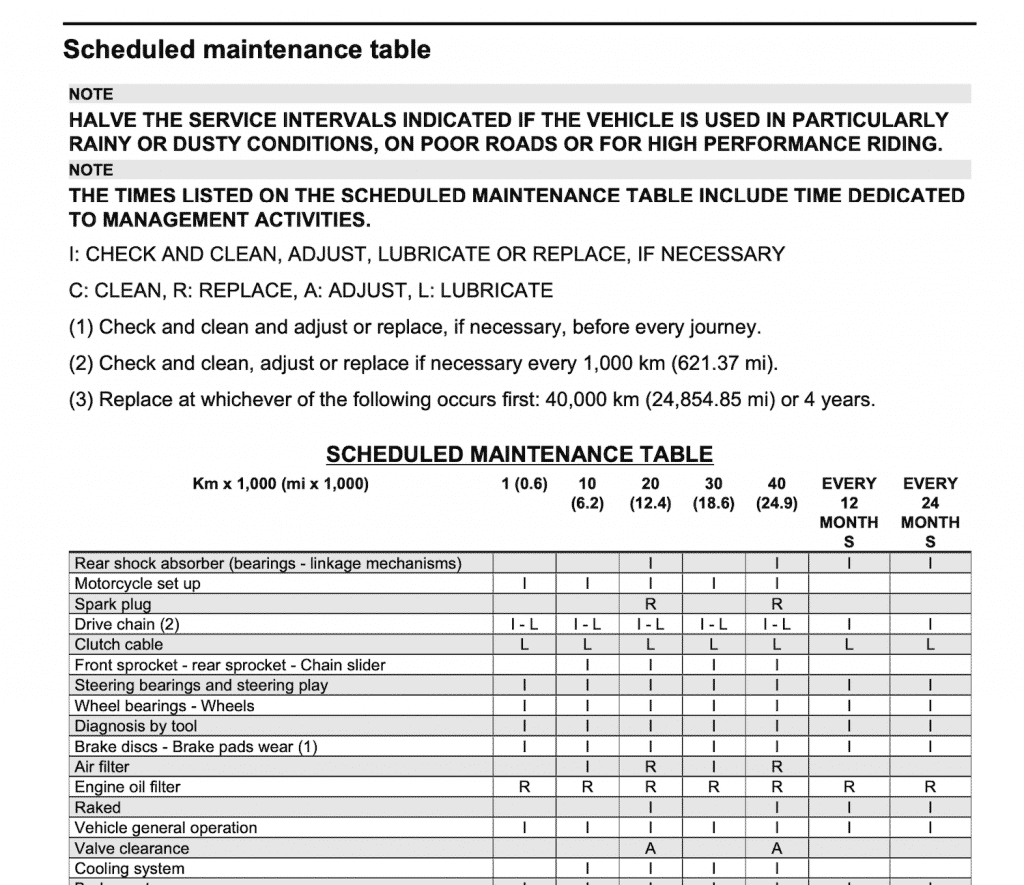 Aprilia doesn't make their user manuals available as PDFs, unfortunately.