Aprilia RSV Mille (1998-2003) Maintenance Schedule
This is the maintenance schedule and service intervals for the Aprilia RSV Mille, including the higher-spec variants, the Mille R and Mille SP. This is from the service manual for the RSV Mille.
The Aprilia RSV Mille was the first in a long-line of sport bikes that continues to this day, though Aprilia these days makes V4 motors rather than V-twins. The RSV Mille is powered by a 998 cc liquid-cooled 60-degree V-twin motor.
In stock form, the motor makes a peak of 86.5kW / 117 hp @ 9250 rpm at the driveshaft. The 2001 model was revised with slightly higher peak power of 92 kW. 125 hp @ 9250 rpm.
From 2004, Aprilia replaced the Mille with the RSVR and RSV-R Factory.
Here are the motorcycles in the Aprilia RSV line:
Aprilia RSV Mille (1998-2003): Including the Mille R and Mille SP, plus some changes along the way. Twin spark plug.
Aprilia RSV 1000 R (2004-2009), a.k.a. RSV-R: NOT the "Mille", though people called it that. The "base model" is now the R, and higher specs are the Factory and limited-edition Nera, all based on the revised "V60 Magnesium" engine with magnesium clutch and valve covers. Single spark plug motor.
Aprilia RSV4 1000 (2009-2020). Including the RSV4 Factory and R Limited edition. Using a 999.6 cc V4 engine. During this time Aprilia made multiple updates to the bike, including improving the brakes, adding APRC, adding more ride aids, and even adding cruise control in 2017. Aprilia also improved the engine over time.
Aprilia RSV4 1100 (2021+). Using a 1100cc V4 engine, and all the latest bells and whistles.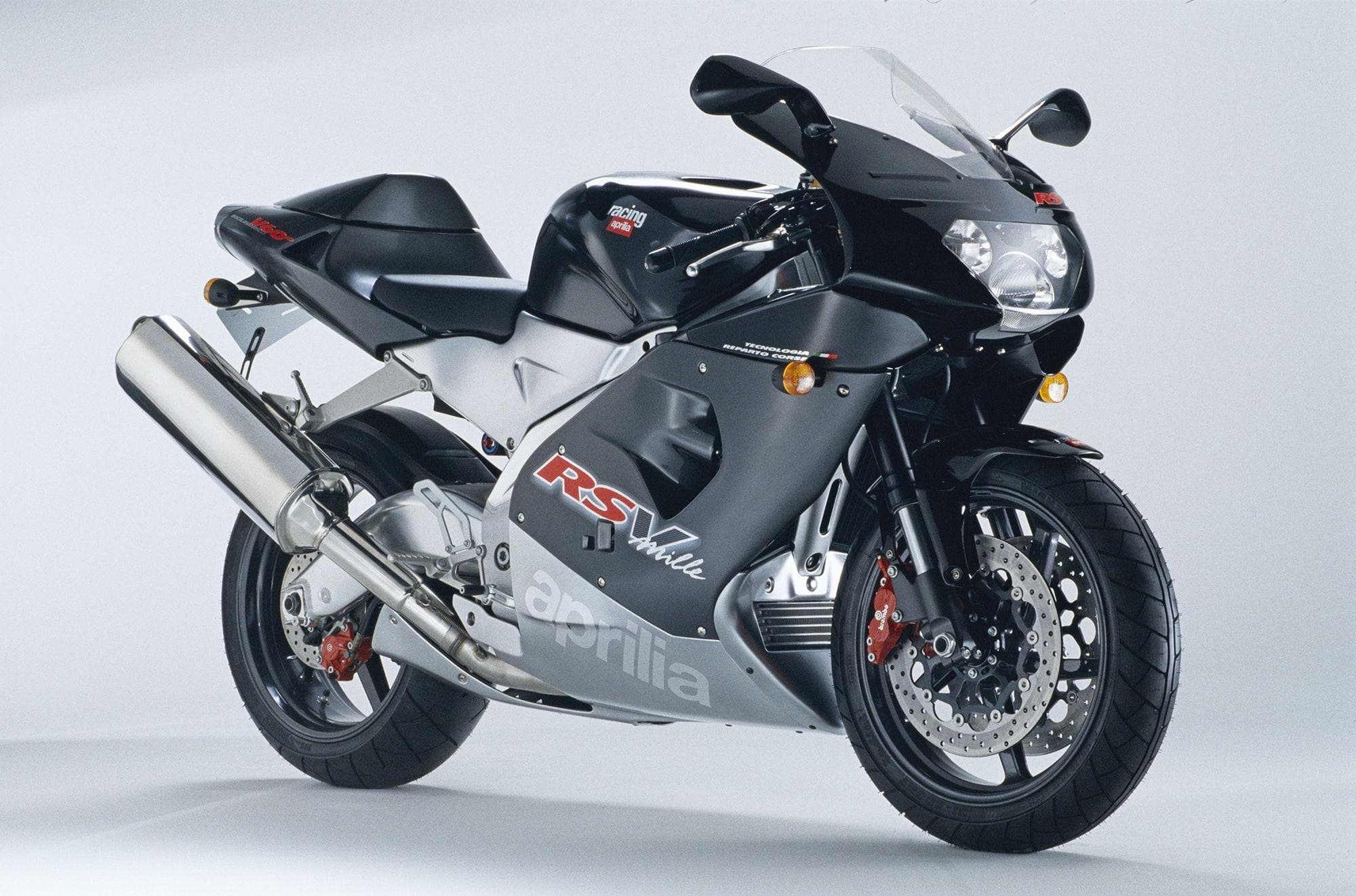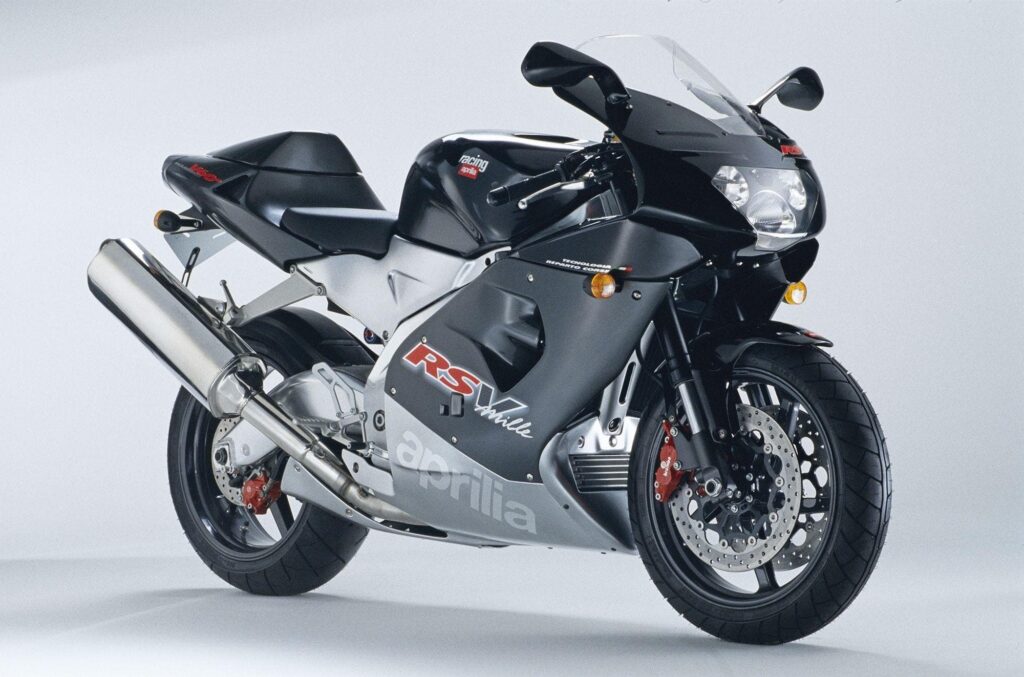 This site has links from which we earn a commission (which unfortunately nobody can save, not even us). If you appreciate this research work, then please use those links. Thanks.
Aprilia RSV Mille Service Intervals
Overall, the Aprilia RSV Mille and RSV Mille R has 4700 mi / 7500 km or annual service intervals. At every service, change the oil and filter, and look over the service checklist for other items to do.
The RSV Mille has wider 9400 mile / 15000 km valve service intervals compared to its Ducati competitors. (As a further blessing, there's no Desmo drivetrain!)
Aprilia does acknowledge potential track use of the RSV Mille and suggests some specific things to maintain.
Below is the maintenance schedule for the Aprilia RSV mille. Because the original maintenance schedule is very complicated we've split it up into two sections: the recurring maintenance schedule, and a list of inspection items to check at every annual or periodic service.
RSV Mille Maintenance Schedule
Notes
The intervals may seem a little odd, but they're even odder in the original schedule. We've rounded them to reasonable numbers here.
Keep repeating the schedule in the pattern shown (every 4700 miles / 7500 km or year)
Follow the earlier of time-based or distance-based service intervals.
The fork oil and seals replacement schedule is a bit eccentric in the occasional manual and is not at odds with the rest of the schedule. We've simplified it considerably.
mi x 1000
4.7
9.3
14
18.6
km x 1000
7.5
15
22.5
30
Every
Service checklist (see below) — Check all items
✓
✓
✓
✓
Year
Engine oil — Change (Mobil 1 15W-50 or another equivalent API SG-rated 15-50 synthetic)
✓
✓
✓
✓
Year
Engine oil filter — Change (HF152)
✓
✓
✓
✓
Year
Engine oil filter (on oil tank) — Clean
✓
✓
Spark plugs — Check and clean, adjust, and change if necessary
✓
✓
Spark plugs — Change (NGK VD05EMH)
✓
✓
Air filter — Check and clean
✓
✓
Air filter — Change (K&N AL-1001)
✓
✓
Valve clearances — Check
✓
✓
Brake fluid — Change (Castrol DOT 4)
2 years
Clutch wear — Check
✓
✓
Clutch fluid — Change (Castrol DOT 4)
2 years
Coolant — Change (Zerex G05 or another ethylene glycol 50/50 pre-mix)
2 years
Suspension and ride "attitude" — Check / Adjust
Rear shock — Check for smooth operation and wear
✓
✓
Rear suspension linkage bearings — Check / lubricate / replace
✓
✓
Wheel bearings — Check / adjust / replace
✓
✓
Fuel hoses — Check / Replace
✓
✓
Replace every 4 years
Brake and clutch hoses — Check / Replace
✓
✓
Replace every 4 years
Cooling system pipes — Check
✓
✓
Fork oil — Replace
✓
R:✓
✓
Non-R: Every 3 services
R: Every 2 services
Fork oil seals — Replace
✓
Every 2 services thereafter
Aprilia RSV Mille Maintenance Schedule
Service Checklist
Below is the annual service checklist for the Aprilia RSV Mille. Do all of these items according to the schedule above.
Annual Service checklist — Aprilia RSV Mille
Drive chain tension and lubrication — Check and adjust
Every 1000 km / 625 mi
See below for more notes
Final transmission (chain, crown, and pinion) — Check and clean, adjust, lubricate
Brake pad wear
Check before every trip and every 2000 km / 1250 mi
Engine idle speed — Check and adjust
Target speed: 1250 +/- 100 rpm
Carburation, CO adjustment — Check / adjust
Cylinder synchronisation — Check / Adjust
Transmission cable / controls — Check / lubricate
Side stand
Fork — Inspect for smooth operation, no wear
Lights, switches — Check function
Clutch fluid — Check level, adjust as required
Brake fluid — Check level, adjust as required
Wheels — Inspect condition
Tyres — Inspect wear and tread level
Accelerator cable — Check / Adjust and lubricate as necessary
Steering bearings and steering clearance — Check / adjust
Rear fork bearings and rear fork slack — Check / adjust
Brake discs — Check thickness
Brake pads — Check thickness, replace when worn
Vehicle general running — Check
Brake systems — check function
Clutch — Check function
Nuts, bolts and screw — Check tightness
Annual Service checklist — Aprilia RSV Mille
Chain Maintenance on the Aprilia RSV Mille
Aprilia recommend that you check the condition of the chain every 1000 km or 625 miles, or more often, if you drive your motorcycle aggressively, for example, if you do a lot of track days, spirited, riding, or even riding on dusty or dirty roads.
Lubricate the chain with a good-quality chain lubricant, e.g. Motul chain lubricant.
To check to drive chain slack, check the free movement of the middle of the bottom part of the chain. With the motorcycle on its side stand, in neutral, and parked on a level surface, move the chain up and down with a finger, and measure how far up and down one of the pinions of the chain moves.
Target chain slack (Vertical free movement of chain) for the RSV Mille: 25mm
If the slack is above or below 25 mm, you'll need to adjust the slack.
To adjust the slack perform the following steps.
Loosen the rear axle
Loosen the lock nuts on each side of the axle.
Use the adjusters to move the axle forwards or backwards. Keep checking the chain slack.
Make sure that the adjusters move to the same degree, checking the reference marks.
When you've reached the target slack, tighten the locknuts.
Tighten the axle nut, to torque of 120 Nm or 90 lb-ft.
Wheels and Tires
The Aprilia RSV Mille is shod typically with sport or sport touring tires.
The manual specifies a wide range of recommended tires, with different sizes, types, and recommended tire pressures. (See the image below.)
The table below is a summary of the tire size options.
Wheel
Tire size
Tire pressure (cold)
Solo rider only
Front
120/70-ZR17
230 kPa / 2.3 bar / 33 psi
Track/: 210 kPa / 2.1 bar / 30 psi
Rear
Option 1: 180/55-ZR17
Option 2: 190/50-ZR17
250 kPa / 2.5 bar / 36 psi
190-200 kPa / 1.9-2.0 bar / 27-29 psi
Tire sizes and pressures
Some others even use 190/55-ZR17 tires, though it can cause some clearance issues. See this thread on Apriliaforum.com for one of many hot-blooded debates on the topic.
Of course, experiment with your own tire pressures / sizes according to modern tire compound performance and your preferences.
About the Aprilia RSV Mille (1998-2003)
The Aprilia RSV Mille is / was the first of a line of sport motorcycles that people today think of as a regular Italian sportbike brand. But the truth is that the RSV Mille was history-defining for Aprilia.
Prior to the Mille, Aprilia actually hadn't made bikes in this class. Yes, they had made sport motorcycles in the 250, 125, and 50 class… and still do. These days, it almost seems odd to sportbike fans that Aprilia also makes a huge number of scooters! So the Mille was kind of a big deal.
Aprilia made the RSV Mille as the answer to the Ducati 916 / 996 line of motorcycles that were winning all the glory at the World Superbike Championship. Honda would briefly win the crown later with the Honda VTR1000SP-1, but RSV also thought it might be able to get a piece of the pie.
For this first Mille, Aprilia got Rotax to build the engine. Rotax has built engines for many motorcycles, including BMW, and even Harley-Davidson-owned Buell (the fire-breathing V-twin motor in the Buell 1125R). Yes, they built motors for "The Motor Company"!
The motor is a 998 cc 60-degree V-twin. It's liquid-cooled 4-stroke, has two overhead camshafts, and four valves per cylinder.
Aprilia significantly updated the RSV Mille for 2001 (actually from mid 2000). It may look like an external restyling, but Aprilia actually made a ton of updates to the engine as well. Aprilia made a lot of internal modifications to increase both overall torque as well as peak power.
The main changes include
A camshaft profile lift of 0.8mm
Intake valve diameter increase of 2mm
58mm intake manifold, an increase from 38mm
New intake pipes designed for the new valves and cams, including an intake resonator
Redesigned pistons to match the new cams and valves
Revised injector mapping
Externally, Aprilia gave the RSV Mille a new, lower tank, an improved rider seat for better ergonomics, a more aerodynamic (and aggressively-styled) windshield atop a new headlight, a new side fairing with air ducts, and a new rear fairing.
The result of all these changes is that the gen 2 RSV Mille makes 130 hp at the crankshaft, a small increase over the 128 hp of the original model.
Aprilia also gave the 2000 model a spring drive activator in the clutch, to reduce lever force as well as to improve adhesion.
In some markets, parts of the updates were delayed. For example, in the US, some modifications didn't arrive until the 2002 model.
From 2002, Aprilia changed the gear ratios, making it slightly closer ratio, and gave the R model radial-mounted front calipers.
Year
2002
2003
Primary drive ratio
(No change)
31/60 (1:1.196)
31/60 (1:1.196)
Sprocket ratio
(No change this year, but changed previously)
17/42 (1:2.47)
17/42 (1:2.470)
1st
14/35 (1:2.50)
15/34 (1:2.27)
2nd
16/28 (1:1.75)
19/31 (1:1.64)
3rd
19/26 (1:1.37)
20/26 (1:1.3)
4th
(No change)
22/24 (1:1.09)
22/24 (1:1.09)
5th
(No change)
23/22 (1:0.96)
25/24 (1:0.96)
6th
27/23 (1:0.85)
26/23 (1:0.88)
Aprilia RSV Mille pre 2003, 2003, and RSV 10004
Note that Aprilia had previously changed the sprocket ratio of the stock Mille. Anyway, changing the sprocket ratio is something that many superbike owners consider doing (and often do, depending on local driving conditions or tracks) when changing the chain.
Aprilia also made higher-spec models for those with sportier intentions, from the 1999 model year.
The standard-spec Mille has fully adjustable suspension, with a Showa fork and a Sachs rear shock. It's plenty high spec and great for most people. But the higher-spec Aprilia RSV Mille R, like many of the Ducati S or SP models, has Öhlins suspension front and rear, an Öhlins steering damper, and forged aluminium lightweight wheels. It also has a shorter subframe for one person only. Sorry, pillion! (They'll thank you…)
Aprilia also made a limited homologation version of the RSV Mille, the Mille SP, for the World Superbike Championship. They only made 150 and they're in very short supply.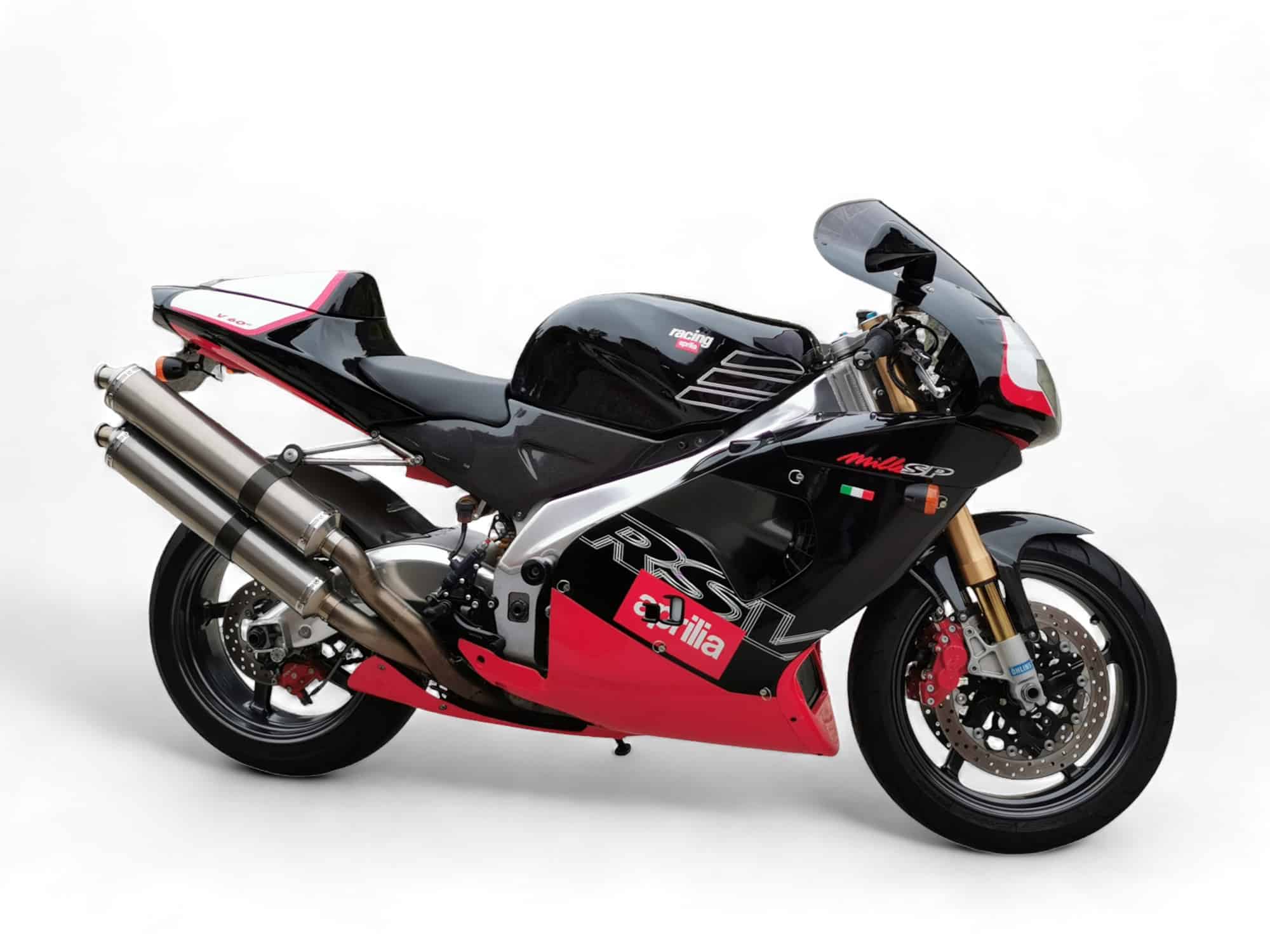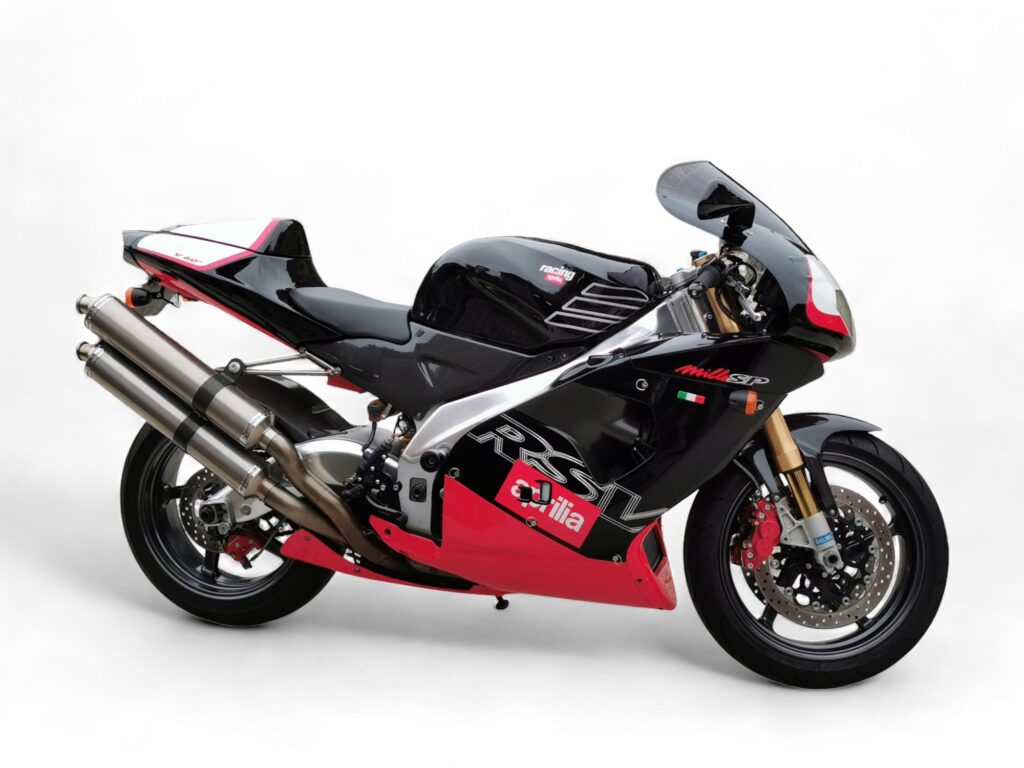 From 2004, Aprilia replaced the Mille with the RSV 1000-R and the RSV 1000R Factory.
Reference — Manual Screenshots for the Aprilia RSV Mille
The above information largely came from the service manual and maintenance guides for the RSV Mille, consulting the various years for major discrepancies.
You can get owner's manuals for Aprilia motorcycles from here. However, you do have to have a VIN registered to your name.
Below are screenshots from the service manuals for the Aprilia RSV Mille for reference.
We combined the "user maintenance" and "dealer maintenance" for the above schedules.