Honda XRV650 Africa Twin (RD03, 1988-1989) Maintenance Schedule and Service Intervals
This is the maintenance schedule and service intervals for the 1988-1989 Honda XRV650 Africa Twin, the original Africa Twin built by HRC.
The Honda XRV650 Africa Twin is a quite rare motorcycle, as it was only built for two years and not exported to every market. But it's a prized one in the adventure / off-road community, as well as among Honda owners, because it is high-quality, unique, and cool, with styling elements still used in modern adventure motorcycles.
The XRV650 Africa Twin is powered by a 647-cc liquid-cooled carburettor-fed 52-degree V-twin. It has a single overhead cam design and three valves per cylinder. The mildly-tuned engine (compression ratio of just 9.4:1) produces a modest peak of 43 kW / 57 hp at 8000 rpm, but was never intended to be a powerhouse. At least it'll run on any fuel you can find!
Final drive is via a 5-speed box and a chain.
From 1990, the Honda XRV650 was replaced by the XRV750 Africa Twin, with a bigger engine and some better components, but no longer built by HRC.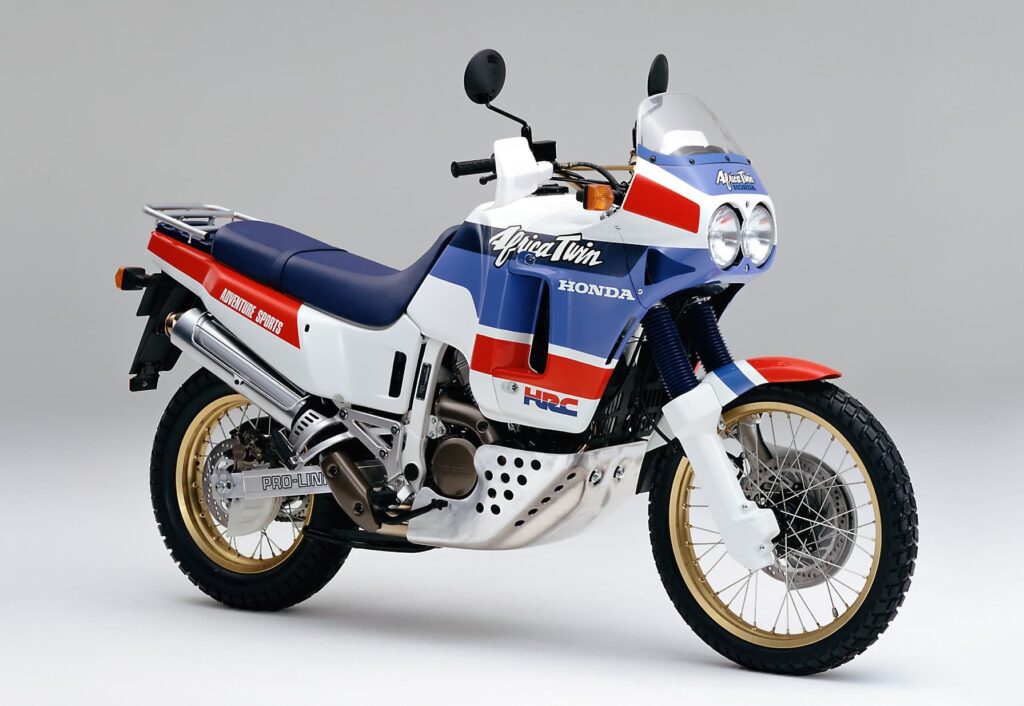 This site has links from which we earn a commission (which unfortunately nobody can save, not even us). If you appreciate this research work, then please use those links. Thanks.
Honda XRV650 Service Intervals
The Honda XRV650 has 4000 mile /6000 km or 6-monthly service intervals. However, most of those items are safety or emissions-related checks.
The oil change service on the XRV650 is every 8000 miles / 16000 km or annually, and the major valve service interval is the same — do it at the same time as the oil change. In most motorcycles, the valve clearances don't have to be checked annually, however, so take that into account.
Since the XRV650 has a liquid-cooled engine, you do have to regularly replace the coolant.
Honda XRV650 Maintenance Schedule
The original manual (see screenshots below) has everything in a different order. For convenience, we've split up the schedule into two parts — the major service schedule of important items, plus a checklist of things to go over every year.
Notes
Keep following this service schedule in the pattern shown
Service engine oil, chain, brakes, and air filter more often if riding in wet or dusty areas, or off-road in general.
Service schedule
mi x 1000
4
8
12
16
20
24
km x 1000
6
12
18
24
30
36
Months
6
12
18
24
30
36
Every
Inspection checklist (see below) — Perform
✓
✓
✓
Engine oil — Change (Motul 5100 10W-40, or another 10W-40 oil that's JASON MA rated)
✓
✓
✓
Oil filter — Change (HF204RC)
(torque – 8-12 Nm, 6-9 lb-ft)
✓
✓
✓
Spark plugs — Inspect

✓
✓
✓
Spark plugs — Replace (NGK DPR8EA-9 for most conditions)
✓
✓
✓
Valve clearances — Inspect / Adjust
Intake: 0.15 mm / 0.006 in
Exhaust: 0.20 mm / 0.008 in
✓
✓
✓
Air filter — Replace
✓
✓
More often if riding in dusty / adverse conditions
Radiator coolant — Replace (50/50 ethylene glycol pre-mix, e.g. Zerex G05)
✓
Idle speed — Check / adjust
Target RPM: 1200 rpm
Turn stop screw clockwise to increase, anti-clockwise to decrease
✓
✓
✓
✓
✓
✓
Fuel strainer screen — Clean
✓
✓
✓
✓
✓
✓
Crankcase breather — Clean
✓
✓
✓
✓
✓
✓
More often if riding in rain or at full throttle.
Drive chain slider — Inspect
Minimum thickness 3mm / 0.12 in
✓
✓
✓
✓
✓
✓
Battery charge state
Brake pads wear
✓
✓
✓
✓
✓
✓
Brake fluid — inspect
✓
✓
✓
✓
Brake fluid — Replace (Castrol DOT 4)
✓
✓
Clutch system and free play
Target free play — 10-20mm. Loosen lock nuts and adjust free play with adjusting nut.
✓
✓
✓
✓
✓
✓
Wheels / tires
✓
✓
✓
✓
✓
✓
Annual inspection checklist
This is the annual inspection checklist for the XRV650 Africa Twin.
Check these items per the schedule above.
Annual inspection checklist — Africa Twin XRV650
Fuel lines — Check (for kinks, routing)
Throttle operation — Inspect
Carburettor choke — Inspect
Carburettor sync — Check / adjust
Radiator coolant — Inspect level and condition
Cooling system — Inspect function, no leaks / worn hoses
Brake system — Check operation
Brake light switch — Check the brakes trigger the brake lights
Headlight aim — check / adjust
Side stand — Check is lubricated correctly
Front suspension — Inspect for damage, leaks, smooth operation
Steering head bearings — Inspect for smooth operation
Rear shock — Inspect for damage, leaks, smooth operation
Annual inspection checklist — Africa Twin XRV650
Chain Maintenance
Honda recommends you follow this maintenance schedule for the Africa Twin's chain at a minimum.
| Maintenance item | Every |
| --- | --- |
| Inspect for wear and chain tension / free-play, as well as sprocket and chain condition | 600 mi / 1000 km |
| Clean and Lubricate (use a portable lubricant like Motul Chain Paste, or an SAE 80 gear oil). | 600 mi / 1000 km |
Honda Africa Twin XRV650 chain maintenance schedule
To measure free play, measure the free vertical movement of the middle of the lower part of the chain.
Target chain slack: 35-45 mm (1 3/8 to 1 7/8 in)
You might also detect that the chain is too worn (stretched) after adjusting free play.
To adjust chain slack / free play
Elevate the rear wheel
Loosen the rear axle nut
Turn the left and right adjusters an equal amount to increase or decrease chain slack. Ensure the alignment marks are the same on either side. Keep checking chain slack.
Tighten the rear axle to 80-110 Nm / 58-80 lb-ft
If the pin on the swing arm is now in the red zone of the adjustment marks, the chain is too worn and must be replaced. (Replacement chain: RK522 MO)
Tires
The Africa Twin, being an adventure sports motorcycle, originally shipped with trail-ready tires (Bridgestone TW41/42 or Dunlop K560). The wheels are a 21/17-inch combination.
As with many early adventure bikes (and even the 2016 Africa Twin), the XRV650 runs tube type tires.
| Wheel | Tire size | Tire pressure (cold) |
| --- | --- | --- |
| Front | 90/90-21 54S | 200 kPa / 2.0 bar / 29 psi |
| Rear | 130/90-17 68S | 200 kPa / 2.0 bar / 29 psi |
Tire sizes and pressures
(Yes, Honda recommended the same pressure front and rear.)
About the Honda XRV650 Africa Twin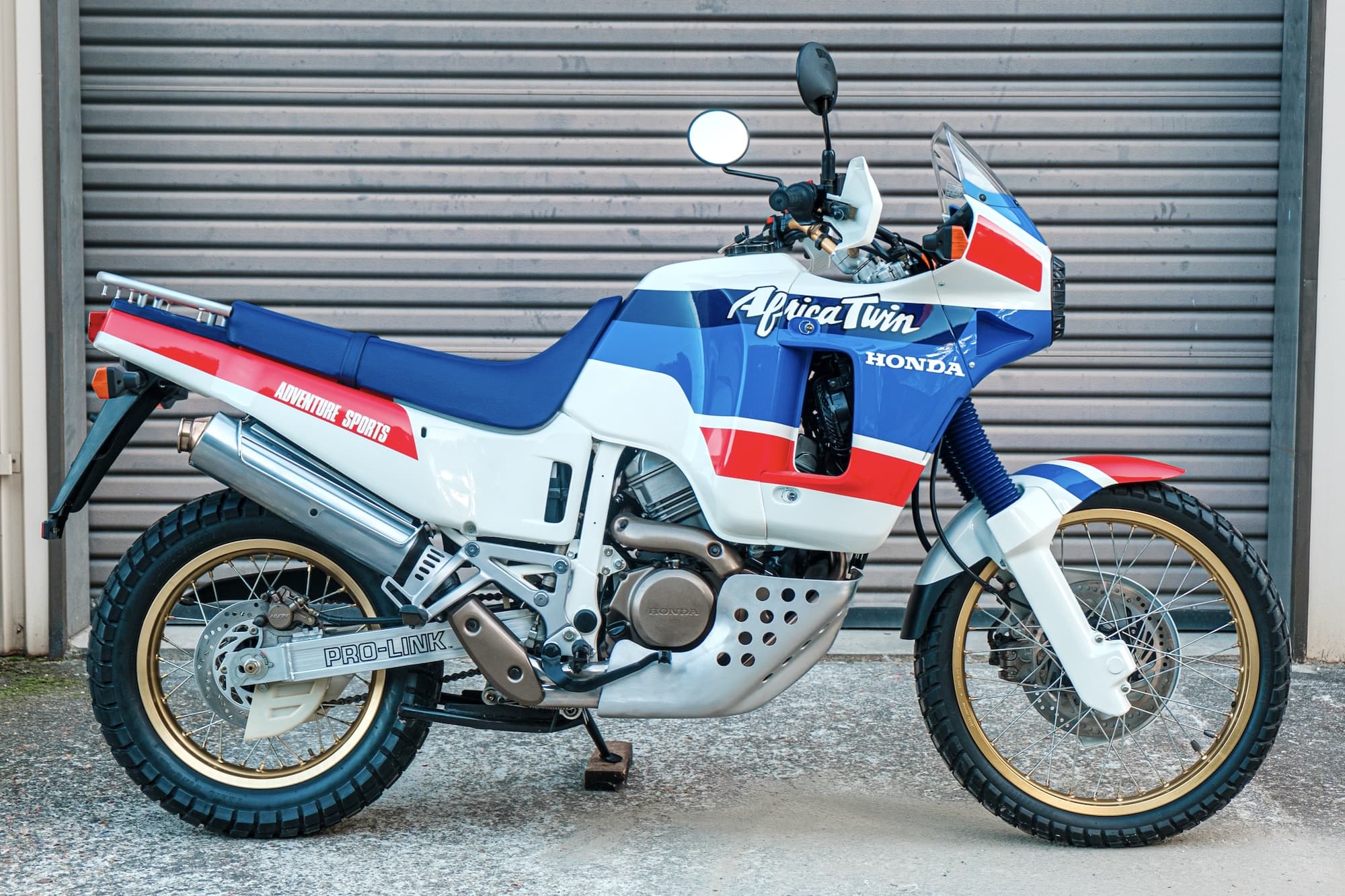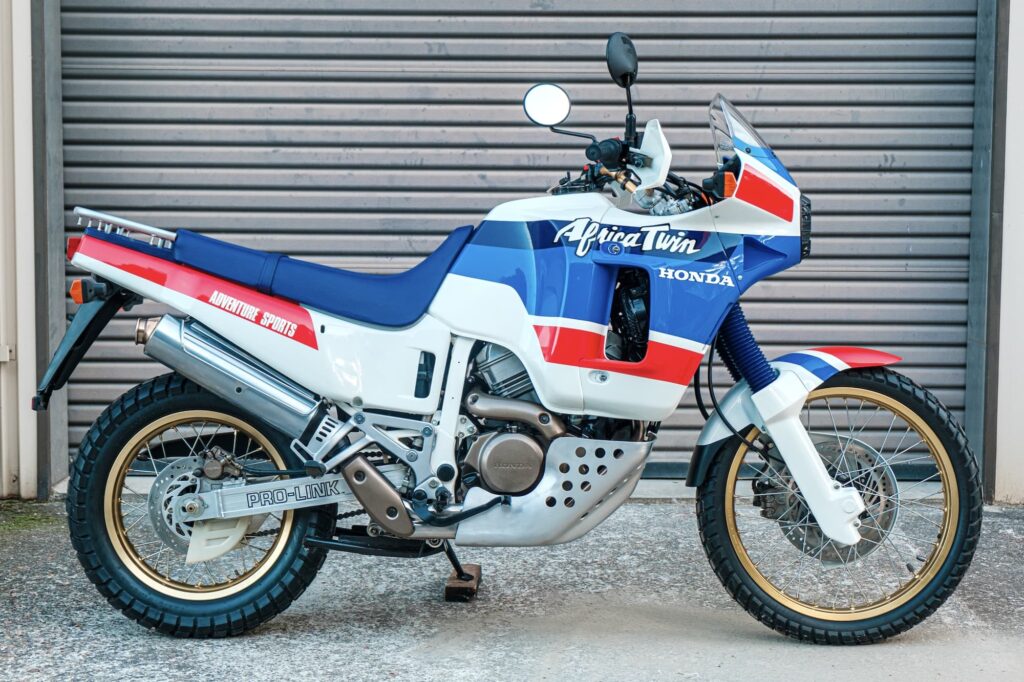 The Honda XRV650 Africa Twin is the motorcycle that everyone had in mind when Honda re-released the Africa Twin with the CRF1000L in 2016.
The original Africa Twin was built by HRC and inspired by the NXR750, which was a hero of the Paris-Dakar rallies early in the day, being piloted to multiple consecutive wins in the 1980s. Honda realised the commercial potential of the adventure segment and so released the original Africa Twin.
The XRV650 had a smaller gas tank and a smaller-capacity engine, but the motorcycle is just as off-road capable, with decently long-range suspension and a 21-inch front tire. Spoked wheels mean that the ride isn't too jarring when riding off-road.
The original Honda Africa Twin has a special place in its hearts among people who ride adventure motorcycles. It's simple, reliable, easy to maintain and to fix, has enough power, and has loads of style (which counts for something!)
It has front wheel travel of 220 mm and rear wheel travel of 210 mm. It's not like a dual sport bike, but it's a lot more than your average commuter naked bike (about double).
There's just a single front wheel disc — enough for everyday use, but people who pushed their bikes a bit harder did want something that would fade a little less quickly.
Honda quickly upgraded the XRV650 with the XRV750 in 1990, giving it twin disc brakes and a more powerful engine, plus a restyling. But the market changed direction in the 1990s, sportbikes coming into vogue, and Honda ended the Africa twin line temporarily in the early 2000s.
Aficionados of the XRV Africa Twins are split as to whether the 650 is better or the 750. Yes, the 750 is better on specs, but the 650 is still a great bike, and is the "original". Some claim that the original XRV650 is better quality, but with bikes this old, the maintenance and storage play a very large factor in their presentation.
Reference — Manual screenshots for the XRV650 Africa Twin
The above maintenance schedule was originally sourced from the manual for the 1988 Honda Africa Twin XRV650, with a few screenshots below.
You can find most manuals for Honda motorcycles on Honda's website. However, as this manual is a bit old, it's no longer available there.
A sub-section of the manual with just the maintenance-relevant content is shown below.