Honda CBR1000RR (2004-2005) Fireblade Maintenance Schedule and Service Intervals
This is the maintenance schedule and associated service intervals for the 2004-2005 Honda CBR1000RR Fireblade.
The CBR1000RR, marketed in some countries as the "Fireblade", is a 998 cc liquid-cooled inline four-cylinder superbike, introduced by Honda in 2004 as the 7th generation of the CBR series of motorcycles that began with the Honda CBR900RR in 1992.
The 2004 Honda CBR1000RR Fireblade was an upgrade to the CBR954RR of the previous year, and the first to have a 998cc engine — a capacity it has kept until today.
The Honda CBR1000RR was developed by the same team that was behind the MotoGP series. Many of the new technologies introduced in the Honda CBR600RR, a direct descendant of the RC211V, were used in the new CBR1000RR such as a lengthy swingarm, Unit Pro-Link rear suspension, and Dual Stage Fuel Injection System (DSFI).
Honda revised the CBR1000RR significantly in the 2006 Honda CBR1000RR.
Below are a bunch of high-resolution photos of the 2004-2005 Honda CBR1000RR. Collect them all!
This site has links for things like oil and spark plugs from which we earn a commission (which unfortunately nobody can save, not even us). If you appreciate this work, then please use those links. Thanks!
2004 Honda CBR1000RR Fireblade Service Intervals
Overall, the new Honda 2004-2005 CBR1000RR has relatively wide 8000 mile / 12000 km or annual service intervals between oil changes.
At every service, also look over the checklist of items to assess for damage, wear, or lubrication condition.
The major valve clearance service interval is every 16000 miles / 24000 km. At this point, also check the plugs (removal of which makes a valve job easier anyway), but you don't need to replace the plugs until 32000 miles / 48000 km.
Remember to replace the coolant and brake/clutch (the 2004 CBR1000RR has a hydraulic clutch) fluid every two years.
What you need to service the 2004-2005 Honda CBR1000RR
To service your CBR1000RR, aside from general motorcycle maintenance tools, you will need slightly different parts depending on what generation of bike you have.
For the 2004-2005 models, here's what you need.
Part
2004-2005 Honda CBR1000RR spec
Oil
This is consistent between Fireblades. Honda recommends Pro Honda GN4 10W-30 4-stroke oil, or another oil that is SAE 10W-30, JASO T 903 standard MA or better.
Oil filter
A high-quality drop-in replacement for all Fireblades is the HF204RC, which you can use a wrench to torque down (26 Nm/19 lb-ft)
Spark plug
Same for all Fireblades — NGK IMR9E-9HES or the Denso VUH27ES.
Air filter (varies)
For the 2004-2016 CBR1000RR use K&N HA-1004 for a good drop-in replacement.
Front brake pads (varies)
Many Fireblade riders switch to EBC or Galfer double hardened brake pads. For the 2004-2016 models (apart from SP), use these codes:
* EBC: FA390HH
* Galfer: FD326G1370
Rear brake pads
(varies)
These are for CBR1000RR Fireblades for 2004-2005 (it changes in 2006 and stays same until today).
* EBC: FA174HH
* Galfer: FD134G1371
Brake fluid / Clutch Fluid
Most brands are OK but Honda recommends Honda DOT 4 brake fluid.
Grease
Use a Valvoline lithium soap-based grease for external pivot points.
Chain care
Use either Motul chain paste or a full Motul chain care kit for regular chain maintenance.
Honda CBR1000RR 2004-2005 maintenance parts
2004-2005 Honda CBR1000RR Maintenance Schedule
Below is the maintenance schedule for the 2004-2005 Honda CBR1000RR.
Notes on the maintenance schedule:
At higher odometer readings, repeat at the frequency interval established here.
The break-in service is omitted as that time passed long ago.
When taking your Fireblade to the track, service it more often.
Maintenance Procedures:
I: inspect and clean, adjust, lubricate, or replace, if necessary
C: clean
A: adjust
L: lubricate
R: replace
| x 1000 km | 6 | 12 | 18 | 24 | 30 | 36 | |
| --- | --- | --- | --- | --- | --- | --- | --- |
| x 1000 mi | 4 | 8 | 12 | 16 | 20 | 24 | |
| Month | 6 | 12 | 18 | 24 | 30 | 36 | Notes |
| Standard service checklist (see below) | | I | | I | | I | |
| Engine oil (Pro Honda GN4 10W-30) | | R | | R | | R | |
| Engine Oil Filter (HF204RC) | | R | | R | | R | |
| Air Cleaner (HA-1004) | | | R | | | R | Service more often if the motorcycle is ridden in wet or dusty areas |
| Spark Plugs (IMR9E-9HES) | | | | I | | | Replace every 48K km (32K mi) |
| Valve Clearance | | | | I | | | |
| Radiator Coolant | | | | | | R | Replace every 2 years |
| Brake Fluid (Honda DOT 4) | I | I | R | I | I | R | Replace every 2 years |
| Clutch Fluid (Honda DOT 4) | I | I | R | I | I | R | Replace every 2 years |
| Brake Pad Wear | I | I | I | I | I | I | |
| Clutch System | I | I | I | I | I | I | |
| Exhaust Valve Control Cable | | | | I | | | |
Honda CBR1000RR Maintenance Schedule (2004-2005)
Standard service checklist
Do the following checks on your Honda Fireblade as part of every scheduled inspection.
Honda CBR1000RR Fireblade Inspection Checklist
Fuel Lines — Check condition, correct routing, and for no cracks
Throttle operation and free play – Lubricate with Protect all cable life
Target free play: 2-6 mm (0.08-0.24 in)
Check engine idle speed
Target idle speed: 1200 rpm +/- 100 rpm
Cooling system — Check for no leaks, and that fans come on
Radiator coolant — Inspect level
Drive chain slider — Check wear level. Replace as necessary
Clutch free play — Check / adjust
Brake system — Check for proper function
Brake light switch — Check lights come on
Wheels/Tires — Check for dents, tire condition, tread depth
Suspension — Check for smooth operation, no leaks
Headlight aim — Check, re-adjust after adjusting suspension
Side stand / Centre stand — Check for smooth function, lubrication condition
Steering head bearings — Check for smooth operation
Nuts, bolts, fasteners — Check for presence. Replace / retighten as needed
Secondary air supply system — Check
Crankcase breather (if fitted) — Check, clean as needed
Honda CBR1000RR Fireblade Inspection Checklist
Maintaining Your Chain on the Honda CBR1000RR Fireblade
It's important to maintain your chain on the Fireblade, as on any chain-driven motorcycle, but particularly a sport bike that gets a lot of abuse. Use a good-quality chain lubricant like Motul chain paste, or a Motul chain care kit which comes with a couple of handy tools to maintain the chain.
Honda recommends you follow the following chain maintenance schedule:
Chain maintenance item
Every
Check drive chain lubrication condition, lubricating if necessary
600 mi / 1000 km
Check drive chain slack, adjusting if necessary
Target slack (free play of bottom part of chain at middle): 25-35 mm / 1.0-1.4 in. Do not ride if slack is more than 50mm.
600 mi / 1000 km
Chain maintenance — Honda CBR1000RR
Notes:
Do these items (checking/adjusting slack, and checking/applying lubrication) more often if you ride your CBR1000RR in dusty or rainy conditions.
Always lubricate the chain after washing the motorcycle.
Tyre size and tyre pressure for the 2004-2005 Honda CBR1000RR
Honda specifies the following tyre size and gives these recommended tyre pressures in the manual for the CBR1000RR.
| Tyre | Size | Tyre pressure |
| --- | --- | --- |
| Front | 120/70ZR17 M/C (58W) | 250 kPa / 36 psi |
| Rear | 190/50ZR17 M/C (73W) | 290 kPa / 42 psi |
Tyres and tyre pressures (Honda CBR1000RR 2004-2005)
The original CBR1000RR shipped with Bridgestone BT014 tyres, or Pirelli Diablo Corsa tyres.
About the 2004-2005 Honda CBR1000RR
The 2004 CBR1000RR was also known as the seventh generation RR, the SC57, an evolution of the CBR954RR — though very few parts were carried over.
The compact 998 cc in-line four powering the CBR1000RR was a new design, with different bore and stroke dimensions, race-inspired cassette-type six-speed gearbox, all-new ECU-controlled ram-air system, dual-stage fuel injection, and center-up exhaust with a new computer-controlled butterfly valve.
The new 998cc engine had a 11.9:1 compression ratio and made a claimed 128 kW (172 hp) @ 11000 at the crank, considerably more than its predecessor.
Front brakes were dual full floating 310mm discs with four-piston radial-mounted calipers (a change from the axial-mount calipers on the previous Fireblade. The brakes get a further upgrade in the 2006 model CBR1000RR.
Suspension is very capable on the early Fireblade too. The forks are 43mm Showa inverted units with full adjustability. And at the rear there's a single HMAS shock with 13-step adjustable preload, and stepless compression and rebound damping adjustment.
The under-seat muffler on the 2004-2005 CBR1000RR were a design choice of the early 2000s that looked awesome and sadly have disappeared from most bikes (other than the most recent Honda CBR600RR) for weight savings reasons.
The engineers who built the 2004 CBR1000RR totally rethought the layout of the motorcycle. It has a longer swingarm and a shorter engine, which meant engineers had to change the inline layout of the CBR954RR and place the crankshaft, main shaft, and countershaft in a triangular configuration. This was a design that Yamaha had been using in the early model YZF-R1 for a few years.
One unfortunate change of the 2004 Honda Fireblade is that it got quite a bit heavier than its predecessor. The CBR954RR Fireblade was the lightest Fireblade of all time, but the 2004 model was quite a bit heavier with a dry weight of 179 kg, 11 kg (24 lb) more than the 168 kg of the CBR954RR. That's quite a lot!
Maintaining the Honda CBR1000RR Fireblade is like maintaining many modern sportbikes. Change the fluids every 1-2 years, and inspect the valves periodically — every 16000 miles or 24000 km. Luckily, they have a reputation for not really needing any changes.
Manual for the 2004 Honda CBR1000RR
The above maintenance schedule comes directly from the user's manual for the 2004 Honda CBR1000RR, also with reference to parts manuals.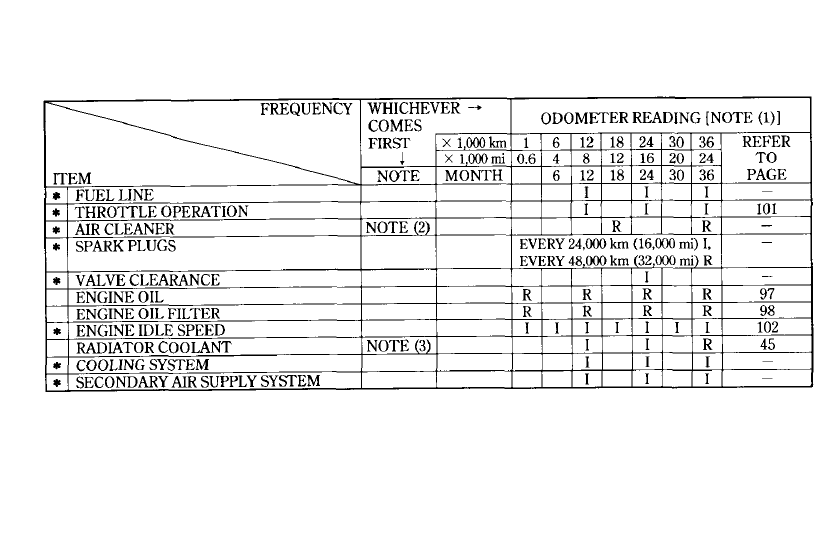 You can download manuals for Honda motorcycles directly from Honda.