Ducati Supersport 950 and 950 S (2021+) Maintenance Schedule
This is the Ducati Supersport and Supersport 950 S maintenance schedule and service intervals — sourced from the owner's manual.
The Ducati Supersport range is the "comfortable superbike", first released in 2017 as the Ducati Supersport and Ducati Supersport S, then updated in 2021 to the Supersport 950.
The Ducati Supersport 950 is primarily a Euro 5 pollution update, but it got a number of other updates including an updated electronics suite including Bosch cornering ABS, traction control, a quick shifter, and wheelie control. The Supersport 950 also got design updates (increasing its resemblance to the Panigale V4), LED headlights with DRLs, and other details.
The Supersport 950 S version gets fully adjustable Öhlins suspension, plus a cover for the passenger seat and Ducati Red Tag on the wheel rims.
The 2021+ Ducati Supersport 950 has the same underlying platform as the Ducati Hypermotard 950 or the 2021+ Ducati Monster, so maintenance is quite similar.
The Ducati Supersport 950 / S has a 5-year timing belt change interval, as well as a 24000 km (15000 mile) "Desmo service" (valve inspection) interval, slightly shorter than that of the original Supersport.
This site has links for things like oil and spark plugs from which we earn a commission (which unfortunately nobody can save, not even us). If you appreciate this work, then please use those links. Thanks!
Ducati Supersport 950 / S Service Intervals
Overall, the Ducati Supersport 950 and Supersport 950 S has a 9000 mile / 15000 km or annual service interval, similar to other Ducati motorcycles of the same vintage.
At every service, change the oil and filter, and do a host of checks (in the service schedule below).
The major "Desmo" valve service on the Supersport 950 is every 18000 miles or 30000 km.
Because the Ducati Supersport has a four-valve-per-cylinder engine and Desmodromic valves, there are sixteen clearances to check. If an opener is out of spec, it's common that the closer is, too, per the manual.
The Ducati Supersport's valves are belt-driven, which means you need to change the timing belts periodically, or at a maximum of ever 5 years.
What you need to service a Ducati Supersport 950 / S
To service your Ducati Supersport 950, you need the following consumable components.
Part
Ducati Supersport 950 spec
Engine oil
Ducati recommends "Shell Advance DUCATI 15W-50 Fully Synthetic Oil", or another oil that is the 15W-50, meets API standard SN, and/or JASO standard MA2. A good option is Mobil 1 15W-50 Full Synthetic or Motul 300V 15W-50.
Oil filter
The Supersport 950's engine uses the same oil filter as many other high-end Ducatis, and you can use a HifloFiltro HF153 as an easy-to-obtain replacement.
Spark plugs
Standard spark plugs are NGK MAR9A-J.
Air filter
Use a K&N air filter, part number DU-1006.
Timing belt
The part number for the Ducati Supersport 950's timing belt is 73740252A.
Coolant
Use a high-quality ethylene glycol-based coolant with corrosion inhibitors that's suitable for aluminium radiators.
Brake fluid/Clutch fluid
Ducati specifies using DOT 4, so use something high quality like Castrol DOT 4 full synthetic.

Note that the Ducati Supersport 950 has a hydraulic clutch, unlike its predecessor.
Front brake
Use EBC HH brake pads with part number FA630HH.
Rear brake
The EBC part code for HH pads is FA266HH.
Chain management
Ducati doesn't specify a chain lube, so use something well-liked like Motul chain paste, or maybe clean it with a Motul chain care kit.
Battery
Dead battery? If it hasn't happened, it will happen. The replacement you need is a Yuasa YT7B-BS (12V – 6.5Ah 10HR) (common to many Ducati motorcycles)
Ducati Streetfighter V2 maintenance parts
Maintenance schedule for the Ducati Supersport 950/S
This maintenance schedule below for the Ducati Supersport 950 is in the same format as in the manual, though altered to fit this screen.
Ducati separates out "customer" items and "dealer" items — they think customers should just change oil, check fluid levels, and grease obvious external things.
Note about harsh/dusty conditions: "Using the motorcycle under extreme conditions, such as very damp and muddy roads or dusty and dry environment, could cause above-average wear of components like the drive system, the brakes or the air filter. If the air filter is dirty, the engine could get damaged. Therefore, this might translate in required service or replacement of the wear parts earlier than specified in the scheduled maintenance chart."
Note about road use: "This scheduled maintenance chart is designed for road use. If it is used on the track, even if not during sport competitions, all parts of the motorcycle are more stressed so the routine maintenance operations must be carried out more frequently than indicated."
If you want to track your Supersport, then talk to Ducati about getting a different service schedule.
Ducati Supersport 950 / S — Regular maintenance
This is maintenance that you can do yourself.
Do these items every 1000 km / 600 miles, or 6 months — whichever comes earlier.
Ducati Supersport 950 / S regular maintenance
Check the engine oil level
Check brake fluid level
Check tyre pressure and wear
Check the drive chain tension and lubrication
Check the brake pads. If necessary, replace, contacting your dealer if unsure.
Regular maintenance for the Ducati Supersport 950
Ducati Supersport 950 / S — Maintenance schedule
Below is the maintenance schedule for the Supersport 950 or Supersport 950 S.
Oddly, the maintenance schedule for the Ducati Supersport 950 has shorter intervals than the straight original Ducati Supersport. It used to be 30,000 km for the Desmo service, and the 950 S has 24,000 km Desmo service intervals.
Notes:
Follow the following maintenance schedule, observing the distance or time interval — whichever comes earlier.
[D] items are those that dealers must do unless you have the official gear (DDS system).
At the end of the maintenance schedule, keep following it in the pattern shown.
km x 1000
1
12
24
36
48
mi x 1000
0.6
7.5
15
22.5
30
Every
[D] Read error memory with DDS 3.0 and check technical updates and recall campaigns on DCS
✓
✓
✓
✓
✓
Year
Change engine oil and filter (Mobil 1 15W-50, HF153)
✓
✓
✓
✓
✓
Year
Check and clean air filter
✓
✓
✓
✓
Year
Change air filter (DU-1006)
✓
✓
–
Change timing belts
✓
✓
5 years
Check and/or adjust valve clearance
✓
✓
–
Change spark plugs (NGK MAR9A-J)
✓
✓
–
Change coolant
✓
✓
4 years
Change front fork fluid
45000 km/27000 mi
Visually check the front fork and rear shock absorber seals
✓
✓
✓
✓
✓
Year
Check brake and clutch fluid level (Note 1)
✓
✓
✓
✓
✓
Year
Change brake and clutch fluid (Note 1)
2 years
Check front and rear brake disc and pad wear
✓
✓
✓
✓
Year
Check the proper tightening of brake calliper screws, brake disk screws, and rear and front wheel nuts
✓
✓
✓
✓
Year
Check rear sprocket nut tightening
✓
✓
✓
✓
Year
Check the tightening of frame fasteners to engine, swinging arm, and rear shock absorber
✓
✓
✓
✓
Year
Check wheel hub bearings
✓
✓
✓
✓
Year
Check the cush drive damper on rear sprocket and lubricate the rear wheel shaft
✓
✓
–
Check wear of chain, chain sliding shoes, front and rear sprocket, and final drive chain elongation, tension, and lubrication. Record detected elongation value
✓
✓
✓
✓
✓
Year
(Note 1)
Replace final drive chain kit (Note 2)
20000 km (12000 mi)
Check the play of steering tube bearings
✓
✓
✓
✓
Year
Check the freedom of movement and tightening of the side stand
✓
✓
✓
✓
✓
Year
Check that all gaiters and flexible hoses in view (e.g. fuel, brake and clutch hoses, cooling system, bleeding, drainage, etc.) are not cracked, are properly sealing and positioned
✓
✓
✓
✓
✓
Year
Check free play of rear brake lever and lubricate the levers at the handlebar and pedal controls
✓
✓
✓
✓
✓
Year
Check the free play of the cable clutch lever
✓
✓
✓
✓
✓
Year
Check tyre pressure and wear
✓
✓
✓
✓
✓
Year
Check the operation of all electric safety devices (clutch and side stand sensor, front and rear brake switches, engine kill switch, gear/neutral sensor)
✓
✓
✓
✓
✓
Year
Check lighting devices, turn indicators, horn and controls operation
✓
✓
✓
✓
✓
Year
Final test and road test of the motorcycle, testing safety devices (e.g. ABS and DTC), electric fans and idling
✓
✓
✓
✓
✓
Year
Visually check the coolant level and sealing of the circuit
✓
✓
✓
✓
✓
Year
Softly clean the motorcycle
✓
✓
✓
✓
✓
Year
[D] Service coupon registration with turning off of service warning light on instrument panel with DDS 2.0 and filling in of the on-board documentation (Service Booklet)
✓
✓
✓
✓
✓
Year
Dealer maintenance schedule table for the Ducati Supersport 950 and 950 S
Note 1: The manual says just brake fluid, but as the Supersport 950 has a hydraulic clutch, this appears to be an omission from Ducati. We changed this to "brake and clutch fluid", to match other manuals from Ducati.
Note 2: Ducati says "We recommend replacing the final drive chain kit within 20,000km/12,000 mi." as a note under recording chain elongation.
Ducati Supersport 950 Chain Maintenance
To measure the chain tension on your Ducati Supersport 950, measure the distance between the chain and the swing arm with the chain.
Put the motorcycle on its side stand.
Push down on the chain at the middle and release it.
Measure the distance between the centre of the chain pins and the aluminium section of the swinging arm.
Target distance for chain tension: 35-37 mm (1.38-1.46 in)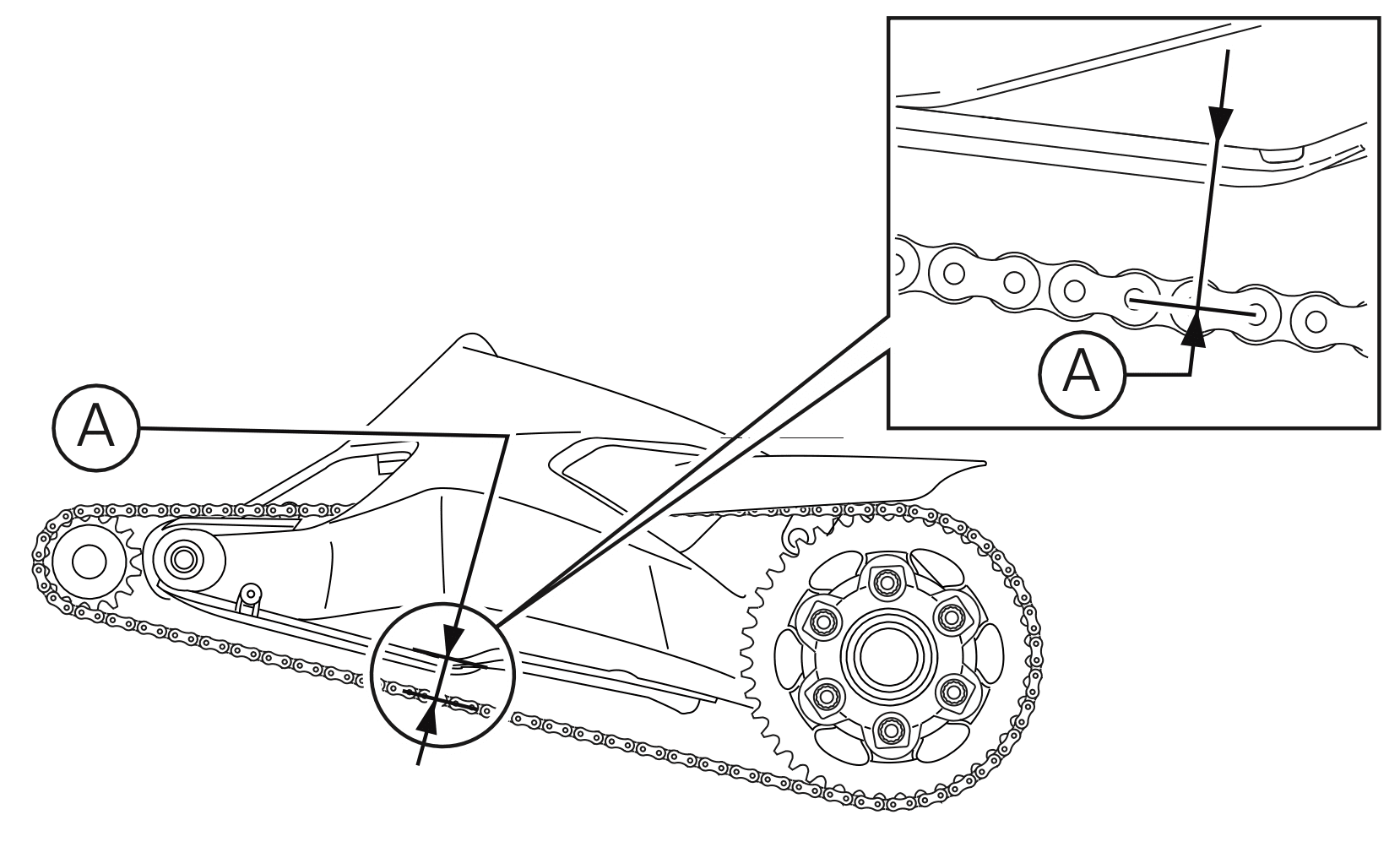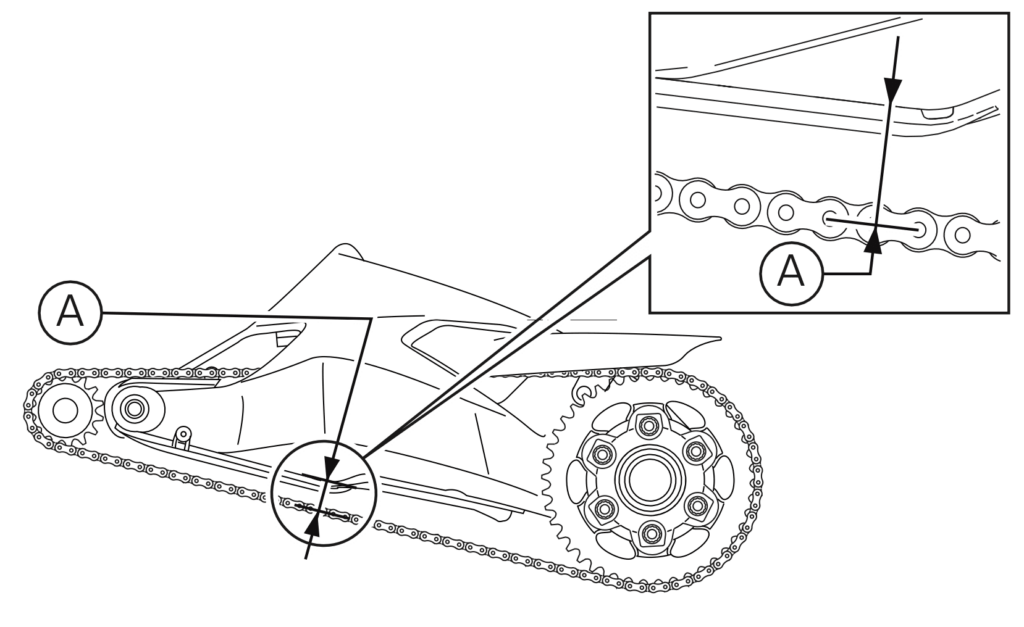 If the chain tension is out of spec (usually too loose, though it might have been over-tightened), adjust the chain tension by loosening the clamp on the rear sprocket, using an eccentric wrench to adjust tension, and re-tightening it. If you don't have the required tools, see a dealer.
Wheel and Tire Sizes for the Ducati Supersport 950
The Ducati Supersport 950 ships with tubeless tires in standard sport sizes. The stock tire is the capable mid-range Pirelli Diablo Rosso III tire.
Wheel
Wheel size
Tire size
Tire pressure (cold)
Front
120/70 ZR17 M/C 58W TL
2.5 bar / 36 psi
Rear
5.5 x 17 inch
180/55 ZR17 M/C 73W TL
2.5 bar / 36 psi
With passenger: 2.8 bar / 41 psi
Tire sizes and pressures
The above tire pressures are from the manual and so are likely recommendations prioritising longevity. If you have sporting or different intentions, you'll naturally want to experiment with different tire pressures (probably lower ones).
About the Ducati Supersport 950 and 950 S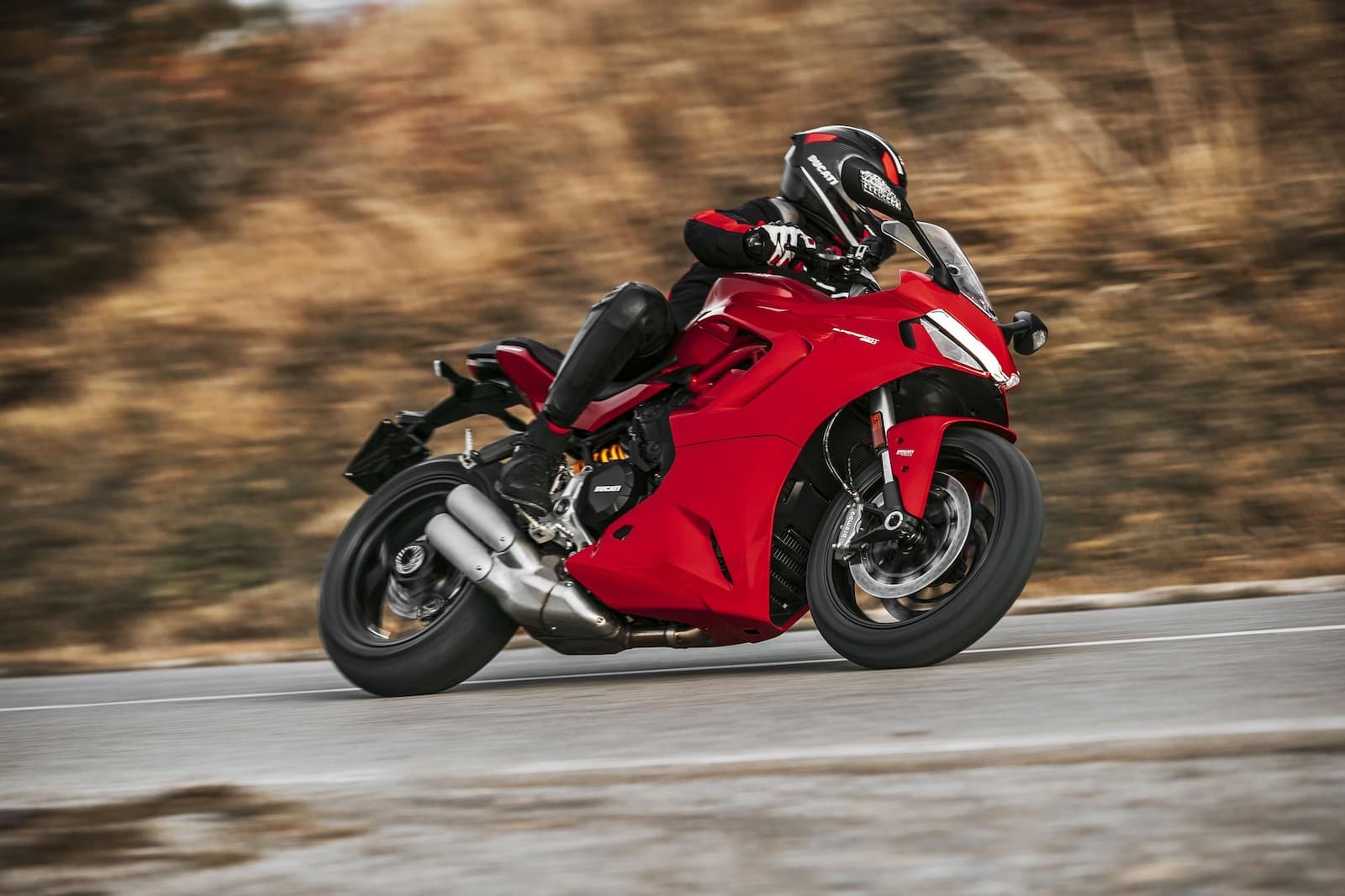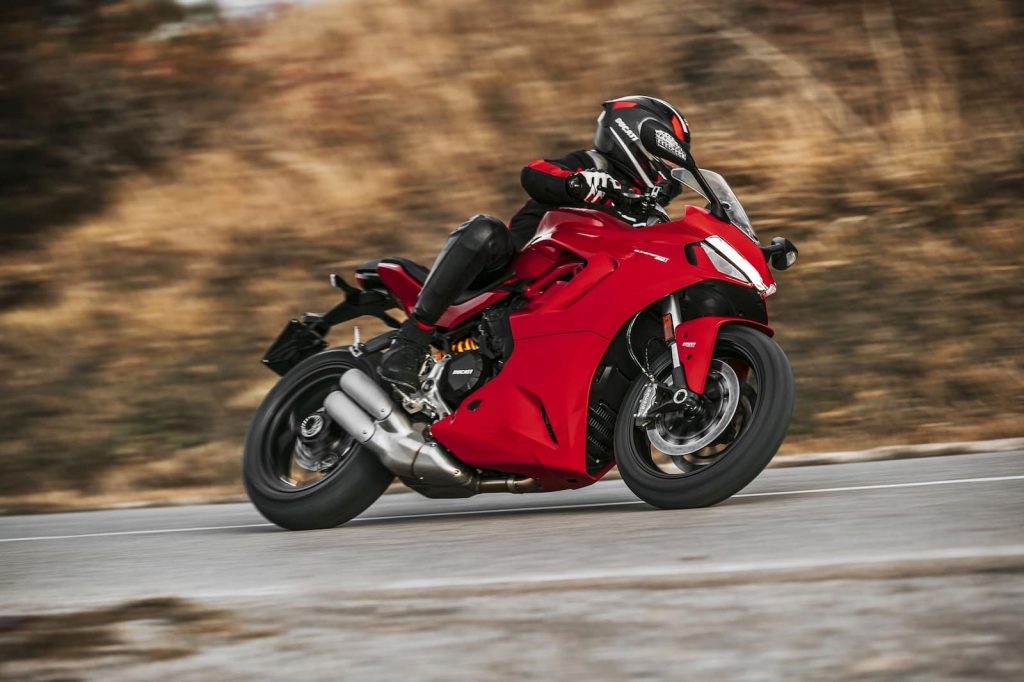 The Ducati Supersport 950 is the sport bike for the ordinary person, all ~8 billion of us who aren't right now on a race track.
Rather than be an all-out pursuit of maximum power and super high specs, like most track-ready liter-class sportbikes (or even the mid-range panigales like the Ducati Panigale V2), the Ducati Supersport is intentionally moderately powered.
The Supersport's 937 cc liquid-cooled L-twin makes a modest 81 kW / 110 hp at 9000 rpm, with peak torque of 93 Nm coming on at a modest 6500 rpm.
The engine is the same as that used in many other middleweight Ducati motorcycles, including the Ducati Monster 937, for example.
It's a motorcycle with belt-driven cams and a desmodromic timing system. This is a relatively old design for Ducati, and service for it is more expensive than would be for (for example) a parallel twin with chain-driven cams.
But luckily, as Ducati motorcycles have aged, their service requirements have become less stringent. The Ducati Supersport 950's valve service intervals are a generous 18000 miles / 30000 km apart, and the belts only need to be replaced every 5 years.
The Ducati Supersport 950 an update to the earlier Ducati Supersport (with no number after it), which actually has the same engine. But the 950 came with some important updates.
The Supersport 950 has, compared to superbikes with similar aesthetics, lower power, a more comfortable seating position, and a more accessible torque band than any superbikes (including the Panigale V2 and Panigale V4 of the day).
But the Supersport 950 and Supersport 950S are still very much sport motorcycles.
If you want a comparison, you can compare the Supersport 950 to the Kawasaki Ninja 1000, for example. The Ninja 1000 makes more power, but on the Ninja you sit comparatively bolt upright and with a comfortable knee angle.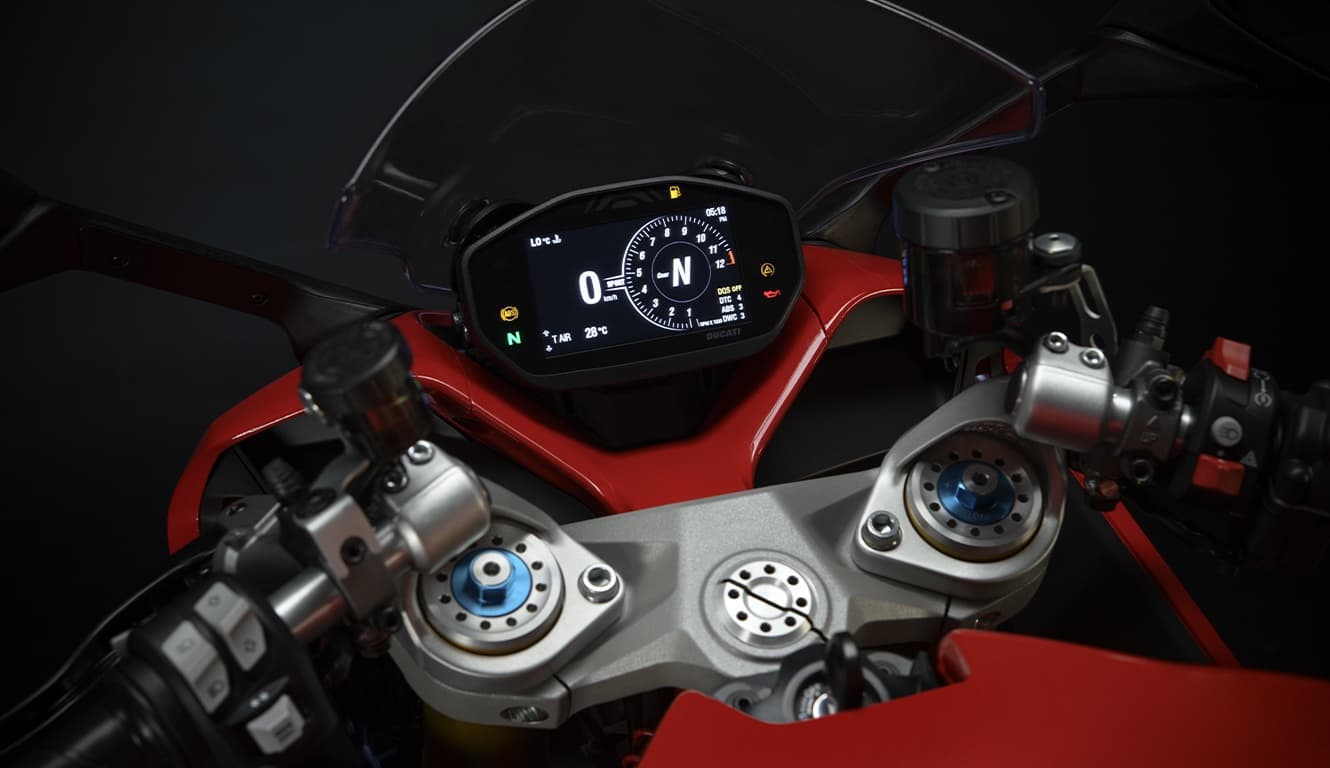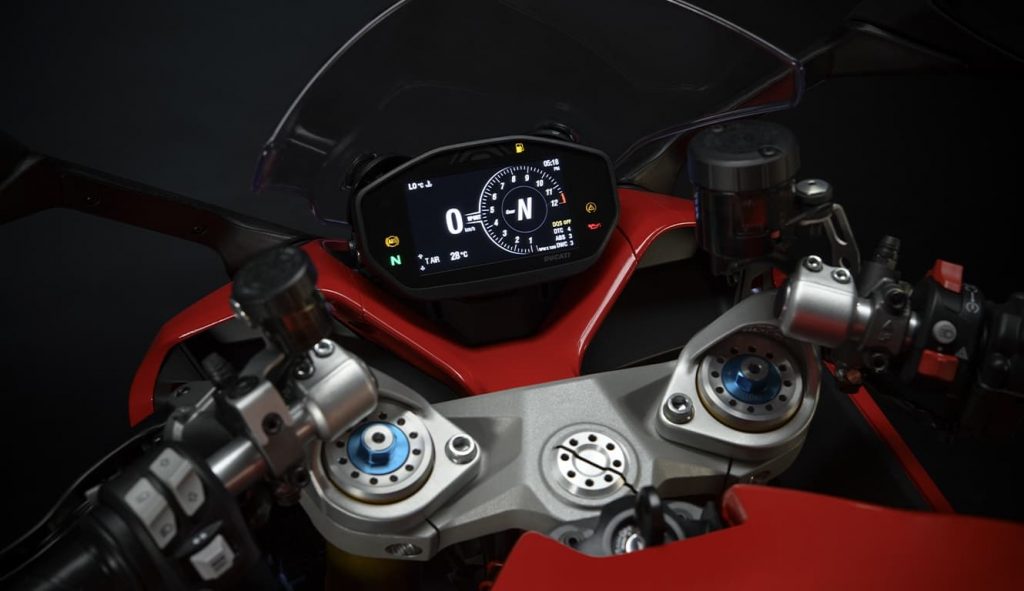 Just look at a Ducati Supersport 950 — with its design that hawks the Panigale V4, the single-sided swing-arm, and even the winglets (designed to deflect air onto the rider), it's not a bike that says "I'm slow".
The fact that the owner's manual mentions that you should service it more often if you take it to the track is cue enough that this is a very capable sporting machine — people definitely track these.
In terms of maintenance, the Ducati Supersport 950 has a lot in common with its predecessor, the Ducati Supersport and Supersport S. But the Supersport 950 has shorter maintenance intervals for a reason Ducati hasn't clarified — there are now 24,000 km intervals between each Desmo service, rather than 30,000 for the Supersport.
One nice addition over the original Supersport, maintenance-wise, is that the Supersport 950 has a self-bleeding hydraulic clutch — similar tech to what's on the Panigale V4. The original Supersport had a cable clutch.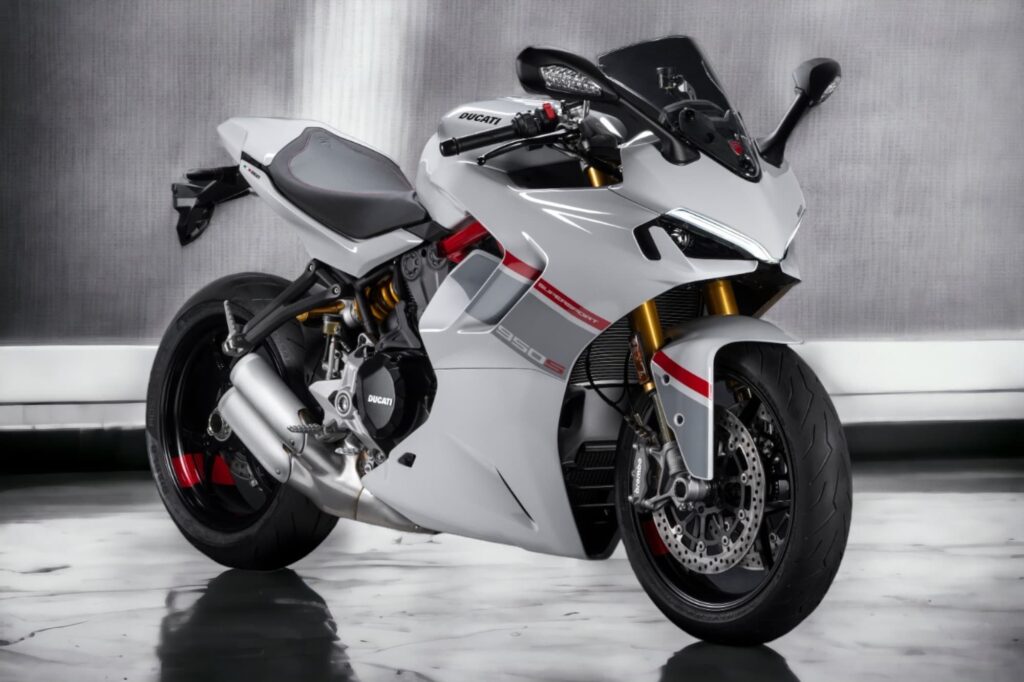 Reference — Ducati Supersport 950 Owner's Manual
The above information is sourced largely from the Ducati Supersport's owner's manual, with input from other websites for parts.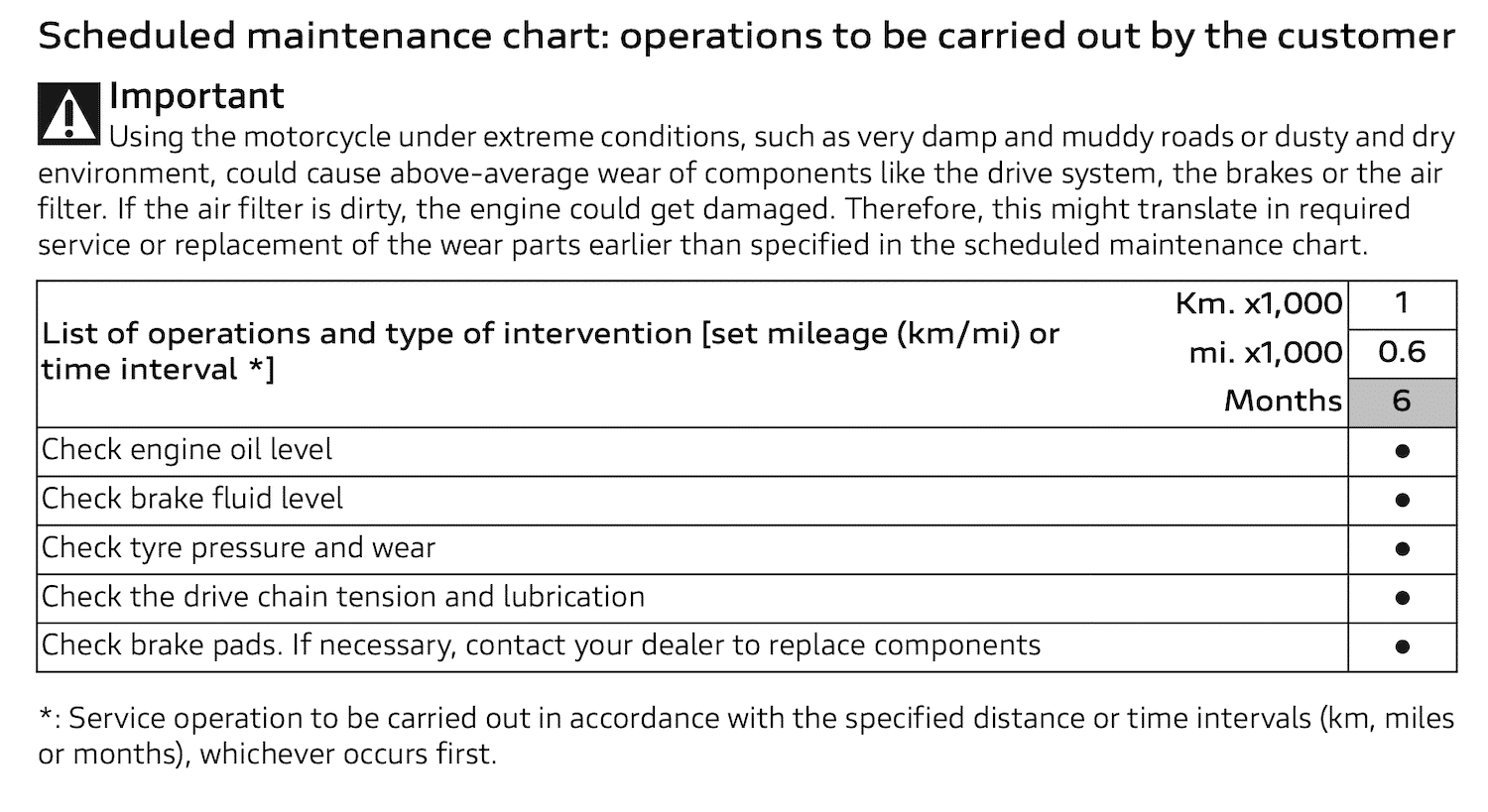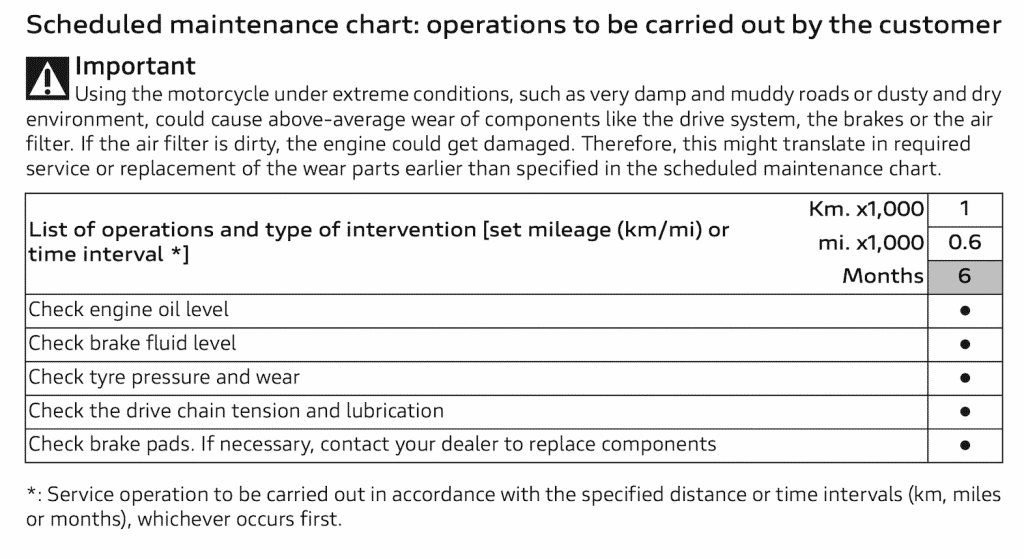 The manual says regarding the intervals between the services:
The Oil Service 1000 must be carried out after the first 1,000 km/600 mi
The Oil Service (oil pourer) must be carried out every 12,000 km/7,500 mi.
The Desmo Service (wrench) must be carried out every 24,000 km/15,000 mi.
The Annual Service (calendar) must be carried out every 12 months.
The above info was sourced from the owner's manual. You can download it from the Ducati website here.