Honda CBR600RR 1st Gen (2003-2004) Maintenance Schedule and Service Intervals
This is the maintenance schedule and associated service intervals for the 2003-2004 Honda CBR600RR, the original sports bike from Honda that was a favourite among reviewers in early years.
This original CBR600RR is Honda's first foray into sport bikes that are intensely track focused, rather than being the everyday sport bike that the CBR600F range (temporarily ending with the CBR600F4i) was. The original version is distinguishable from the rest because it has conventional forks, something that was changed in the 2005-2006 CBR600RR.
The Honda CBR600RR has changed minimally since its launch. It has always been based around a 599cc liquid-cooled inline four-cylinder engine with fuel injection at its base. Very little technology has been added to it (before 2021) — ABS has been an option, but a relatively rare one given the added weight.
Here are all the Honda CBR600RR generations:
2003-2004 Honda CBR600RR: The original CBR600RR, a re-thinking of the 600cc sportbike that the CBR600F4i was. More aggressive and track-oriented, with lower clip-ons. Still has conventional forks (i.e. not inverted).
2005-2006 Honda CBR600RR: Redesigned frame, inverted forks, radial-mounted front calipers, new bodywork, an engine tweaked to improve midrange power, and an overall dry weight of 4kg (9 lb) less.
2007-2012 Honda CBR600RR: Reworked engine, shorter wheelbase. New three-spoke cast aluminium wheels. A Honda electronic steering damper. 2009 introduced C-ABS as an option, and a few internal changes (like high-resistance valve lifters and a popup valve system) to improve mid-range torque. Another 20 lb lighter dry (without C-ABS). (Some consider 2009-2012 to be a separate generation, but the whole era shares one manual.)
2013+ Honda CBR600RR: Lightweight 12-spoke wheels, revised ECU, new suspension (Showa "Big Piston Fork", and a ram-air system tuned for mid-range torque. Discontinued in some markets after 2016. Note — this is still the current model in the USA
2021 Honda CBR600RR: New release with a six-axis IMU and a host of rider aids, new TFT dash, Euro 5 compliance, and a highly exclusive price tag.
Originally published January 21, 2021, but considerably revised since then.
This site has links for things like oil and spark plugs from which we earn a commission (which unfortunately nobody can save, not even us). If you appreciate this work, then please use those links. Thanks!
Honda CBR600RR Service Intervals
Overall, the first-gen Honda CBR600RR has 4000 mile / 6000 km service intervals, but most of the required service is just inspections. You only change the oil every 8000 miles / 12000 km or every year.
Inspect the spark plugs and check the valve clearances of the CBR600RR every 16000 miles / 24000 km. You only have to change the spark plugs every twice that, at 32000 miles / 48000 km.
Make sure to replace the brake fluid and engine coolant every two years.
2003-2004 Honda CBR600RR Maintenance Schedule
Below is the maintenance schedule for the 2003-2004 Honda CBR600RR.
Notes on the maintenance schedule:
Honda recommends you get the wheels, tires, and steering bearings serviced by a professional with the appropriate equipment.
At higher odometer readings, keep following this maintenance schedule pattern.
The break-in service isn't shown.
Maintenance Procedures:
I: inspect and clean, adjust, lubricate, or replace, if necessary
C: clean
A: adjust
L: lubricate
R: replace
x 1000 km
6
12
18
24
30
36
x 1000 mi
4
8
12
16
20
24
Month
6
12
18
24
30
36
Every
Engine Oil (Pro Honda 10W-40)
R
R
R
Engine Oil Filter (HF204RC)
R
R
R
Spark Plugs (NGK IMR9C-9HES)
I
48K km (32K mi): R
Air Cleaner (HA-6003)
I
I
More often if riding in wet/dusty areas.
Valve Clearance
I
Fuel Line
I
I
I
Throttle Operation
I
I
I
Engine Idle Speed
Target: 1 300 +/- 100 rpm
I
I
I
I
I
I
Radiator Coolant (Pro Honda Coolant)
I
I
R
2 years: R
Cooling System
I
I
I
Secondary Air Supply System
I
I
I
Drive Chain Slider
I
I
I
Brake Fluid (Honda DOT 4)
I
I
R
I
I
R
2 years: R
Brake Pad Wear
I
I
I
I
I
I
Brake System
I
I
I
Brake Light Switch
I
I
I
Headlight Aim
I
I
I
Clutch System
I
I
I
I
I
I
Side Stand
I
I
I
Suspension
I
I
I
Nuts, Bolts, Fasteners
I
I
I
Wheels/Tires
I
I
I
Steering Head Bearings
I
I
I
Honda CBR600RR (2003-2004) maintenance schedule
Maintaining Your Chain on the Honda CBR600RR
It's important to maintain your chain on the CBR600RR, as on any chain-driven motorcycle. Use a good-quality chain lubricant like Motul chain paste, which is very portable.
Honda recommends you follow the following chain maintenance schedule for the RR:
Chain maintenance item
Every
Check drive chain lubrication condition, lubricating if necessary
600 mi / 1000 km
Check drive chain slack, adjusting if necessary
Target slack (vertical movement in loosest part of chain): 25-35 mm
Re-tighten rear axle to 113 Nm / 83 lbf-ft after adjusting slack
600 mi / 1000 km
Chain maintenance — Honda CBR600RR
Notes:
Do these items (checking/adjusting slack, and checking/applying lubrication) more often if you ride your CBR600RR in dusty or rainy conditions.
Don't ride the motorcycle if slack is more than 50mm (2 inches).
Always lubricate the chain after washing the motorcycle.
After adjusting the chain slack, look at the wear indicator on the slack adjuster. If it's in the "red zone", then you need to replace the chain.
Tyre size and tyre pressure for the 2004 Honda CBR600RR
The 2003-2004 Honda CBR600RR has the following tyre sizes, as well as the following recommended tyre pressures.
Stock, the CBR600RR shipped with sport tyres — Michelin Pilots, Dunlop D218s, or Bridgestone BT014s. Obviously fit whatever tyres are more common these days.
| Tyre | Size | Tyre pressure |
| --- | --- | --- |
| Front | 120/70ZR17 M/C (58W) | 250 kPa (2.5 bar)/ 36 psi |
| Rear | 180/55ZR17 M/C (73W) | 290 kPa (2.9 bar)/ 42 psi |
Tyres and tyre pressures — Honda CBR600RR (gen 1)
About the Gen 1 2003-2004 Honda CBR600RR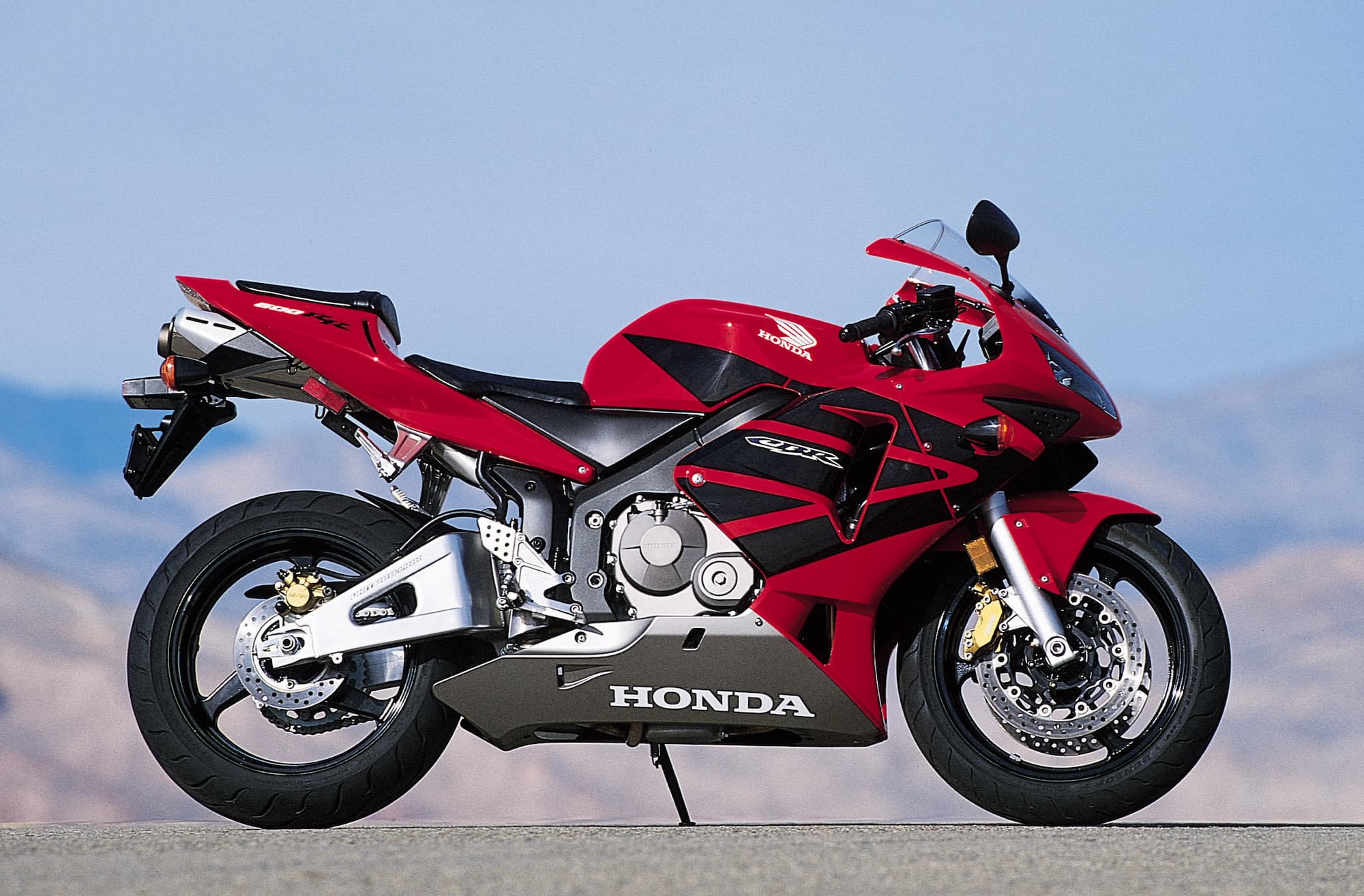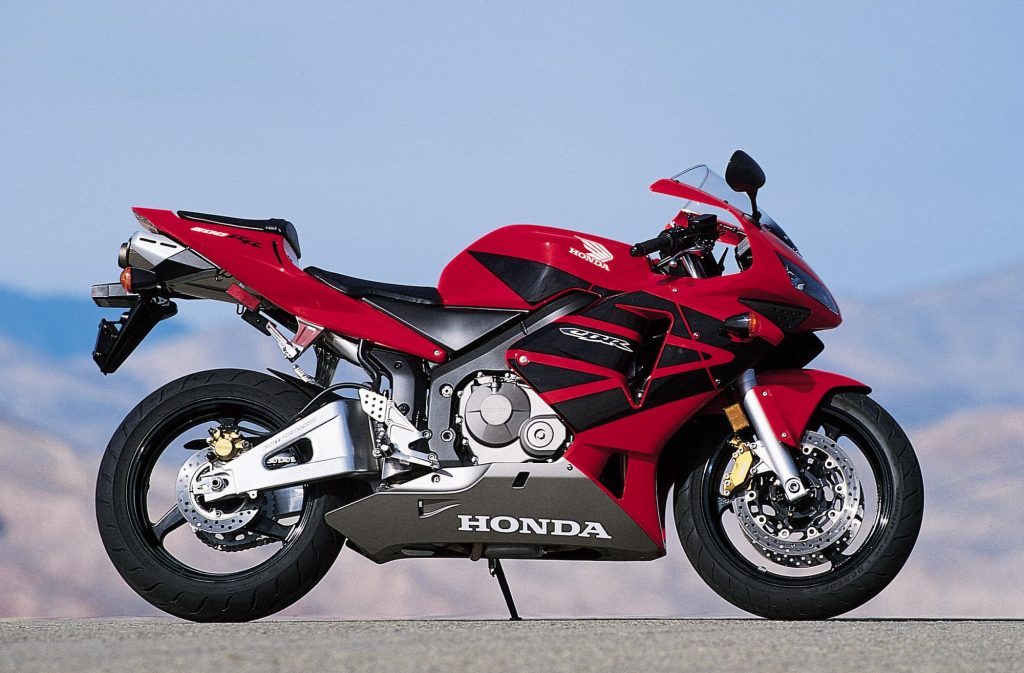 The original 2003-2004 Honda CBR600RR was a departure from Honda's philosophy of making everyday sport bikes. That had been what they had done with the CBF600F series. Until the CBR600F4i, their sport bikes and street bikes were the same range (although they also came in "naked" variants).
The CBR600RR was marketed as Honda's top-of-the-line middleweight sport bike — designed to be raced, not to be a commuter. But that's not to say that it wasn't a good everyday bike. Many loved (and still love) it for everyday commuting — up and past 10000 rpm.
The first-gen made a very palatable 87 kW (117 hp) at 13000 rpm, with peak torque of 64 Nm (46 ft-lb) at a quite high 11000 rpm.
The Honda CBR600RR was initially a favourite among reviewers, who loved its easy handling, sharp styling, and power. But competition was always fierce in the 600cc class, and the more berserk YZF-R6 took the spotlight for many years.
The early Kawasaki Ninja ZX-6R 636 had that higher capacity that gave it a power boost which, combined with its advanced electronics in recent years, means it was always one of the best choices for street use.
But the CBR600RR was never changed much because people loved it. It was always considered the easiest of the 600cc sport bikes to ride in everyday riding.
The Gen 1 Honda CBR600RR had conventional (non-inverted) 45MM HMAS cartridge forks, much like the CBR600F4i that it took the reins from. The forks were fully adjustable.
The rear shock was a Unit Pro-Link HMAS single shock that was also fully adjustable.
The brakes on the early CBR600RR are impressive. They're the same as on the VTR1000SP2 — two 310mm discs with four-piston calipers. Considering it's "just" a six hundred, it's more than enough to bring this bike to a stop.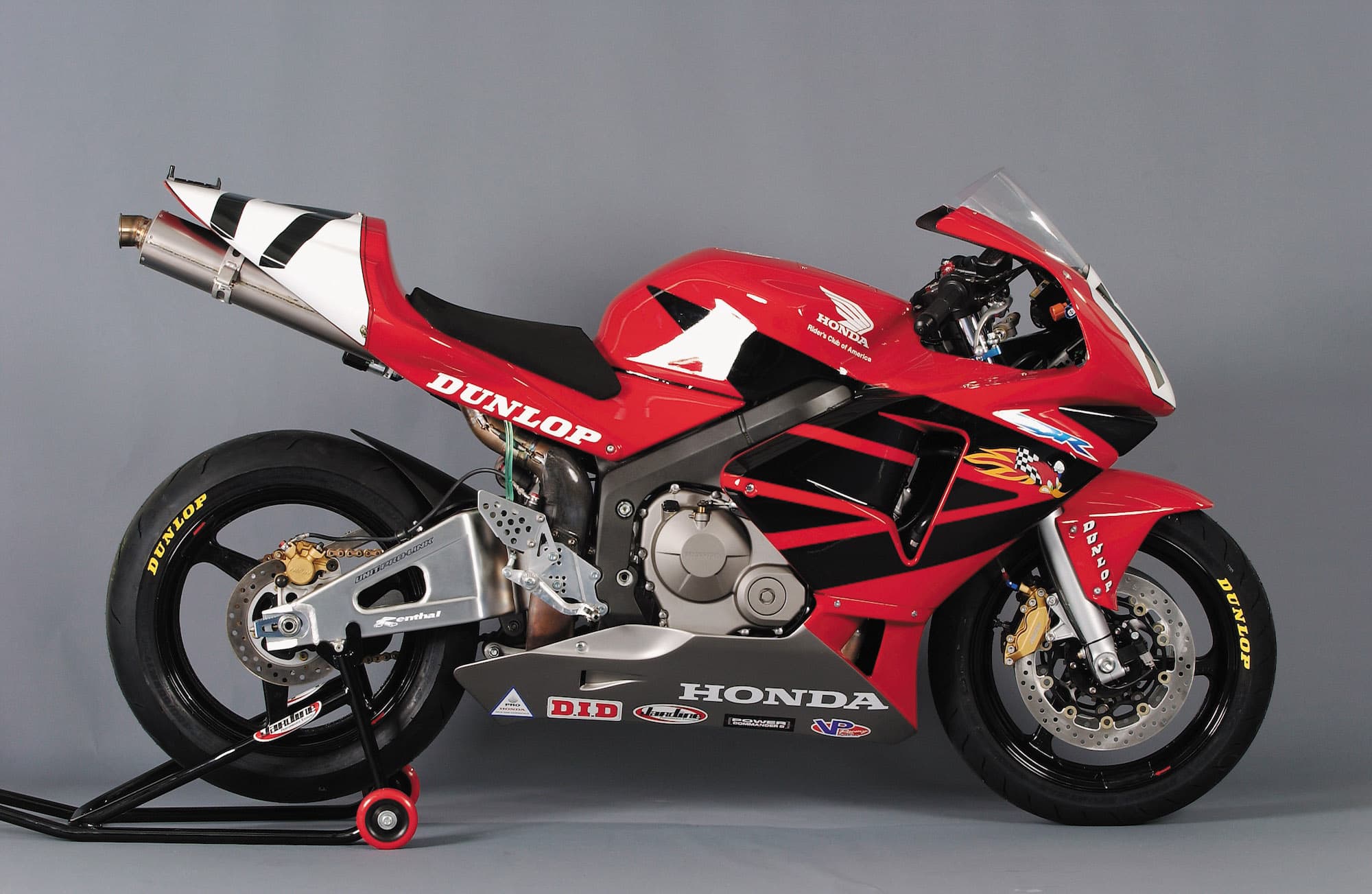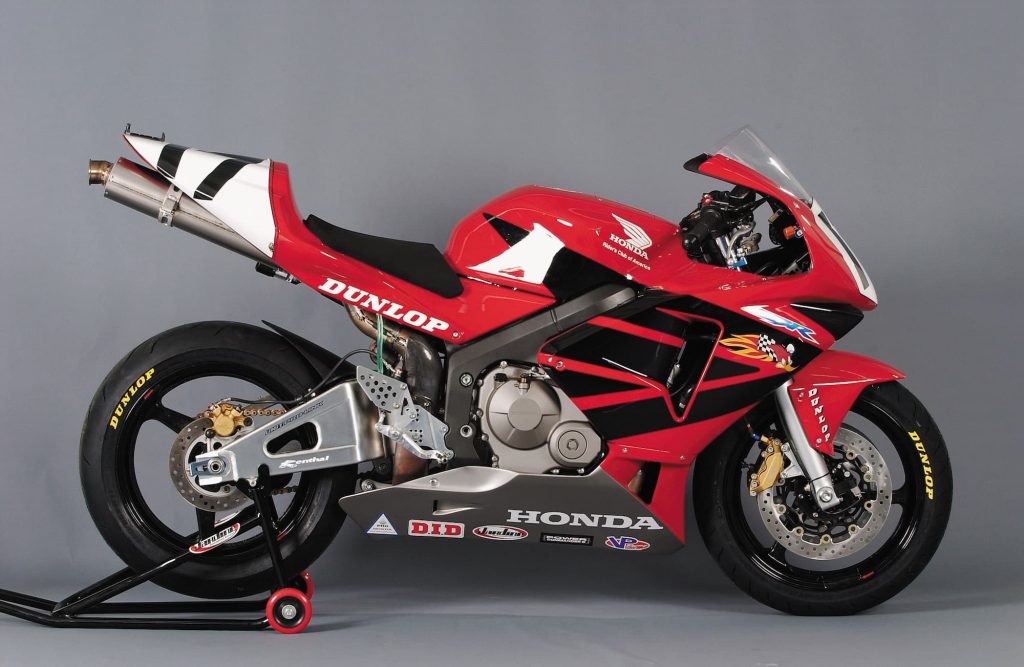 Manual for the 2003-2004 Honda CBR600RR
The above maintenance schedule comes directly from the user's manual for the 2004 Honda CBR600RR, but is adapted heavily for easier presentation.
You can download it from here.