Honda CBR600RR 3rd Gen (2007-2012) Maintenance Schedule and Service Intervals
This is the maintenance schedule and associated service intervals for the 2007-2012 Honda CBR600RR.
The third gen (2007-2012) Honda CBR600RR was a pretty big redesign for Honda's iconic middleweight sportbike. The Third gen gets an engine tuned for both more top-end power and more mid-range torque. The chassis was rebuilt, so it has a shorter wheelbase, new lightweight wheels, radial-mount front calipers, and even an electronic steering damper.
The third generation CBR600RR was also the first generation in which Honda provided C-ABS as an option. It wasn't well taken up, mostly because of the added weight, and the fact that people tend to turn off ABS when racing.
Here are all the Honda CBR600RR generations:
2003-2004 Honda CBR600RR: The original CBR600RR, a re-thinking of the 600cc sportbike that the CBR600F4i was. More aggressive and track-oriented, with lower clip-ons. Still has conventional forks (i.e. not inverted).
2005-2006 Honda CBR600RR: Redesigned frame, inverted forks, radial-mounted front calipers, new bodywork, an engine tweaked to improve midrange power, and an overall dry weight of 4kg (9 lb) less.
2007-2012 Honda CBR600RR: Reworked engine, shorter wheelbase. New three-spoke cast aluminium wheels. A Honda electronic steering damper. 2009 introduced C-ABS as an option, and a few internal changes (like high-resistance valve lifters and a popup valve system) to improve mid-range torque. Another 20 lb lighter dry (without C-ABS). (Some consider 2009-2012 to be a separate generation, but the whole era shares one manual.)
2013+ Honda CBR600RR: Lightweight 12-spoke wheels, revised ECU, new suspension (Showa "Big Piston Fork", and a ram-air system tuned for mid-range torque. Discontinued in some markets after 2016. Note — this is still the current model in the USA
2021 Honda CBR600RR: New release with a six-axis IMU and a host of rider aids, new TFT dash, Euro 5 compliance, and a highly exclusive price tag.
The 3rd gen CBR600RR got a refresh in 2013 with the 4th gen CBR600RR, with revised suspension and wheels, and new tuning.
This site has links for things like oil and spark plugs from which we earn a commission (which unfortunately nobody can save, not even us). If you appreciate this work, then please use those links. Thanks!
What you need to service your Honda CBR600RR 3rd Gen
Servicing your 3rd gen Honda CBR600RR is a lot like servicing any other supersport, especially from Honda. You have a chain drive, a liquid-cooled inline four-cylinder engine with fuel injection, and valves that only need to be opened infrequently. You do have fairings, though! Easy to clean, but annoying to remove.
Here's your shopping list to service your CBR600RR 3rd gen.
| Part | Honda CBR600RR 3rd gen spec |
| --- | --- |
| Oil | Honda recommends SAE 10W-30, JASO T 903 standard MA, with an API classification of SG or higher, such as Pro Honda GN4 10W-30. Use a torque wrench to tighten the bolt to 30 Nm (22 lb-ft). |
| Oil filter | Honda's standard part number for the oil filter is 15410-MFJ-D01 (used on many Hondas). You can also use Hiflofiltro HF204RC for the oil filter. Use a torque wrench to tighten it to 26 Nm (19 lb-ft). |
| Air filter | The OEM air filter part is 17210-MFJ-D00 (same part as for the 13-20 RR). You can also use the K&N alternative air filter, whose part number is HA-6007, which is often more available. |
| Spark plugs | Use NGK spark plug part IMR9C-9H, or a Denso VUH27D. |
| Chain maintenance | To maintain your chain, Motul chain paste is quite well-liked. There's also the Motul chain care kit which is affordable and good. |
| Brake fluid | You can use any DOT 4 oil, but Honda recommends Honda DOT 4. |
| Brake pads (front) | OEM front brake pads are part number 06455-MEL-D22. Alternative EBC double-hardened front brake pads have part number FA390HH. |
| Brake pads (rear) | OEM rear brake pads are part number 06435-MEL-D22. Alternative EBC double-hardened rear brake pads have part number FA436HH. |
| Coolant | Use Honda Long-life Coolant, which is based on ethylene glycol. |
| Grease | Stock up on lithium soap-based grease and silicon grease to keep pivots and moving parts lubricated and protected. |
Honda CBR600RR 3rd gen parts for maintenance
2007-2012 Honda CBR600RR 3rd Gen Maintenance Schedule
Below is the maintenance schedule for the 2007-2012 Honda CBR600RR 3rd Gen.
Keen observers will note that the maintenance schedule for this generation is very similar to previous generations, even though some of the parts are different.
As with previous generations, Honda recommends you get the wheels and steering bearings serviced by a mechanic in the interests of safety.
Maintenance Procedures:
I: inspect and clean, adjust, lubricate, or replace, if necessary
L: lubricate
R: replace
Notes:
At higher odometer readings, repeat at the frequency interval established here.
The break-in schedule is not shown as this bike is no longer sold new.
| mi x 1000 | 4 | 8 | 12 | 16 | 20 | 24 | |
| --- | --- | --- | --- | --- | --- | --- | --- |
| km x 1000 | 6.4 | 12.8 | 19.2 | 25.6 | 32 | 38.4 | Every |
| Engine Oil (Pro Honda GN4 10W-30) | | R | | R | | R | Replace every year |
| Engine Oil Filter (HF204RC) | | R | | R | | R | |
| Fuel Line | | I | | I | | I | |
| Throttle Operation | | I | | I | | I | |
| Air Cleaner HA-6007 | | | I | | | I | Service more often if riding in dusty/wet areas |
| Spark Plugs (IMR9C-9H) | | | I | | | R | |
| Valve Clearance | | | | I | | | |
| Radiator Coolant (Pro Honda Coolant) | | I | | I | | R | Replace every 2 years |
| Cooling System | | I | | I | | I | |
| Secondary Air Supply System | | I | | I | | I | |
| Evaporative Emission Control System (CA only) | | | I | | | I | |
| Exhaust Gas Control Valve Cable | | | | I | | | |
| Brake Fluid (Honda DOT 4) | I | I | R | I | I | R | Replace every 2 years |
| Brake Pads Wear | I | I | I | I | I | I | |
| Brake System | | I | | I | | I | |
| Brake Light Switch | | I | | I | | I | |
| Headlight Aim | | I | | I | | I | |
| Clutch System | I | I | I | I | I | I | |
| Side Stand | | I | | I | | I | |
| Suspension | | I | | I | | I | |
| Nuts, Bolts, Fasteners | | I | | I | | I | |
| Wheels/Tires | | I | | I | | I | |
| Steering Head Bearings | | I | | I | | I | |
2007-2012 Honda CBR600RR Maintenance Schedule
Maintaining Your Chain on the Honda CBR600RR
While Honda keeps the chain maintenance in the maintenance schedule, it's better kept separate.
It's important to maintain your chain on the CBR600RR, as on any chain-driven motorcycle. Use a good-quality chain lubricant like Motul chain paste, or a Motul chain care kit which comes with a couple of handy tools to maintain the chain.
Honda recommends you follow the following chain maintenance schedule:
| Chain maintenance item | Every |
| --- | --- |
| Check drive chain lubrication condition, lubricating if necessary | 600 mi / 1000 km |
| Check drive chain slack, adjusting if necessary | 600 mi / 1000 km |
Chain maintenance — Honda CBR600RR
Notes:
Do these items (checking/adjusting slack, and checking/applying lubrication) more often if you ride your CBR600RR in dusty or rainy conditions.
Always lubricate the chain after washing the motorcycle.
Tyre size and tyre pressure for the 2011-2012 Honda CBR600RR
The Honda CBR600RR's manual for the 2007-2012 models specifies the following tyre sizes, these recommended brands, and these tyre pressures (when cold):
Tyre
Size
Brand(s)
Tyre pressure (when cold)
Front
120/70ZR17 M/C (58W)
DUNLOP Qualifier PTG
BRIDGESTONE BT015F RADIAL E
250 kPa (2,50 kgf/cm2) 36 psi
Rear
180/55ZR17 M/C (73W)
DUNLOP Qualifier PTG
BRIDGESTONE BT015R RADIAL E
290 kPa (2,90 kgf/cm2) 42 psi
Tyres and tyre pressures for the 2007-2012 Honda CBR600RR
About the 2007-2012 Honda CBR600RR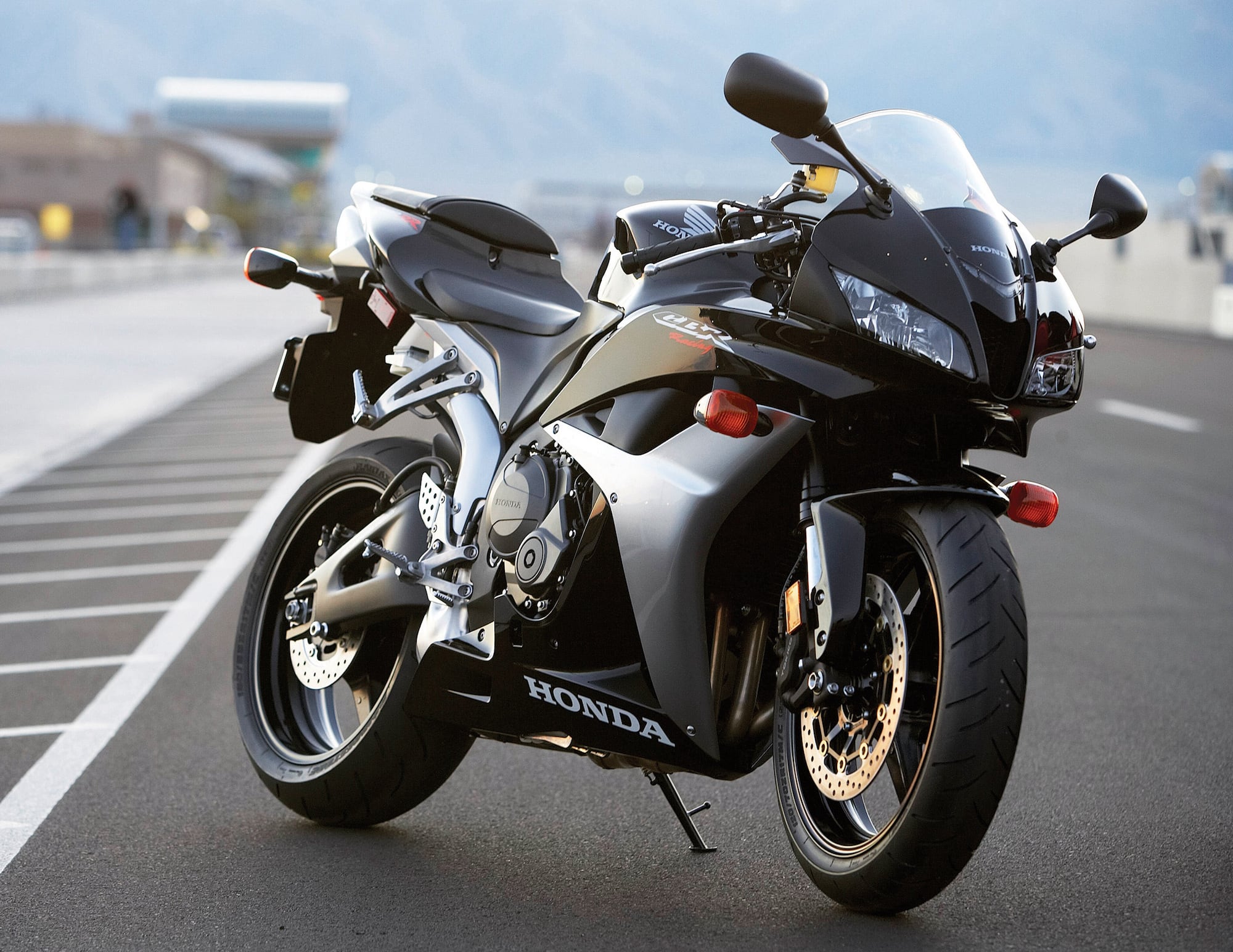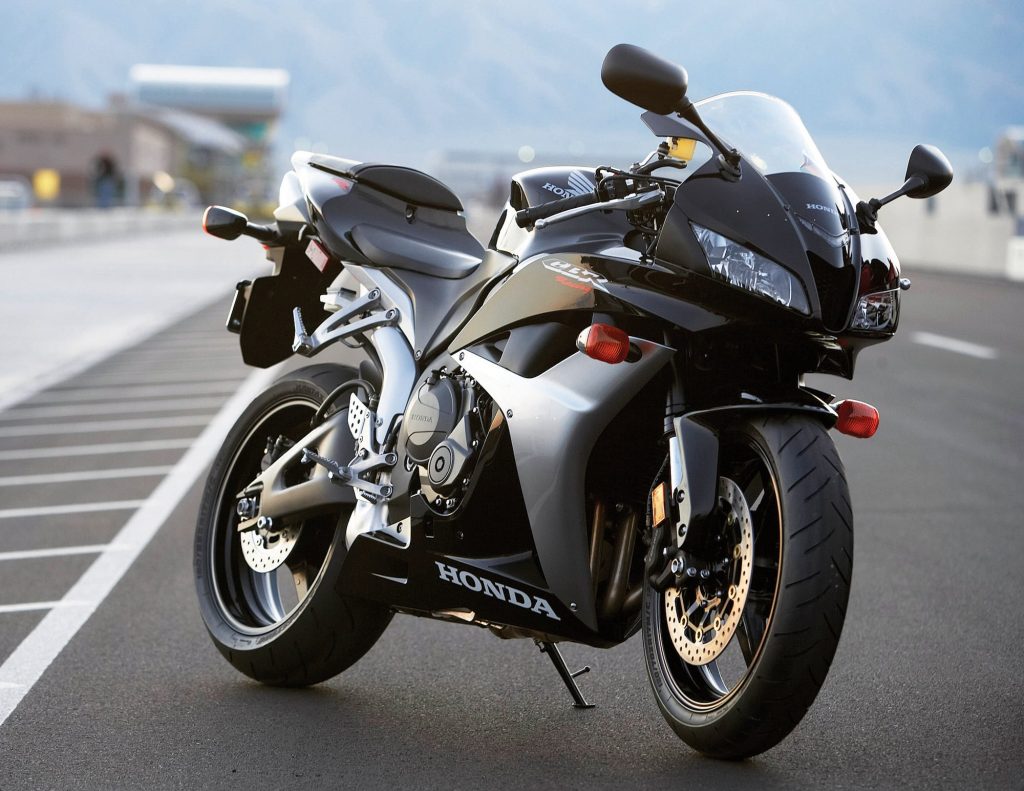 The 3rd gen CBR600RR follows in the same spirit as the 2nd generation 2005-2006 Honda CBR600RR, though again was a total rebuild.
It's still a sportbike with a 599 cc inline four-cylinder engine, high-end suspension and braking, and an aggressive riding position.
But like its predecessor, it doesn't focus on outright power or extreme ergonomics, and still makes for a very functional everyday motorcycle.
At one point, in racing, no other 600cc machine had won more AMA and World Supersport championships than Honda's CBR600RR. So even though everyone thinks of the Yamaha YZF-R6 as the darling of the track, the CBR600RR has had some excellent results.
Honda also released the 2007-2012 CBR600RR with optional Combined ABS. Many think of C-ABS as being a street feature to help avoid accidents from sudden threats. But ABS can also help on the track when its tuned correctly, and this was Honda's aim (at least in their marketing spiel).
As usual, Honda's middleweight CBR600RR strikes a perfect balance between performance and handling in a middleweight package.
Even though the C-ABS feature had the same name as on its bigger sport touring siblings, it was in fact all new for the 2009 CBR.
ABS and Combined ABS normally use extra components — a delay valve, pressure control valve, a fork-mounted secondary master cylinder and special 3-piston brake calipers. But Honda managed to build their C-ABS system on the CBR600RR without all those extra bits, and using a traditional caliper in the process. This reduced the weight impact, but that's still considerable at 10kg or 22 lb.
However the C-ABS components were located in areas where they didn't negatively impact the bike's handling. Only one change was needed to the rest of the bike — the shock reservoir had to be relocated to the left side of the subframe.
Despite the weight increase, and despite the extra $1,000 it cost at the time, those who tested the ABS system said it was the "best $1,000 you could spend". If you're worried, go read Motorcycle.com's analysis of C-ABS on this version CBR where they ride around a race course covered in potholes and after two days of rain, and try to grab the brakes as hard as they can.
"My report on ABS on the road course is that it operates exactly as advertised. Absolutely no pulsing commonly experienced on many anti-lock systems was transmitted back to the lever or pedal, and only the slightest shimmy in the chassis could be felt in the last dozen or so feet before coming to a complete stop. The system is simply and wonderfully seamless. Period."
Manual for the 2007-2012 Honda CBR600RR
Honda shares the same manual for the CBR600RR from 2007-2012.
The above maintenance schedule comes directly from the user's manual for the 2011-2012 Honda CBR600RR.
You can download it from here.