Kawasaki Z650 (2017+) Maintenance Schedule and Service Intervals
This is the maintenance schedule for the Kawasaki Z650, the parallel twin naked bike that Kawasaki has made since 2017, but continuing a long line of parallel twin road bikes.
The Kawasaki Z650 is often described as the naked bike sibling to the Ninja 650. They share the same engine and many components, but have different riding positions, amount of plastics, and personalities.
The Kawasaki Z650 also replaced the conceptually similar ER-6N.
The Kawasaki Z650 is powered by a 649cc parallel twin that makes 50 kW (67 hp) @ 8500 rpm, with torque peaking at 7000 rpm. It's relatively light at only 186 kg / 410 lb.
In many markets (e.g., the UK, Europe, Australia, and NZ) the Kawasaki Z650 also (sometimes only) available as an A2/LAMS-compliant lower power bike. Maintenance for these is the same.
This site has links for things like oil and spark plugs from which we earn a commission (which unfortunately nobody can save, not even us). If you appreciate this work, then please use those links. Thanks!
Kawasaki Z650 Service Intervals
Overall, the Z650 has 7500 mile / 12000 km service intervals. At every service, change the oil and filter, the air cleaner, and the spark plugs. You should also change the oil annually, irrespective of distance.
There are a number of other things to check in the maintenance schedule, including the absence of leaks, and rubber parts being in good condition.
Every two services (every 15000 miles / 24000 km) do a major service of the Z650, including a valve clearance check and change of the brake fluid. The brake fluid should be done every two years anyway.
Since the Kawasaki Z650 is liquid cooled, be sure to change the coolant periodically.
What you need to service the Kawasaki Z650
If you're servicing the Kawasaki Z650, firstly, you might need these common motorcycle maintenance tools (thinks like an oil filter wrench, catch pan, etc.).
But aside from that, you'll need these specific items to maintain the Kawasaki Z650.
Part
Kawasaki Z650 Spec
Oil
You need 1.8L (1.7 US qt) of SAE 10W-40 engine oil "with API SG, SH, SJ, SL or SM with JASO MA, MA1 or MA2 rating", preferably Kawasaki 10W-40 Engine Oil, or a high-quality alternative like Motul 7100.


Don't over-torque the drain bolt (spec is 30 Nm/22 lb-ft per the manual) — use a torque wrench if you don't have experience with how much torque is enough.
Oil filter
Oil filter is part 16097-0008, or you can use Hiflofiltro HF303RC. Torque for oil filter is 17.5 Nm (12.9 ft-lb)
Front brake pads
You can get original OEM parts from a dealership, or double-sintered EBC brake pads for better bite and wear. Part numbers are FA226HH (both callipers)
Rear brake pads
As with the front brake pads,yYou can get original OEM parts from a dealership, or double-sintered EBC brake pads for better bite and wear. EBC part number is FA174HH.
Spark plugs
NGK CR9EIA-9, with a spark plug gap of 0.8-9.0mm (use a spark plug gapping tool), torqued to 13 Nm or 9 ft-lb (use a torque wrench)
Air filter
Kawasaki changed the air cleaner during the evolutions of the Ninja 650R/Ninja 650. Part numbers is 11013-0745. DNA also makes performance air filters with part number P-K6N15-01.
Cable lubricant
Remember to lubricate your clutch cable (and brake cables if you have them) with a cable lubricant. Protect All Cable Life is a good general-purpose lubricant.
Chain lubricant
The chain needs to be lubricated every 600 km/400 miles (or more, if it gets wet/dirty). Motul chain paste is cheap and well-loved.
Brake fluid
Spec is to use DOT-4 brake fluid like Castrol DOT 4.
Coolant
Use nitrate-free, phosphate-free, ethylene glycol-based coolant with anti-corrosion inhibitors, e.g. Zerex Asian Vehicle Coolant.
Grease
Use a lithium soap-based grease for all the important greasing points.
Consumables for servicing the Kawasaki Z650 motorcycle
Maintenance schedule for the Kawasaki Z650
Below is the maintenance schedule for the Kawasaki Z650.
It has changed a bit in format since 2017, but the contents are largely the same, other than small changes e.g. you don't need to check the evaporative emission system quite so often.
| mi x 1000 | 0.6 | 7.5 | 15 | 22.5 | 30 | |
| --- | --- | --- | --- | --- | --- | --- |
| km x 1000 | 1 | 12 | 24 | 36 | 48 | Every |
| Engine oil (Kawasaki 10W-40 engine oil) | R | R | R | R | R | Year: R |
| Oil filter (HF303RC) | | R | R | R | R | |
| Air cleaner element (P-K6N15-01) | | R | R | R | R | More often if riding in dusty/rainy conditions |
| Spark plug (CR9EIA-9) | | R | R | R | R | |
| Valve clearances | | | I | | I | |
| Idle speed | I | I | I | I | I | |
| Throttle control system (play, smooth return, no drag) | I | I | I | I | I | Year: I |
| Engine vacuum synchronization | | I | I | I | I | |
| Cooling system | I | I | I | I | I | Year: I |
| Coolant, water hoses, and O-rings | | | | R | | 3 years: R |
| Fuel system | I | I | I | I | I | Year: I |
| Fuel filter | | | R | | R | |
| Fuel hose | | | | | | 5 years: R |
| Evaporative emission control system (if present) | | | I | | I | |
| Air suction system | | I | I | I | I | |
| Clutch operation (play, engagement, disengagement) | I | I | I | I | I | |
| Wheel bearing damage | | I | I | I | I | Year: I |
| Drive chain wear | | I | I | I | I | More often if riding in dusty/rainy conditions |
| Drive chain guide wear | | I | I | I | I | |
| Brake system | I | I | I | I | I | Year: I |
| Brake operation (effectiveness, play, no drag) | I | I | I | I | I | Year: I |
| Brake fluid (front and rear) | | | R | | R | 2 years: R |
| Brake hoses | | | | | | 4 years: R |
| Rubber parts of brake master cylinder and caliper | | | | | R | 4 years: R |
| Suspension system | | I | I | I | I | Year: I |
| Lubricate rear suspension | | | L | | L | |
| Steering play | I | I | I | I | I | Year: I |
| Steering stem bearings | | | L | | L | 2 years: L |
| Electrical system | | I | I | I | I | Year: I |
| Chassis parts | | L | L | L | L | Year: L |
| Condition of bolts, nuts, and fasteners | I | I | I | I | I | |
Kawasaki Z650 Maintenance Schedule
Maintaining Your Chain on the Kawasaki Z650
It's important to maintain your chain on the Z650, as it gets a lot of hard use as a commuter typically. Use a good-quality chain lubricant like Motul chain paste, or a Motul chain care kit which comes with a couple of handy tools to maintain the chain.
Kawasaki recommends you follow the following chain maintenance schedule:
Chain maintenance item
Every
Check drive chain lubrication condition, lubricating if necessary (Motul chain paste)
400 mi / 600 km
Check drive chain slack, adjusting if necessary
Standard slack: 20-30mm, measuring from top to bottom of chain at tightest point, moving up and down with finger
600 mi / 1000 km
Chain maintenance — Kawasaki Z650
Notes:
Do these items (checking/adjusting slack, and checking/applying lubrication) more often if you ride your Z650 in dusty or rainy conditions.
Always lubricate the chain after washing the motorcycle.
About the Kawasaki Z650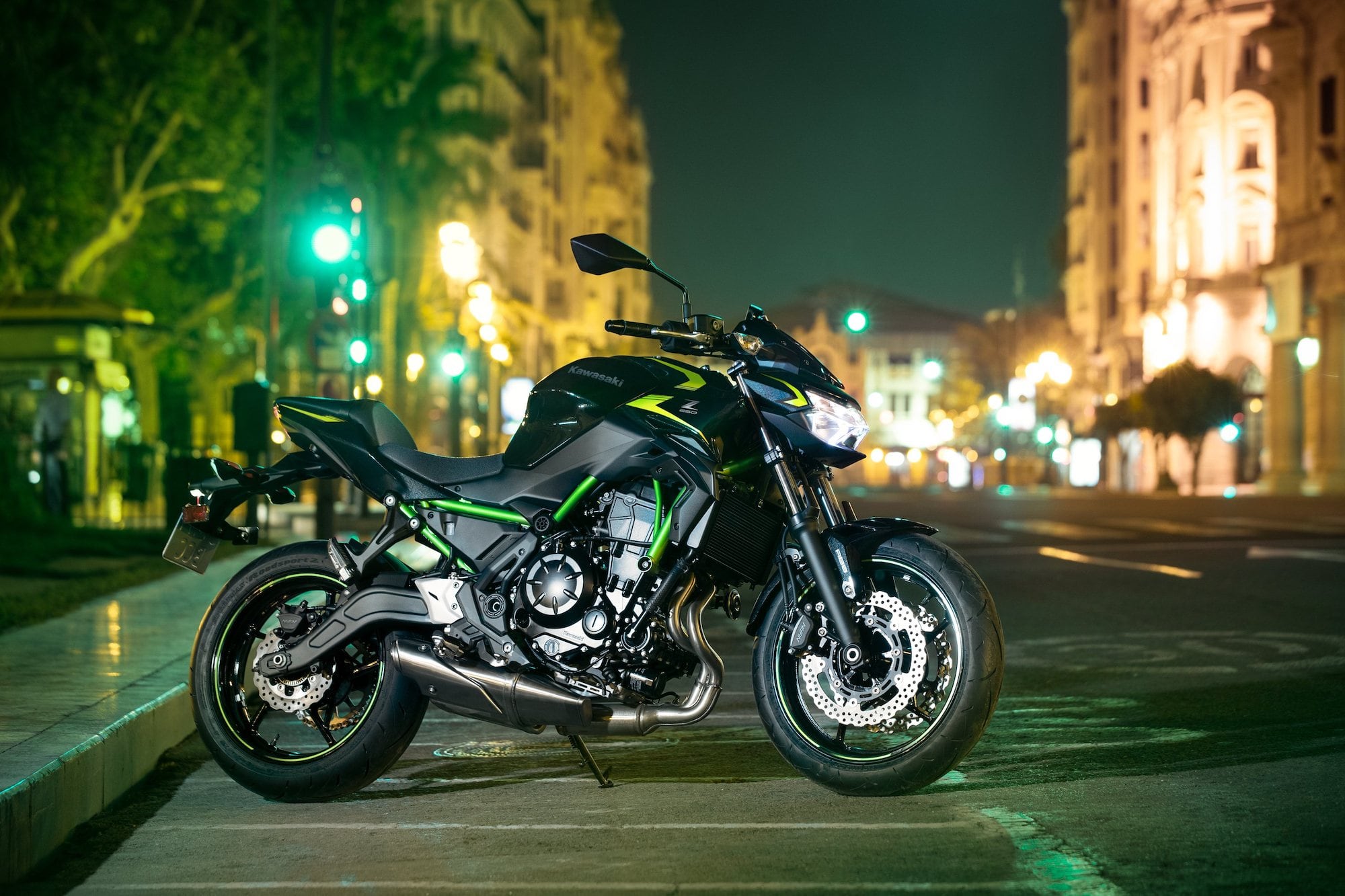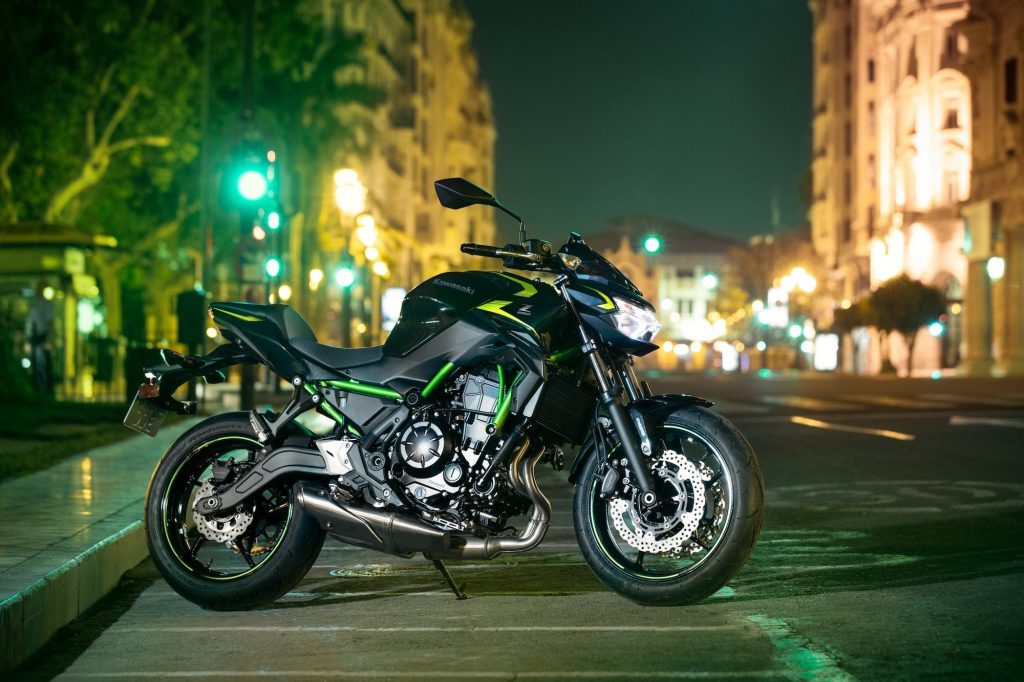 The Kawasaki Z650 is Kawasaki's middleweight sport bike, smaller than the other "middleweight", the more premium-spec Z900.
The Z650 has a 649cc parallel twin DOHC liquid-cooled engine that has earned a reputation for being extremely reliable, as well as being lightweight and delivering power that's very suitable for everyday riding.
The power is optimised for mid-range riding (3-6K rpm), though it has ample torque below 3K for low-speed commuting and parking lot manoeuvring, and quite a bit of top end above 6,000 rpm without dropping off a cliff.
Peak power is slightly down compared to the old motor, with top power of 67 hp (50 kW) at 8,500 rpm, a result of emissions regulations. However, this is not really noticeable in everyday riding, and the bike is not about peak power anyway.
The 2017 Z650 adds an assist/slipper clutch to the outgoing Er-6N. When the engine is at "normal" rpm the assists cam functions as a servo, pulling the clutch hub and plate together to compress the clutch plates. This allows the spring load to be reduced, giving the clutch lever a much lighter feel.
Conversely, when there is a lot of engine braking (e.g., during quick downshifts — or an entry-level rider doing an accidental downshift), the slipper cam prevents too much back-torque, avoiding the rear tyre from hopping and skidding.
The new Z650 has a totally redesigned chassis (borrowed from the 2017+ Ninja 650). It's lightweight and attractive, and gives the little Z a wet weight of only 192 kg.
Front braking is competent, with dual 300mm petal discs complemented by Bosch 9.1M ABS. From 2023, Kawasaki gave the Z650 traction control, too.
In 2022, Kawasaki released the Kawasaki Z650RS, a bike that's ostensibly the same but which has a much more retro design.
Tyre sizes and pressures for the Kawasaki Z650
The manual for the Z650 recommends the following tyre pressures for these tyre sizes.
Of course, these are optimised for longevity. Experiment yourself based on your weight, riding style, and priorities.
| Wheel | Size | Pressure |
| --- | --- | --- |
| Front | 120/70ZR17 M/C 58W | 32 psi (225 kPa) |
| Rear | 160/60ZR17 M/C (69W) | 36 psi (250 kPa) |
Tyre sizes and pressures for the Z650
The Z650 ships with Dunlop Sportmax D214 tyres stock.
Manual for the Kawasaki Z650
The above maintenance schedules came from the manual for the Z650. You can see some screenshots below.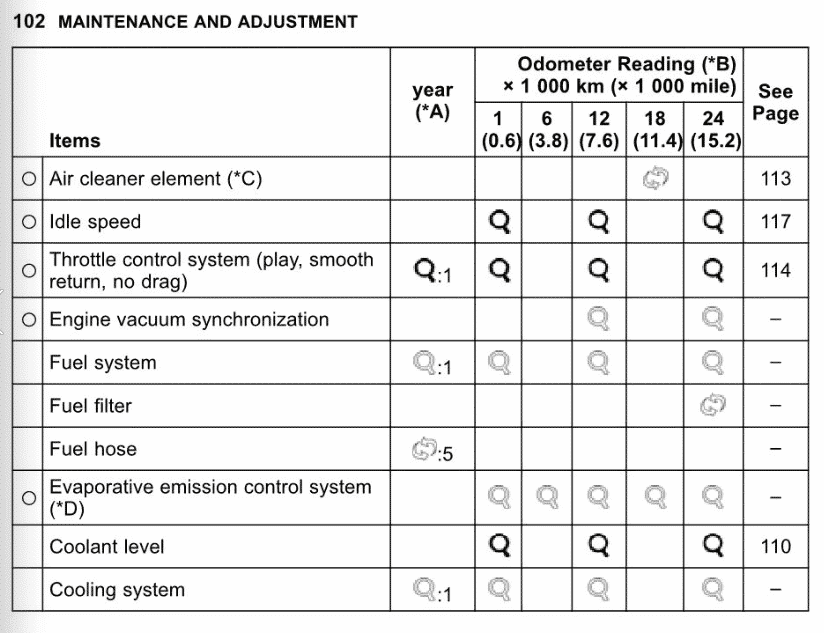 You can view these manuals online at Kawasaki's website here.