Honda CB500X (2022+) Maintenance Schedule and Service Intervals
This is the maintenance schedule and associated service intervals for the 2022+ Honda CB500X, an update to the earlier 2019-2021 CB500X.
All the CB500X maintenance schedules:
The Honda CB500X is an adventure sport motorcycle based on the 471 cc parallel twin that powers a range of Honda's entry-level middleweight motorcycles. They're designed to fit within learner-legal schemes, making peak power of 35 kW / 47 bhp at 8600 rpm, but are also an excellent option for anyone looking for longevity and reliability.
The Honda CB500X is the "adventure" bike of the range of bikes using the engine, which includes cruisers (the Honda Rebel 500), a street/sports bike (the Honda CBR500R), and a naked (the CB500F). The only thing missing from the range is a retro!
Final drive from the CB500X is via a six-speed gearbox and chain.
Honda updated the CB500X in 2019 with a bigger front wheel and some other mods. The 2022 model gets an inverted Showa fork and twin disc brakes with four-piston calipers. Braking was already good, but it got even better.
This was originally published on July 5, 2022, but has since been considerably improved.
This site has links for things like oil and spark plugs from which we earn a commission (which unfortunately nobody can save, not even us). If you appreciate this work, then please use those links. Thanks!
Honda CB500X — Service Intervals Overview
Overall, the the Honda CB500X has service intervals of 8000 miles or 12800 km between oil/filter changes and a multi-point inspection check.
The major inspection in which you check the valve clearances and replace the spark plugs is every two oil changes, or every 16000 miles / 25600 km. But as time goes on, valves are less and less frequently out of spec.
Honda recommends you do a handful of things between services, which is why the manual's maintenance schedule is more granular. For example they want you to check things like brake pads, the clutch system, and emissions equipment between services.
Some other items have odd intervals, like the air filter. And bear in mind that as a liquid-cooled bike, you need to change the radiator coolant periodically — it has a time interval rather than a distance one.
See the full maintenance schedule below for more granular detail.
What you need to service the Honda CB500X (2022+)
The Honda CB500X is slightly different from 2022, most notably in the brake and suspension setup, which leads to some different parts vs the previous generation.
| Part | Honda CB500X (2022+) spec |
| --- | --- |
| Oil | Like for most of its street motorcycles Honda recommends SAE 10W-30, JASO T 903 standard MA. Pro Honda GN4 10W-30 is good. Use a torque wrench to tighten the bolt to 30 Nm (22 lb-ft). |
| Oil filter | Honda's standard part number for the oil filter is 15410-MFJ-D01 (used on many Hondas). You can also use a HF204RC for the oil filter. Use a torque wrench to tighten it to 26 Nm (19 lb-ft). |
| Air filter | The OEM air filter part for the CB500X is 17211-MKP-J00. You can also use the K&N alternative air filter HA-5013, which is often more available. |
| Spark plugs | Use NGK spark plug part CPR8EA-9, same as the previous gen. The specified gap is 0.8-0.9 mm. |
| Brake fluid | Honda recommends Honda DOT 4. |
| Brake pads (front) | Being a new spec, only the OEM Honda brake pads are available right now. Use Honda part number 06455-MKP-DN1. |
| Brake pads (rear) | The rear brake caliper is the same as the previous gen. Use Honda part 06435-MGZ-J02 or EBC part FA140HH. |
| Coolant | Use Pro Honda HP Coolant, which is based on ethylene glycol. |
Honda CB500X (2022) maintenance parts
You might also need some of the following basic motorcycle maintenance tools and consumables.
General motorcycle maintenance consumables and tools
Honda CB500X (2022+) Maintenance Schedule
Below is the maintenance schedule for the Honda CB500X (2022). It has a lot in common with the previous generation 2019-2021 CB500X, but there are a few parts that are different.
Notes:
At the end of the maintenance schedule, keep following it in the pattern shown, with most items being every 8000 miles (12800 km) apart)
The break-in service is omitted below (the dealer usually does this in the warranty period, and it's just an oil/filter change plus a number of checks)
Honda generally recommends you take your motorcycle to a dealer for servicing the wheels/tyres, steering, spark plug, and valves.
The service intervals for the 2022 Honda CB500X are every 8000 miles or 12800 km, at which point you change the engine oil and check a number of other things (e.g. fluids, leaks, and lubrication levels). Every two services, you change the oil filter and spark plug and check the valve clearances. Air filters are in between, or more often if you ride the bike in dusty or wet areas. There's more detail in the full maintenance schedule.
Legend
I: Inspect (clean, adjust, lubricate, or replace if necessary)
R: Replace
L: Lubricate
C: Clean
| mi x 1000 | 4 | 8 | 12 | 16 | 20 | 24 | |
| --- | --- | --- | --- | --- | --- | --- | --- |
| km x 1000 | 6.4 | 12.8 | 19.2 | 25.6 | 32 | 38.4 | Notes |
| Engine Oil (Pro Honda GN4 10W-30) | | R | | R | | R | |
| Engine Oil Filter (HF204RC) | | | | R | | | Many change this with the oil anyway (but it's not necessary) |
| Air Filter (HA-5019) | | | R | | | R | Service more often when riding in wet or dust |
| Cooling System (inspect for leaks, kinks in lines etc.) | | I | | I | | I | |
| Inspect/change Coolant (Pro Honda HP Coolant) | | I | | I | | I | Every 3 Years: R |
| Spark Plug (NGK CPR8EA-9) | | | | R | | | |
| Valve Clearance | | | | I | | | |
| Crankcase Breather | C | C | C | C | C | C | Service more often when riding in rain or at full throttle |
| Engine Idle Speed | | I | | I | | I | |
| Throttle Operation | | I | | I | | I | |
| Fuel Line | | I | | I | | I | |
| Brake Fluid (Use Honda DOT 4) | I | I | I | I | I | I | Every 2 years: R |
| Secondary Air Supply System | | | | I | | | |
| Evaporative Emission Control System | | | | I | | | |
| Brake Pads Wear | I | I | I | I | I | I | Replace as needed |
| Brake System (check fluid levels, leaks, etc.) | | I | | I | | I | |
| Brake Light Switch | | I | | I | | I | |
| Headlight Aim | | I | | I | | I | |
| Clutch System | I | I | I | I | I | I | |
| Side Stand | | I | | I | | I | |
| Suspension | | I | | I | | I | |
| Nuts, Bolts, Fasteners | | I | | I | | I | |
| Wheels/Tires | | I | | I | | I | |
| Steering Head Bearings | | I | | I | | I | |
Honda CB500X (2022) maintenance schedule
Maintaining Your Chain on the Honda CB500X
It's important to maintain your chain on the Honda CB500X, as on any chain-driven motorcycle, but particularly on an adventure bike where you might ride it on dirt roads or in the rain.
Use a good-quality chain lubricant like Motul chain paste, or a Motul chain care kit which comes with a couple of handy tools to maintain the chain.
Honda recommends the following chain maintenance schedule for the CB500X:
| Chain maintenance task | Every |
| --- | --- |
| Check drive chain lubrication condition, lubricating if necessary | 600 mi / 1000 km |
| Check drive chain slack, adjusting if necessary | 600 mi / 1000 km |
Chain maintenance — Honda CB500X
Notes:
Do these items (checking/adjusting slack, and checking/applying lubrication) more often if you ride your CB500X in dusty or rainy conditions (e.g. in "adventure" mode!)
Always lubricate the chain after washing the motorcycle (similar to after riding in the rain).
Wheels and tires for the Honda CB500X (2022)
The manual for the CB500X gives the following tire sizes and brands as standard, and recommends the following tyre pressures.
Since the last revision, the Honda CB500X has come with a larger (19-inch) front wheel.
| Tyre | Size | Tire pressure (cold) |
| --- | --- | --- |
| Front | 110/80R19 M/C (59H) | 29 psi / 200 kPa / 2 bar |
| Rear | 160/60ZR17 M/C (69H) | 41 psi / 280 kPa / 2.8 bar |
Tires and tire pressures for the Honda CB500X (2022)
The 2022 CB500X is fitted with tubeless Dunlop Mixtour tires stock.
About the 2022+ Honda CB500X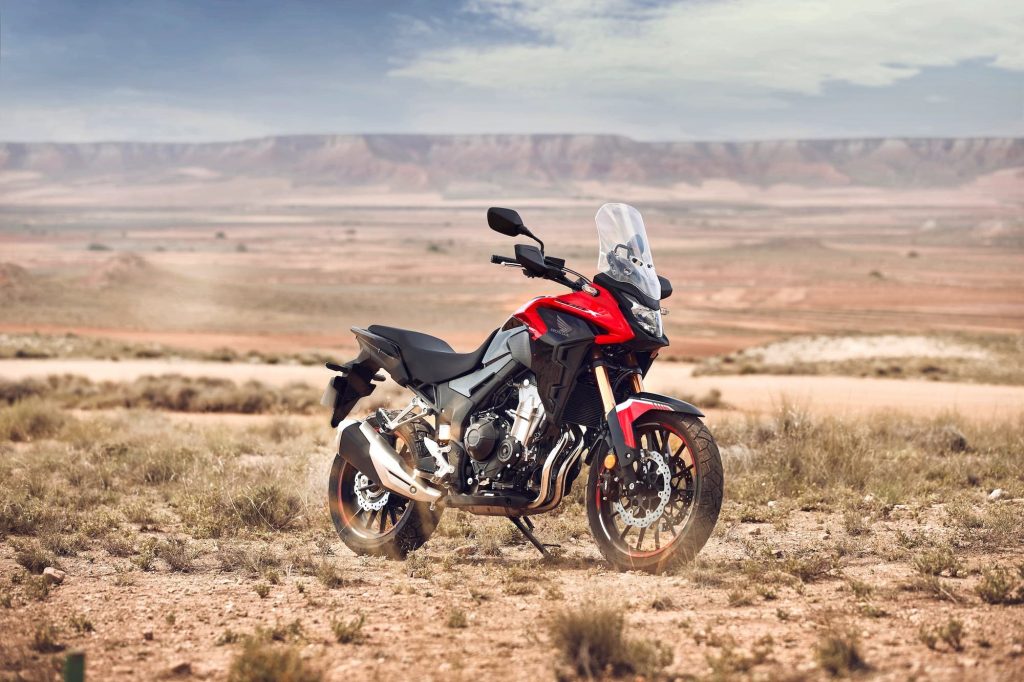 The Honda CB500X is an underdog favourite in the adventure sport touring world. It's a mid-capacity bike that's affordable and very capable, if you can live with the modest power output.
Decades earlier, Suzuki stole the hearts of many an adventure motorcyclist with the first generation DL650 V-Strom. That bike is now thought of as the "mini" adventurer — capable on both highways and fire trails, and sometimes a little gnarlier roads, too.
But many have forgotten that Honda has a long history in adventure motorcycles. Back in the 80s they were trailblazing, both literally and figuratively, with the Honda XRV650 Africa Twin. So they've been at this for a while.
These days, Honda has a wide variety of adventure-ready motorcycles in their line-up, from the diminutive (but capable) Honda CRF300L Rally to the Honda CRF1100L Africa Twin. There are even other bikes that are more road-oriented (e.g. the NC750X), and those that are more off-road oriented (e.g. the XR650L). So the CB500X has a lot of company.
In that line-up, the Honda CB500X is
Entry-level still (A2 / LAMS-legal)
Highway-capable (top speed of around 100 mph / 160 km/h, or a comfortable 130-140 km/h or ~90 mph)
Somewhat off-road OK (the position is good, the weight is tolerable, but it lacks protection and ground clearance)
Comfortable
Affordable
So the CB500X is predominantly a road bike. That doesn't mean it can't do off-road work. It just means you might need a belly pan and to maybe avoid jumping.
The 2022 model gets some pretty significant updates over the last 2019-2021 Honda CB500X.
Firstly, Honda improved the suspension. They changed the front fork to a Show 41mm Separate Function Fork — Big Piston (SFF-BP) upside down fork.
The fork is still non-adjustable, but the much higher spec means there's less unsprung mass up front, which leads to better front wheel grip.
Honda also improved the braking, replacing the single 320mm disc with a two piston caliper to twin 296 mm discs, each with a Nissin radial mount four-piston caliper. A massive upgrade!
Honda didn't make any changes to the display, which is still a colour LCD. It's rich in information, with a gear position indicator and a shift-up light.
You can get the Honda CB500X in the same Matt Gunpowder Black and Grand Prix Red as before, but Honda also added a Pearl Organic Green colour for 2022.
If you're interested in a bike like the CB500X but with more casual off-roading style, you might be interested in the scrambler-styled Honda CL500.
Reference — Manual Screenshots for the 2022 Honda CB500X
The above maintenance schedule came from the manuals for the 2022 Honda CB500X. Parts came from parts diagrams.
See the below screenshots from the user manual.
You can download Honda motorcycle manuals from here.