Ducati DesertX (2022+) Simplified Maintenance Schedule and Service Intervals
This is the maintenance schedule and service intervals for the Ducati DesertX — sourced from the owner's manual, referencing parts diagrams.
The Ducati DesertX is based loosely on the Ducati Multistrada V2, but with many significant aspects changed to make it a truer adventure bike, including longer-travel suspension and a 21-inch front wheel.
The core of the Ducati DesertX is the familiar 937 cc Testastretta 11-degree engine, an L-type desmodromic twin with 4 valves per cylinder and liquid cooling. It runs a fairly high 13.3:1 compression ratio, which helps it get to 81 kW / 110 CV (108 bhp) at 9250 rpm at the crank, with a hard rev limiter at 10200 rpm.
What makes the Ducati DesertX unique is that it is geared for off-road work, with lower drive ratios in the first gears, a 21 inch front wheel (a first for Ducati), and many other important changes — not the least of which is the Dakar-reminiscent styling.
Updated Oct 2023 for the 2024 Ducati DesertX Rally, as well as adding more info from the service manual
This site has links for things like oil and spark plugs from which we earn a commission (which unfortunately nobody can save, not even us). If you appreciate this work, then please use those links. Thanks!
Overview — General Ducati DesertX Service Intervals
Like other liquid-cooled Ducati V-twin motorcycles with the Testastretta 11-degree motor, the Ducati DesertX has service intervals of 9 000 mi / 15 000 km, at which you change the oil, oil filter, and air filter. You also check the motorcycle for leaks, worn parts, or loose components.
Ducati recommends you also change the oil every year, if you don't do that distance.
The Ducati DesertX's "Desmo Service", which is the major valve inspection, needs to be done every 18 000 mi / 30 000 km. The Ducati DesertX's engine has desmodromic valves, which means you check the clearances of the openers as well as the closers for each valve. If one is out of spec, it's likely the other one is, too.
You also need to regularly change the timing belts every five years.
Aside from this, you have to replace fluids periodically, and attend to various other irregular service items, like changing the chain or the fork fluid.
What you need to service your Ducati DesertX
Ducati specifies fluids that aren't easy to get online. Even dealers often give substitutes. But here's what they recommend, plus some alternative suggestions.
| Part | Ducati DesertX spec |
| --- | --- |
| Engine oil | Ducati recommends "Shell Advance DUCATI 15W-50 Fully Synthetic Oil", or another oil that is the 15W-50, meets API standard SN, and/or JASO standard MA2. A good option is Mobil 1 15W-50 Full Synthetic. |
| Oil filter | The DesertX's 937 cc engine uses the same oil filter as many other high-end Ducatis, and you can use a HifloFiltro HF159 as an easy-to-obtain replacement. |
| Spark plugs | Standard spark plugs are NGK MAR9A-J (easiest to get from a dealer). |
| Air filter | You can use a DNA air filter, part P-DU10E22-01. |
| Coolant | Ducati recommends ENI Agip Permanent Spezial Antifreeze. You can also use one of our recommended alternatives. |
| Brake fluid/Clutch fluid | Ducati specifies using DOT 4, so use something high quality like Castrol DOT 4 full synthetic. |
| Fork oil | The manual specifies Shell Donax TA for the fork oil. |
| Chain management | Ducati doesn't specify a chain lube, so use something well-liked like Motul chain paste, which also travels well. |
| Battery | Dead battery? The DesertX uses a Skyrich HJT7B-FPZ-SCR 4AH LX5 Lithium battery. |
Ducati DesertX maintenance parts
Pre-ride / Periodic maintenance for the Ducati DesertX
This is maintenance that you can do yourself (though the manual says you need a dealer to do it).
Do the following checks every: Ride, 600 miles / 1 000 km, or six months (if it has gone unridden). Do it at the earlier of the intervals.
Ducati DesertX regular maintenance
Check engine oil level through sight glass. Top up if necessary (Mobil 1 15W-50)
Check brake fluid level (Castrol DOT 4)
Check operation of brake and clutch systems
Check tire condition, pressure and wear
Check the drive chain tension and lubrication (Motul chain paste) (see below)
Check brake pads thickness and replace if necessary
Check coolant level, and top up if necessary
Check lights and indicators, making sure they work properly
Make sure side stand and center stand (if fitted) operates smoothly
Regular maintenance for the Ducati DesertX
For the drive chain — check it more often if you ride your Ducati DesertX in harsh conditions, e.g. a) at the track, b) off-road, or c) in the wet.
How to Check Chain Tension on the Ducati DesertX
The manual explains how to check chain tension in a somewhat overly wordy way. Basically, find the middle of the chain, and measure the distance between the chain and the swingarm (distance A in the diagram below).
Make sure you measure at the tightest part of the chain. This means watching the chain move up and down as you push the motorcycle forwards or backwards. Where it's tightest — where the chain is highest, closest to the swingarm — is where you should measure the chain slack.
The target chain slack on the Ducati DesertX, the distance between the middle of the chain and the swingarm, should be 47-49 mm or 1.85-1.93 inches. It's measured while the motorcycle is on its side stand (per the service manual).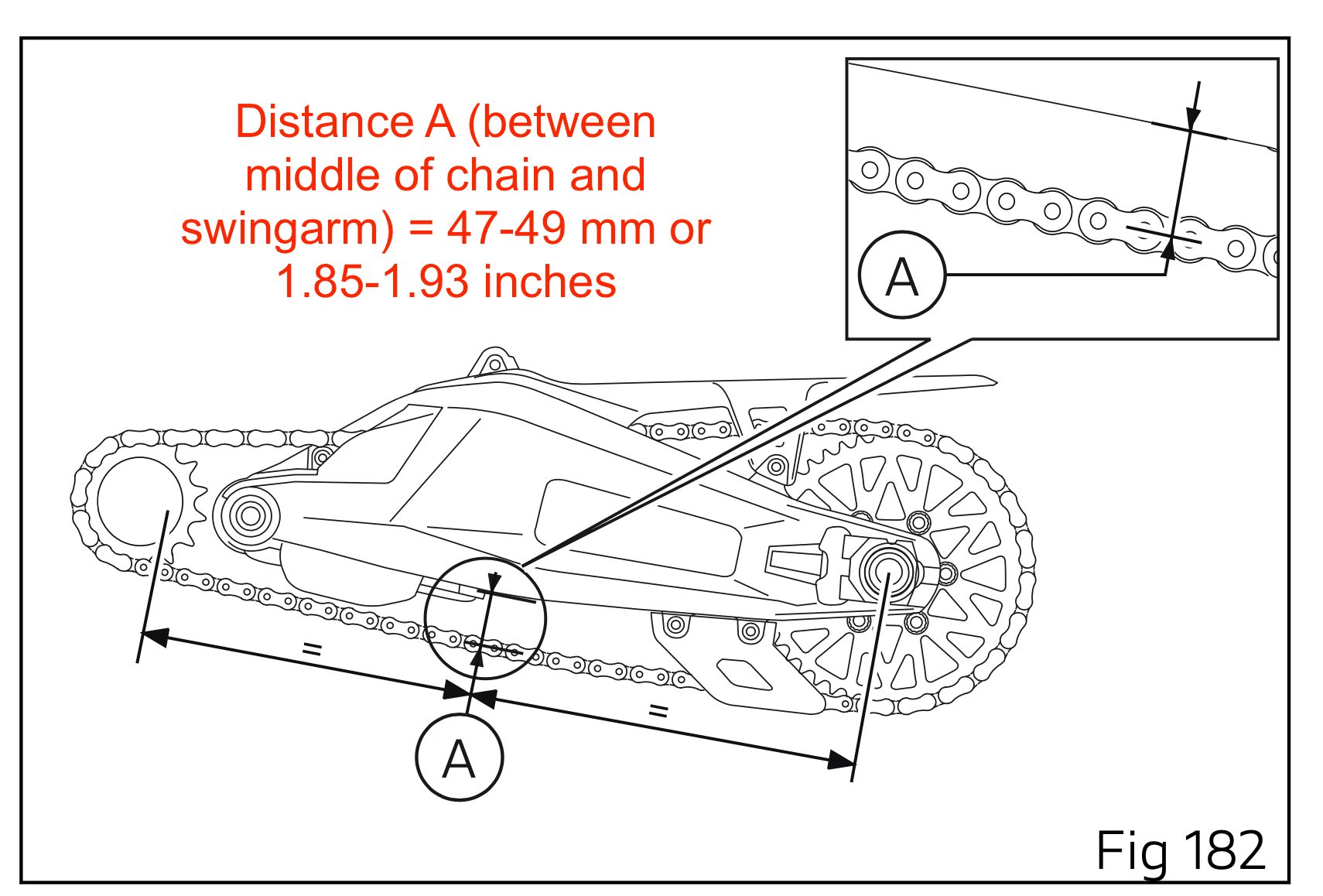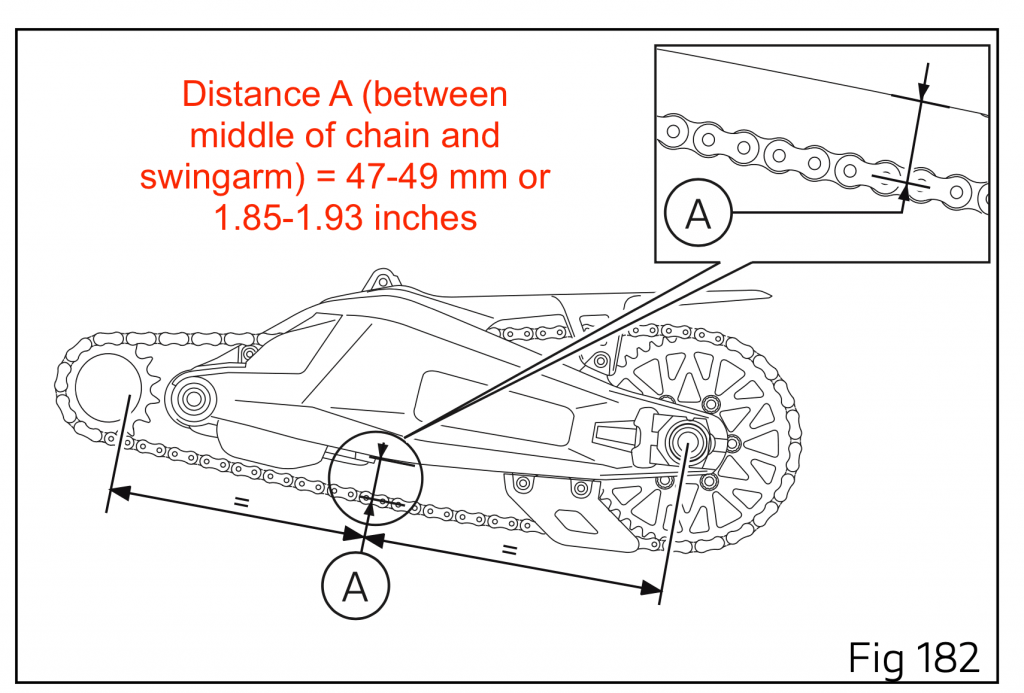 Ducati recommends getting the chain tension adjusted by a dealer. However, the procedure from the service manual is below.
While Ducati recommends checking chain tension on a side stand, the service manual's images show the DesertX on a center stand.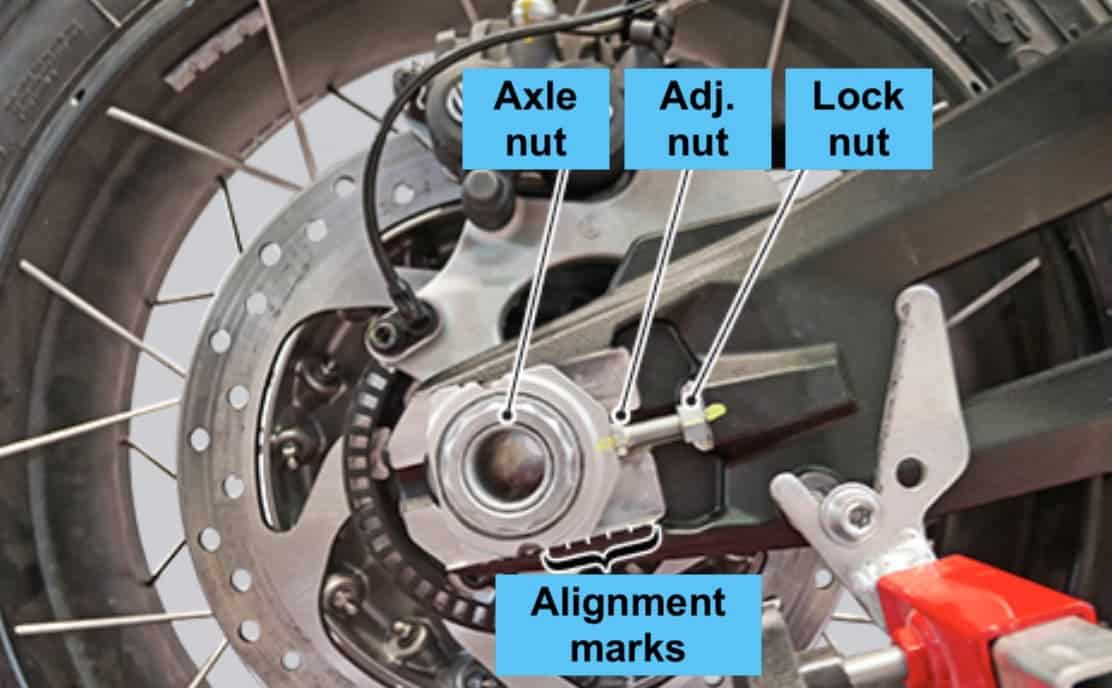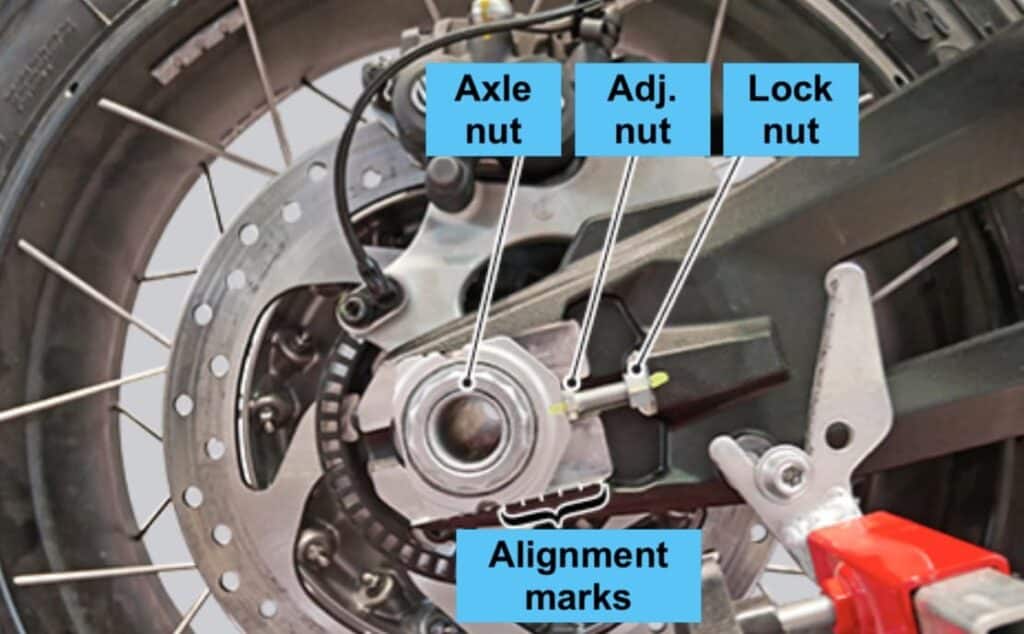 Make sure the motorcycle is in neutral, with no weight on it (no saddlebags / luggage).
Loosen the rear axle and the adjuster lock nuts on either side of the axle (the DesertX has a two-sided swingarm).
Turn the adjuster nuts to tighten (or loosen) the chain. Keep checking the chain tension to see if it has come within spec.
Keep an eye on the adjuster alignment marks on either side of the axle. Make sure that the adjustment is to the same point.
When you're done, tighten the axle to 180 Nm / 133 lb-ft.
Re-check the chain slack again to make sure it's still within spec.
Ducati DesertX Standard / Annual Service
Below is the list of what to do on your Ducati DesertX at the annual or 9 000 mile / 15 000 km service.
In addition to this service, you have to do some items periodically (see below).
Ducati DesertX Standard / Annual Service
[D] Read the error memory with DDS and check for software version updates on control units
[D] Check the presence of any technical updates and recall campaigns on DCS
Change engine oil
Replace oil filter
Check and clean air filter
Replace air filter
Visually check the front fork and rear shock absorber seals
Check brake and clutch fluid level
Check front and rear brake disk and pad wear. Change if necessary
Check the proper tightening of brake calliper bolts and brake disk flange screws
Check spoked wheel rims for dents and spoke tightness
Check the tightening of frame fasteners to engine, swinging arm and rear shock absorber
Check wheel hub bearings
Check final drive chain elongation, tension and lubrication
Check the front and rear sprocket condition, and tightness of nuts
Check front and rear wheel nuts tightening
Check steering tube bearings
Check the freedom of movement and tightening of the side stand
Check that all gaiters and flexible hoses in view (e.g. fuel, brake and clutch hoses, cooling system, bleeding, drainage, etc.) are not cracked, are properly sealing and positioned
Check free play of rear brake lever
Lubricate the levers at the handlebar and pedal controls
Check tyre pressure and wear
Check the operation of all electric safety devices (clutch and side stand sensor, front and rear brake switches, engine kill switch, gear/neutral sensor)
Check lighting devices, turn indicators, horn and controls operation
Check the battery charge level (from the instrument panel menu)
Check electric fan operation (when motorcycle is up to operating temp)
Final test and road test of the motorcycle, testing safety devices (e.g. ABS and DTC)
[D] Reset the service indication through DDS 2.0
[D] Fill out that the service was performed in on-board documentation (Service Booklet)
Ducati DesertX — Annual / 9 000 mile / 15 000 km service
Ducati DesertX Maintenance Schedule Table
Below is the full maintenance schedule for the Ducati DesertX.
Bear in mind that the below maintenance schedule is for a standard mix of on-road and off-road use. Ducati says that if you use the motorcycle under extreme conditions, such as "very damp and muddy roads or dusty and dry environment", that you should inspect and/or replace some items more often than others, particularly the air filter, chain, and brakes.
A few notes about maintaining a Ducati DesertX:
Some of the below items can only be done by a Ducati mechanic (marked [D]) as they need Ducati diagnostic equipment.
Some items have a distance-only or time-only interval. They're marked as such.
The break in schedule is not shown. It is basically an oil/filter change plus a visual check for leaks and fluid levels, and a dealer usually does it for Ducati motorcycles during the warranty period.
mi x 1000
9
18
27
36
km x 1000
15
30
45
60
Every
Perform standard / annual service
See above list for complete list of items
✓
✓
✓
✓
Year
Change final drive chain kit
✓*
✓*
* 12 000 mi / 20 000 km
Change air filter
✓
✓
Change timing belts
✓
✓
5 years
Check and/or adjust valve clearances
✓
✓
Change front fork fluid
✓
Change coolant
✓
✓
4 years
Change spark plugs
✓
✓
Change brake and clutch fluid
2 years
Check the cush drive damper on rear sprocket and lubricate the rear wheel shaft
✓
✓
Ducati DesertX scheduled maintenance table
* Ducati recommends you change the chain "within 12 000 mi or 20 000 km". This doesn't fit neatly into the maintenance schedule table, but it makes sense to do it with the second service at latest.
Tire sizes and pressures for the Ducati DesertX
The manual says that the base model Ducati DesertX arrives shod with Pirelli Scorpion Rally STR tires, a tire made specifically for the DesertX. Ducati recommends you keep using this exact tire.
Here are the tire sizes (in case you go off-brand) and recommended pressures.
Wheel
Tire size
Tire pressure (cold)
Front
90/90-21 M/C 54V M+S TL (A)
1.8 bar / 180 kPa / 26 psi (off-road / rider-only)
2 bar / 220 kPa / 29 psi (on-road, rider only)
2 bar / 220 kPa / 29 psi (off-road, rider + passenger)
2.2 bar / 220 kPa / 32 psi (on-road, rider + passenger
Rear
150/70 R 18 M/C 70V M+S TL
1.8 bar / 180 kPa / 26 psi (off-road / rider-only)
2 bar / 220 kPa / 29 psi (on-road, rider only)
2 bar / 220 kPa / 29 psi (off-road, rider + passenger)
2.2 bar / 220 kPa / 32 psi (on-road, rider + passenger
Tire sizes and pressures for the Ducati DesertX
The Ducati DesertX Rally (a 2024+ model) has a half-inch narrower rear wheel rim, but takes the same size tire. It comes with three tire options
Standard: Pirelli Scorpion Rally STR
Optional: Pirelli Scorpion Rally (more off-road oriented)
Optional: Pirelli Scorpion Trail II (more street-oriented)
About the Ducati DesertX
The Ducati DesertX isn't just a new motorcycle for Ducati — it's a whole new category of middleweight adventure sport vehicle for Ducati.
The heart of the Ducati DesertX is the same 937 cc liquid-cooled L-twin seen in many other motorcycles, from the Supersport to the Multistrada V2.
But the Ducati DesertX is quite different from other Ducati motorcycles, both in the present line-up as well as in the past.
Firstly, the Ducati DesertX is explicitly the most off-road oriented motorcycle that Ducati has produced.
Sure, they have a Scrambler line, and even a Ducati Desert Sled as part of the Ducati Scrambler 800 line-up.
But the Scramblers (even the one that shares a Desert moniker) are quite different. They're mostly styling exercises (though of course you can have fun with them on fire trails), but the Ducati DesertX is actually designed to be used off the beaten track.
Aside from the rally styling, the first clue that the DesertX is different is the tire setup.
Both tires are Pirelli Scorpion Rally STR tires, mounted on a huge 21-inch front tire, with an 18-inch tire at the rear. This is a pairing common to adventure bikes. It's designed for crawling over rocks at the front while maintaining traction and torque output at the rear.
The other clues are more subtle.
Ducati revised the gearing of the DesertX with respect to other Multistrada motorcycles with the same engine. They changed the gearing of both the first and second gears, and also added a whopping six more teeth to the rear sprocket.
The effect is that the Ducati DesertX is much more controllable at low speeds in the first couple of gears — essential for low-speed off-road work.
The other aspects of the Ducati DesertX that make it unique are more about comparisons with the competition.
The V-twin engine is quite unique. Yes, Suzuki has it in the Suzuki V-strom 1050 XT. But that's a larger, lower-revving engine. Nobody else is making middleweight V-twins that have off-road pretensions. Even KTM has parallel twins for its middleweight bikes (like the 890 Adventure).
There are other things that make the Ducati DesertX special, but what's important here is maintenance.
Like with other Testastretta V-twin motorcycles, the core of the maintenance schedule is the 9000 mile / 15000 km oil change annual service.
Aside from that, there are a number of things to keep up to date less regularly. Most importantly, you have to change the timing belts periodically, and also do the 30000 km / 18000 mile Desmo valve clearance check. It's a bit more involved as it's a Desmodromic engine, which means that the eight valves actually means checking 16 valve clearances (opener and closer for each valve).
However, the Ducati DesertX does have a reliable engine. The 937 cc L-twin engine is now proven. Ducati has been using it since the 2016 Ducati Hypermotard 939, so it has had a lot of time to show how reliable it is.
Ducati mildly updated the DesertX for 2023, adding just new livery, called "RR22", an update from the 2022 "White Silk" color.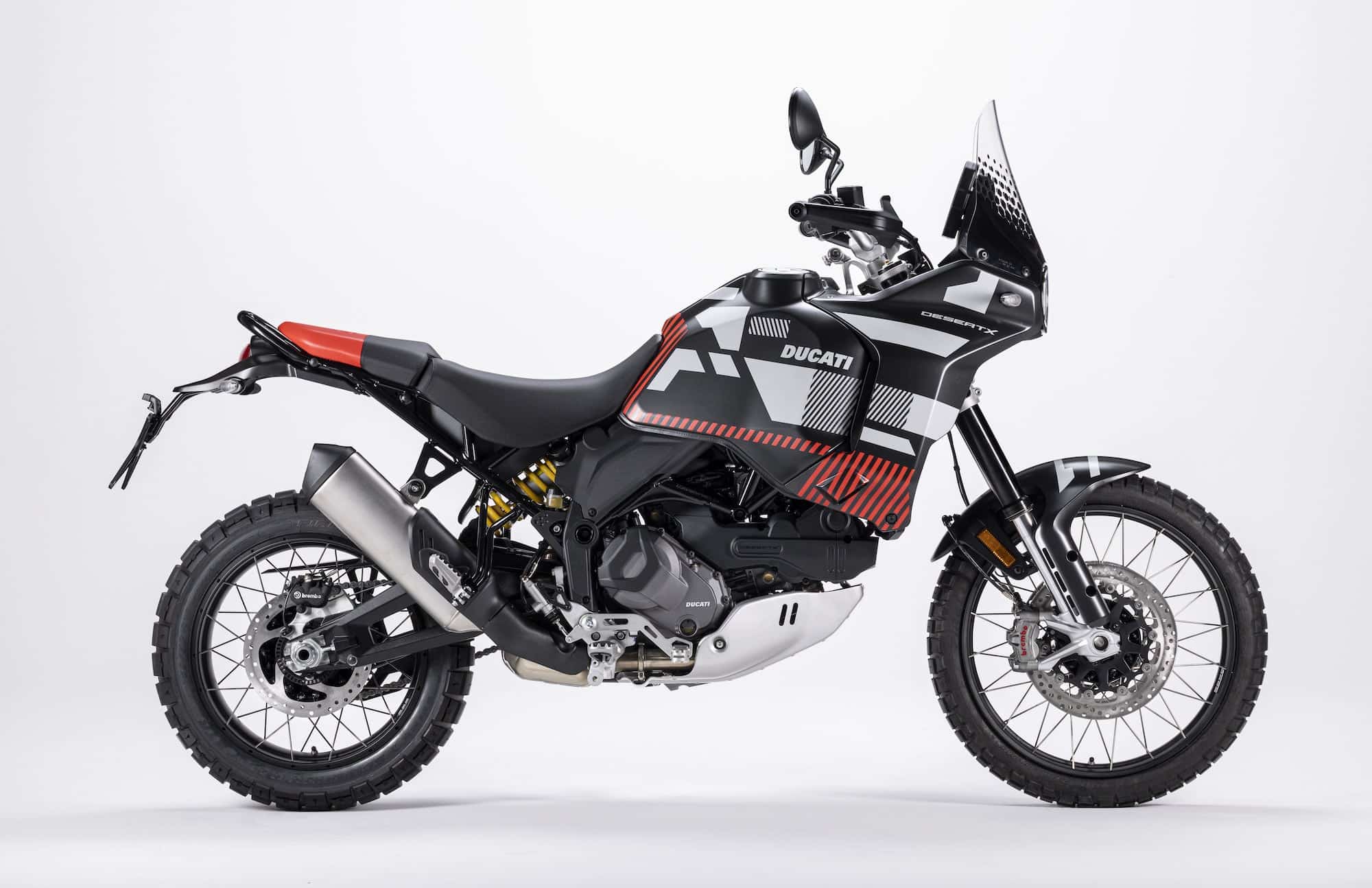 For 2024, Ducati released the Ducati DesertX Rally. And while it's more than just a good-looking bike, it definitely is a good-looking bike!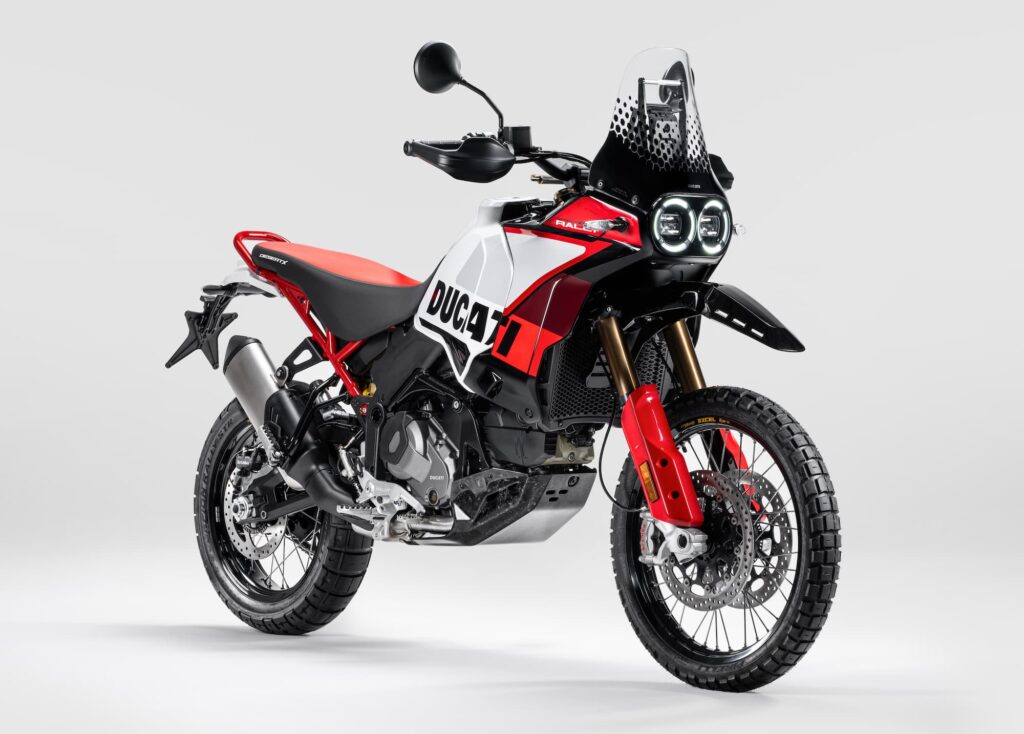 The Ducati DesertX Rally has
Higher-spec suspension, with wider stanchions, more adjustability, and more ground clearance (and also a corresponding higher seat height)
Stronger rims and hubs, with more options of off-road tires (including the Pirelli Scorpion Rally)
An Öhlins steering damper
An off-road mudguard
Plus, other graphics and niceties.
Reference — Ducati DesertX Owner's Manual
The above info was sourced from the owner's manual for the Ducati DesertX. You can download it from the Ducati website here.
We also checked parts manuals for the correct parts specs, including for alternative / aftermarket parts.
A member of the Ducati DesertX Forum shared the link to the service manual here. It has some interesting information in there that should be in the user's manual, like basic maintenance torque settings