Suzuki M109R (Boulevard, VZR1800) Complete Maintenance Schedule
This is the scheduled maintenance table and service intervals for the Suzuki M109R, known as the "Bully" or "9" among fans (myself included).
The Suzuki M109R has many names, from the VZR1800, to the Suzuki Boulevard M109R, through to the Suzuki Intruder M1800R. But most people know it as the M109R (I think).
It's a huge, stomper of a muscle cruiser, with dyno tests showing 120 hp at the rear wheel with just a bit of tuning — massive for a cruiser.
The engine in the Boulevard M109R is a 1786 cc liquid-cooled 54-degree V-twin with dual overhead cams and four valves per cylinder, and it puts power down via a 5-speed transmission and a shaft drive.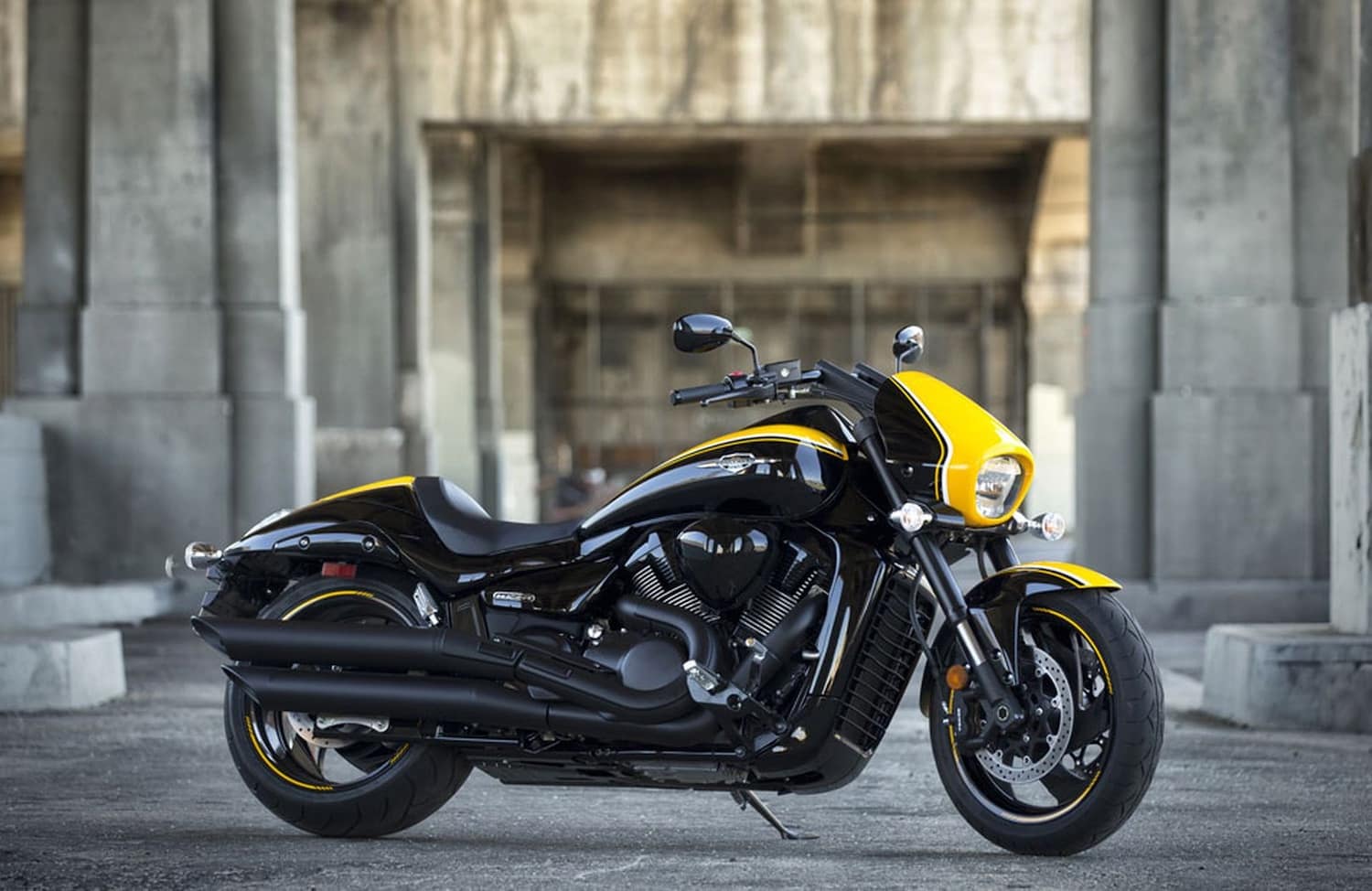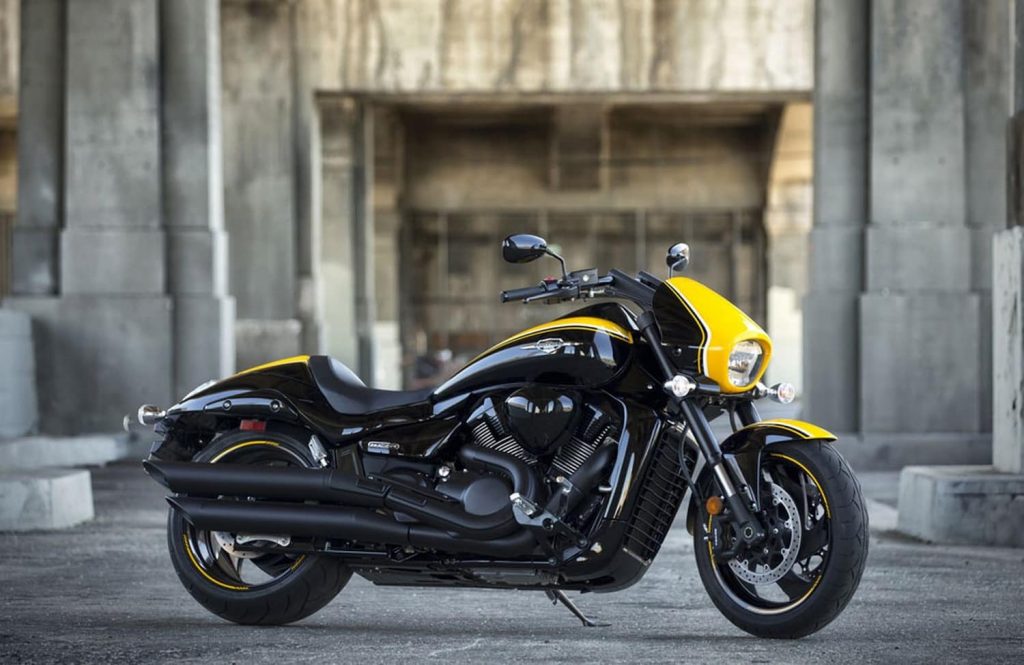 The M109R was first released in 2006 and it has barely changed since then. The early models already had fuel injection, and the latest models still don't have ABS, so there is no difference in maintenance for any of the M109R models. There have been some improvements to the gears (the very earliest ones would drop their second gear) and clutches, but none of those changes affects the maintenance schedule.
So this maintenance schedule applies to all Suzuki M109R models from launch to today, including the B.O.S.S. (a.k.a. the Black edition) and the Anniversary edition.
You might also opt for a smaller sibling to the M109R, like the still very powerful Suzuki Boulevard M90, or the long-distance cruising alternative, the C109R.
This site has links for things like oil and spark plugs from which we earn a commission (which unfortunately nobody can save, not even us). If you appreciate this work, then please use those links. Thanks!
Suzuki Boulevard M109R Service Intervals
The basic service interval for the Suzuki Boulevard M109R is every 3500 miles / 6000 km or every year. At every service, change the oil, inspect the air filter and plugs, and do a safety check of all the main moving parts for lubrication and potential leaks.
The valve clearance inspection/adjustment interval for the Suzuki M109R is every 24000 kms or 14500 miles.
That's quite generous! On top of that, you have a shaft drive (not a belt, nor a chain), so drivetrain maintenance is very low. This is an easy bike to own.
What you need to service the Suzuki M109R — Consumables and Special Tools
If you're servicing the M109R, you at least need these motorcycle maintenance tools — things like an oil catch pan, a paddock stand, and so on (though you don't need to service any chain!). Apart from that, for the M109R, the manual recommends the following specific consumables.
Component
Suzuki Boulevard M109R spec
Oil
SAE 10W-40 Engine oil, API SF/SG or SH/SJ with JASO MA (which are standard ratings for most oils), e.g. Motul 7100 10W-40.

Don't over-torque the bolt (spec is 23 Nm/16.5 lb-ft for the oil drain bolt per the manual) — use a torque wrench if you don't have experience with how much torque is enough.
Oil filter
Needs to be changed every time you change the oil. Either get a stock one (part 16510-07J00, used for many Yamaha products) or the Hiflofiltro HF138. Torque for the oil filter is 20 Nm/14.5 lb-ft.
Engine coolant
Manual says use "Suzuki Coolant" or a "coolant that's compatible with an aluminium radiator". This means silicate-free coolant based on ethylene glycol. Suzuki coolant is available from your dealer, but Honda coolant is the same.
Spark Plugs
NGK CR8EK or CR8EIX (recommended as the best spark plugs for the M109R — "runs like a bat out of hell") Iridium. This is what the manual and mechanics suggest. Make sure it's gapped correctly to 0.6-0.7mm (get a gapping tool) and torqued to 11 Nm/8 lb-ft.
Air filter
The part number for the OEM air filter is 13780-48G00. You can also get the K&N equivalent, SU-1806.
Front brake pads
The OEM code for front brake pads is 59300-22830. You can also use EBC brake pads (part FA379HH) for better brake feel and less fade when riding hard. Get two sets (twin front discs)
Rear brake pads

The OEM code for rear brake pads is 69100-01880. You can also use EBC brake pads (part FA231HH) for better brake feel and less fade when riding hard.
Gear oil (for the shaft drive)
Manual says "Use SAE 90 hypoid gear oil which is rated GL-5 under API classification system" or SAE 80 if you ride below freezing. In practise people on forums (e.g. m109riders) use a variety of final drive oils. Popular choices are Mobil 1 75W-90 and Lucas Oil 80W-90. (A small bottle; manual says 200-220ml which is half a US quart)
Oil, filters, coolant, plugs, and brake pads for the Suzuki M109R
Suzuki M109R Maintenance Schedule
The chart below lists the recommended intervals for all the required periodic service work necessary to keep the Suzuki M109R operating at peak performance and economy. Mileages are expressed in terms of kilometres, miles, and time for your convenience.
You might have to service your M109R more frequently if you use it under severe conditions. But luckily, you have a shaft drive, so you won't have to clean the chain more often if you opt to take it down dirt roads (but you'll have to clean it).
In the following table:
At the end of the maintenance schedule, keep following it in the pattern shown, with service intervals every 3500 miles or 6000 km.
Legend: I = Inspect and clean, adjust, replace or lubricate as necessary, R = Replace, T = Tighten
| miles x 1000 | 0.6 | 4 | 7.5 | 11 | 14.5 | |
| --- | --- | --- | --- | --- | --- | --- |
| km x 1000 | 1 | 6 | 12 | 18 | 24 | |
| months | 2 | 12 | 24 | 36 | 48 | Periodic |
| Engine oil (Motul 7100 10W-40) | R | R | R | R | R | |
| Oil filter (HF138) | R | | | R | | |
| Air cleaner element (K&N SU-1806) | | I | I | R | I | |
| Spark plugs (NGK CR8EIX Iridium) | | I | R | I | R | |
| Valve clearance | | | | | I | |
| Final gear oil (Mobil 1 75W-90) (Note: many owners change with every oil change, but you don't have to) | R | | I | I | I | |
| Exhaust pipe bolts and muffler bolts | T | | T | | T | |
| Exhaust control valve | I | | I | | I | |
| Fuel line | | I | I | I | I | |
| Evaporative emission control system (E-33 only) | | | I | | I | |
| Throttle cable play | I | I | I | I | I | |
| PAIR (air supply) system | | | I | | I | |
| Throttle valve synchronization | I | | I | | I | |
| Engine coolant — use any ethylene glycol pre-mix | | | R | | R | Replace every 2 years |
| Radiator hose | | I | I | I | I | |
| Clutch cable play | | I | I | I | I | |
| Brakes | I | I | I | I | I | |
| Brake hoses | | I | I | I | R | Replace every 4 years |
| Brake fluid (Castrol DOT 4) | | I | R | I | R | Replace every 2 years |
| Tires | | I | I | I | I | |
| Steering | I | | I | | I | |
| Front fork | | | I | | I | |
| Rear suspension | | | I | | I | |
| Chassis bolts and nuts | T | T | T | T | T | |
Suzuki M109R maintenance schedule table
Tires on the Boulevard M109R
Tires can be expensive on a high-torque performance cruiser, particularly with a rear tire profile as massive as the one on the '9!
Below also are the recommended tire pressures from the manual. Use these as a starting point. They're designed for most users and maximum tire life, though individual preferences vary.
| Wheel | Tire size | Tire pressure (cold) |
| --- | --- | --- |
| Front | 130/70 R 18 | 2.5 bar / 250 kPa / 36 psi |
| Rear | 240/40 R 18 | 2.9 bar / 290 kPa / 42 psi |
Tire sizes and pressures
About the Suzuki M109R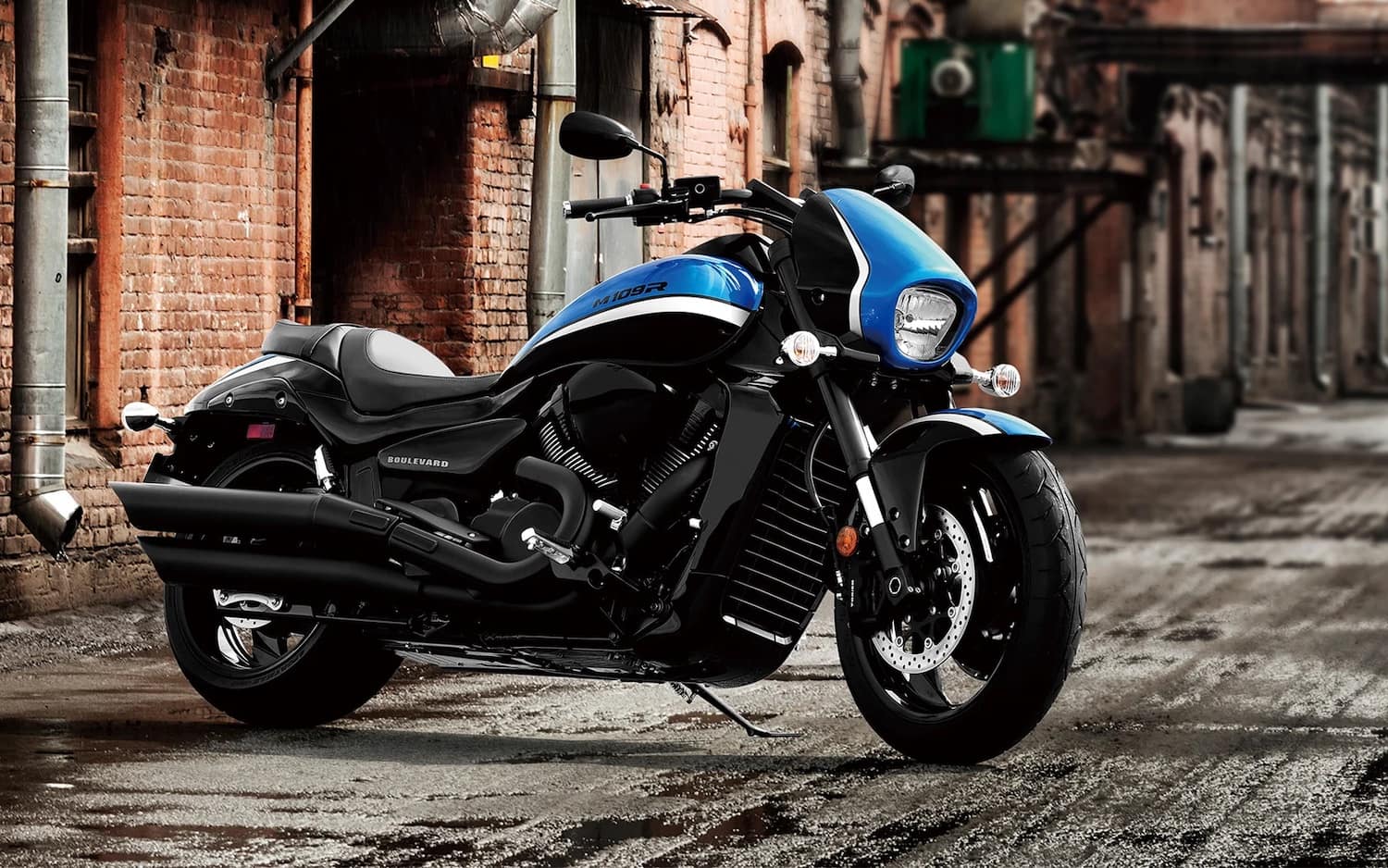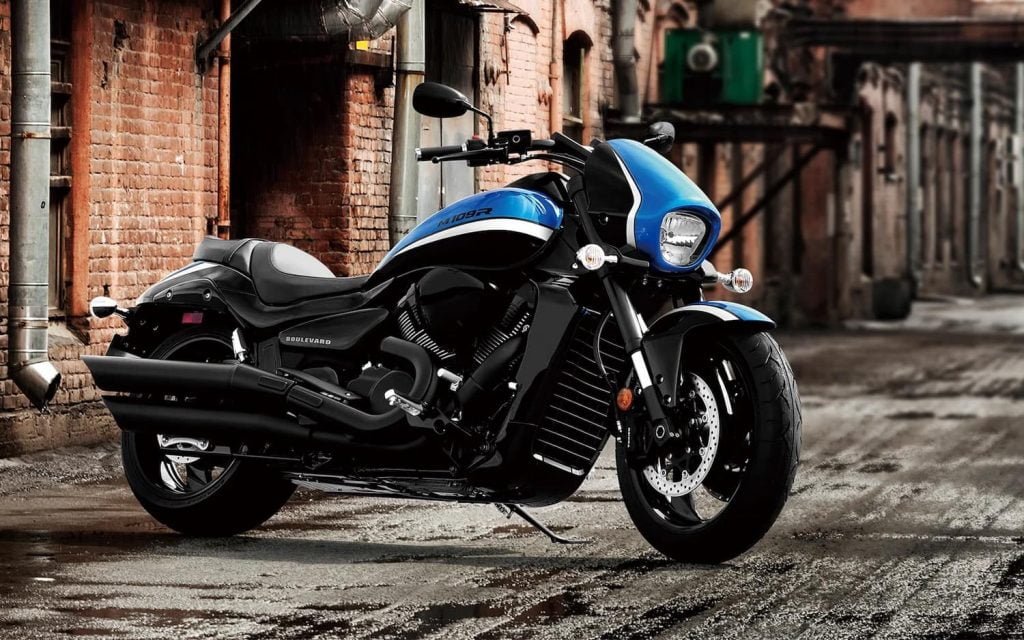 The M109R is a massive motorcycle — one of the last Japanese power cruisers still in production, and one with an iconic design with a following almost as passionate as that for the Suzuki Hayabusa.
The Suzuki Boulevard M109R has a 1789 cc engine, which is 109 cubic inches – hence the name.
They have been fuel-injected and water-cooled from inception at 2006. And they have always pushed through a shaft drive, like many Japanese cruisers, making them relatively low-maintenance.
The engine produces 92 kW (123 bhp) at 6200 rpm, and it has been dyno-tested to be very close to that. More importantly it puts out a huge 160 Nm (118 lb-ft) of torque, necessary to pull around the 346 kg / 765 lbs of weight. It makes peak torque from a low 3200 rpm.
Even though it's hugely torque-rich, the M109R is easy to ride and non-intimidating — even for a "muscle" cruiser. You do have to shift with intention, but it's not a bike you'll easily flip from too much torque or crash from understeering. In fact, unless you give it full throttle and drop the clutch, you'd be surprised how easy it is to get going on the big '9.
The huge 46mm front fork is inverted, but non-adjustable. You can adjust the rear shock absorber for preload only.
Front brakes on the Suzuki Boulevard M109R are just 2-piston calipers on 310mm discs. If anything will stop you from pushing the M109R too hard, it's knowing you don't have quite sportbike-spec brakes up front. But these can be upgraded, too.
Over the years, the M109R changed but not in any fundamental way. The main things that changed are wheels, conformity to emissions regulations (different exhaust and oxygen sensors), the clutch control, the headlight assembly… nothing core to the scheduled service.
The B.O.S.S. editions were also aesthetic updates — meaning "Blacked Out Special Suzuki", they gave the modern M109R bikes a much more up-to-date look. The older ones prefer chrome and gloss, and the modern BOSS bikes are more matt and black. They all look good though, and owners keep them all in good condition.
References — Suzuki M109R Service Manual
The above maintenance schedule comes from service manual for the Suzuki Boulevard M109R. See a screenshot below for reference.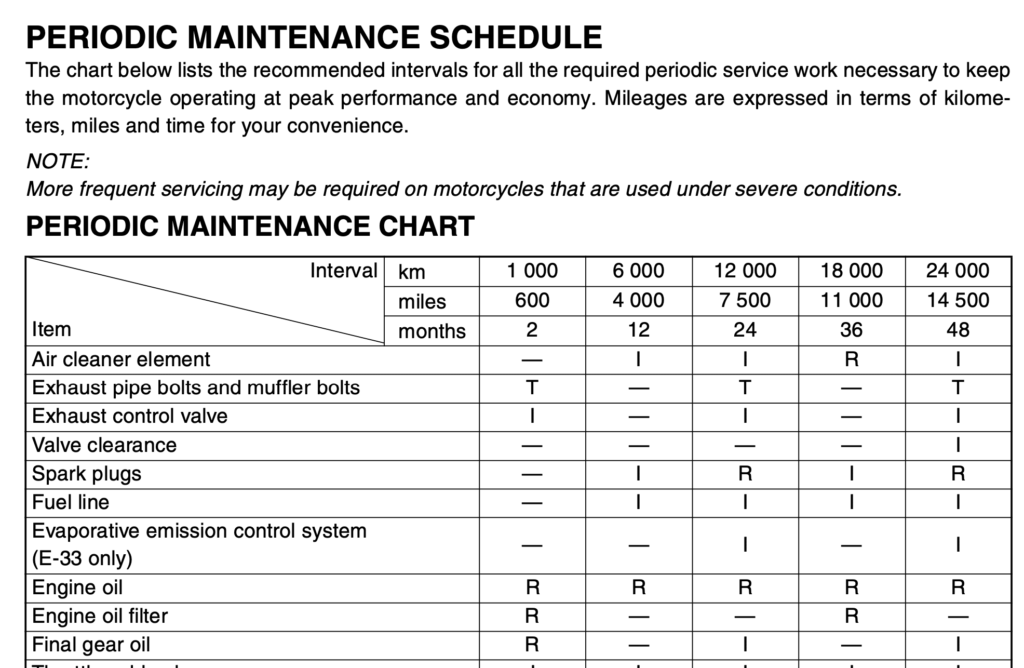 You can get genuine Suzuki manuals from genuinesuzukimanuals.com, which is an official Suzuki website.