Ducati Scrambler Sixty2 (2016+) Complete Maintenance Schedule
The Ducati Scrambler family started in 2015 with the Ducati Scrambler 800 series (with an 803cc L-twin engine), and to offer the smaller Scrambler Sixty2 to offer an option for beginner riders.
The Ducati Scrambler Sixty2 is essentially the same motorcycle with a smaller 399cc engine that makes 31 kW (41 hp) at 8,750 rpm. It's a great bike for entry-level riders in the UK/Europe who are on the A2 license restriction scheme. It's slightly more affordable, and slightly lower spec.
The maintenance schedule for most of the Ducati Scrambler motorcycles is similar, though the Sixty2 has different service intervals and a few different parts.
This site has links for things like oil and spark plugs from which we earn a commission (which unfortunately nobody can save, not even us). If you appreciate this work, then please use those links. Thanks!
What you need to maintain the Ducati Scrambler Sixty2
The Scrambler Sixty2 is a pretty easy motorcycle to maintain, apart from the valve adjustments. But even replacing the belts periodically is not hard. Just make sure you get the right belts, and don't leave it too late!
Firstly, you may need the following tools to service the Ducati Scrambler: Essential Motorcycle maintenance Tools.
Secondly, you'll need the following specific consumables to replace on any Ducati Scrambler Sixty2.
| | |
| --- | --- |
| Engine oil | Ducati recommends Shell Advance Ultra motorcycle oil. It's hard to find and expensive so people suggest Mobil 1 Synthetic. A lot of Ducati owners use Shell Rotella T6… check out the forums. |
| Oil filter | Genuine Ducati part is 44440037A the Ducati Scrambler. I'd suggest removing that and using a Hiflofiltro HF153RC oil filter which can be changed with a normal wrench. |
| Brake and Clutch fluid | Ducati recommends Shell Advance brake and clutch fluid, but that's quite hard to find, so Castrol DOT 4 Synthetic is a good and very high-quality alternative. |
| Coolant | Ducati recommends Shell Advance Coolant or a 35-40% mix of Glycoshell, a Nitrite, Amine, and Phosphate-free coolant. But any ethylene glycol-based coolant will do the job. |
| Timing belt | Is it time to change the timing belt? Don't put it off… a broken timing belt will cost you a lot (bent valves)! You need part number 73740242A. |
| Front brake pads | OEM part number for the front pads is 61341221A (different to the larger Scrambler). You can also use EBC FA209/2HH for more bite and less fade as you apply pressure. |
| Rear brake pads | OEM part number for the rear pads is 61340761A (same as on the larger Scrambler). You can also use EBC FA213HH for more bite and less fade as you apply pressure. |
| Air filter | You can also use K&N part DU-8015 for Ducati Scrambler Sixty2 models. |
| Spark plugs | NGK code for the Scrambler Sixty2's spark plug is KR8C-G |
| Chain maint. | The chain needs to be lubricated every 800 km/500 miles (or more, if it gets wet/dirty), with variations recommended between manufacturers. Motul chain paste is cheap and well-loved, or a Motul chain care kit includes a brush. |
| Cables | Remember to lubricate your clutch cable (and brake cables if you have them) with a cable lubricant. Protect All Cable Life is a good general-purpose lubricant. |
| Stand | Lubricating the chain and changing the oil both become a lot easier once you use an affordable paddock stand. |
| Grease | Get a good lithium soap-based grease for lubricating major components like your side stand, centre stand, and bearings. |
Consumables for Ducati Scrambler Sixty2
Ducati Scrambler Sixty2 Maintenance Schedule
Below is the overall maintenance schedule for the Ducati Scrambler Sixty2. Each item has a distance interval and a time interval — you should do whatever's sooner. E.g. if you get to the 12 month mark and you haven't done 10k kms/ 6K miles, you should change the oil and filter anyway.
The table is from Ducati's "Transparent Maintenance" service schedule sheet, just re-arranged a bit to make it easier to understand.
Generally Ducati Scrambler maintenance is broken up into three parts
Initial service at 1,000 kms or 600 miles
Minor service every 10,000 kms or 6,000 miles where you check valve clearance (and pretty much everything else)
Major service every 20,000 kms or 12,000 miles where you change timing belts and spark plugs
You have to change the timing belts every 12,000 miles or 5 years — whichever comes sooner.
Note — the maintenance intervals for the Scrambler Sixty2 are slightly shorter than those for other air-cooled Scramblers. It's 10K km/6K miles for the Sixty2, and 12K km/7.5K miles for the 800 and 1100 Scramblers.
There's also the fork fluid, which is recommended to be changed after a set distance travelled.
km x1000
1
10
20
30
40
50
Time
miles x1000
0.6
6
12
18
24
30
Months
(Ducati tech) Read fault memory with the DDS 2.0 tester, and check technical updates and recall campaigns on DCS
X
X
X
X
X
X
12
Change engine oil and filter (Mobil 1 Synthetic, HF153RC)
X
X
X
X
X
X
12
Check and clean air filter
X
X
X
X
X
12
Change air filter (DU-8015 up to 2018, then DU-1006 for 2019+)
X
X
Change timing belts (part number 73740242A)
X
X
60
Check and/or adjust valve clearance
X
X
X
X
X
Replace spark plugs (NGK DCPR8E)
X
X
Change front fork fluid (Every 30,000 km/18,000 miles for Sixty2 models)
Visually check the front fork and rear shock absorber seals
X
X
X
X
X
X
12
Check brake and clutch fluid level
X
X
X
X
X
X
12
Change brake and clutch fluid (Castrol DOT 4)
24
Check front and rear brake disc and pad wear
X
X
X
X
X
12
Check the proper tightening of brake calliper bolts, brake disc screws, front and rear wheel nuts and rear sprocket nut
X
X
X
X
X
12
Check frame-to-engine, frame-to-swinging arm and frame-to-rear shock absorber fasteners tightening
X
X
X
X
X
12
Check the wheel hub bearings
X
X
X
X
X
12
Check the cush drive damper on rear sprocket and lubricate the rear wheel shaft
X
X
Check chain, rear sprocket and sprocket wear and check final drive chain tension, lubrication and stretch.

(NOTE: It is recommended to change the final drive chain kit within 20,000 km/12,000 mi.)
X
X
X
X
X
X
12
Check steering tube bearing clearance
X
X
X
X
X
12
Check the freedom of movement and tightening of the side stand
X
X
X
X
X
X
12
Check that all gaiters and visible hoses (i.e. fuel, brake and clutch, cooling system, bleed, drain hoses, etc.) are not cracked, are tight and properly housed
X
X
X
X
X
X
12
Check rear brake lever free play and handlebar lever and pedal control lubrication
X
X
X
X
X
X
12
Check cable clutch lever free play (where installed)
X
X
X
X
X
X
12
Check tyre pressure and wear
X
X
X
X
X
X
12
Check the operation of all electric safety devices (side stand and clutch sensor, front and rear brake switch, engine stop switch, gear/neutral sensor)
X
X
X
X
X
X
12
Check lighting devices, turn indicators, horn and controls operation
X
X
X
X
X
X
12
Final test and road test of the motorcycle, testing safety devices (e.g. ABS and DTC), electric fans and idling
X
X
X
X
X
X
12
Softly clean the motorcycle
X
X
X
X
X
X
12
(Ducati tech) Service coupon registration with turning off of Service warning light on instrument panel with DDS 2.0 and filling in of the on-board documentation
X
X
X
X
X
X
12
Ducati Scrambler Sixty2 Maintenance Schedule
Ducati Scrambler Sixty2 Tires and Tire Pressures
Ducati Scrambler Sixty2 motorcycles have the following recommended tyre pressures, per the manual.
| Tyre | Size | Brand(s) | Tyre pressure |
| --- | --- | --- | --- |
| Front | 110/80-R18 | Pirelli MT 60 RS | 2.5 bar (36 PSI) |
| Rear | 160/60-R17 | Pirelli MT 60 RS | 2.5-2.9 bar (36-42 PSI), depending on load |
Tyres and tyre pressures — Ducati Scrambler Sixty2
About the Ducati Scrambler Sixty2
The Scrambler Sixty2 has been an attempt by Ducati to capture the younger riders who are part of the new retro wave.
It's basically a Ducati Scrambler (sometimes called the 800), but the 803cc has been bored and sleeved down to make a 399cc engine. So the engine weighs basically the same.
Other components on the Ducati Scrambler 62 are lower in spec too. For example
The front forks are no longer inverted, but conventional (right-side-up), from Showa rather than Kayaba
The rear tyre is slightly narrower (160/60 rather than 180/55), but both are 17 inch
Front brake is a single 310mm disc, rather than 330mm
And of course the engine makes about 60% of the power of its bigger sibling. But you know that.
Most striking is that they weigh basically the same (the Sixty2 weighs about 3kg less wet).
So for those who aren't on a restricted license, the Sixty2 makes almost no sense. Which is why it barely sold in the US — in fact, in a Ducati dealer that this editor visited, the dealer talked me out of it. "Why would you when the real thing is only $1K more?" he asked incredulously. I doubt they ever sold a single one.
Nonetheless, in places where license restrictions cap power and displacement, the Sixty2 sells to those who want a bite of Ducati culture. In Australia, New Zealand, and the UK, to which it was imported at various points, the Ducati Scrambler Sixty2 is an attractive starting point for people on their A2 or LAMS licenses, alongside the Ducati Monster 659.
The Monster 659 is more popular though, because it's not difficult to tune more power out of it…
That said, by all accounts the Scrambler Sixty2 is a decent commuter, backroads scratcher, and even a fun bike to take onto muddy or dirt roads. Of course, it does all those things as well as its bigger brother — just a bit more slowly.
But maybe that's what you're after.
Ducati Scrambler Sixty2 Manual
The above maintenance schedule is adapted from Ducati's "Transparent Maintenance" table for the Scrambler series.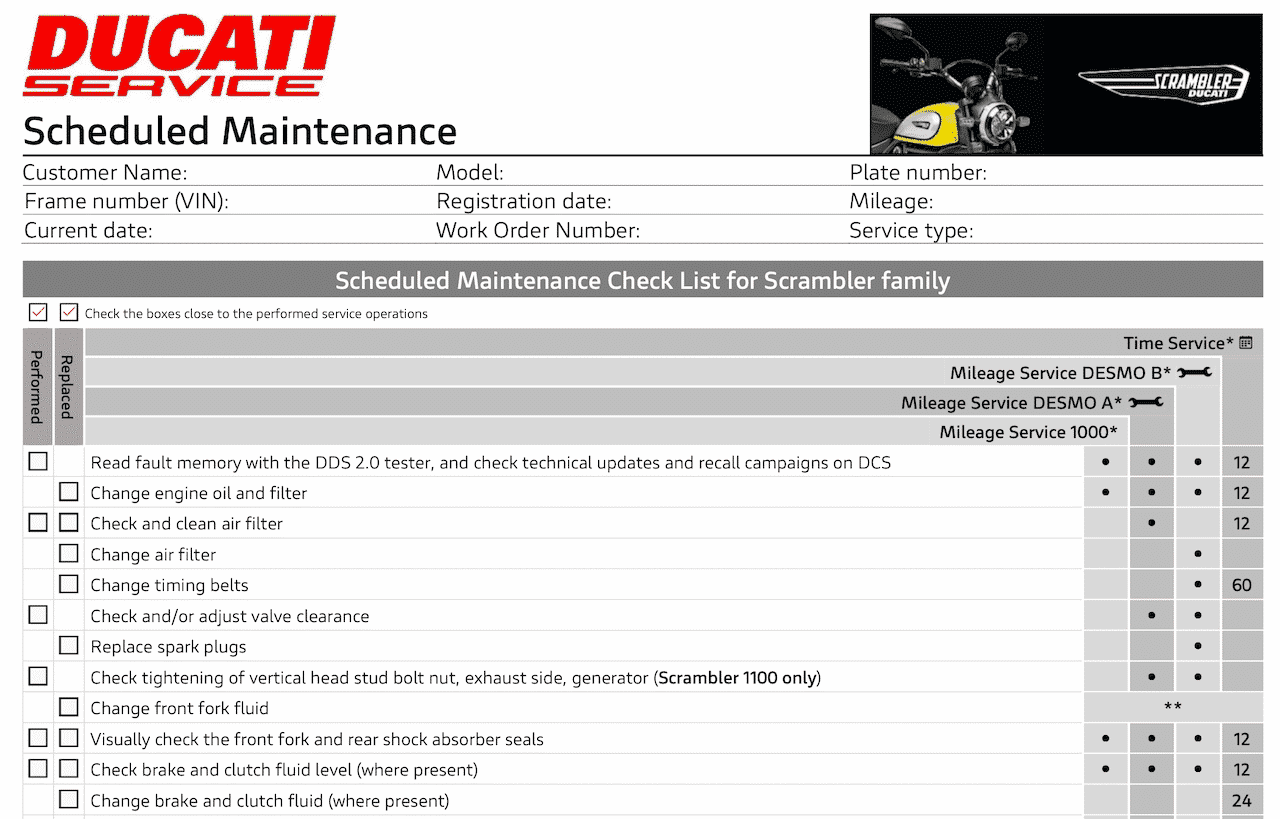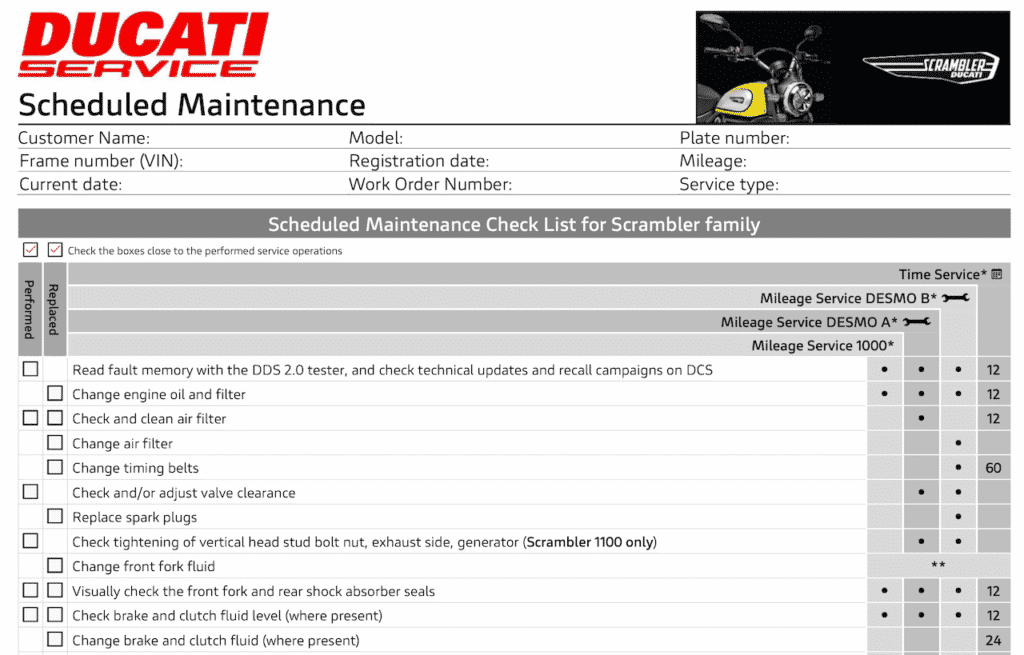 You can get the original copy here.