Yamaha Virago 1100 (XV1100, 1986-1999) Simplified Maintenance Schedule and Service Intervals
This is the maintenance schedule and associated service intervals for the Yamaha Virago 1100, a.k.a. the XV1100. Yamaha made the XV1100 Virago between 1986 and 1999.
The Yamaha Virago 1100 is a metric cruiser powered by a 1063 cc (65 c.i.) air-cooled V-twin. Along with being a motorcycle with a pretty big engine for the time, the Virago line was unusual for being cruiser motorcycles with a shaft final drive, after the more traditional five-speed box.
These days, there are still Virago 1100s around, a testament to their timeless design and high build quality.
Here are our other Virago maintenance schedules:
Yamaha Virago 750 (XV750) — WIP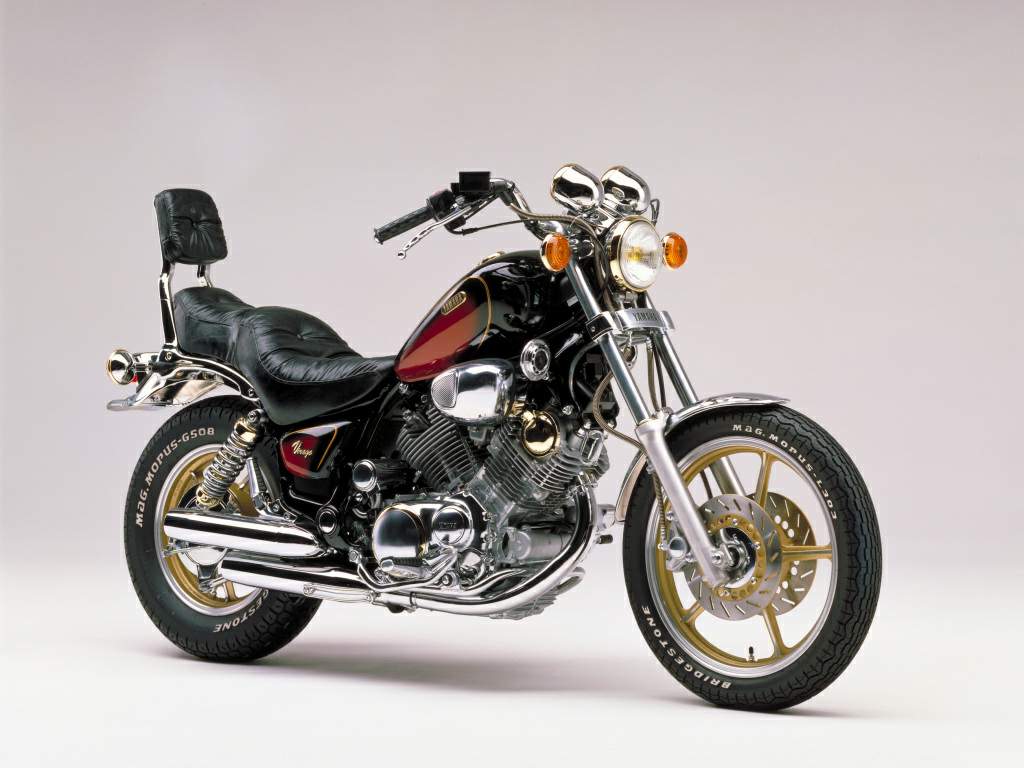 This site has links from which we earn a commission (which unfortunately nobody can save, not even us). If you appreciate this research work, then please use those links. Thanks.
Yamaha Virago 1100 / XV1100 Service Intervals
The Virago XV1100 has 4200 mile or 6000 km service intervals, or 6-monthly service intervals.
At every service, you have to change the oil and air filter and inspect or change the spark plugs.
You also need to do a valve clearance check at every service, which can be a daunting task until you've done it once.
You can do the valve service on a Virago 1100 without even removing the tank (though you do have to remove the battery and a couple of other bits to get to the valve covers of the V-twin engine). You don't even have to drain the oil. It does help if you prop the tank up slightly though.
Since the Virago motorcycles have shaft final drives, you don't have a chain or belt to maintain — but you do have to service the shaft drive periodically, keeping the lubricant fresh.
Yamaha Virago 1100 Maintenance Schedule
Below is the maintenance schedule for the Yamaha Virago 1100.
The maintenance schedule is broken into two parts:
Service schedule of major items
Inspection checklist of things to go over at every service
Notes on reading the maintenance schedule
At the end of the maintenance schedule, keep following it in the pattern shown.
Follow the earlier of distance-based or time-based service intervals.
The original maintenance schedule was given odd service intervals assuming we'd start at 600 miles and add specific increments of 3800 miles. It doesn't make much sense now that that so much time has passed since the break-in so it's shown in simpler form below.
Service Schedule
mi x 1000
4
8
12
16
20
km x 1000
6
12
18
24
30
Every
Inspection checklist (see below) — Perform
✓
✓
✓
✓
✓
6 months
Engine oil — Change (Yamalube 10W-40)
✓
✓
✓
✓
✓
6 months
Oil filter — Change (HF145)
✓
✓
Year
Air filter — Clean gently, and change if necessary
Don't use compressed air as it may damage the air filter
Service more often if riding in dusty / wet areas.
✓
✓
✓
✓
✓
6 months
Spark plugs — Check condition and gap/clean.
Target gap: 0.7-0.8mm
✓
✓
✓
Spark plugs — Replace (NGK BPR7ES)
✓
✓
Valve clearances — Check and adjust when engine is cold
✓
✓
✓
✓
✓
Carburettor sync — Check / adjust
✓
✓
✓
✓
✓
6 months
Final gear oil — Check level
✓
✓
Final gear oil — Replace (Mobil 1 75W-90)
✓
Replace:
2 years
Brake fluid + rubber parts of master cylinder and caliper — Replace
2 years
Brake lines — Replace
4 years
Swingarm pivot bearing — (C)heck for looseness, (R)epack (Lithium soap-based grease)
C
R
Steering bearings — Repack with lithium soap-based grease
✓
Check evaporative emission control system for damage. Replace if necessary.
✓
✓
Maintenance schedule for the Virago 1100 / XV1100 — Emissions control systems
Inspection checklist
Do all these inspections at every service.
Virago 1100 / XV1100 Standard Inspection Checklist
Check fuel hoses and vacuum pipe for cracks or damage. Replace if necessary
Final drive — Check for leakage
Idle speed — Check and adjust. Adjust throttle cable free play.
Brake lever — Adjust free play
Brake pads / shoes — Inspect thickness and replace as needed
Clutch — Adjust free play
Front fork — Check operation and leakage
Steering bearings — Check bearing assembly for looseness
Control meters and cables — Apply chain lube thoroughly (Protect all cable life)
Brake/clutch lever pivot shaft — Lubricate with Lithium soap-based grease
Brake pedal and shift pedal shaft — Lubricate with Lithium soap-based grease
Wheel bearings — Check for smooth rotation
Wheels and tires — Check condition, tread, and pressure
Center / Side stand pivot — Check operation and lubricate (lithium soap-based grease)
Side stand switch — Check function
Battery — Check specific gravity and breather pipe for proper operation
Exhaust — Check for leakage. Retighten if necessary. Replace gasket(s) if necessary.
Check crankcase ventilation hose for cracks or damage. Replace if necessary
Virago 1100 / XV1100 Standard Inspection Checklist
About the Yamaha Virago 1100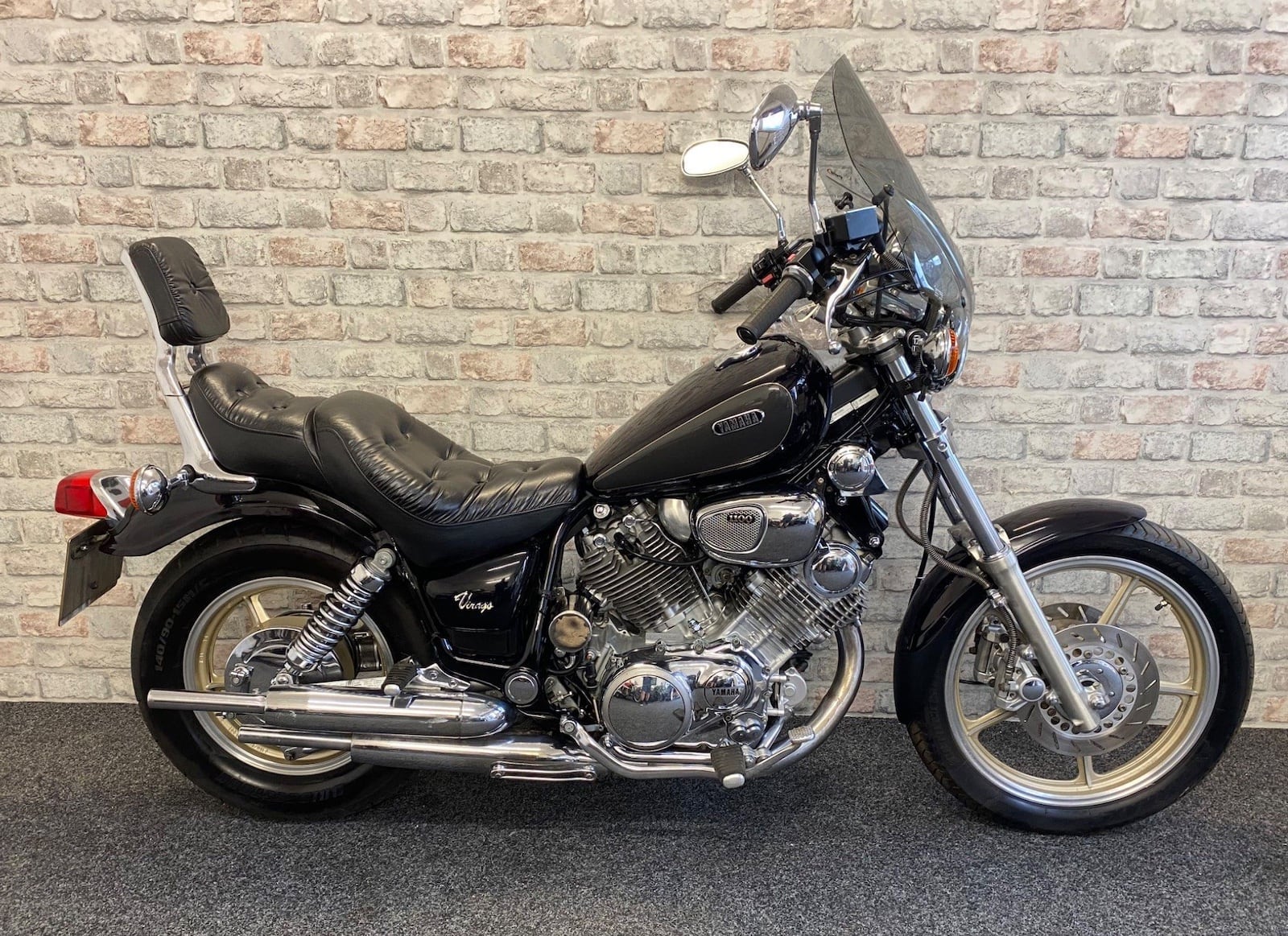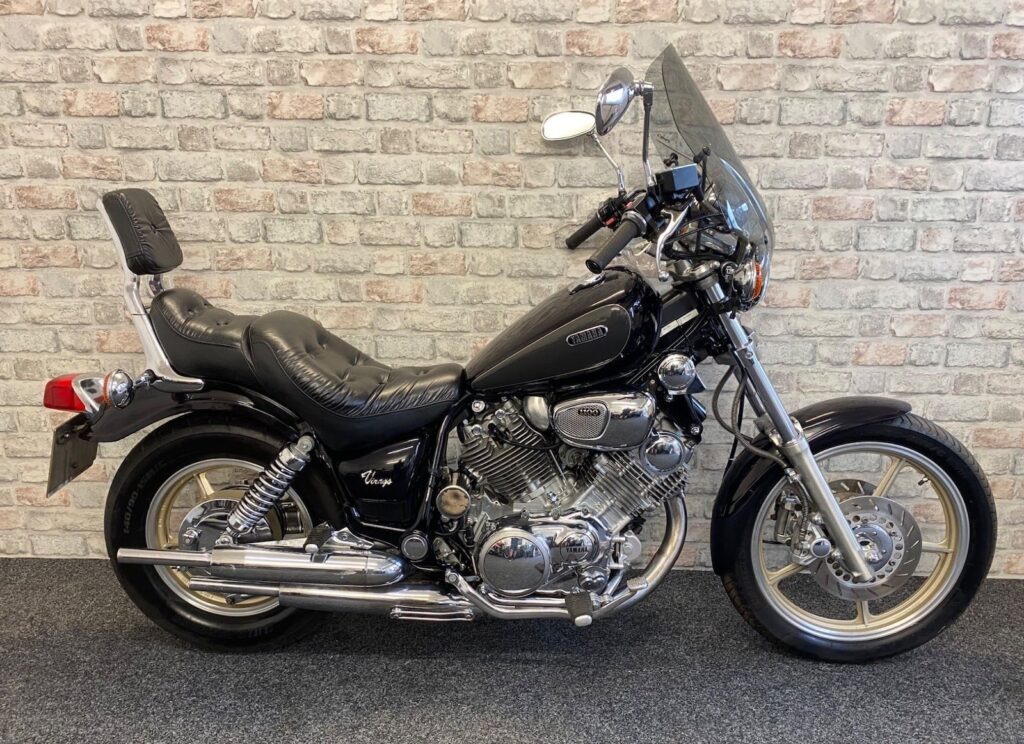 The Yamaha XV1100 Virago 1100 was one of the more successful large-bore Virago motorcycles that Yamaha produced, trying to take a slice of the huge market that Harley-Davidson has in the United States.
These days, most Japanese manufacturers have given up trying to steal market share from Harley-Davidson, focusing on a younger generation of riders. But that makes bikes like the XV1100 a classic.
There's a lot to love about the XV1100. The engine is perfect. It has loads of torque at idle, but it revs out surprisingly high — you can push it to above 6000 rpm if you feel like it. The handling is sweet, with no complaints. I mean, it's a big cruiser with a long wheelbase, so you'll scrape it at times, but you know what you're in for. And it has a very simple design, with an air-cooled motor and a shaft drive.
It even sounds good. Yes! By this time, most Viragos have had aftermarket exhausts added, and even with baffles in they have a present purtle that turns into a bark as things hot up.
A bit more about the engine .The air-cooled twin has a 95 x 75 mm stroke — a nice balance that means it's long-stroke, but not so long it has difficulty revving. The engine is carburettor fed (through twin carbs), and ihas overhead camshafts.
Part of the reality of owning a Japanese cruiser (well most of them anyway) is that you do have to adjust the valves. The valve adjustment service interval is every service — which means every 4000 miles or 6000 km. So you have to get used to it.
But luckily, checking and adjusting valves on the Virago is not difficult. The most complicated part of it is finding a quiet and clean space. After that, remove a few bits (like the battery box), prop the tank up slightly, and you can do the whole job in half an hour. The Virago 1100 has screw-and-locknut type adjusters which means you don't need to mess with shims.
Finally, the XV1100 has a 5-speed transmission and a shaft drive. It's even lower maintenance than a belt. But you do need to regularly replace the final drive fluid.
The ride gear on the Yamaha Virago 1100 is simple as you might expect — a 38mm fork up front, and dual shocks at the rear with 5-way preload adjustment.
Brakes are twin discs, but the rear brake is a drum.
Manual for the Yamaha Virago 1100
The above information was gleaned from the owner's manual for the 1998-1999 Yamaha Virago 1100.
We also checked it against other years of the Virago 1100.
You can download it from Yamaha's website here.