Toyota 4Runner (5th Gen, 2009+, V6) Full Maintenance Schedule and Service Intervals
This is the maintenance schedule for the 5th gen Toyota 4Runner, made from 2009-present. It's sold in the US, Canada, and in a few Central and Latin American markets.
The Toyota 4Runner is a mid-size actually offroad-capable SUV powered by a 4.0 L gasoline V6 with dual VVT-i. Depending on the trim or level of modification, it's either capable of tackling fire-roads out of the box, or going full-on off-road for long adventures.
The Toyota 4Runner has a loyal following, e.g. at 4runners.com as well as in several large Facebook groups. People take these on all kinds of trips!
The 4Runner is the little sibling to the full-size SUV, the Toyota Sequoia V8, which kept a (much larger, 5.7L) V8 engine until the 2022 model year.
The 4Runner puts power to the ground via a 5-speed automatic transmission, through either a 2WD or 4WD transmission (either part-time or full-time 4WD).
The Toyota 4Runner is available in a number of trims including the "standard" SR5, Trail, TRD Pro, TRD Off-road, and Limited. These all share the same underlying engine and chassis, and thus share a maintenance schedule.
Note: Many thanks to the helpful people who wrote in to correct a couple of typos below.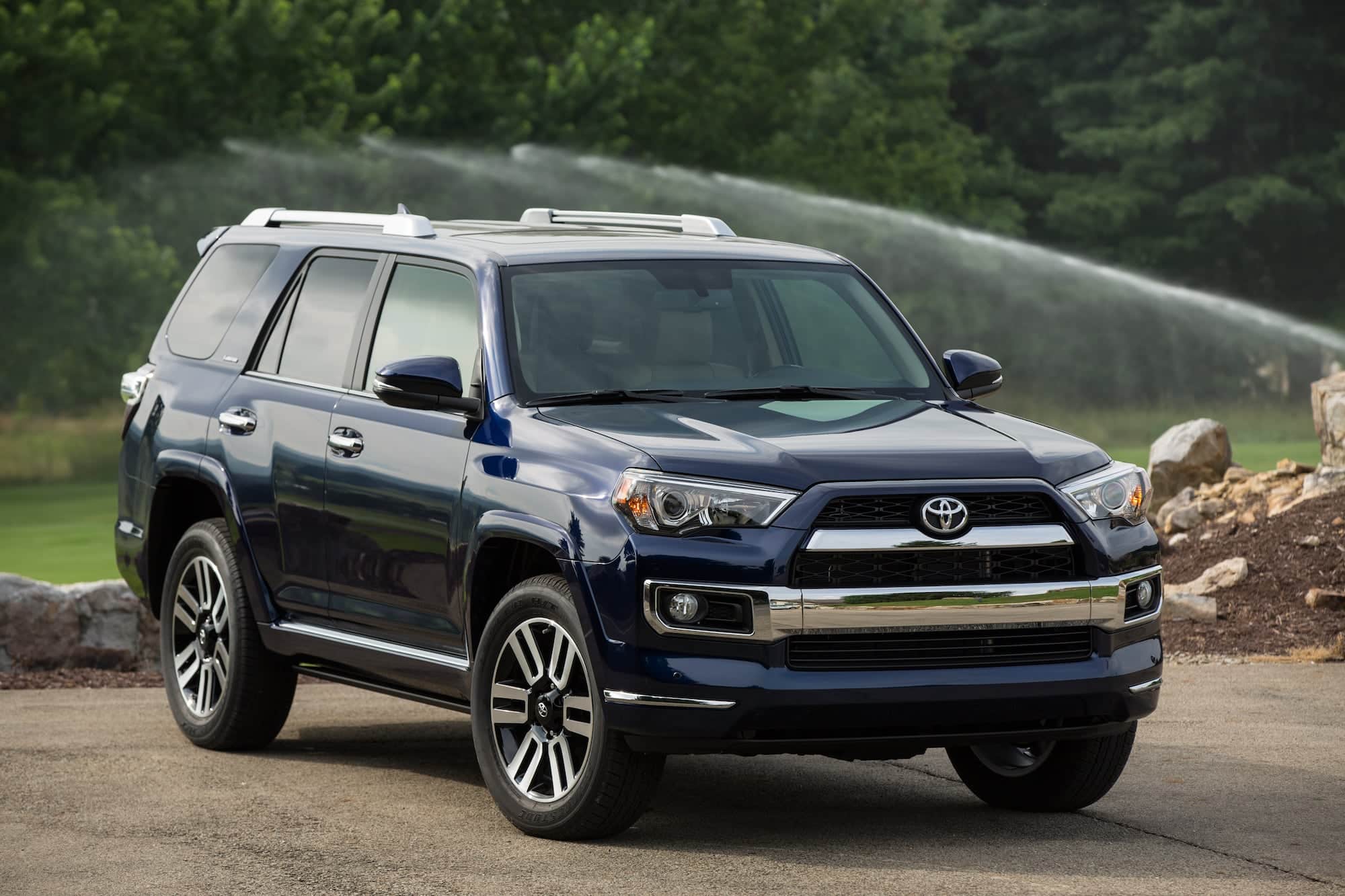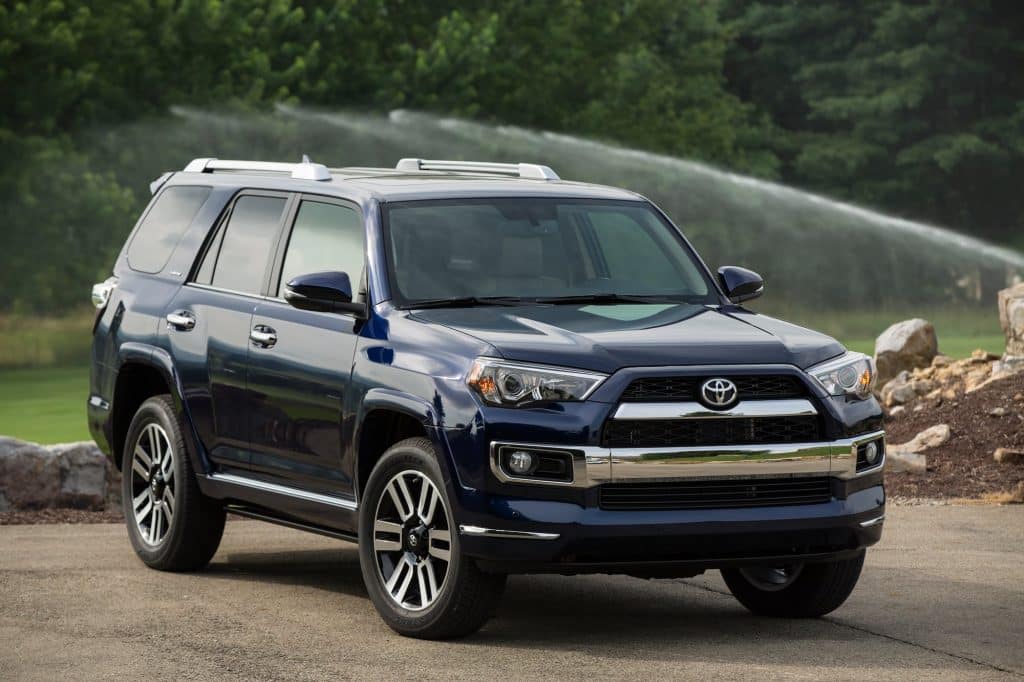 This site has links for things like oil and spark plugs from which we earn a commission (which unfortunately nobody can save, not even us). If you appreciate this work, then please use those links. Thanks!
Toyota 4Runner Service Intervals
Overall, the Toyota 4Runner has 10000 mile or 12 month service intervals at which point you change the oil and filter and do a host of checks.
If you use your 4Runner for anything strenuous (towing, off-road work, low-speed driving, or lots of idling), the service intervals are closer.
Toyota has a lot of detail in their full maintenance schedule so it's worth consulting the schedule below.
What you need to service your 5th Gen Toyota 4Runner
If you're doing a service on your 5th gen Toyota 4Runner, you need the following consumable parts.
| Part | Toyota 4Runner 5th gen spec |
| --- | --- |
| Coolant | Use Toyota Super Long-life Coolant, or another non-silicate, non-amine, non-borate ethylene glycol-based OAT coolant that's low in phosphates. |
| Oil | Use Toyota 0W-20 engine oil, or another high-quality 0W-20 motor oil. |
| Oil filter | The Toyota 4Runner takes a Toyota part 04152-YZZA5 oil filter |
| Spark plugs | The manual specifies an iridium-tipped Denso SK16HR11 spark plug. Don't adjust the gap. |
| Auto transmission fluid | Use Toyota Genuine ATF WS fluid. |
| Front and Rear Differential Oil | For both the front and rear diff, use Toyota Genuine Differential gear oil LT 75W-85 GL-5 or equivalent. |
| Transfer case oil (4WD models) | Use Toyota transfer case oil LF or equivalent, with SAE 75W viscosity. |
| Brake fluid | Use SAE J1703 or FMVSS No.116 DOT 3 brake fluid, e.g. Valvoline DOT 3 & 4 brake fluid which meets this spec. |
| Grease | Use lithium soap-based grease to grease the propeller shaft spiders and slide yokes, and molybdenum disulfide grease for the double cardan joint. |
| Wiper blades | These are Toyota 4Runner wiper blades in case you need them. |
Toyota 4Runner maintenance items
Toyota 4Runner 5th Gen Maintenance Schedule
Below is the full maintenance schedule for the Toyota 4Runner 5th Gen.
It's adapted from the Warranty and Maintenance Guide (WMG), which lists individual service items. But the below schedule gives you a birds-eye view of the maintenance schedule.
Notes:
The general service intervals for the Toyota 4Runner are every 5000 miles or 6 months, with an oil change required every 10000 miles or 12 months — unless you put the 4Runner under a lot of duress.
The below maintenance schedule goes up to 30000 miles or 36 months (3 years). There are a few more infrequent items — see below.
Follow the earlier of the time or distance based service intervals.
Some items only need to be done frequently if you drive your 4Runner in high-stress conditions, e.g. in lots of stop-start traffic, on dirt roads or dusty roads, or below freezing temps. See the legend below.
The WMG doesn't mention a brake fluid schedule, but brake fluid deteriorates with both usage and over time (even if not used). Many owners follow a schedule of 2 years or 20000 miles (30000 km), whichever comes sooner.
Legend:
✓ = Perform the service
D: Perform the service if driving a lot on dirt roads or dusty roads.
T: Perform the service when doing a lot of towing, using a car-top carrier, or loading the vehicle heavily.
Perform the service if regularly driving below freezing temperatures (32 degrees F)
L: Perform the service if doing lots of low-speed driving or idling, e.g. heavy traffic time, or driving as a police, taxi, or delivery vehicle.
mi x 1000
5
10
15
20
25
30
months
6
12
18
24
30
36
Replace engine oil (Reset reminder light if possible)
D,T,F,L
✓
D,T,F,L
✓
D,T,F,L
✓
Replace oil filter
D,T,F,L
✓
D,T,F,L
✓
D,T,F,L
✓
Inspect ball joints / dust covers for looseness or damage. Replace if necessary.
D
D
✓
D
D
✓
Inspect drive shaft boots (4WD)
D
D
✓
D
D
✓
Inspect engine air filter
D
D
D
D
D
–
Replace engine air filter
–
–
–
–
–
✓
Inspect cabin air filter
–
–
✓
–
–
–
Replace cabin air filter
–
–
–
–
–
✓
Inspect steering linkage & boots
D
D
✓
D
D
✓
Lubricate propeller shaft
D,T
D,T
✓
D,T
D,T
✓
Re-torque propeller shaft bolt
D,T
D,T
✓
D,T
D,T
✓
Tighten nuts and bolts on chassis and body
D,T
D,T
D,T
D,T
D,T
D,T
Inspect drive belts for cracks, wear, or oiliness. Replace if necessary. (See below for infrequent service notes)
–
–
–
–
–
✓
Inspect brake lines and hoses for chafing, cracks, or damage. Replace if necessary
–
–
✓
–
–
✓
Inspect fuel lines and connections, fuel tank, and fuel tank vapor vent hoses
–
–
–
–
–
✓
Inspect fuel tank cap gasket
–
–
–
–
–
✓
Inspect engine coolant
–
–
✓
–
–
✓
Inspect exhaust pipes and mountings
–
–
✓
–
–
✓
Inspect front differential oil (4WD)
–
–
✓
–
–
✓
Replace front differential oil (4WD)
–
–
T
–
–
T
Inspect rear differential oil
–
–
✓
–
–
✓
Replace rear differential oil
–
–
T
–
–
T
Inspect automatic transmission fluid and for signs of leakage
See below for replacement notes
–
–
–
–
–
✓
Inspect transfer case oil
–
–
–
–
–
✓
Replace transfer case oil (4WD)
–
–
–
–
–
D,T
Inspect fuel lines and connections, tank band, and vapor vent hoses
–
–
–
–
–
–
Inspect fuel tank cap gasket
–
–
–
–
–
–
Inspect radiator and condenser
–
–
✓
–
–
✓
Inspect steering gear box
–
–
✓
–
–
✓
Inspect and adjust all fluid levels
– Sealed transmissions
– Transfer cases
– Differentials
– Power steering
– Engine and inverter (if equipped) coolant
✓
✓
✓
✓
✓
✓
Rotate tyres
✓
✓
✓
✓
✓
✓
Check wiper blades
✓
✓
✓
✓
✓
✓
Check installation of driver's floor mat
✓
✓
✓
✓
✓
✓
Check brake pads / discs
✓
✓
✓
✓
✓
✓
Replace brake fluid (see notes)
–
–
–
✓
–
–
Toyota 4Runner — Full maintenance schedule
Other infrequent service items
Below are some infrequent items you need to service on your Toyota 4Runner. Including these in the above table would make the table cumbersome to read.
Item
Every
Replace automatic transmission fluid (if towing or loading vehicle heavily)
60000 miles / 6 years
Inspect drive belts
1. First inspection at 60000 miles / 6 years.
2. Subsequent inspections every 15000 miles / 18 months thereafter.
Replace coolant
– First at 100000 miles / 10 years
– Then every 50000 miles / 5 years
Replace spark plugs
120000 miles or 12 years
Toyota 4Runner 5th gen — infrequent service items
About the Toyota 4Runner 5th Gen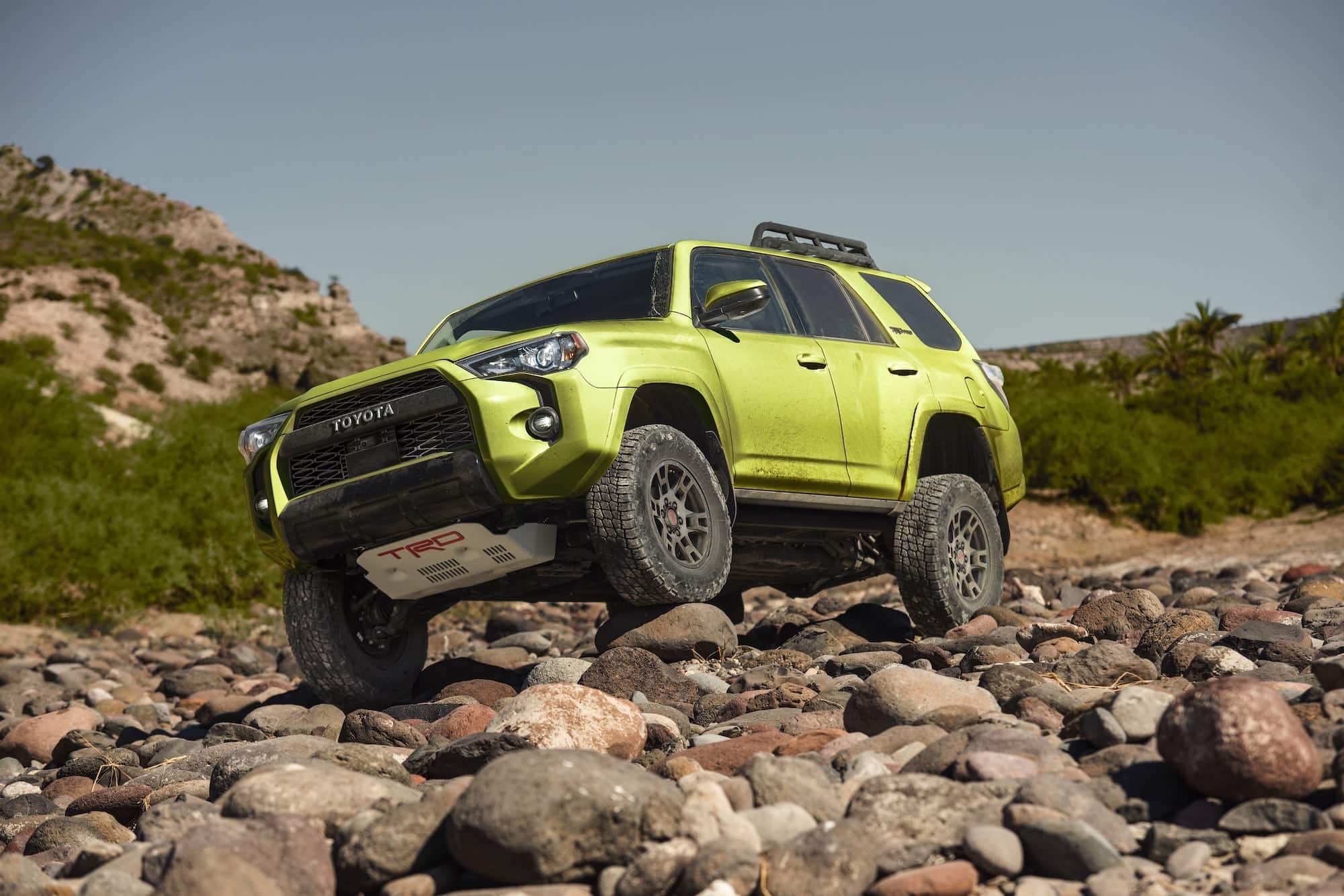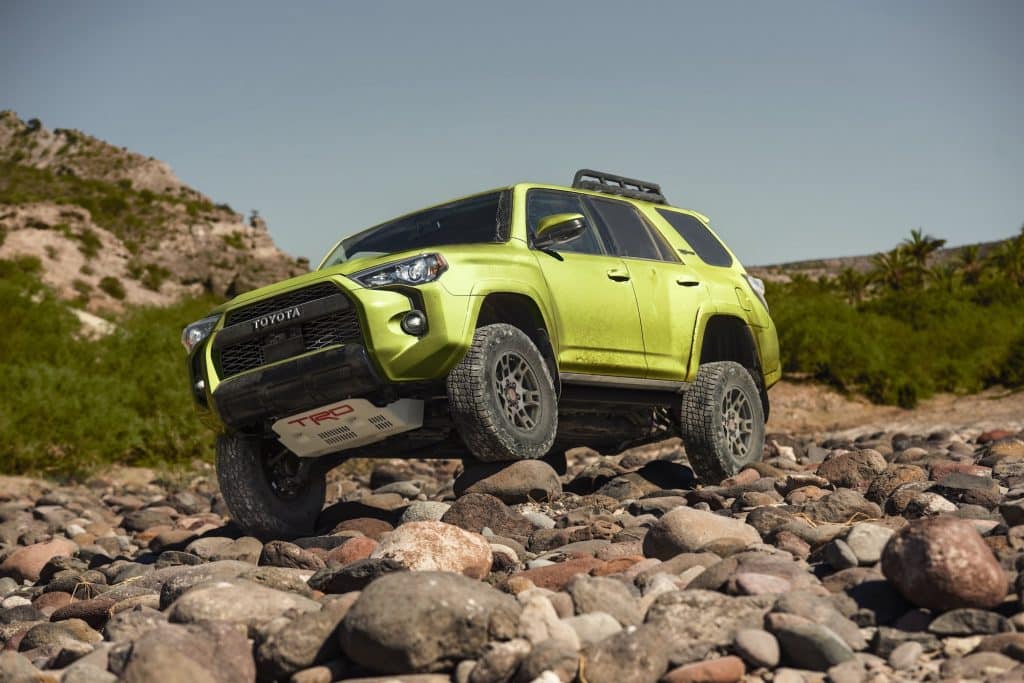 The Toyota 4Runner is a mid-size SUV that is designed to be able to tackle semi or full off-road expeditions, depending on how it's set up — as well as being a capable (if large, and maybe not so good for dense areas) everyday vehicle. It has generous seating room, meaning the whole family will be comfortable.
The 4Runner is powered by a 4.0L V6 engine that makes a peak of 278 ft-lb of torque and 270 hp. It was briefly also offered in 4-cylinder format, but that was very limited in sales.
The 5th gen Toyota 4Runner took over from the 4th gen, sold between model years 2003-2009, keeping the VVT-i engine (improving it to dual VVT-i), but dropping the 4.7L V8 from the 4th gen, to the distress of many V8 aficionado owners who wanted to upgrade.
The Toyota 4Runner 5th gen has a lot of ground clearance for an SUV, which is what distinguishes it from other more urban SUVs. You can hit entrance angles of 33 degrees, and the maximum departure angle is 26 degrees. This means that it'll tackle rocky passes and suddenly steep driveways — depending on where you take your 4Runner — with equal aplomb.
In base trim, the Toyota 4Runner comes with skid plates, mudguards, and heated mirrors, as well as a few other comfort options. The Premium and Limited editions add luxury interior items, like auto-dimming rearview mirrors, heated seats, a powered moonroof, dual zone climate control, and parking assist sonar sensors.
If you want more off-road capability, the TRD Off-road trim adds a locking rear differential, as well as ride assist features to help with crawling. The TRD Pro goes even further with off-road tyres, off-road Bilstein suspension, and a thicker 1/4-inch skid plate.
In terms of rider aids, the Toyota 4Runner 5th gen comes with vehicle stability control (compensating for wheel slip), traction control, ABS, and brake assist. There are eight airbags keeping everyone inside safe.
The Toyota 4Runner is definitely a big vehicle. It's more truck than car; think truck but with a cabin bolted on top in terms of how it feels to drive. Don't expect the plush ride of a city-oriented SUV — but then, few people who looking at the 4Runner would be expecting that.
During its time, the 4Runner was also upgraded aesthetically. The initial 2010-2013 version got some significant bodywork updates in 2014.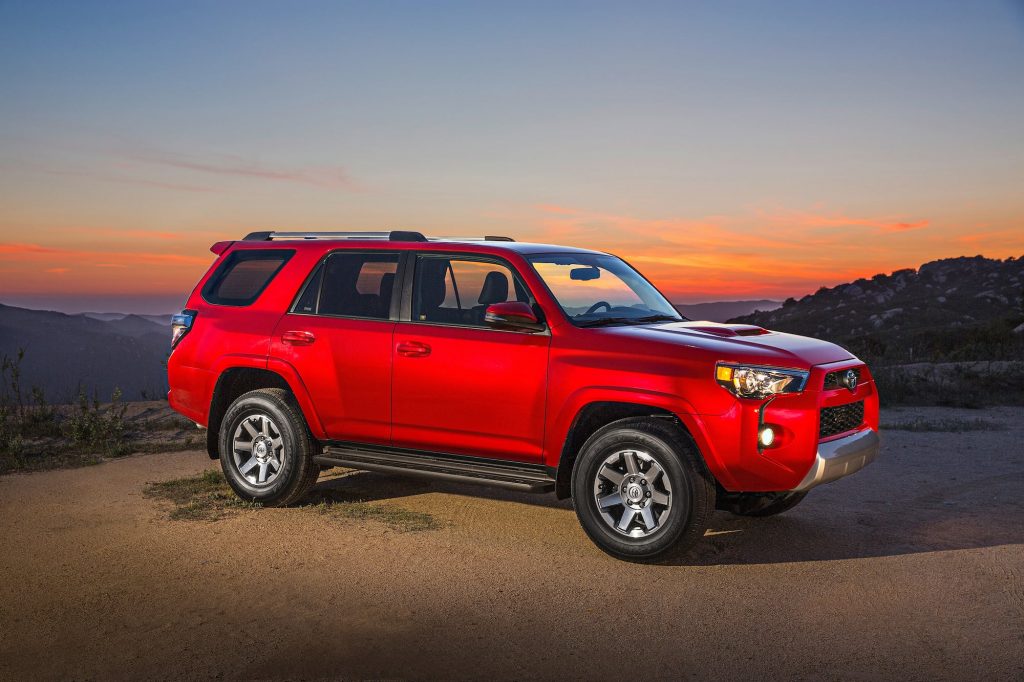 The Toyota 4Runner is only sold in American markets. Toyota makes similar vehicles in other markets, e.g. the Toyota Fortuner, which is based on the Toyota Hilux diesel engine platform.
Manual Reference for the Toyota 4Runner 5th gen
The above information came from the user's manual and maintenance/warranty guide for the Toyota 4Runner.
We compared the maintenance guides across many model years during this generation and found them functionally the same. Some things that were in notes, e.g. suggestions to check the cabin filter, were more clearly added to the list of items to check.
You can get the manuals for Toyota vehicles from the Toyota US website here.