Toyota GR Supra 3.0L (2018+) Core Maintenance Schedule and Service Intervals
This is the maintenance schedule and service intervals for the Toyota GR Supra, a high-performance sports car released by Toyota in 2019.
The Toyota GR Supra (colloquially known simply as the Toyota Supra) is two seater sports car based on the 2018+ BMW Z4 — with the same engine and drivetrain. It's powered by a 2998cc inline 6-cylinder engine with a single twin-scroll turbo that makes a peak of 250 kW (335 bhp) at 6500 rpm, and maximum torque of 500 Nm (369 ft-lb) from 1600 to 4500 rpm in Europe, and at an even higher spec in the US.
Power goes to the ground via an 8-speed sports automatic transmission from ZF and a rear wheel drive.
The GR Supra is one of a new line of high-performance sport cars built by Toyota's GAZOO Racing division, including the well-loved WRC special, the Toyota GR Yaris.
The GR Supra is available in two models — the base and the Supra Pro, which gets an HUD, a premium sound system, and leather seats. The engine and tech spec is the same, so maintenance for both of them is identical.
Toyota also released the Toyota GR Supra in a 2.0L turbo version with a lower-power (but still high-performance) 4-cylinder turbocharged engine.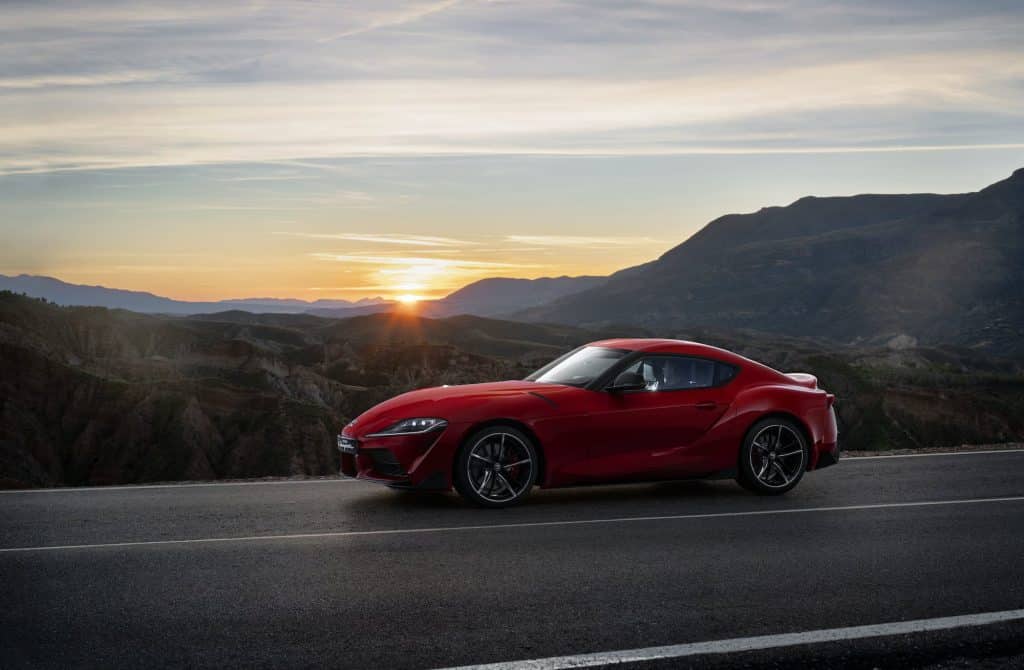 This site has links for things like oil and spark plugs from which we earn a commission (which unfortunately nobody can save, not even us). If you appreciate this work, then please use those links. Thanks!
What you need to Service the Toyota GR Supra
Below are the recommended oils, fluids, spark plugs, coolants, and other items for servicing the Toyota GR Supra.
Item
Toyota GR Supra 3.0L spec
Engine oil
Toyota recommends Toyota Genuine Motor Oil 0W-20 or another oil of similar weight that is ILSAC GF-5 multi-grade engine oil, e.g. Castrol Edge 0W-20. You need 5L with the filter change, or 4.8 without.

Given it has a BMW engine, you can also use BMW Longlife-17 FE+ 0W-20.
Oil filter
Use a Toyota part 04152-WAA02 oil filter.
Air filter
Use a K&N high-performance air filter with part 33-3136.
Coolant
Toyota recommends Frostox HT-12 (or an easier to find alternative) antifreeze and corrosion inhibitor.
Spark plug
Use a spark plug with model code 90118-WA461. The NGK replacement is an NGK 94201 (SILZKGR8B8S).
Transmission oil
Toyota recommends ATF 3+ gearbox oil for the automatic transmission.
Clutch fluid / Brake Fluid
Toyota recommends using DOT 4 brake fluid, e.g. Castrol DOT 4, a high-quality synthetic.
Rear Differential Oil
Use Hypoid Axle Oil G4 if you have an LSD fitted, or Hypoid Axle Oil G3
Toyota GR Supra 3.0L maintenance items
Maintenance Schedule for the Toyota GR Supra 3.0L
The Toyota GR Supra is available worldwide. The prescribed maintenance broadly depends if you use a US or a global manual, with some regional variations in requirements and intervals depending on location.
Since the GR Supra is a special car — a high-performance vehicle that's based on a BMW engine and drivetrain — there are a lot of special considerations for maintaining your GR Supra.
For example, the transmission fluid is a "lifetime" fluid if you drive the car normally (city/highway). But if you are a regular track pundit or drive your car aggressively, ZF recommends you change your transmission oil periodically. Your other maintenance intervals will be shorter, too.
The service requirements change by region for a number of reasons related to local laws regarding emissions, lifetime ownership cost, and vehicle safety (which informs standard equipment).
Ultimately you choose the maintenance schedule for your Toyota GR Supra based on a mix of the minimum requirements, and how hard you push your car.
Below is the maintenance schedule for each region. It's based on a hybrid of the global maintenance requirements.
Combined maintenance schedule
Below is a general maintenance schedule for the Toyota GR Supra, combined from the regional schedules.
General notes
Follow the earlier of the time or distance-based service interval.
At the end of the interval schedule, keep repeating it every 1, 2, 3, or 4 services.
There's no break-in service mandated for the Toyota Supra in any region, but some owners opt to do one.
The GR Supra, being based on a BMW, has a "condition-based service" (CBS) interval that monitors how the car is being used. Your car may alert you it's due for service sooner than a strict schedule would indicate.
"Service Interval" for your GR Supra: This is a multiplier of the earlier of a distance interval of
10000 miles (USA), or years
12000 km (Europe), or years
15000 km (Australia), or years
For example, if you're in the US, your first scheduled service for the GR Supra will be at 10000 miles or 1 year — the earlier of the two.
Service Interval
(distance / years)
1
2
3
4
Notes
Engine oil
R
R
R
R
Oil filter
R
R
R
R
Spark plugs
R*
R
* Required in Europe only, optional elsewhere
Air filter (Australia)
I
I
R
I
More often when driving in dusty conditions
Air filter (US/Europe)
I
R
I
R
More often when driving in dusty conditions
Brake pads
I
I
I
I
Replace when warning light appears
Brake fluid (US/Europe)
Every 3 years
Brake fluid (Australia)
R
R
Transmission oil
I
I
I
I
Differential oil
I
I
I
I
Cabin air conditioner filter
R
R
Conduct general inspection
(see below)
I*
I*
I*
I*
* See below for recommended inspection items and regional service intervals
Toyota GR Supra — Maintenance Schedule
GR Supra — Other Recommended Service Inspection Items
Below is a list of of items to inspect. In the US and in Australia, it's recommended to inspect these at every service. In Europe, they only require it every 4th service — but fastidious owners may do it more often.
Notes
Some items are available depending on the local regulatory environment. E.g. fire extinguishers and hazard triangles are items only prescribed in some regions.
Some items need dealer-specific tools (e.g. to reset the CBS interval).
Service Inspection Items
Inspect brake lines and connections
Inspect steering linkage and boots
Adjust tire settings in information display as needed
Check tire condition & pressures
Inspect vehicle underbody and visible components (leaks, damage)
Check exterior lighting system
Check horn, headlight flashers and hazard warning flashers
Check interior lighting
Check blower (HVAC system)
Test seatbelt, webbing condition, buckle and retractor mechanism operation
Adjust driver's floor mat – fitment and retention
Check wiper and window washer system, including washer fluid level
Check mobility set (if fitted): Emergency wheel, puncture repair kit
Check safety equipment (as fitted): Warning triangle, high-vis jacket, first-aid kit, fire extinguisher
Reset service reminder (condition based servicing)
Road test vehicle
Toyota GR Supra 3.0 — Regular Inspection Items
Wheels and Tires for the GR Supra
Stock, the GR Supra comes with 18 or 19 inch wheels, and is shod with Michelin Pilot Sport tires.
Below are the tire (or "tyre", if you're outside North America) sizes and recommended pressures for both.
18 inch wheel
| Wheels | Tire size | Tire pressure (cold) |
| --- | --- | --- |
| Front | 255/40ZR18 95Y | 260 kPa / 2.6 bar / 38 psi |
| Rear | 275/40ZR18 99Y | 260 kPa / 2.6 bar / 38 psi |
Tire sizes and pressures for the Toyota GR Supra
19 inch wheel
| Wheels | Tire size | Tire pressure (cold) |
| --- | --- | --- |
| Front | 255/35ZR19 96Y | 260 kPa / 2.6 bar / 38 psi |
| Rear | 275/35ZR19 100Y | 260 kPa / 2.6 bar / 38 psi |
Tire sizes and pressures for the Toyota GR Supra
When adjusting tire pressures, check the TPMS to see if pressure is consistent.
About the Toyota GR Supra 3.0L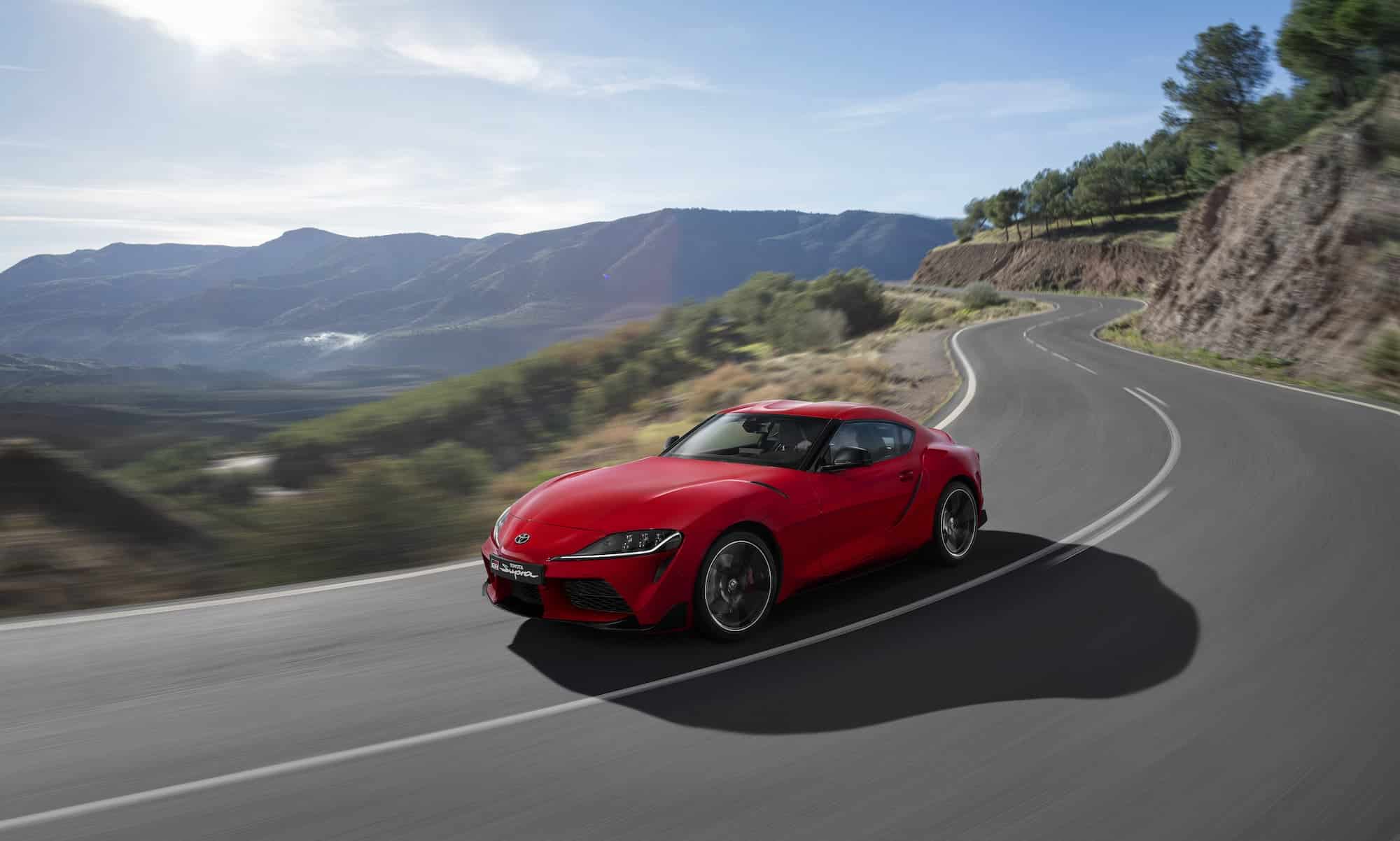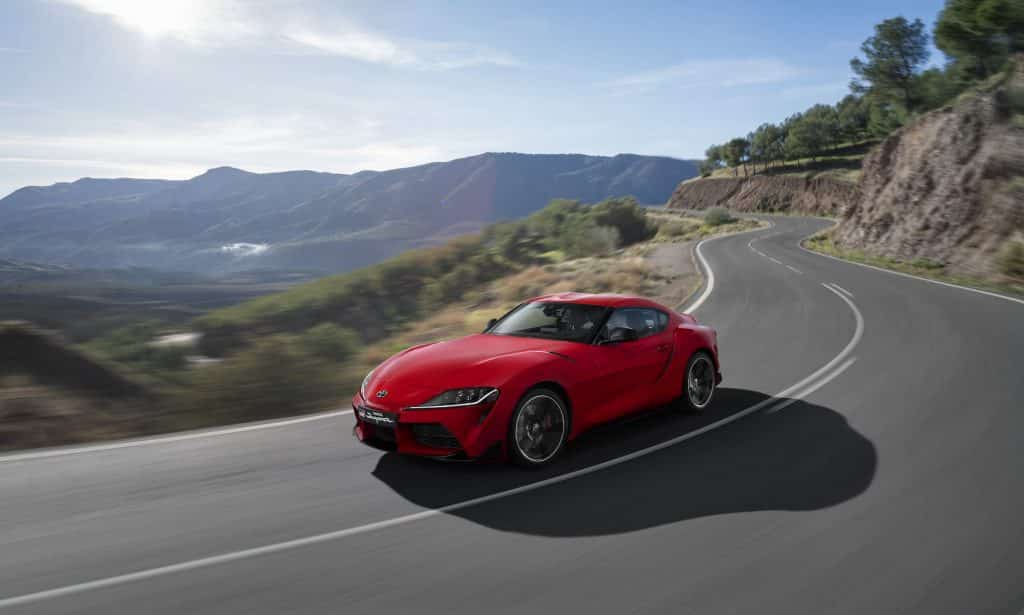 The new Toyota GR Supra is a resurrection of a brand which Toyota had put to one side two decades ago. The 4th generation of the Supra was made between 1993 and 2002, and was widely loved as being a relatively lightweight, high-power, and affordable sports car.
These days, the 4th gen Supra is a collector's item, and the person writing this summary really wishes he bit the bullet and bought one (along with a Z32 Nissan 300ZX) while they were still available.
The new Toyota GR Supra captures that same image. This new "fifth generation" Toyota Supra is also powered by a straight-six engine driving the rear wheels on a short-wheelbase, wide-track, light-weight chassis.
The GR Supra's 3L turbocharged engine (a single twin-scroll turbocharger) makes a whopping 250 kW / 335 hp at 5000-6500 rpm, and has a broad plateau of 500 Nm / 369 ft-lb of torque from 1600 to 4500 rpm. Some variants around the world come with more power out of the box.
The gearbox is the German ZF-built 8HP 8-speed super smooth automatic unit seen everywhere from rear-wheel-drive sports cars to large luxury sedans.
But what's different about the GR Supra to previous generations is that this isn't a pure Toyota construction. It's actually a collaboration with BMW. And it shares the engine, gearbox, running gear, and even a lot of the interior with the 2018+ BMW Z4. It's mostly the chassis exterior shell that's different.
The engine is BMW's B58 single turbo straight six, retuned by Toyota. You may note that the quoted power figures are basically identical to those of the BMW Z4 M40i. Toyota wanted an inline six-cylinder engine (the classic Supra format), but didn't have one available, and so rather than build an entire new assembly line, they borrowed one from a friend.
For suspension, the Toyota GR Supra has MacPherson struts up front, a five-link rear, and BMW-sourced (and Toyota-tuned) adaptive dampers.
Brakes are via 348 x 36 mm ventilated discs and 4-pot fixed calipers up front, and 345 x 24 mm ventilated discs and a single-pot floating caliper at the rear.
Driving the GR Supra is a lot of what you'd expect. It's a high-performance rear-wheel drive sedan!
As it's blessed with a lot of modern-day rider technology — traction control, stability control, etc. — the Supra has no trouble gripping earth, even when power on and trying to go sideways (which takes special skill to achieve).
The GR Supra 3.0 has very little turbo lag. There's a bit, but when you stomp on the pedal, the engine comes to life, giving you that broad plateau of usable torque that you'd expect from either BMW or Toyota. Cruising, the engine sits around 3000 rpm — it's not staying down low for efficiency. The GR Supra is always poised to go!
The steering wheel-to-wheel connection isn't as tight as you might expect on a high-performance sport car, which is a sign that this is more of an everyday sports car rather than something designed purely for the track in stock form. However, many other mod-cons of an everyday car aren't there on a GR Supra — there's very little storage space, and you'll find yourself fumbling for your keys every time you want to access the trunk.
There are lots of times when driving the GR Supra that you think — wait, is this a BMW? The exhaust note, and even some of the features inside the GR Supra's cabin will often remind you that things aren't quite purely Toyota. For example, chimes from the center console sound 100% BMW.
The Supra runs 19-inch wheels front and rear, and Michelin Pilot Sport tyres.
Manual references for the Toyota GR Supra
The above information came from a combination of the owner's manual, the warranty / maintenance guide, and other online references for the Toyota GR Supra. Some screenshots are below.
The USA warranty and maintenance booklet comes with a maintenance log for each particular mileage or time interval.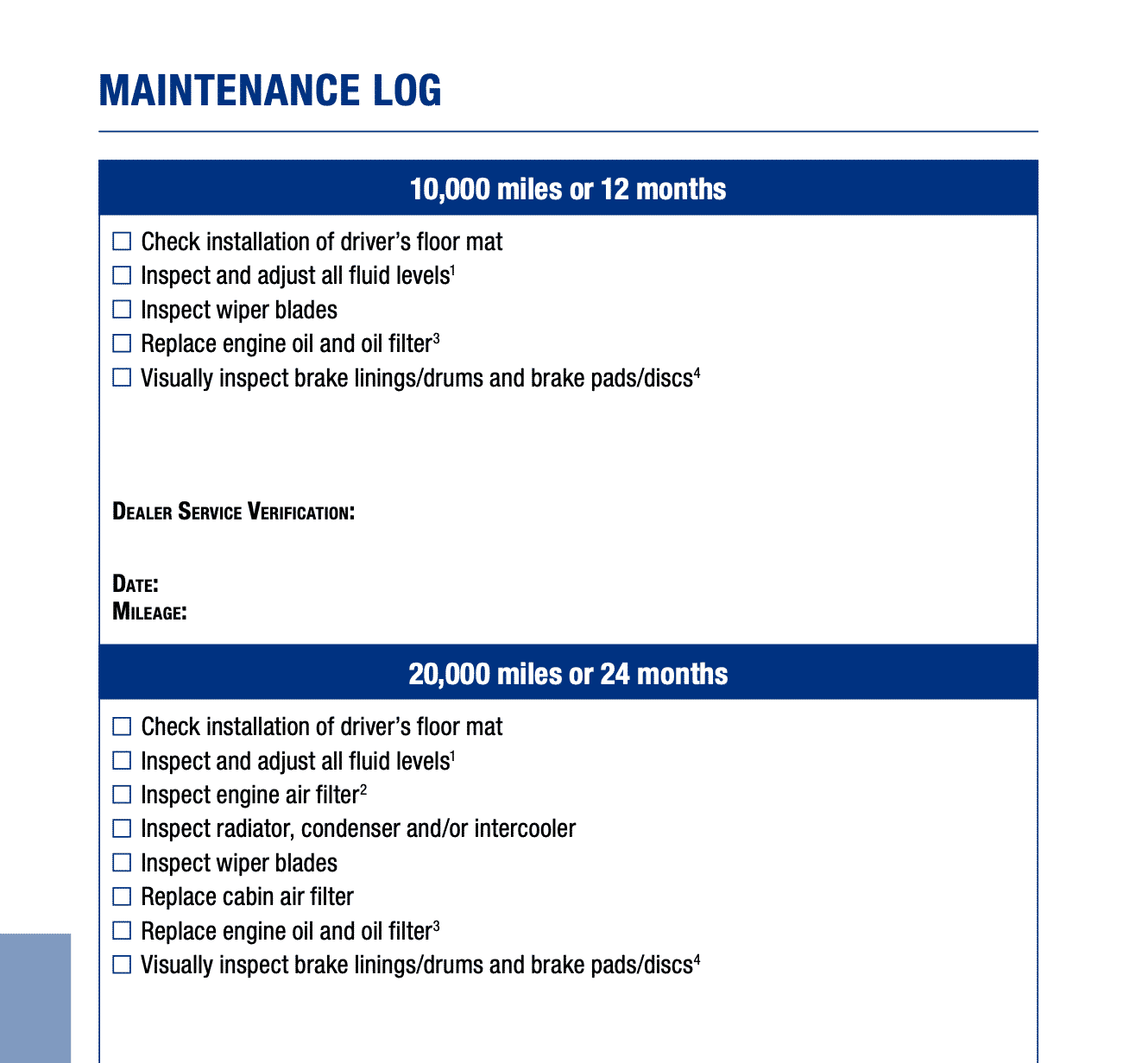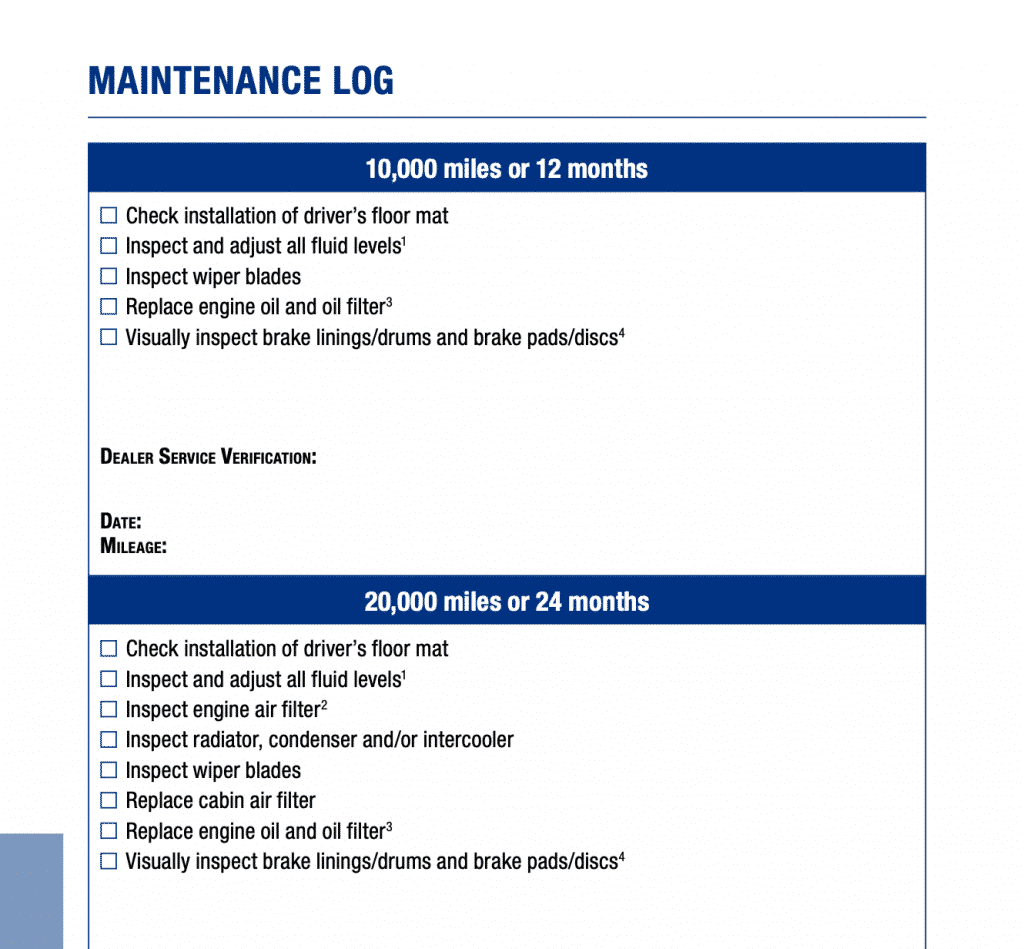 The European / Global manual comes with a full schedule. There are some regulatory variations in items and intervals for regions like Russia, Ukraine, Mexico etc. but it's broadly the same everywhere.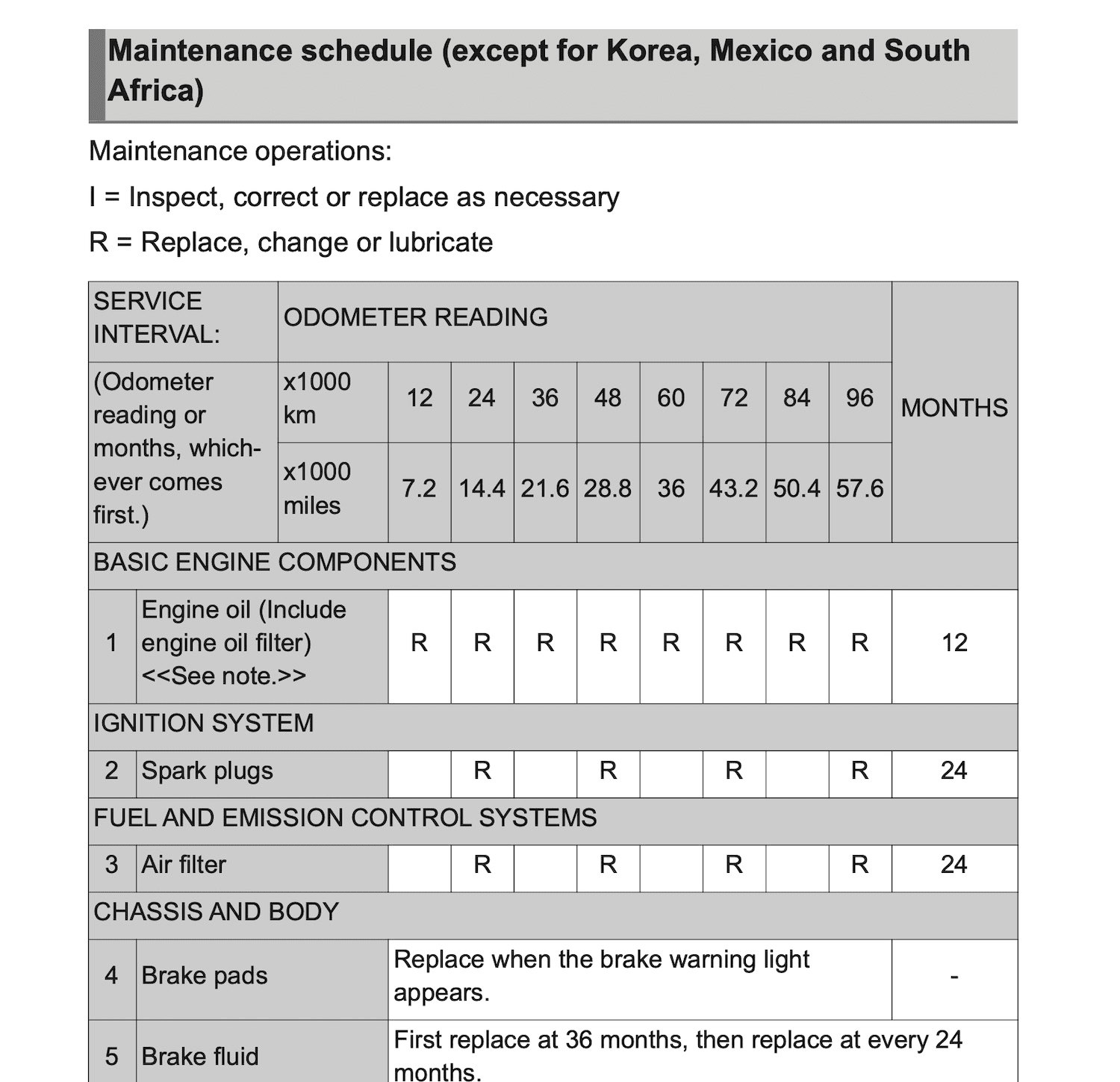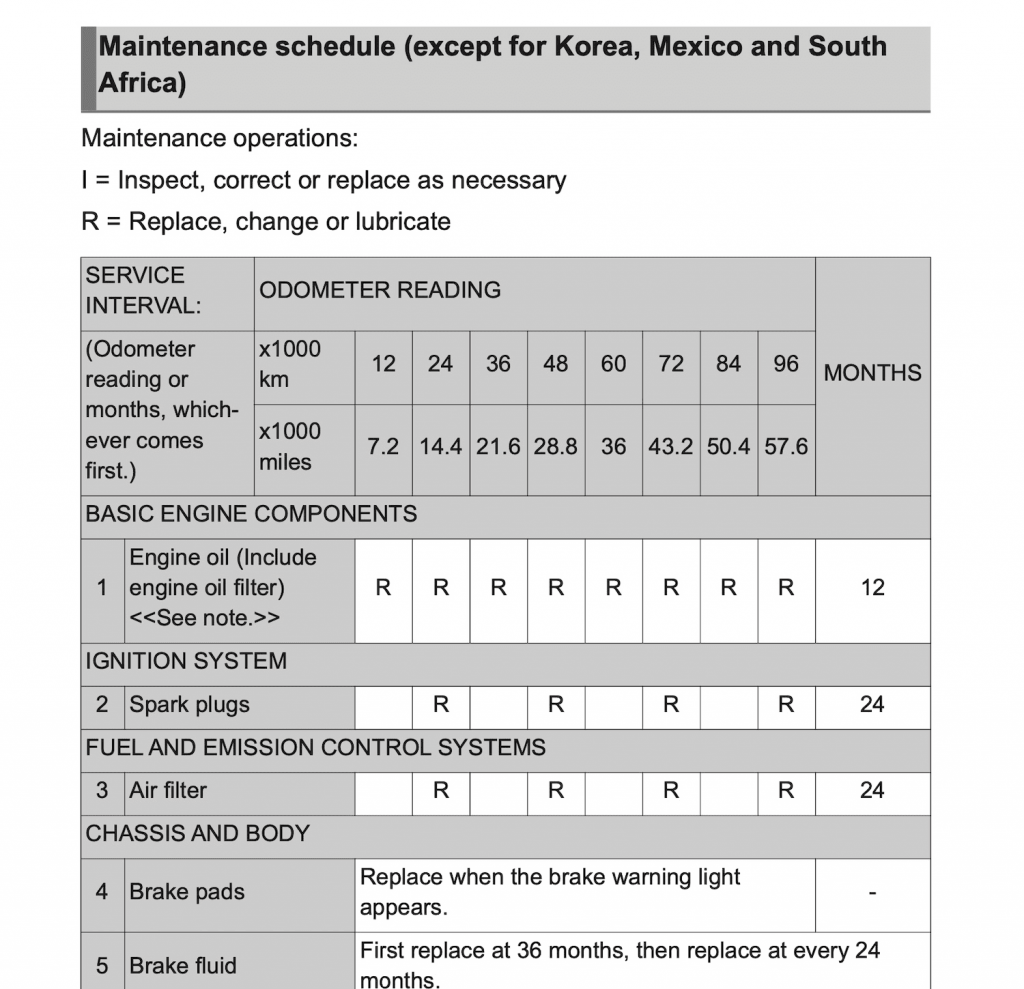 The Australian manual goes into more detail. There are service intervals of 15000 km or 12 months.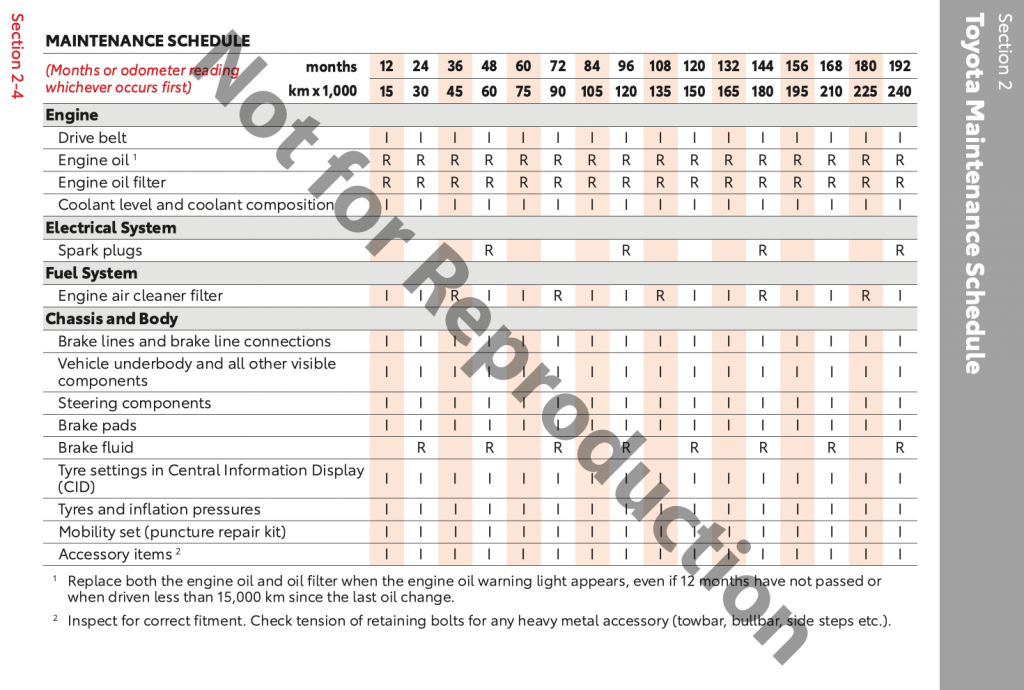 You can get the manuals and documentations for the Toyota GR Supra directly from Toyota here.