Toyota Tundra V8 (4.6 and 5.7L) Complete Maintenance Schedule and Service Intervals
This is the maintenance schedule and service intervals for the Toyota Tundra V8 (4.6L and 5.7L), an American-made and designed full-size pickup truck built in San Antonio, Texas since launch 2007 (and fully in that plant since 2008).
The Toyota Tundra comes in a variety of engine configurations that have evolved over the years. They all have overarchingly similar maintenance requirements, but different parts needed (e.g. spark plugs and air filters).
Below are the major engine variations for the Toyota Tundra:
Toyota Tundra 4.0L V6 (2005-2014)
Toyota Tundra 4.6L V8 (2010-2020)
Toyota Tundra 5.7L FFV (Flex Fuel) (2009-2019)
Toyota Tundra Hybrid V6 (2022+)
Toyota introduced the 5.7L V8 in 2007 for the all-new Tundra of the time. It's a 5663 cc DOHC fuel-injected engine that has had dual VVT-i since inception. It makes a rated peak torque of 401 lb-ft at 3600 rpm and peak power of 381 hp at 5600 rpm. All 5.7L V8 Tundras are mated with a 6-speed electronically controlled automatic Transmission.
The 4.6L V8 and 5.7L V8 motors share the same maintenance schedule — even the same spark plugs and air filters — as the 4.6L V8 is a essentially shorter stroke version of the same motor, with some benefits in mileage and price at some costs to torque and power. The 5.7L V8 vastly outshone the 4.6L V8 in sales, however — most owners here will have the 5.7. (There are some other differences, e.g. in spec options and gear/drive ratios, but they're not significantly relevant to maintenance.)
Note that the 4.6L V8 (2010+) is different from the earlier 4.7L V8.
The 5.7L V8 was also available in an FFV ("flex fuel") variant, capable of using fuels with higher ethanol content. That model engine has a different maintenance schedule.
Since model year 2022, Toyota replaced the big V8 with a twin turbo 3.4L V6, including with a hybrid powertrain option that mates an electric motor in line with the engine for added torque and power.
This site has links for things like oil and spark plugs from which we earn a commission (which unfortunately nobody can save, not even us). If you appreciate this work, then please use those links. Thanks!
Maintenance schedule for the Toyota Tundra 5.7L / 4.6L V8
Below is the maintenance schedule for the 5.7L V8 / 4.6L V8 engines of the Toyota Tundra.
Generally, the Toyota Tundra V8 engines have 5000 mile or 6 month maintenance intervals.
Toyota has been using this engine design for a long time. Other parts of the vehicle have changed (e.g. the exterior appearance), but they didn't fundamentally change the engine until they retired it in favour of the twin turbo V6 of the 2022+ Toyota Tundra.
Notes on the maintenance schedule:
Follow the earlier of time-based or distance-based maintenance.
At the end of the schedule below, follow it in the same pattern.
Some items are less frequent, e.g. replacing spark plugs. They're in a separate table below.
There's no specified break-in service for the Toyota Tundra other than the 5000 mile service.
Legend
The items below may have a letter marked against them meaning you only need to perform the service if you use the vehicle in a certain way.
✓ = Perform the service
D: Perform the service if driving a lot on dirt roads or dusty roads.
T: Perform the service when doing a lot of towing, using a car-top carrier, or loading the vehicle heavily.
F: Perform the service if regularly driving below freezing temperatures (32 degrees F / 0 degrees celsius)
L: Perform the service if doing lots of low-speed driving or idling, e.g. heavy traffic time, or driving as a police, taxi, or delivery vehicle.
mi x 1000
5
10
15
20
25
30
months
6
12
18
24
30
36
Replace engine oil (Toyota Genuine Motor Oil 10W-20)
D,T,F,L
✓
D,T,F,L
✓
D,T,F,L
✓
Replace oil filter (04152-YZZA4)
D,T,F,L
✓
D,T,F,L
✓
D,T,F,L
✓
Inspect ball joints / dust covers for looseness or damage. Replace if necessary.
D
D
✓
D
D
✓
Inspect drive shaft boots (4WD)
D
D
✓
D
D
✓
Inspect engine air filter
D
D
D
D
D
–
Replace engine air filter (33-5017)
–
–
–
–
–
✓
Inspect cabin air filter
–
–
✓
–
–
–
Replace cabin air filter (VF2000)
–
–
–
–
–
✓
Inspect steering gear
–
–
✓
–
–
–
Inspect steering linkage & boots
D
D
✓
D
D
✓
Re-torque propeller shaft bolt
D,T
D,T
✓
D,T
D,T
✓
Tighten nuts and bolts on chassis and body
D,T
D,T
D,T
D,T
D,T
D,T
Inspect drive belts for cracks, wear, or oiliness. Replace if necessary (Note: Every 15000 miles / 1.5 years after this service)
–
–
–
–
–
✓
Inspect brake lines and hoses for chafing, cracks, or damage. Replace if necessary
–
–
✓
–
–
✓
Inspect engine coolant (Toyota Long Life Coolant)
–
–
✓
–
–
✓
Inspect radiator and condenser
–
–
✓
–
–
✓
Inspect exhaust pipes and mountings
–
–
✓
–
–
✓
Inspect front differential oil (4WD)
–
–
✓
–
–
✓
Replace front differential oil (4WD) (Toyota Genuine Differential Gear Oil LT 75W-85 GL-5)
–
–
T
–
–
T
Inspect rear differential oil
–
–
✓
–
–
✓
Replace rear differential oil (Toyota Genuine Differential Gear Oil LT 75W-85 GL-5)
–
–
–
–
–
T
Inspect automatic transmission fluid cooler hoses and connections
–
–
–
–
–
✓
Inspect transfer case oil
–
–
–
–
–
✓
Replace transfer case oil (4WD) (Toyota Genuine Transfer Gear oil LF)
–
–
–
–
–
D,T
Inspect fuel lines and connections, tank band, and vapor vent hoses
–
–
–
–
–
✓
Inspect fuel tank cap gasket
–
–
–
–
–
✓
Inspect for leakage & fluid condition
– Sealed transmissions
– Power steering
– Brake fluid (Toyota DOT 3)
– Differential(s) and transfer case (4WD)
– Engine and inverter coolant
✓
✓
✓
✓
✓
✓
Rotate tyres
✓
✓
✓
✓
✓
✓
Check wiper blades
✓
✓
✓
✓
✓
✓
Check installation of driver's floor mat
✓
✓
✓
✓
✓
✓
Check brake pads / discs
✓
✓
✓
✓
✓
✓
Toyota Tundra 5.7L V8 / 4.6L V8 Maintenance Schedule
Other long-term maintenance for the Toyota Tundra V8
These items below need be done less frequently.
In order to not have a very repetitive and hard-to-read maintenance schedule above, these are separated out below.
Maintenance item
How often
Replace spark plugs (Denso SK20HR11)
120000 miles / 12 years
Replace auto transmission fluid if driving a lot at low speeds (e.g. as courier or taxi) (Toyota Genuine ATF WS)
60000 miles / 6 years
Inspect drive belt (for cracks/looseness/loss of condition) and replace if necessary
– First inspect at 60000 miles or 6 years
– Then inspect every 15000 miles / 1.5 years
Replace coolant (Toyota Genuine SLLC)
– First at 100000 miles / 10 years
– Then every 50000 miles / 5 years
Toyota Tundra V8 — Infrequent maintenance schedule
About the Toyota Tundra 5.7L / 4.6L V8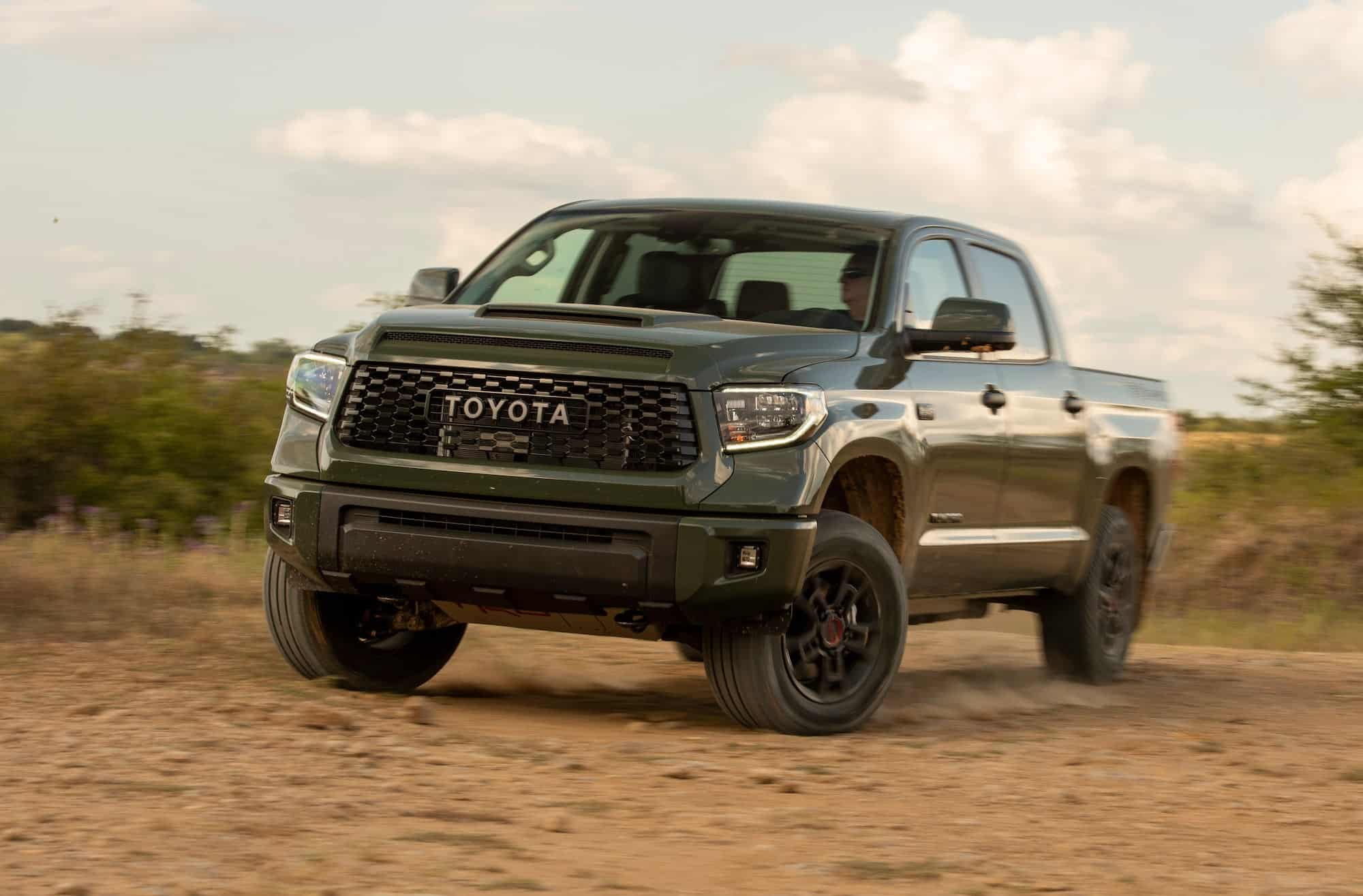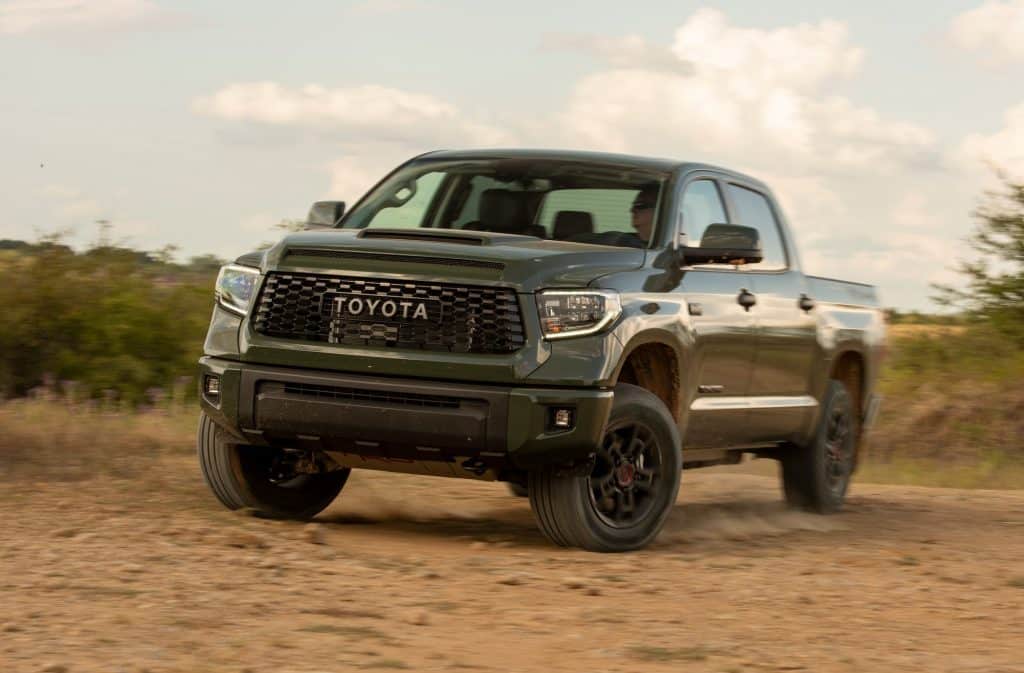 The Toyota Tundra 5.7L is the biggest Toyota pickup truck with the biggest engine available. These days, the biggest engine is a 3.5L twin turbo V6 with an electric motor booster ("hybrid").
The 4.6L is no slouch, though. With different gearing, owners who have driven both report very similar performance when not towing, and significant advantages in mileage (10-20%, depending on who you ask). However, the main arguments in favour of the 5.7L are its ability to tow very heavy loads with more ease, and of course easier resale — the 5.7L always outshone the 4.6L, because most owners of big trucks will naturally gravitate towards to biggest motors, for a variety of reasons (future proofing, and a general feel that bigger is better).
The Tundra is a full-size pickup, giving extra torque and towing capacity compared to Toyota's mid-size pickup, the Toyota Tacoma V6.
Not convinced of how much the Tundra can pull? Here's a photo of the 2012 Toyota Tundra towing the NASA Space Shuttle Endeavour.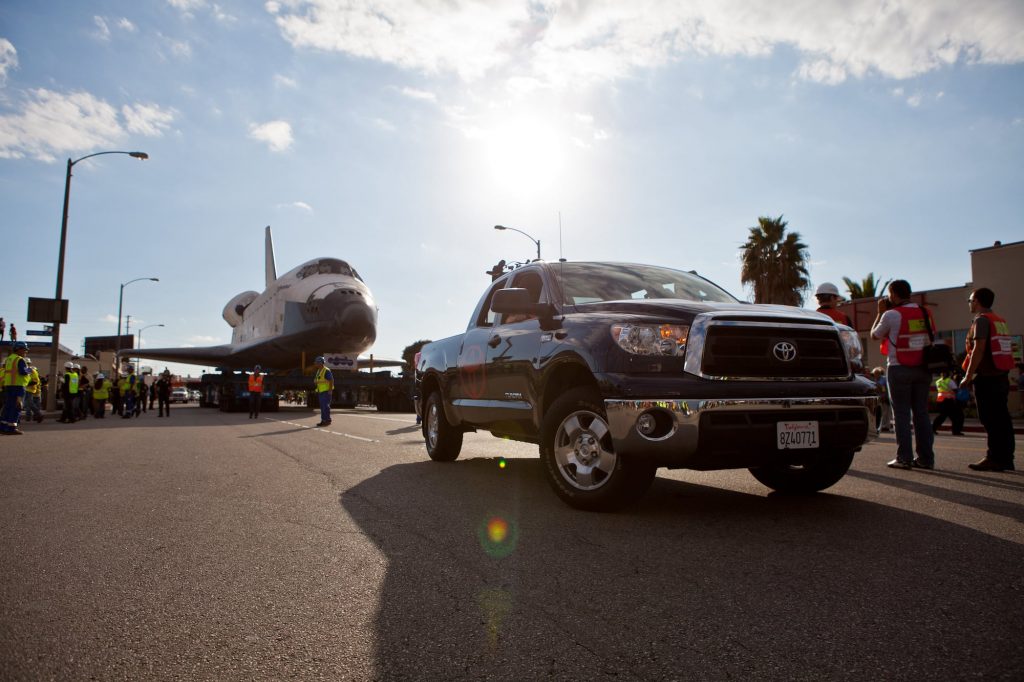 This was the last generation of Toyota Tundra to have a V8 powertrain. For those who want a modern V8, there were slim pickings in the market, even in the Tundra's day. In the Tundra's later years, the V8, and finally the bigger 5.7L V8 was the only engine available.
The 5.7L engine itself is a stomper. It's a 5663 cc DOHC EFI V8 which has had dual VVT-I since its inception. It produces peak torque of 401 lb-ft at 3600 rpm and peak power of 381 hp at 5600 rpm. That's a lot of grunt!
Enough that the tow rating of the Toyota Tundra is a whopping 10,100 lb. Quite a bit more than mid-sized pickup trucks.
The smaller 4.6L Tundra is also very capable. While peaking at a lower 310 hp and 327 ft-lb of torque, the 4.6L Toyota Tundra is geared (in both the gearbox and final drive) so that the pull from launch is not as different as you'd imagine. However, its maximum towing capacity is a lower 6800 lb.
Power goes to the ground vya a 6-speed electronically controlled auto transmission with different uphill/downhill shift logic. And the drivetrain is either 4×2 or 4×4.
Like most pickups, you can get the Tundra in a bunch of different configurations — wheelbases, cab sizes, and interior and exterior spec levels, all ranging from an everyday 4×2 work utility pickup all the way to an off-road explorer capable of towing your own Airstream camper. But the core chassis, drivetrain, and engine (plus options) remains the same, as does the maintenance schedule.
Being a gasoline-powered (as opposed to diesel-fuelled) pickup, the maintenance schedule of the Toyota Tundra 5.7L or 4.6L V8 mirrors that of many other modern Toyota trucks. General maintenance intervals are every 5000 miles, which mostly involves checks, and oil changes are every 10000 miles or 12 months.
If you use your Tundra for anything strenuous, though — for example, a lot of towing, off-roading, or riding on dirt roads — then maintenance for the engine and drivetrain components becomes more intense. See the table above.
Reference — Manual Screenshots from the Toyota Tundra
The above maintenance guidelines came from the 2021 manual for the Toyota Tundra with the 5.7L V8 engine, referencing the warranty and maintenance guide in particular.
We also checked against the maintenance schedule in earlier years (e.g 2010, 2014, and 2017) for any discrepancies, and didn't find any.
Like for many Toyota vehicles, Toyota provides this maintenance schedule as a list of individual checklists at different mileages.
Screenshots are below for reference.
You can download Toyota manuals for US vehicles from Toyota's website here.