BMW R 1250 RT (2019+) Maintenance Schedule and Service Intervals (Updated)
This is the maintenance schedule and service intervals for the BMW R 1250 RT, released in late 2018 for the 2019 model year, replacing the latest liquid-cooled BMW R 1200 RT.
The BMW R 1250 RT is a luxury sport-touring motorcycle powered a boxer twin. The R-RT line is one of the oldest BMW has had, dating back to 1976. The 2019 update was significant — it's the first time the BMW RT has had a bigger motor in nearly two decades.
Still a DOHC liquid-cooled boxer twin, the BMW R 1250 RT's motor now has 1254 cc (previously 1170 cc) capacity, and puts out a peak of 100 kW (136 hp) @ 7750 rpm and peak torque 143 Nm (105 ft-lb) at 6,250 rpm, both of which specs are a rough ~10% increase over the outgoing model.
The 1250 motor is known as the "ShiftCam" engine as it has variable valve timing to help it deliver a broad spread of torque.
The 2019 BMW R 1250 RT was updated slightly for 2021, with standard cornering ABS (ABS Pro) and optional radar-actuated active cruise control (with regular cruise control being standard), plus an eco driving mode. But nothing changed in the chassis, suspension, brakes, or engine, so maintenance is the same.
The 1250 ShiftCam motor is used in other BMW motorcycles of similar vintage, like the BMW R 1250 GS, which was launched at the same time.
This site has links for things like oil and spark plugs from which we earn a commission (which unfortunately nobody can save, not even us). If you appreciate this work, then please use those links. Thanks!
BMW R 1250 RT Service Intervals
Overall, the BMW R 1250 RT has 6000 mile / 10000 km or annual service intervals. At every interval, change the oil and filter, and check the standard service checklist below for a list of items to check, clean, or lubricate.
Every 12000 miles / 20000 km, check the valve clearances, change the spark plugs, and replace the air filter (and again, do the whole service checklist).
Change the rear bevel gear oil every valve service OR every 2 years, whichever arrives sooner.
What you need to service your BMW R 1250 RT
Servicing the "ShiftCam" BMW R 1250 RT requires many different parts to the earlier liquid-cooled R 1200 RT models. Here's what you need to service your big touring bike.
| Part | BMW R 1250 RT spec |
| --- | --- |
| Engine oil | The manual calls for "SAE 5W-40, API SL / JASO MA2" without additives, preferably BMW Motorrad oils e.g. BMW Motorrad Advantec Ultimate 5W-40. A well-respected alternative is Castrol Power RS 5W-40. |
| Oil filter | BMW part number for the oil filter is 11427721779. The HF160RC is a drop-in replacement from Hiflofiltro. |
| Rear drive oil | Use a high-quality API GL-5 synthetic 70W-80 hypoid gear oil, though many BMW mechanics use 70W-90. A high quality choice is Castrol 75W-90 synthetic that many dealers offer. |
| Spark plug | Standard spark plug is an NGK LMAR8AI-10 per the manual for the 1250 motor. |
| Air filter | BMW part number for the air filter is 13727726799. The K&N BM-1113 is an aftermarket alternative. |
| Coolant | The manual doesn't mention what type, but get long-life BMW coolant from a dealer or online. |
| General lubricant | Use lithium soap-based grease to regularly lube external pivot points. |
| Brake fluid | Specified fluid must be DOT 4, e.g. Castrol DOT 4 or BMW DOT 4 fluid. BMW part number for the brake fluid is 83132445461. |
| Brake pads (front) | Part number for front brake pads is 34118405104 (you need two pairs). An EBC alternative is FA724HH (double sintered, long-life). |
| Brake pads (rear) | Part number for rear brake pads is 34218562163. An EBC alternative is FA209/2HH (double sintered, long-life pads). |
Maintenance parts for the liquid-cooled BMW R 1250 RT
Maintenance schedule for the BMW R 1250 RT
Below is the maintenance schedule for the BMW R 1250 RT.
This maintenance schedule is presented in an simplified format from the manual, as it's repetitive. The maintenance is consolidated into one table below.
Things to note:
There's no alternator belt to change (unlike many earlier models)
You change the rear bevel gear oil every 20K km/2 years, more frequently than on past models
Valve service intervals are 20K km, wider than earlier air/oil-cooled models
One interesting thing is that BMW doesn't mention changing the coolant, just checking it. BMW uses a "permanent" (OAT or HOAT) antifreeze that isn't meant to be changed. Various dealers/mechanics still say you can change it every 3-4 years, though. Especially if you notice the level declining.
Notes on the schedule
The running-in check is omitted (Dealers usually do this)
Past the end of the maintenance schedule, keep following it in the pattern shown.
The maintenance schedule for many items follows a "per x years" or "x distance" schedule. Follow whichever comes first.
| km x 1000 | 10 | 20 | 30 | 40 | |
| --- | --- | --- | --- | --- | --- |
| mi x 1000 | 6 | 12 | 18 | 24 | Every |
| Conduct standard BMW service (see below) | X | X | X | X | 1 year |
| Change engine oil and filter (BMW Motorrad Advantec Ultimate 5W-40, HF160RC) | X | X | X | X | 1 year |
| Change oil in rear bevel gears | | X | | X | 2 years |
| Check valve clearance | | X | | X | |
| Change all spark plugs (LMAR8AI-10) | | X | | X | |
| Replace air filter element (BM-1113) | | X | | X | |
| Check or replace air filter element | X | X | X | X | 1 year (or more often) if used off-road |
| Change brake fluid, entire system (BMW DOT 4) | | | | | After 1 year, then every 2 years |
BMW R 1250 RT maintenance schedule table
Standard BMW service for the R 1250 RT
The "standard service" to be done with every oil change.
Items marked [D] are for dealers.
Standard BMW annual service (1250 motor)
[D] Perform vehicle test with BMW Motorrad diagnosis system
Visually inspect clutch system
Visually inspect brake lines, brake hoses, and connections
Check front brake pads and brake discs for wear
Check brake fluid level, front wheel brake
Check rear brake pads and brake disc for wear
Check brake fluid level, rear wheel brake
Check coolant level
Check side stand's ease of movement
Check centre stand's ease of movement
Check tyre pressure and tread depth
Check lighting and signalling system
Function test, engine start suppression
Final inspection and check for road safety
Checking battery state of charge
[D] Setting service-due date and countdown distance with BMW Motorrad diagnosis system
[D] Confirming BMW service in on-board literature
BMW R 1250 RT standard service
About the BMW R 1250 RT
The BMW R 1250 RT has been a long-distance touring favourite for many years.
The RT line actually predates the GS line, which these days is seen as the "ultimate" touring bike from BMW. But BMW made its first RT in 1976 in the form of the R 100 RT.
Since then, market preferences have shifted, but the RT line has still been really popular with people who want all-day comfort, practicality, and stability at a range of speeds. The RT bikes are particularly popular with police forces in Europe and Australia and are frequently ridden — harshly — for well over 100,000 km.
For many years, BMW kept the displacement of the RT the same at 1200cc. The engine in the R 1200 RT evolved, finally becoming a "partly liquid-cooled" engine in the most recent R 1200 RT.
But a few things — consumer demand, evolving technology, and changing emissions requirements — needed a new engine from BMW, and the new 1250 range is it.
The R 1250 RT's engine isn't just bigger; it's a lot more advanced. It's more powerful and has a broader spread of torque thanks to BMW's "ShiftCam" technology (which is what they call variable valve timing).
The ShiftCam tech allows the engine to vary valve timing and valve stroke on the intake side. Additionally, BMW designed the intake camshafts so that they can open the intake valves asynchronously, for "enhanced swirl" of fuel/air mixture.
The camshaft is now driven by a toothed chain (previously a roller chain), too.
The new 1254cc engine in the BMW R 1250 RT makes 100 kW (136 hp) at 7750 rpm and 143 Nm (105 ft-lb) of torque peaking at 6250 RPM, a ~10% increase in both specs over the outgoing partially liquid cooled R 1200 RT.
Aside from the engine, there are many other new features in the BMW R 1250 RT. These include
Standard riding modes, ASC, and hill start control, with optional Ride Modes Pro
Next-generation Dynamic ESA (Electronic Suspension Adjustment) with automatic load compensation
Dynamic Brake Control — helping avoid unintentional accelerator activation while braking
Standard LED headlamps, with DRLs as optional equipment
Full-colour TFT screen standard — replacing the gauges of previous models.
The "Premium packages" include many of those options standard.
In late 2020, BMW announced that for the 2021 model year they'd enhance the R 1250 RT even further.
The engine and specs are the same, but the improvements they made included
A new "Eco" riding mode as standard (for improved fuel efficiency)
Standard ABS Pro (cornering ABS) — rather than being part of the Riding Modes Pro package. In the R 1250 RT it's "Full Integral ABS Pro", and involves linked brakes too.
Full LED headlamp with an adaptive option (to look around corners)
Optional Active Cruise Control — using radar to judge distance and maintain safe distances (cruise control is standard, but the normal, non-active version)
A larger 10.25 inch TFT screen (up from 6.5)
The 2021 BMW R 1250 RT comes in more colour options too.
Manual for the BMW R 1250 RT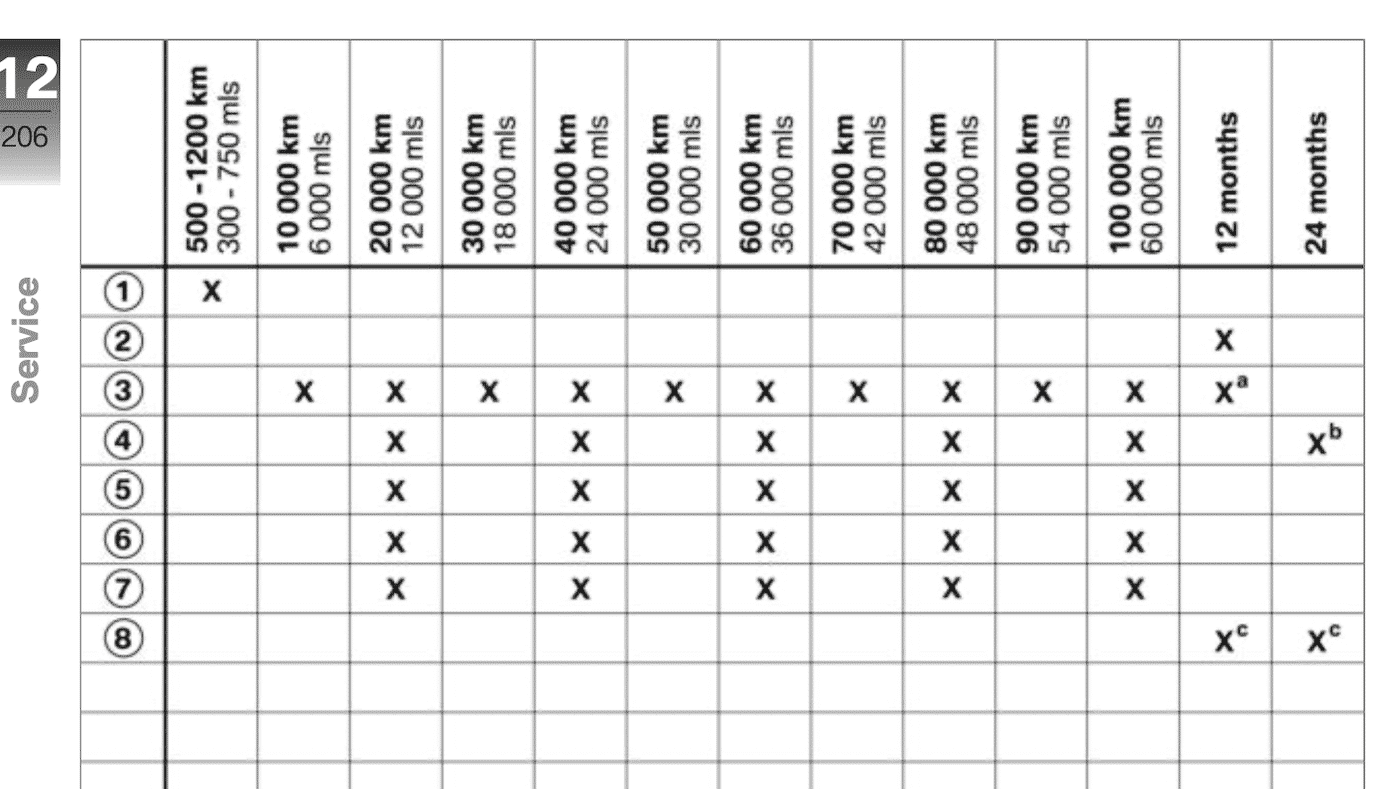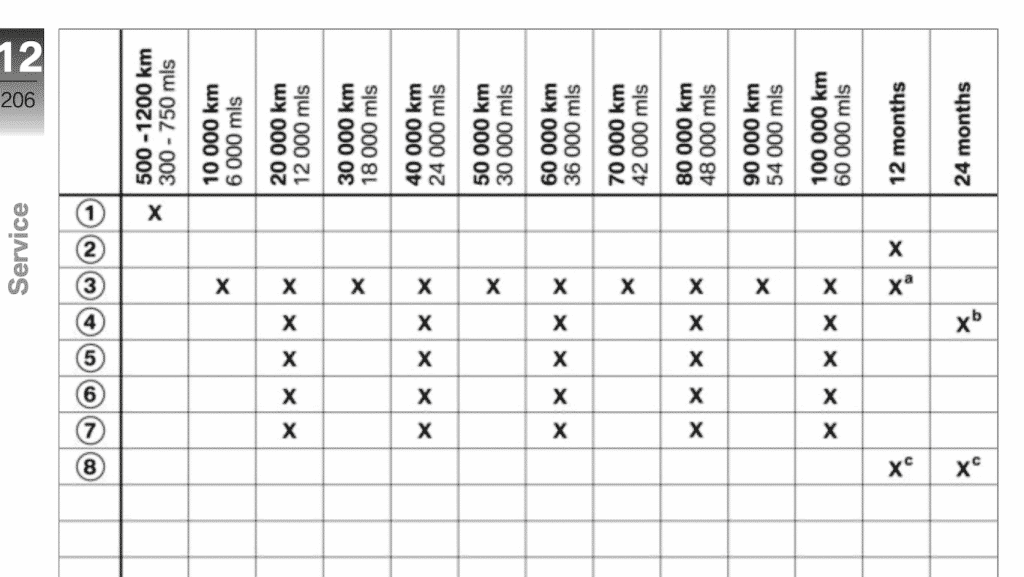 The above maintenance schedule comes directly from the manual for the BMW R 1250 RT, with parts references coming from parts fiches.
In recent years, BMW has updated the service requirements of the R 1250 RT. Previously, the annual service was just that — annual. But recently, BMW suggests you do it every 10000 km / 6000 miles, with oil changes. We've updated the schedule accordingly.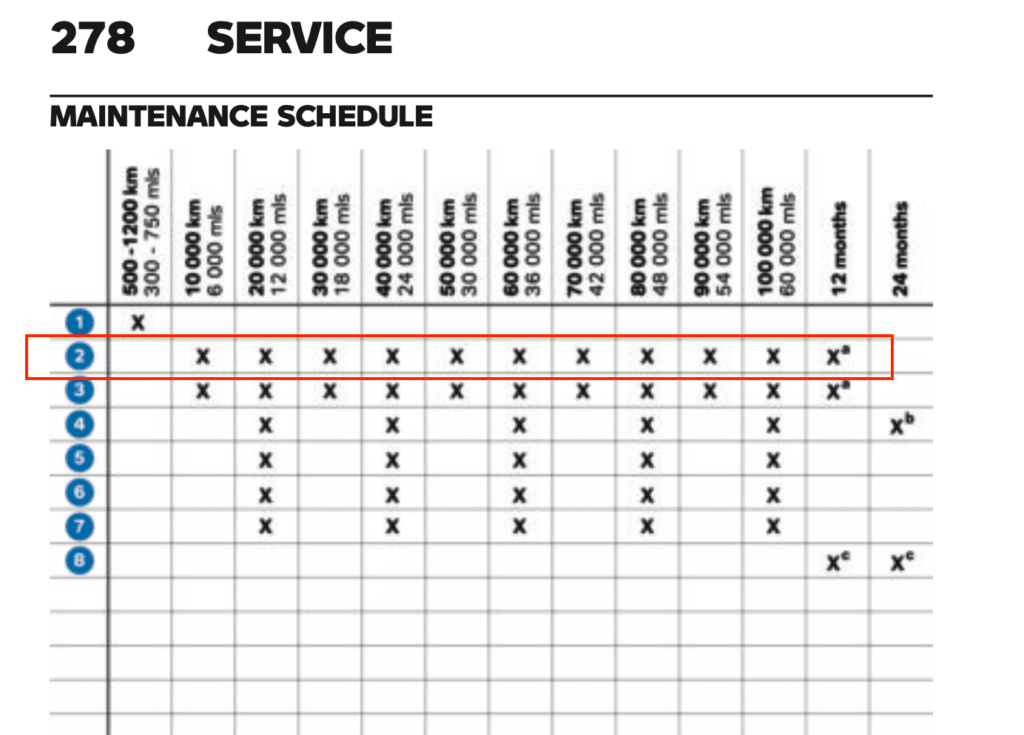 You can download BMW's manuals for their motorcycles here.