Yamaha MT-01 Maintenance Schedule and Service Intervals
This is the maintenance schedule and service information for the Yamaha MT-01. It's from the owner's manual, also with some references to the service manual and press releases.
The Yamaha MT-01 is a unique motorcycle in Yamaha's line-up as well as generally in the world. It's a comfortable upright naked sport bike powered by the air-cooled 1670 cc fuel-injected V twin seen in the Yamaha XV1700 Road Warrior. It's an old-school motor, with a single cam and push rods. Final drive is via a five-speed gearbox and a chain.
The grunty V-twin makes 66.3 kW / 90 hp at 4750 rpm, with peak torque of 150 Nm / 111 lb-ft at 3750 rpm. This bike is mostly about torque!
This site has links from which we earn a commission (which unfortunately nobody can save, not even us). If you appreciate this research work, then please use those links. Thanks.
Yamaha MT-01 Service Intervals
Overall, the Yamaha MT-01 has 10000 km or 6000 mile service intervals. It wasn't sold in the US, and so the US-based typical 4000 mile / 6000 km service interval for Yamaha motorcycles is not relevant.
Every 10000 km / 6000 miles or year, change the engine oil and perform a full service according to the checklist below.
Every 20000km, replace the spark plugs and check the valve clearances, particularly if there's noise from the valve train.
For valve service, the Yamaha MT-01 is an interesting beast. The engine has hydraulic valve lifters which adjust clearances automatically. However, the service manual does recommend you check the clearances and adjust them manually occasionally. In those instances, you use an adjusting screw, so the adjustment is not overly complex.
Because the MT-01 has a chain final drive, you have to check its condition periodically, and lubricate it. That chain will get a lot of work from the high-torque motor!
Finally, the Yamaha MT-01 has both hydraulic clutch and brake, so make sure the fluid is replaced periodically.
Yamaha MT-01 Maintenance Schedule
Below is the maintenance schedule for the Yamaha MT-01.
We've broken it into two parts:
The overall major items maintenance schedule, and
The periodic "annual inspection" checklist.
Major Items Maintenance Schedule
| km x 4000 | 10 | 20 | 30 | 40 | Every |
| --- | --- | --- | --- | --- | --- |
| Inspection checklist — Perform (see below for list) | ✓ | ✓ | ✓ | ✓ | Year |
| Engine oil — Change. Check for system leakage | ✓ | ✓ | ✓ | ✓ | Year |
| Oil filter — Change | ✓ | | ✓ | | |
| Spark plugs — Check / Adjust and clean | ✓ | | ✓ | | |
| Spark plugs — Change | | ✓ | | ✓ | |
| Valve clearances — Check / Adjust | | ✓ | | ✓ | |
| Air filter — Replace | | | | ✓ | |
| Steering bearings — Repack with lithium soap-based grease | | ✓ | | ✓ | |
| Rear suspension link pivots — Check operation / replace if necessary | | ✓ | | ✓ | |
| Brake fluid — Replace (Castrol DOT 4). Also replace rubber / internal components of master cylinders and calipers. | | | | | 2 years |
| Clutch fluid fluid — Replace (Castrol DOT 4) | | | | | 2 years |
| Brake and clutch hoses — Replace | | | | | 4 years |
Periodic maintenance for the Yamaha MT-01
Inspection Checklist
This is the regular inspection checklist for the Yamaha MT-01. Do these items according to the schedule above.
Regular / Annual Inspection checklist
Fuel injection — Adjust synchronisation
Fuel lines — Check for cracks / damage
Clutch — Inspect function and check free play
Brakes (front and rear) — Check operation, and check lsnes for cracks and damage
Brake pads (front and rear) — Check wear. Replace as necessary.
Brake switches (front and rear)
Throttle housing and cable — Check operation and free play. Lubricate and adjust as necessary
Wheels — Check runout and for damage
Tires — Check condition, tread depth, and air pressure. Replace / Correct as necessary
Wheel bearings — Check for looseness / damage
Swingarm — Check for smooth operation and play
Steering bearings — Check for play / roughness
Front fork — Check for smooth operation / oil leakage
Shock absorber — Check for smooth operation / oil leakage
Side stand — Check for smooth operation and the function of the spring.
Side stand switch — Make sure it works (and kills ignition when in gear)
Chassis fasteners — Check for presence / tightness
Moving parts and cables — Lubricate
Muffler / Exhaust pipe — Check screw clamp for tightness
Lights, signals, and switches — Check operation / adjust headlight beam
Regular inspection checklist for the Yamaha MT-01
Maintaining Your Chain on the Yamaha MT-01
The Yamaha MT-01 is a high-torque monster with a chain drive, so it's particularly important to maintain your chain on the MT-01. Use a good-quality chain lubricant like Motul chain paste, or a Motul chain care kit which comes with a couple of handy tools to maintain the chain.
Yamaha recommends you follow the following chain maintenance schedule every 1000 km and after washing the motorcycle, riding in the rain, or riding in wet areas.
Chain maintenance item
Check drive chain lubrication condition, lubricating if necessary (Motul chain paste)
Check drive chain slack, alignment, and condition, adjusting / replacing if necessary
(see below)
Chain maintenance — Yamaha MT-01
Naturally, if you track or race your MT-01 (people do it!), then attend to your chain more often.

To check the slack, measure the total deflection of the chain when it's on its side stand, in neutral.
Target chain slack for the Yamaha MT-01: 40-50 mm
To adjust the chain slack, you have to loosen the axle, loosen the locknuts on the chain adjuster, and then change the chain adjusters evenly on the left and right until the target slack is achieved.
Make sure you check it again after tightening everything up.
Locknut tightening torque: 16 Nm / 12 lb-ft
Axle tightening torque: 150 Nm / 108 lb-ft
Yamaha MT-01 Tyre Sizes and Pressures
The MT-01 wears sportbike-size tyres, 17-inch front and rear. The rear is a fat 190-profile tyre, as you might expect.
Below are the recommended base pressures, too. These are from the manual and recommended for tyre longevity. But you should adjust them based on your riding style and load.
| Wheel | Tyre size | Tyre pressure (cold) |
| --- | --- | --- |
| Front | 120/70-17 | 250 kPa / 36 psi |
| Rear | 190/50-17 | 290 kPa / 42 psi |
Tyre sizes and pressures
About the Yamaha MT-01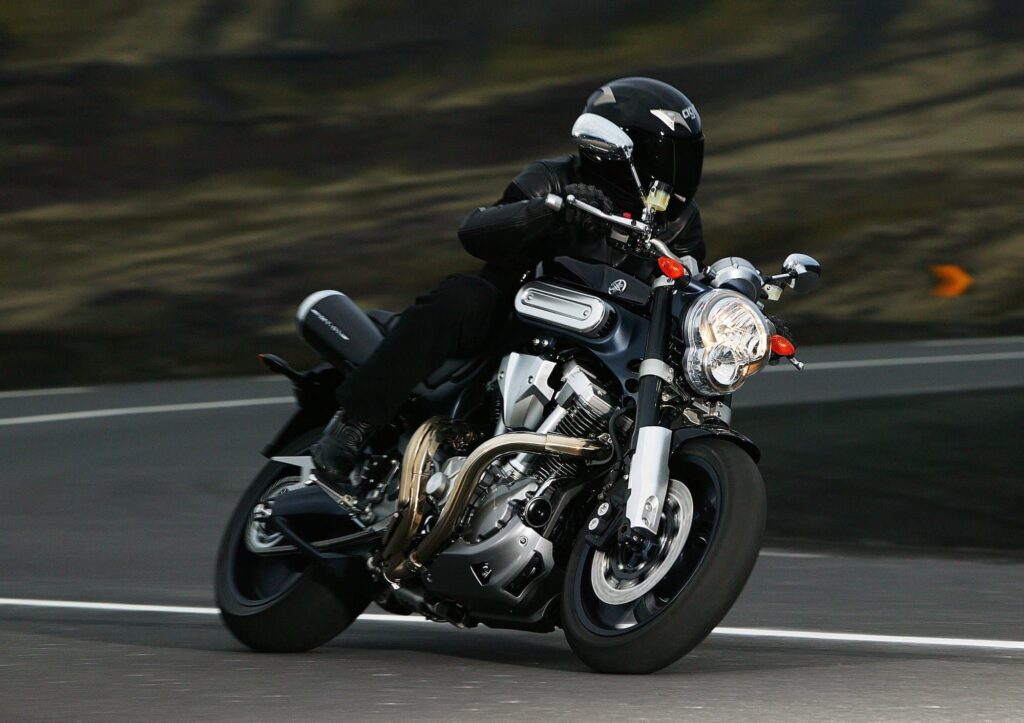 The Yamaha MT-01 is a crazy beast with a legion of fans. And they barely go down in price, because they're so weird and unique — so if you have your eye on a giant V-twin powered muscle sport bike, then you can safely own one for a couple of years at fairly low risk!
The Yamaha MT-01 is a naked "sport" bike (loosely defined for its riding position and the fact that it has no fairings) with a cruiser core. In some ways, you could say it's the poor (or even comfortably middle class) man's alternative to Keanu Reeve's motorcycles, the ARCH sport bikes with Harley engines. It's the same general concept, maybe with some lower-end ride gear than those premium beasts.
The engine is from the Yamaha Warrior. It's a 1670 air-cooled V-twin with pushrod valve actuation and hydraulic valve lifters. As mentioned above, that means that in theory, you never have to adjust the valves. In practise, like on many big cruisers, you might get some valve noise at some point.
The V-twin is low revving, high torque, and raucous. This is despite the massive mufflers on the back of the motorcycle. From some angles, the Yamaha MT-01 is 50% muffler!
The Yamaha MT-01 is one of the few MTs that's actually a monster of torque. It's a position shared with the Yamaha MT-10, for example, though that's already widely recognised as a high-performance streetfighter. The 150 Nm / 111 lb-ft, which arrive fairly shortly on the tachometer, are nothing to sneeze at. There's plenty of torque by 1500 rpm, but it's mostly over by 5000 rpm.
In terms of ride position — the MT-01 is quite huge. So the feet have a very natural riding position. There's a slight reach to the bars, which some find comfortable and some do not.
In stock trim, however, Yamaha pulls the neat trick of making the unmodified MT-01 relatively quiet. This is no Harley or Buell! However, some aftermarket mufflers with no baffles in them really wakes it up.
At the front, there are four piston radial calipers on 320mm discs. The front suspension is fully adjustable, with inverted forks, just like on a sport motorcycle. The rear monoshock is fully adjustable, too. There's an SP version with Öhlins parts, too.
Maybe the elephant in the living room — more literally than usual — is the kerb weight, which at 265 kg is hard to miss. This is on par with many motorcycles people think of as heavy, like a Sportster 1200, a Hayabusa, a Bandit 1250, and so on.
Like most heavy motorcycles that are designed to handle at least not poorly, the MT-01 requires some muscle to get it to corner, and more muscle to keep it there.
One of the best parts of owning the Yamaha MT-01 is its ease of service. Hydraulically adjusted valve lifters mean that you don't really have to check the valves as often as the manual suggests.
In the MT-01, just like the Warrior, one valve lifter opens two valves via a rocker arm, whose balance might need tweaking. It's hard to hear the valve operation unless you're experienced, but some listen for a rhythmic ticking noise, which is a tell-tale sign that it needs adjusting.
The build quality of the MT-01 is great. This is a high-end cruiser, with lots of heavy, durable parts. It's likely that in your ownership, it won't change appearance at all, unless you forget to lower the kickstand…
Reference — Manual Screenshot for Yamaha MT-01
Below are screenshots from the owner's manual for the Yamaha MT-01 as reference.
There actually is an American Yamaha MT-01 manual with maintenance intervals in miles, which is odd as it was never sold there. But it's not relevant so I'm not including it.
You can download the original owner's manual from Yamaha Europe here.