Suzuki GSX-R750 K6-K10 (2006-2010) Complete Maintenance Schedule
This is the maintenance schedule and associated service intervals for the Suzuki GSX-R750 K6-K10 before the rebuild in 2011 with the new L1 model.
Since its launch decades ago, the Suzuki GSX-R750 has always had a 749cc inline-four water-cooled 16-valve engine. Along the way there have been a lot of upgrades (see below).
The K6 GSX-R750 has the same 749cc displacement as the outgoing K4-K5 model, but is more over-square with a bigger bore and shorter stroke.
The K6 also got a stacked gearbox and internal redesign that let the whole engine block become 16mm narrower side to side, as well as a secondary balancer to reduce high speed vibration, and a slipper clutch as standard.
Otherwise, the new GSX-R750 K6 is very similar to the previous model, with the same claimed power of 110kW or 147 hp at the crank.
This site has links for things like oil and spark plugs from which we earn a commission (which unfortunately nobody can save, not even us). If you appreciate this work, then please use those links. Thanks!
Suzuki GSX-R750 models and changes
Here are all the models of GSX-R750 and the major changes over the years. While the maintenance schedule doesn't change very much between the years, the engine does, as do some of the components like brakes and suspension.
GSX-R750 model
Years
Changes
K4, K5
2004-2005
32-bit ECU (upgraded from 16) and re-tune to make about 10% more power, 110 kW (147 hp)
Lightweight pistons and titanium valves, allowing higher redline (14,500)
4-piston Tokico brakes
Dry weight of just 163 kg (one of lightest GSX-Rs ever)
20th anniversary edition in 2005 (slightly higher 150hp thanks to new silencer)
K6, K7, K8, K9, K10
2006-2010
New frame, swing-arm
New more over-square motor
Higher 12.5:1 compression ratio
Stacked transmission (more compact)
Larger brake rotors (310mm, up from 300mm)
Steel alloy springs and spring retainers added to titanium valves
From 2008 — Power modes
L1-L9
2011-2021
Current model.
Brembo brake calipers
Showa Big Piston Fork and rear shock
More compact instrument panel
Revised fairings, headlights
Overall wet weight of 194 kg (428 lb)
GSX-R750 models over the years
What you need to service your K6-K10 Suzuki GSX-R750
Servicing the Suzuki GSX-R750 K6-10 is very similar to servicing any other in the Suzuki GSX-R series of motorcycles.
Apart from some basic motorcycle maintenance tools, here's what you need to keep your GSX-R750 K6-K10 in perfect condition.
| Part | Suzuki GSX-R K6-K10 spec |
| --- | --- |
| Oil | Suzuki requires engine oil with JASO MA spec, or at least API SF/SG or SH/SJ spec. Many oils fit this. Suzuki recommends SAE 10W-40 weight Suzuki motor oil, but I wouldn't over-think this and use another popular high-grade oil like Motul 300V or Motul 7100. |
| Oil filter | Use a Hiflofiltro HF138RC, which is a drop-in high-quality replacement. This is for all GSX-R750s since 1988 by the way. |
| Air filter | Use a K&N air filter as a drop-in replacement, part number SU-7506 (for K6-K10 only) |
| Spark plugs | The standard spark plug is NGK CR9E (and you need 4) |
| Brake fluid/Clutch fluid | Suzuki (like most motorcycles) requires DOT 4 brake and clutch fluid. |
| Brake pads | A popular upgrade are EBC brake pads. For the K6-K10 GSX-R750, you need 2 pairs of FA379HH up front, and one pair of FA419HH at the rear. |
| Coolant | Suzuki only requires a coolant that's "compatible with an aluminium radiator". Most motorcycle coolants are, and so a Valvoline Zerex G05 is a fine option. |
| Chain maintenance | Use either Motul chain paste or a complete Motul chain care kit for frequent chain servicing. |
| Grease | Always handy to have some lithium soap-based grease for external pivot points, like the kickstand. |
Suzuki GSX-R750 maintenance parts
Suzuki GSX-R750 K6-K10 Maintenance Schedule
Below is the maintenance schedule for the Suzuki GSX-R750 K6-K10. The schedule below changes in order in some manuals, but the elements are all the same.
LEGEND:
I= Inspect and clean, adjust, replace or lubricate as necessary.
R= Replace
T= Tighten
NOTE: (California model only) and (CA. only) means that the items or the maintenance interval is to be applied only for the California model.
mi x 1000
0.6
4
7.5
11
14.5
km x 1000
1
6
12
18
24
months
2
12
24
36
48
Every
Air cleaner element (SU-7506)
–
I
I
R
I
Exhaust pipe bolts and muffler bolt and nut
T
–
T
–
T
Exhaust control valve
I
–
I
–
I
Valve clearance
–
–
–
–
I
Spark plugs (NGK CR9E)
–
I
R
I
R
Engine oil (Motul 7100)
R
R
R
R
R
Engine oil filter (HF138RC)
R
–
–
R
–
Fuel hose
–
I
I
I
I
Idle speed
I
I
I
I
I
Throttle valve synchronization
I
–
I
–
I
Evaporative emission control system (E-33 only)
–
–
I
–
I
PAIR (air supply) system
–
–
I
–
I
Throttle cable play
I
Clutch cable play
–
Radiator hoses
–
Engine coolant (Zerex G05)
2 years: Replace
Drive Chain
(Motul chain care kit)
I
I
I
I
I
1000 km (600 mi): clean/lube
Brakes
I
I
I
I
I
Brake hoses
–
I
I
I
I
4 years: Replace
Brake fluid (DOT 4 only)
–
I
I
I
I
2 years: Replace
Tires
–
I
I
I
I
Steering
I
–
I
–
I
Front forks
–
–
I
–
I
Rear suspension
–
–
I
–
I
Chassis bolts and nuts
T
T
T
T
T
Suzuki GSX-R750 K6-K10 maintenance schedule
Tyre size and tyre pressure for the Suzuki GSX-R750 K6-K10
The manual for the 2010 Suzuki GSX-R750 K10 specifies the following tire sizes and pressures.
| Wheel | Tire size | Tyre pressure |
| --- | --- | --- |
| Front | 120/70 ZR17 M/C 58W | 250 kPa / 36 psi |
| Rear | 180/55 ZR17 M/C 73W | 290 kPa / 42 psi |
Suzuki GSX-R750 K6-K10 tyre sizes and pressures
About the Suzuki GSX-R 750 K6-K10
The Suzuki GSX-R750 is one of the longest-running lines of motorcycles, with history dating back to the mid-eighties. Of course, a lot has changed since then.
Looking like a Suzuki Endurance racer, the GSX-R 750 was one of the original affordable and modern racer-replica motorcycles suitable for road use. It was introduced at the Cologne Motorcycle Show in October 1984 and has gone through many changes since then.
Most recently, the K6 GSX-R750 is an evolution of the K4-5 model, which was one of the most popular models of GSX-R750 ever.
The Suzuki GSX-R750 K6-10 follows the same formula, fitting a compact 750cc engine into a 600cc motorcycle's chassis. The K6 has a shorter stroke engine that has the same capacity but which makes about the same power — 110kW. Some say 147 hp, some say 148 hp, but it will depend on the dyno, the air temperature, whether the moon is in phase, etc.
It still produces peak power over 10,000 rpm, redlining above 14,000. This bike isn't really great for the street, unless you're happy to short-shift it!
In terms of reliability and maintenance, the GSX-R750 K6 is like most modern liquid-cooled Japanese sport bikes. You only check the valves ever 24,000 km, and it's unusual for them to be out of spec. The suspension is straightforward and there's not even any ABS in the brakes to confuse you when you go to bleed them.
Unlike a superbike (or a Hayabusa from the same line, in theory), the GSX-R750 won't chew through tyres, clutches, brakes, and fuel. So it can actually make a decent commuter, as long as you're willing to forego any rider aids whatsoever.
The GSX-R750 is the only standing motorcycle of its class. The only other middleweight sport bike made these days that's above 600 (or 636) cc is the Daytona 765, which is in altogether a different price range.
Manual for the Suzuki GSX-R750 K6-10 (2006-2010)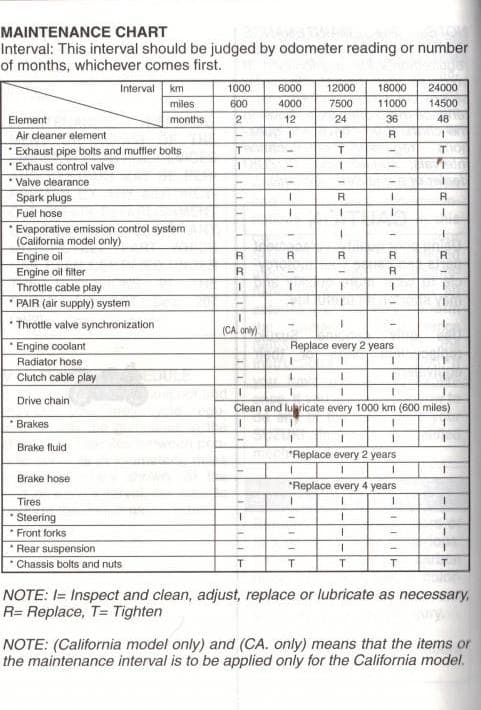 The above maintenance schedule comes directly from the user's manual for the Suzuki GSX-R 750 K8, but it's the same through those years.
You can download Suzuki manuals from here.