Kawasaki Vulcan 1700 (2009+) Maintenance Schedule and Service Intervals
This is the maintenance schedule with associated service intervals for the Kawasaki Vulcan 1700, which has been made from 2009 onward, and is still in production.
All of the Vulcan 1700 range are powered by the same 1700cc 52-degree SOHC liquid-cooled fuel-injected V-twin, replacing the earlier 1552cc engine in the Vulcan 1600 range. The fundamentals haven't changed during the Vulcan 1700's lifetime, so the maintenance schedule hasn't changed.
The Kawasaki Vulcan 1700 has come in a few different trims:
Vulcan 1700 Classic — the bare basics model. Even this model had ride-by-wire, all the way back in 2009!
Vulcan 1700 Nomad — Six-speed transmission, windshield (no fairing), and hard saddlebags
Vulcan 1700 Vaquero — The bagger with a front fairing and saddlebags, and a small windshield. Rear seat is basically non-existent.
Vulcan 1700 Voyager — The full-dress tourer with luggage, fairing and windshield, driving lights, passenger backrest
As of now, only the Vaquero and Voyager are still being made.
This site has links for things like oil and spark plugs from which we earn a commission (which unfortunately nobody can save, not even us). If you appreciate this work, then please use those links. Thanks!
Kawasaki Vulcan 1700 Service Intervals
The maintenance schedule for the Vulcan 1700 motorcycles is basically a major service every 7500 miles (12000 km) and a minor service every 3750 miles (6000 km).
The minor services are all safety and emissions checks — checking the brakes, clutch, and emissions control systems regularly.
You do need to periodically change the coolant, too, as the Vulcan 1700 has a liquid-cooled engine.
Probably the best news is that you don't need to adjust valves on a Vulcan 1700! The manual says "Valve and valve seat wear is automatically compensated for the valve clearance. So inspection and adjustment of the valve clearance are not necessary on this motorcycle". Hooray!
What you need to service your Kawasaki Vulcan 1700
Your Vulcan 1700 is fairly easy to service, although it is a water-cooled V-twin (so there's coolant) and belt-driven (so you need to check belt tension). But at least you don't have to adjust valves!
| Item | Kawasaki Vulcan 1700 spec |
| --- | --- |
| Oil | The manual calls for AP standardI SG, SH, SJ, SL or SM with JASO MA, MA1 or MA2 SAE 10W-40 engine oil. Many oils fit this requirement. A few are Kawasaki 10W-40 engine oil or Motul 7100 full synthetic. Some fans use Shell Rotella T6, an affordable diesel that's a sleeper because it's so cheap but so high quality. |
| Oil filter | The Vulcan 1700 uses Kawasaki part 16097-008 which is used on many motorcycles. You can use a high-quality aftermarket Hiflofiltro HF303RC for ease of replacement (it has a nut on the end). |
| Air filter | The standard Kawasaki part number is 11013-0031. You can use Use K&N's air filter KA-1709 to replace it (easier to get, same spec). |
| Spark plug | The manual says you need an NGK ILZKAR7B11 spark plug. |
| Belt tension | Check your belt tension with a belt tension tool. |
| General lubrication | Use lithium soap-based grease for general external lubrication |
Vulcan 1700 maintenance replacement parts
Maintenance Schedule for Kawasaki Vulcan 1700
Below is the maintenance schedule for the Kawasaki Vulcan 1700.
We split it into two parts:
Pre-ride / Frequent checks — Things to do relatively often (safety / emissions
The Service Schedule — major things to do on a periodic basis
The Inspection Checklist — the list of things to check over at every service.
Notes:
Follow either the time or distance interval — whichever comes earlier.
For higher odometer readings, repeat at the frequency interval established here.
R = Replace, C = Change, I = Inspect, L = Lubricate
Pre-ride / Frequent checks
Kawasaki recommends that in addition to the service schedule below, you regularly check the following:
Oil level and leaks
Brake system function, leaks, and fluid level (fluid level goes down as the pads wear)
Clutch system function, leaks, and fluid level
General lubrication condition of moving components
Smooth operation of the suspension
Functioning of all safety equipment (e.g. headlamp, turn signals)
Service Schedule
| mi x 1000 | 7.5 | 15 | 22.5 | 30 | |
| --- | --- | --- | --- | --- | --- |
| km x 1000 | 12 | 24 | 36 | 48 | Every |
| Conduct full inspection checklist (see below) | I | I | I | I | 6-12 months |
| Engine oil # (Kawasaki 10W-40, Mobil 1 10W-40) | R | R | R | R | year |
| Oil filter (HF303RC) | C | C | C | C | year |
| Spark plug condition (NGK ILZKAR7B11) | I | I | I | R | |
| Air cleaner element (KA-1709) | | | | | More often in rainy / dusty conditions |
| Fuel hoses | | | | R | 5 years |
| Coolant (Zerex G05) | | | C | | 3 years |
| Radiator hoses and O-rings | | | R | | 3 years |
| Brake hoses or clutch hoses | | | | R | 4 years |
| Brake or clutch fluid (front and rear) (Castrol DOT 4) | | C | | C | 2 years |
| Rubber parts of master cylinder and caliper | | | | R | 4 years |
| Swing arm pivot (lithium soap-based grease) | | L | | L | 2 years |
| Steering stem bearings (lithium soap-based grease) | | L | | L | 2 years |
Kawasaki Vulcan 1700 Service Schedule
Inspection Checklist
Kawasaki Vulcan 1700 Inspection Checklist
Throttle control system (play, smooth return, no drag)
Idle speed (set as necessary)
Fuel leak (fuel hose and pipe)
Fuel hoses condition, damage
Coolant level
Cooling system condition (leaks, rust)
Radiator hose routing, condition, damage, leaks
Air suction system damage
Clutch operation (play, engagement, disengagement)
Clutch fluid level
Clutch hoses – condition, routing, leaks
Brake operation (effectiveness, play, drag)
Brake fluid level
Brake hoses – condition, routing, leaks
Brake pad wear
Brake light switch operation
Wheels/tires condition
Tire tread wear, abnormal wear, pressure
Wheel bearings condition
Front forks/rear shock absorber operation (damping and smooth stroke)
Front forks/rear shock absorber oil leak
Steering play
Lights and switches operation
Headlight aim
Side stand switch operation
Engine stop switch operation
Chassis parts
Bolts and nuts tightness
Evaporative emission control system (US CA model only)
Kawasaki Vulcan 1700 Inspection Checklist
Belt maintenance
Since the Kawasaki Vulcan 1700 has a belt drive, make sure you attend to it regularly.
Every 3750 miles or 6000 km (between services)
Check the drive belt condition and wear, replacing if necessary
Check the drive belt deflection
Kawasaki recommends that the belt checks be done by a dealer. But here's the method recommended in the service manual.
Raise the rear wheel off the ground.
Inspect the belt for damage (e.g. broken/missing teeth, cracks). If it's damaged, get a replacement.
Mark the position of the belt on the front of the belt cover
Find the belt deflection window. Use a belt deflection tool and push up on the belt. The deflection tool pushes up with a force of 10 lbf / 45N. Push up evenly and at the middle.
Measure the total deflection.
The target total deflection is 3.0-4.5 mm with a belt that isn't new. A new belt should be at 3.0mm.
To adjust deflection, see the service manual. If you're unsure, take it to a shop.
Tyre size and tyre pressure for the Kawasaki Vulcan 1700
The Kawasaki Vulcan 1700 motorcycles run the following tyre sizes and pressures. It's the same for the Nomad, Voyager, and Classic. There's no Mean Streak (which was different for the 1600).
Wheel
Size
Pressure (cold)
Front
130/90 B16 M/C 67H
200 kPa / 28 psi
Rear
170/70 B16 M/C 75H
250-280 kPa (36-40 psi)
(depending on load)
Vulcan 1700 Nomad/Voyager/Classic tyre sizes and pressures
Originally the vulcan 1700 motorcycles shipped with Bridgestone Exedra tyres.
About the Kawasaki Vulcan 1700
The Kawasaki Vulcan 1700 range is the only surviving large Kawasaki Vulcan cruiser, the 2000 having been discontinued.
They all share the same fuel-injected 1700cc water-cooled V-twin engine. Even though it's water cooled, it manages to keep a very retro line, and the water cooling keeps emissions down, power up, and heat to a minimum.
The pistons are massive and nearly square — 102x104mm — and the result is a huge amount of torque that peaks before 2500 rpm, giving the low rumble that you'd expect from a big twin.
The Vulcan 1700 has had ride by wire since 2009. This is amazing! Some motorcycles today still don't have ride by wire, though they're usually the cheaper ones, and the Vulcan 1700 is uber-premium.
The Vulcan 1700 puts power to the ground through a six speed gearbox and a belt drive.
Manual for the Kawasaki Vulcan 1700 Classic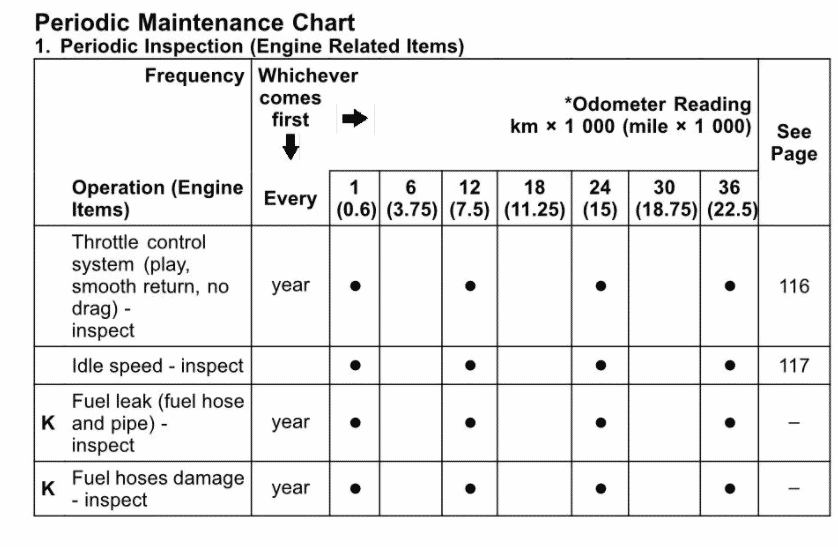 The above maintenance schedule comes directly from the user's manual for the 2009-2011 Kawasaki Vulcan 1700 Classic, which is available here.