Kawasaki Versys-X 300 (2017+) Maintenance Schedule and Service Intervals
This is the maintenance schedule with associated service intervals for the Kawasaki Versys-X 300, also known as the Versys 300.
The Versys-X 300 was sold from 2017 onward, building on the platform of the other 300cc motorcycles (like the Ninja 300), and borrowing from the branding of the Versys name.
The Versys-X 300 is a mini sport adventure touring motorcycle with just a little off-road pretension. The motor is capable, the chassis is comfortable, and the wheels are nicely proportioned for some dirt work (19mm up front, and wire-spoke rims), but the engine is a little revvy and lacking in low-down torque that's necessary to spin the wheel up for really aggressive dirt riding. Of course, every bike has compromises, and this balance works for a lot of people.
It's often just referred to as the Versys 300, rather than by its full name "Versys-X 300".
This maintenance schedule is similar/essentially identical for the Z300, as it's built on the same engine platform.
Originally published June 13, 2021, but significantly updated since.
This site has links for things like oil and spark plugs from which we earn a commission (which unfortunately nobody can save, not even us). If you appreciate this work, then please use those links. Thanks!
Service Intervals for the Kawasaki KLE300 / Versys-X 300
The Kawasaki Versys-X 300 has 7600 mile / 12000 km or annual service intervals between oil changes. At every oil change, also change the filter and the spark plugs, and inspect the air filter.
At the oil change, also check the valve clearances (that's right, the valve clearance interval is also every 7500 miles or 12000 km, but not annual).
Kawasaki also recommends changing the air filter every two years.
Make sure you also keep the coolant fresh and the brake fluid fresh and topped up.
What you need to service the Kawasaki Versys-X 300
If you're servicing your Versys-X 300 you need some basic motorcycle maintenance tools as well as the below parts particular to the Versys.
| Part | Kawasaki Versys-X 300 spec |
| --- | --- |
| Oil | You need 2.2L (2.3 US qt) of SAE 10W-40 engine oil (manual says mineral, semi-synthetic, and full synthetic are all OK). Kawasaki 10W-40 engine oil is a popular choice, as is Motul 7100 10W-40 for a synthetic option. Don't over-torque the drain bolt (spec is 30 Nm/22 lb-ft per the manual) — use a torque wrench if you don't have experience with how much torque is enough. |
| Oil filter | Oil filter is part 16097-0008, or you can use Hiflofiltro HF303RC. Torque for oil filter is 17.5 Nm (12.9 ft-lb) (use a torque wrench, and it's easier on the K&N one) |
| Chain lubricant | The chain needs to be lubricated every 600 km/400 miles (or more, if it gets wet/dirty). Motul chain paste is cheap and well-loved. |
| Cable lubricant | Remember to lubricate your clutch cable (and brake cables if you have them) with a cable lubricant. Protect All Cable Life is a good general-purpose lubricant. |
| Brake fluid | Spec is to use DOT 4 brake fluid. |
| Coolant | Use 1.5L (about 1.6 US qt) of ethylene glycol pre-mix coolant with a 50% mixture. |
| Front brake pads | Genuine part number for front brake pads is 43082-0173 for the Versys-X300. Get double-sintered EBC brake pads for better bite and wear — code FA142HH. |
| Rear brake pads | Genuine part number for rear brake pads is 43082-0172. Get double-sintered EBC brake pads for better bite and wear — code FA197HH. |
| Spark plugs | NGK CR8E, with a spark plug gap of 0.7-0.8mm (use a spark plug gapping tool), torqued to 13 Nm or 9 ft-lb (use a torque wrench) |
| Air filter | Genuine part number for the Versys-X's air filter is 11013-0762. |
| Grease | Use a lithium soap-based grease for all the important greasing points. |
Consumables for servicing the Versys-X 300
Maintenance Schedule for Kawasaki Versys-X 300
Below is the maintenance schedule for the Kawasaki Versys-X 300.
The following is the list of maintenance operations and to be done on this motorcycle with a time or distance interval — whichever comes earlier.
Notes:
At the end of the maintenance schedule, keep following it in the pattern shown.
I = Inspect, R = Replace, L = Lubricate
mi x 1000
0.6
3.8
7.6
11.4
15.2
km x 1000
1
6
12
18
24
Every
Engine oil and oil filter (Motul 7100 10W-40, HF303RC)
R
R
R
Year, R
Air cleaner element (Part 11013-0762)
I
I
2 years, R
Service more often if riding in dusty / wet conditions
Spark plugs (NGK CR8E)
R
R
Valve clearances
I
I
Idle speed
I
I
I
Throttle control system (play, smooth return, no drag)
I
I
I
Year, I
Engine vacuum synchronization
I
I
Fuel system
I
I
I
Year, I
Fuel filter
R
Fuel hoses
5 years, R
Coolant level
I
I
I
Cooling system
I
I
I
Year, I
Coolant, water hoses, and O-ring (Zerex G05)
3 years or 22.5K mi (36K km): R
Air suction system
I
I
Clutch operation (play, engagement, disengagement)
I
I
I
Tire air pressure
I
I
Year, I
Wheels and tires
I
I
Year, I
Wheel bearing damage
I
I
Year, I
Spoke tightness and rim runout
I
I
I
I
I
Drive chain wear
I
I
Inspect more often if riding aggressively or in dirty / wet conditions
Drive chain guide wear
I
I
Brake system
I
I
I
I
I
Year, I
Brake operation (effectiveness, play, no drag)
I
I
I
Year, I
Brake fluid level
I
I
I
Year, I
Brake fluid (front and rear) (DOT 4 only)
R
2 years, R
Brake hoses
4 years, R
Rubber parts of brake master cylinder and caliper
4 years/30K mi (48K km), R
Brake pad wear
I
I
I
I
Service more often if riding aggressively
Brake light switch operation
I
I
I
I
I
Suspension system
I
I
Year, I
Lubrication of rear suspension
L
Steering play
I
I
I
Year, I
Steering stem bearings
I
I
2 years, L
Electrical system
I
I
Year, I
Chassis parts
L
L
Year, L
Condition of bolts, nuts, and fasteners
I
I
I
Evaporative emission control system (if fitted)
I
I
I
I
I
Kawasaki Versys-X 300 maintenance schedule table
Maintaining the Chain on the Kawasaki Versys-X 300
Especially as the Versys-X is a mixed-use motorcycle that you're likely to ride in the rain and other adverse conditions, it's important to maintain your chain on the Versys 300, as on any chain-driven motorcycle.
Use a good-quality chain lubricant like Motul chain paste, or a Motul chain care kit which comes with a couple of handy tools to maintain the chain.
Kawasaki recommends you follow the following chain maintenance schedule:
| Chain maintenance item | Every |
| --- | --- |
| Check drive chain lubrication condition, lubricating if necessary (Motul chain paste) | 400 mi / 600 km |
| Check drive chain slack, adjusting if necessary | 600 mi / 1000 km |
Chain maintenance — Kawasaki Versys 300
Notes:
Do these items (checking/adjusting slack, and checking/applying lubrication) more often if you ride your Versys-X in dusty or rainy conditions.
Always lubricate the chain after washing the motorcycle.
To check drive chain slack on the Versys-X, check the maximum deflection of the chain in at its loosest point in the middle of the chain.
Target chain slack for the Kawasaki Versys-X 300: 25-35 mm
To adjust the chain slack, you need wrenches and a large torque wrench for the rear axle nut.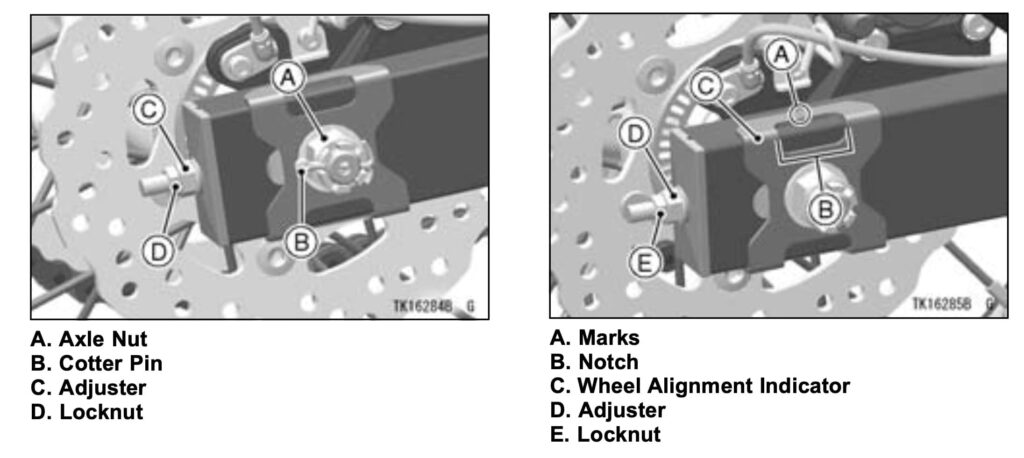 Put the motorcycle up on its stand
Remove the cotter pin from the rear axle nut and loosen the rear axle nut. And loosen the lock nuts for the chain adjuster nuts.
If the chain is too loose (the usual case), turn in the left and right adjusters evenly. Watch the notches (alignment indicators) to make sure alignment stays intact.
Keep checking chain tension
When you get to target tension, tighten the axle to 98 Nm / 72 lb-ft of torque, and tighten the lock nuts to a quarter past seated.
Put in a new cotter pin on the rear axle nut.
Tyre size and tire pressure for the Kawasaki Versys-X 300
The Versys-X 300 differs from other bikes in the 300 series in that it has larger, adventure touring-style wheels and tyres.
Below are the tyre sizes and recommended pressures for the Versys-X 300.
| Wheel | Tyre size | Tyre pressure (cold) |
| --- | --- | --- |
| Front | 100/90–19M/C 57S | 200 kPa/2 bar/28 psi |
| Rear | 130/80–17M/C 65S | 225 kPa/2.25 bar/32 psi |
Versys-X 300 recommended tyre sizes and pressures
About the Kawasaki Versys-X 300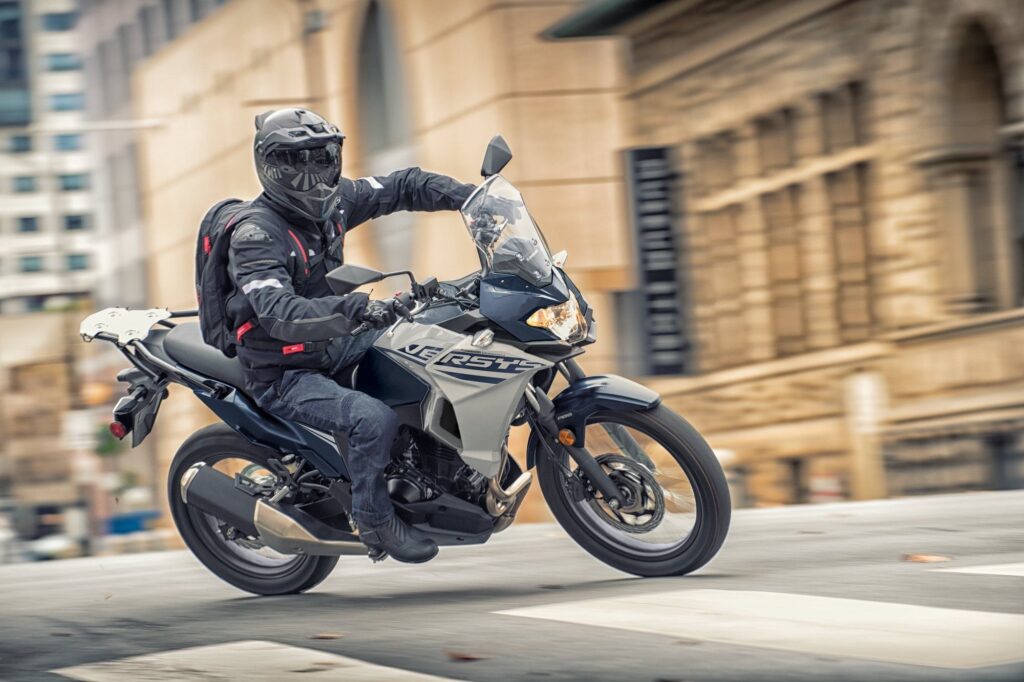 The Versys-X 300 is Kawasaki's entrance into the mini adventure touring category, capitalising on the trend towards adventure style bikes, but catering to people who want a lower power, lighter weight, or more economical machine than a huge BMW R 1250 GS.
Even though the category is already rich with 600cc+ bikes, there are few adventure bikes for those who prefer slower roads and lighter weight machines.
Enter the mini Versys, which has the 296cc parallel twin that also powers the Ninja 300 (or powered it, in markets where it has been replaced by the Ninja 400). It's not the same motor exactly — it has a different tune for the Versys-X 300, though the latter is not exactly a torque monster yet.
The engine is an advanced dual overhead cam parallel twin with four valves per cylinder. It makes peak power of 29 kW / 40 hp at a quite high 11500 rpm, so most people won't push it that high. Peak torque is at a similarly high 10000 rpm.
Like many adventure tourers, the Versys-X isn't a "dual sport" motorcycle. It's just an upright, comfortable motorcycle with a bit more suspension travel, a taller windshield, a more comfortable seat, and a general feel like you could ride it all day.
Off-road, there's enough power for a lot of what you might do. This bike is very happy doing low-speed maneuvering over obstacles that might have had you a little worried on a sport bike. The handlebars give you tons of leverage and the light weight never feels intimidating.
Going the distance is also possible on the Versys. The first time you get onto highways you might think "hmm, that motor is spinning a bit fast". At 60 mph (100 km/h) you're already doing 7,500 rpm in top gear. But the motor is happy to do that all day, and also can rev up to 11,000 rpm for 150 km/h if you're so inclined. You just have to be comfortable with the feeling.
Adding to that, the Versys-X 300 comes with a ton of accessories for adventuring. Panniers, engine guards, hand shields, and taller screens, and much more can be added.
The Versys-X 300 is also learner legal/A2-compliant for those jurisdictions other than America where you can't just hop onto a Harley the day after passing your MSF course.
Manual for the Kawasaki Versys-X 300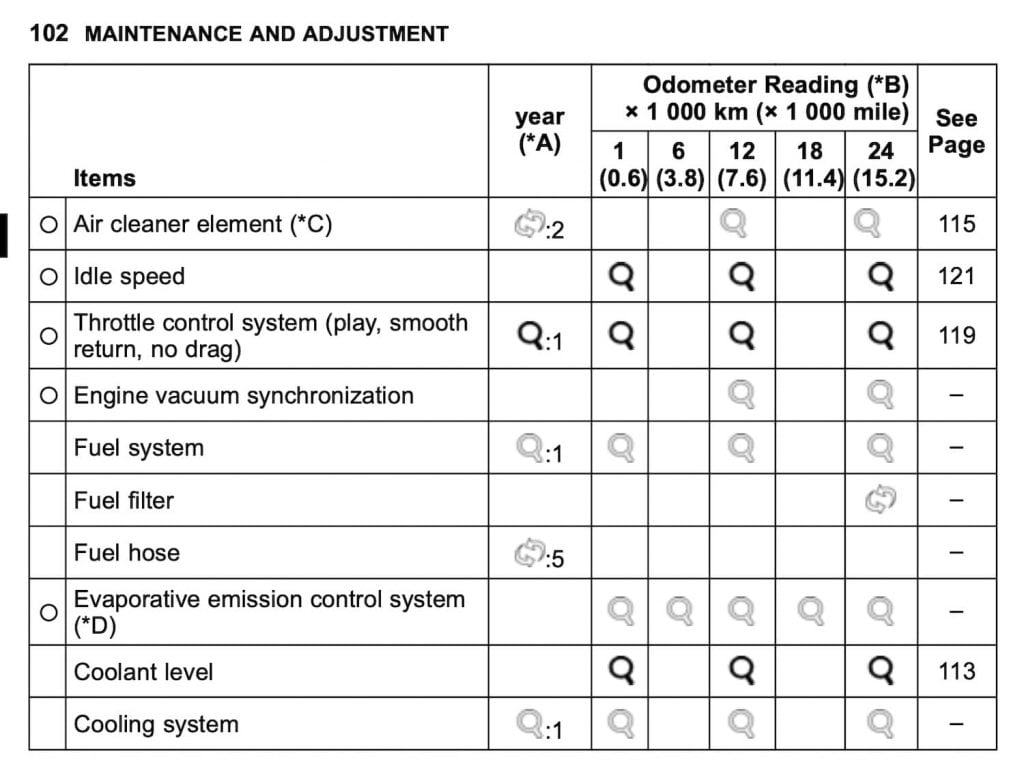 The above maintenance schedule comes directly from the user's manual for the Kawasaki Versys-X 300, which is available here.