Honda CTX700 (2014-2019) Maintenance Schedule and Service Intervals
This is the maintenance schedule and associated service intervals for the Honda CTX700, made between 2014 and 2019.
The Honda CTX700 is a road cruiser that pushes the envelope a little aesthetically. Is it a cruiser, because of the foot-forward position? Is it a commuter, because of the gentle engine? Or is it a scooter when it's offered in DCT version? All versions of the CTX700 are powered by a 670cc parallel twin engine canted 62 degrees forward for enhanced weight distribution and a lower center of gravity for ease of handling.
The CTX700 shares the engine platform with the Honda Deauville NT700V, with which it shares a lot of common parts.
The CTX700 came in two guises — naked (CTX700N) and with a small fairing (CTX700S). They're usually just called the Honda CTX700. DCT was offered as an option in some years (or standard in some years/regions), but maintenance is basically the same anyway. Also, ABS was an option (or standard in some markets), but that didn't affect maintenance.
The CTX700 didn't change in the years it was available, with the exception of DCT becoming the only option in its last years.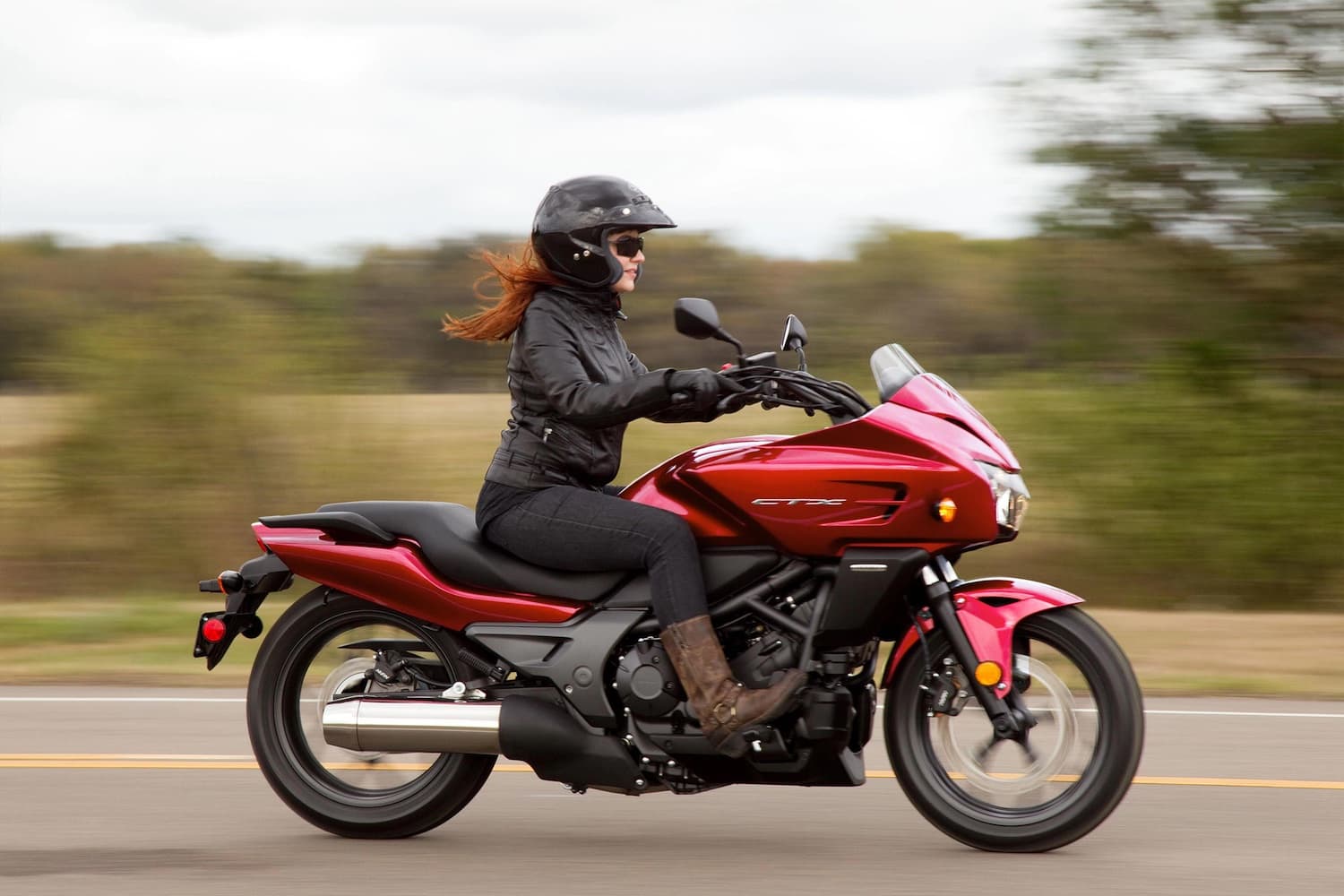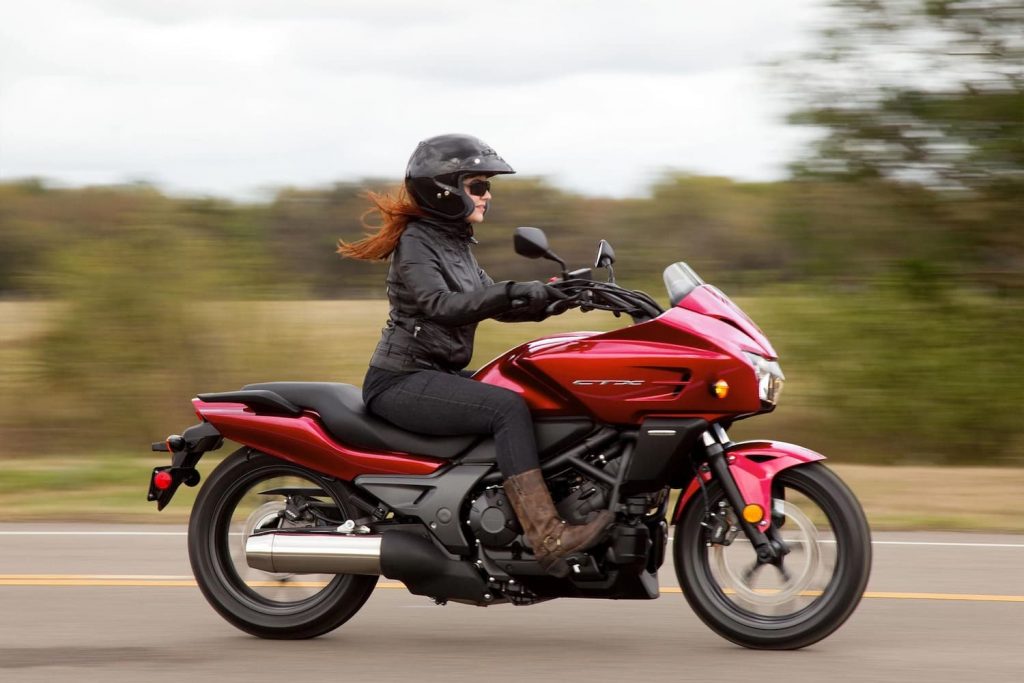 This site has links for things like oil and spark plugs from which we earn a commission (which unfortunately nobody can save, not even us). If you appreciate this work, then please use those links. Thanks!
What you need to service the Honda CTX700
The Honda CTX700 is usually put to commuting or touring duty, so it's not going to get hammered, but maintenance of core components like the chain and oil are still critical.
Apart from general motorcycle maintenance tools, here's what you need to maintain your Honda CTX700.
| Part | Honda CTX700 spec |
| --- | --- |
| Oil | Honda recommends SAE 10W-30, JASO T 903 standard MA or higher, such as Pro Honda GN4 10W-30 or an equivalent high-quality motorcycle oil like Motul 5100 (which gets rave reviews). Use a torque wrench to tighten the bolt to 30 Nm (22 lb-ft). |
| Oil filter | Honda's standard part number for the oil filter is 15410-MFJ-D01 (used on many Hondas). You can also use Hiflofiltro HF204RC for the oil filter. Use a torque wrench to tighten it to 26 Nm (19 lb-ft). |
| Air filter (OEM) | The OEM air filter part is 17210-MGS-D30. You can also use the K&N alternative air filter, whose part number is HA-7012, which is much easier to get online. |
| Spark plugs | Use NGK spark plug part IFR6G-11K. Use a gapping tool to set the gap to 1.0-1.1 mm. |
| Chain maintenance | To maintain your chain, Motul chain paste is quite well-liked. There's also the Motul chain care kit which is affordable and good. |
| Brake fluid | You can use any DOT 4 oil, but Honda recommends Honda DOT 4. |
| Brake pads (front) | OEM front brake pads are part number 06455-MGS-D32. Alternative EBC double-hardened front brake pads have part number FA196HH. |
| Brake pads (rear) | OEM rear brake pads are part number 06435-MGS-D32. Alternative EBC double-hardened rear brake pads have part number FA140HH. |
| Coolant | Use Honda Long-life Coolant, which is based on ethylene glycol. |
| Grease | Stock up on lithium soap-based grease and silicon grease to keep pivots and moving parts lubricated and protected. |
Honda CTX700 parts for maintenance
Honda CTX700 Maintenance Schedule
Below is the maintenance schedule for the Honda CTX700.
The maintenance for the Honda CTX700 is broken into two sections: Emission-Related Items and Non-Emission-Related Items.
Here are Honda's guidance for the difficulty levels for the maintenance items:
X: Intermediate. "We recommend service by your Honda dealer, unless you have the necessary tools and are mechanically skilled. Procedures are provided in an official Honda Service Manual" (this means you can do it!)
XX: Technical. "In the interest of safety, have your motorcycle serviced by your dealer." (do it if you're game)
Maintenance Procedures:
I: Inspect and clean, adjust, lubricate, or replace, if necessary. Use lithium soap-based grease for general exterior lubrication.
R: Replace
L: Lubricate.
C: Clean
Notes:
*1 : At higher odometer readings, repeat at the frequency interval established here.
*2 : Service more frequently if the motorcycle is ridden in unusually wet or dusty areas.
*3 : Service more frequently when riding in rain or at full throttle.
*4 : 50 STATE (meets California).
*5 : Replace every 2 years, or at indicated odometer interval, whichever comes first. Replacement requires mechanical skill.
Items
x 1000 mi
0.6
4
8
12
16
20
24
Emission-Related Items
x 1000 km
1
6.4
12.8
19.2
25.6
32
38.4
Fuel Line
X
I
I
I
Throttle Operation
X
I
I
I
Air Cleaner*2
R
R
Crankcase Breather*3
C
C
C
C
C
C
Spark Plug (IFR6G-11K)
Every 16,000 mi (25,600 km): I Every 32,000 mi (51,200 km): R
Valve Clearance
X
I
I
I
Engine Oil (Pro Honda GN4)
Initial = 600 mi (1,000 km) or 1 month: R
Regular = Every 8,000 mi (12,800 km) or 12 months: R
Engine Oil Filter (HF204RC)
R
R
R
R
Clutch Oil Filter (DCT models, part 15412-MGS-D21)
R
R
Engine Idle Speed
X
I
I
I
I
I
I
I
Radiator Coolant*5
I
I
R
Cooling System
X
I
I
I
Evaporative Emission Control System*4
X
I
I
Non-Emission-Related Items
Drive Chain (Motul chain care kit)
Every 500 mi (800 km): I L
Brake Fluid*5 (Honda DOT 4 only)
I
I
R
I
I
R
Brake Pads Wear
I
I
I
I
I
I
Brake System
I
I
I
I
Brake Light Switch
I
I
I
Brake Lock Operation
X
I
I
I
I
I
I
I
Headlight Aim
I
I
I
Side Stand
I
I
I
Suspension
X
I
I
I
Nuts, Bolts, Fasteners
X
I
I
I
I
Wheels/Tires
XX
I
I
I
Steering Head Bearings
XX
I
I
I
I
Honda CTX700 Maintenance Schedule
Tyre size and tyre pressure for the Honda CTX700
The Honda CTX700 has the following tyres and tyre sizes standard, as well as the following recommended tyre pressures:
Tyre
Size
Brand(s)
Tyre pressure (when cold)
Front
120/70ZR17M/C (58W)
BRIDGESTONE BT023F G
METZELER ROADTEC Z8 INTERACT E
36 psi (250 kPa, 2.50 kgf/cm2)
Rear
160/60ZR17M/C (69W)
BRIDGESTONE BT023R G
METZELER ROADTEC Z8 INTERACT M
Solo: 36 psi (250 kPa, 2.50 kgf/cm2)
With passenger: 42 psi (290 kPa, 2.90 kgf/cm2)
Tyres and tyre pressures for Honda CTX700
About the Honda CTX700
The Honda CTX700, like its bigger sibling the CTX1300 (which was only made for a year), definitely pushes the envelope when it comes to giving it a clear definition for what it is.
Honda took some parts of the cruiser idiom (laid-back seating, forward-set pegs, torque-rich twin-cylinder engine that you don't have to rev for power) and put them together into a package unlike anything else you'll see on the road.
The low 28-inch seat height makes it really easy to throw a leg over the CTX700 if you're a new rider and want to stay close to the ground. Putting your feet down when you get to stop lights or parking lots is easy and non-threatening. On top of that, the low center of gravity afforded by the overall low height and the forwarded-canted engine mean that the Honda CTX700 is easy to steer.
The CTX700 is a bike specifically engineered to make motorcycling more approachable, affordable, and fun than ever before. Beneath the fuel tank cover, there's a handy glove box area, and the fuel is carried below.
Honda's automatic Dual Clutch Transmission (DCT) means you can choose between either a fully automatic mode or the option of more active gear selection via "paddle-shift" type buttons on the handlebar. The the DCT version also comes with standard Anti-lock Braking System (ABS).
The 670cc parallel-twin engine is canted 62 degrees forward to help keep the weight down low. This smooth-running fuel-injected engine pumps out loads of low-end and midrange torque to simplify launching from stops even with the optional six-speed manual gearbox. It has a 270-degree crank, which gives it just a touch of V-twin-like rumble.
The naked CTX700N is the same as its fully faired sibling, but styled more like a city bike. Still, you'll feel like you can go forever on the Honda CTX700 in any form.
Manual for the Honda CTX700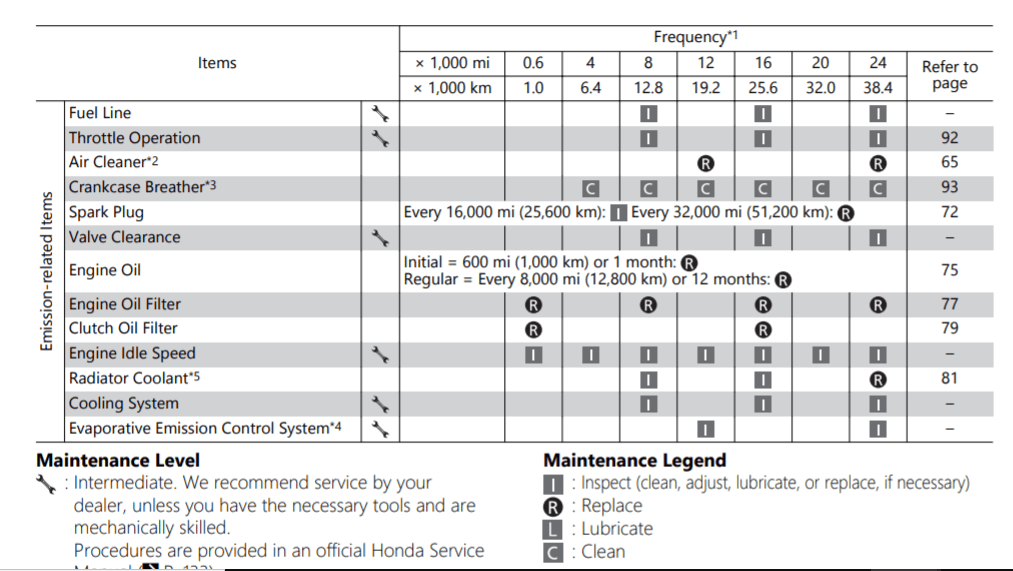 The above maintenance schedule comes directly from the user's manual for the 2018 Honda CTX700. There were no significant changes in the maintenance schedule between years, just little changes in the way in which the information was presented.
You can download it from here.