Honda CB350 H'ness and CB350RS maintenance schedule
This is the maintenance schedule and service intervals for the Honda CB350 H'ness and CB350RS, also known as the Honda H'Ness, depending on market.
It's known as the Honda H'Ness in India and the Honda CB350 in other markets. Some markets also get the Honda CB350RS, a slightly more up-spec and sporty machine with the same engine, chassis, and ride gear.
All versions of the Honda H'Ness and Honda CB350 share the same foundation: a 348cc 4-stroke single-cylinder engine that makes 15.5 kW (21 hp) @ 5,500 rpm or 30 Nm (20 ft-lb) @ 3,000 rpm, and maintenance is the same for all of them.
This site has links for things like oil and spark plugs from which we earn a commission (which unfortunately nobody can save, not even us). If you appreciate this work, then please use those links. Thanks!
Honda CB360 H'Ness Service Intervals
Overall, the Honda CB350 H'Ness has 4000 mile / 6000 km or annual service intervals. At every service, change the engine oil, and check the valve clearances, and look over the list below for standard checklist items.
You only need to change the oil and air filter less frequently (see the schedule below). However, you should change the brake fluid every two years.
Parts needed to service the Honda CB350 H'Ness
Servicing your Honda CB350 is something you'll have to do often, but it's also easy. Below are the parts you need to do basic service on the Honda CB350 H'Ness.
| Part | Honda Cb350 H'Ness spec |
| --- | --- |
| Oil | Honda 5W-30 or 10W-30 oil, API SJ or higher, or JASO standard MA. Do not use "energy conserving" or "resource conserving" oils. The manual suggests Pro Honda GN4 10W-30 engine oil. |
| Oil filter | The Honda CB350's standard oil filter is part number 15412-K0N-D01. This fits a number of India-only motorcycles. |
| Chain lube | Use Motul chain paste for mess-free chain lubrication. |
| Spark plug | Use an NGK MR6K-9 spark plug |
| Brake fluid | Use Honda DOT 4 brake fluid. |
| Cable lube | Use Protect all cable life cable lube |
| General lubrication | For general exterior parts lubrication use lithium soap-based grease. |
Honda CB350 H'Ness maintenance parts
Maintenance schedule for the Honda CB350 H'Ness
Below is the maintenance schedule for the Honda CB350 H'Ness. It's taken from the manual (screenshots below) but adapted for web view.
Notes on the maintenance schedule
At the end of the maintenance schedule (after 36K km or 24K miles), keep going in the pattern indicated.

Note 2: Service these more frequently when riding in wet or dusty areas
Note 3: Service these more frequently when riding in rain or at full throttle.
Honda notes that changing DOT 4 fluids "requires mechanical skill".
Honda suggests you get steering bearings and wheels serviced by a mechanic for safety reasons.
Legend
I = Inspect
C = Check
R = Replace
L = Lubricate
x 1000 km
1
6
12
18
24
30
36
x 1000 mi
0.6
4
8
12
16
20
24
Months
1
6
12
18
24
30
36
Every
Engine oil (Pro Honda GN4 10W-30)
R
R
R
R
R
R
R
Year, R
Engine oil filter (15412-K0N-D01)
R
R
Air cleaner
R
R
Crankcase breather
C
C
C
C
C
C
Spark plug (MR6K-9)
R
R
R
Valve clearance
I
I
I
I
I
I
Fuel line
I
I
I
Throttle operation
I
I
I
Year, I
Engine idle speed
I
I
I
Year, I
Evaporative emission control system
I
Drive chain
1000 km (600 mi): I, L
Drive chain slider
I
I
I
Brake fluid
I
I
I
I
I
I
Year, I
2 years: R
Brake pads wear
I
I
I
I
I
I
Year, I
Brake system
I
I
I
Year, I
Brake light switch
I
I
I
Year, I
Headlight aim
I
I
I
Year, I
Clutch system
I
I
I
I
I
I
Year, I
Side stand
I
I
I
Year, I
Suspension
I
I
I
Year, I
Nuts, bolts, fasteners
I
I
I
Year, I
Wheels/tires
I
I
I
Year, I
Steering head bearings
I
I
I
Year, I
Honda H'Ness CB350 Maintenance Schedule
Maintaining Your Chain on the Honda CB350 H'ness
It's important to maintain your chain on the CB350, as on any chain-driven motorcycle, but particularly as many Honda CB350s are ridden in areas of varying road quality.
Use a good-quality chain lubricant like Motul chain paste, or a Motul chain care kit which comes with a couple of handy tools to maintain the chain. You can also use a heavy weight gear oil.
Honda recommends you follow the following chain maintenance schedule:
| Chain maintenance item | Every |
| --- | --- |
| Check drive chain lubrication condition, lubricating if necessary | 600 mi / 1000 km |
| Check drive chain slack, adjusting if necessary | 600 mi / 1000 km |
Chain maintenance — Honda CB350 H'ness
Notes:
Do these items (checking/adjusting slack, and checking/applying lubrication) more often if you ride your CB350 in dusty or rainy conditions.
Always lubricate the chain after washing the motorcycle.
Honda CB350 H'Ness Pre-ride checks
Honda also suggests the following pre-ride checks daily or before rides (if it's not used daily). Many of these can be done as part of the normal start-up procedure, but make a habit of checking the oil and brake pads.
Pre-ride checks
Fuel level
Throttle operation
Engine oil
Drive chain
Brake fluid
Brake pads wear
Lights/Horn
Engine stop switch
Clutch system
Side stand
Wheels/tires
Honda H'Ness CB350 Pre-ride checks
Tyre sizes and pressures for the Honda CB350 H'Ness
The manual for the CB350 specifies the following tyre sizes and pressures.
Stock, it comes with tubeless tyres with the brand MRF Zapper in the front and MRF Nylogrip in the rear.
Wheel
Tyre size
Tyre pressure
Front
100/90-19M/C 57H
200 kPa (2 bar) / 29 psi
Rear
130/70-18M/C 63H
225 kPa (2.25 bar) / 33 psi solo
250 kPa (2.5 bar) / 36 psi with passenger
Honda CB350 H'Ness tyres and pressures
About the Honda CB350 H'Ness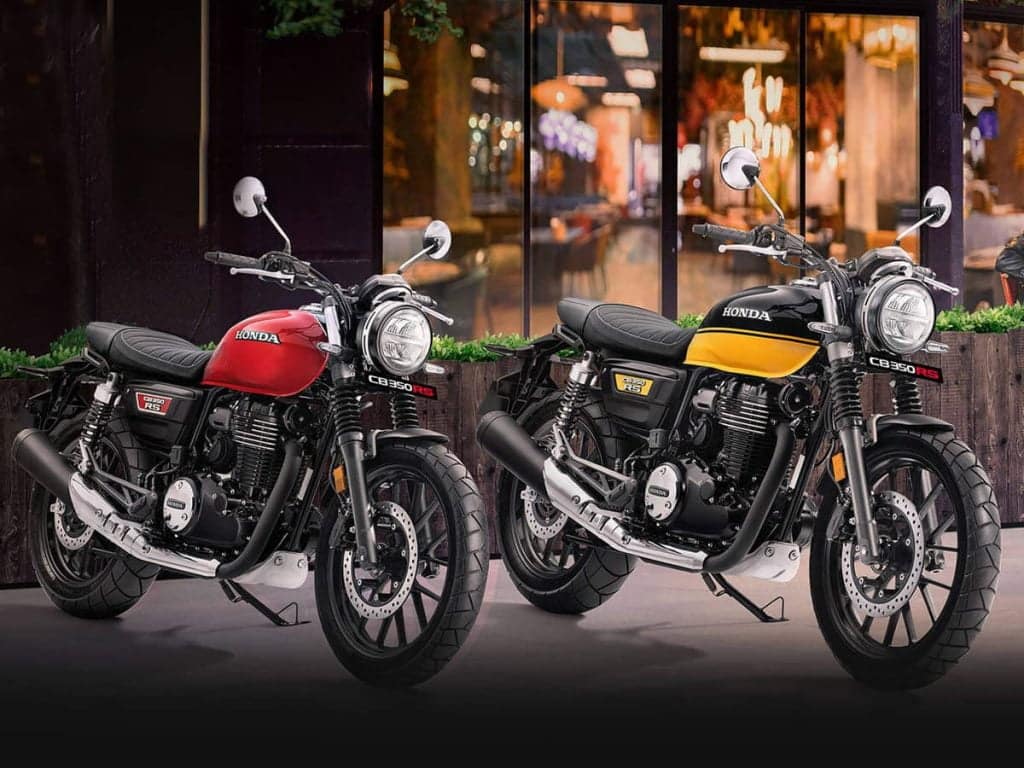 The Honda H'Ness CB350 and Honda CB350RS are compact, simple, stylish, and affordable standard motorcycles from Honda.
They're designed to compete with Royal Enfield motorcycles like the Royal Enfield Meteor 350. Royal Enfield has dominated sales in India for a very long time and is gathering a loyal following elsewhere.
The CB350 is powered by an engine that's considered small for many of Honda's motorcycle markets like in Europe, the UK, and the US, but which is considered big in India and many other less developed markets — areas dominated by around 100cc-class motorcycles.
The CB350's single-cylinder engine has 348cc displacement. It's fuel-injected, air-cooled, and makes just shy of 16 kW or 21 hp. Which is enough for low-speed highway cruising and most of what the CB350 is meant to do, which is urban commuting while looking cool.
The Honda CB350 H'ness is built to a high spec. Sit on it and you'll notice the parts gleam and the paint is rich. So this is a bike designed to be an upgrade for aspirational riders who still want to get from A-B but want to do so in stile and with a touch of prestige.
It power to the ground through a five-speed transmission and a chain drive.
The focus of the Honda H'Ness CB350 is simplicity. It's a simple motorcycle to ride — and a great motorcycle as a first rider. And owning it and maintaining it simple too, as evidenced by the maintenance schedule, where even valve service intervals are listed as something anyone can do.
The maintenance for the CB350 is a lot less intense than on the Royal Enfield motorcycles, too. Intervals are wider, and there are less items to worry about.
Many international markets that haven't received the CB350/H'ness have been wondering — why don't we get it, too?
By the way, H'ness is short for "Highness" and is intended to be a nod to the majestic nature of the Honda CB350.
Manual for the Honda CB350 H'Ness
The above maintenance schedule came straight from the manual for the Honda H'Ness, double checked with the manual for the Honda CB350RS (it's the same).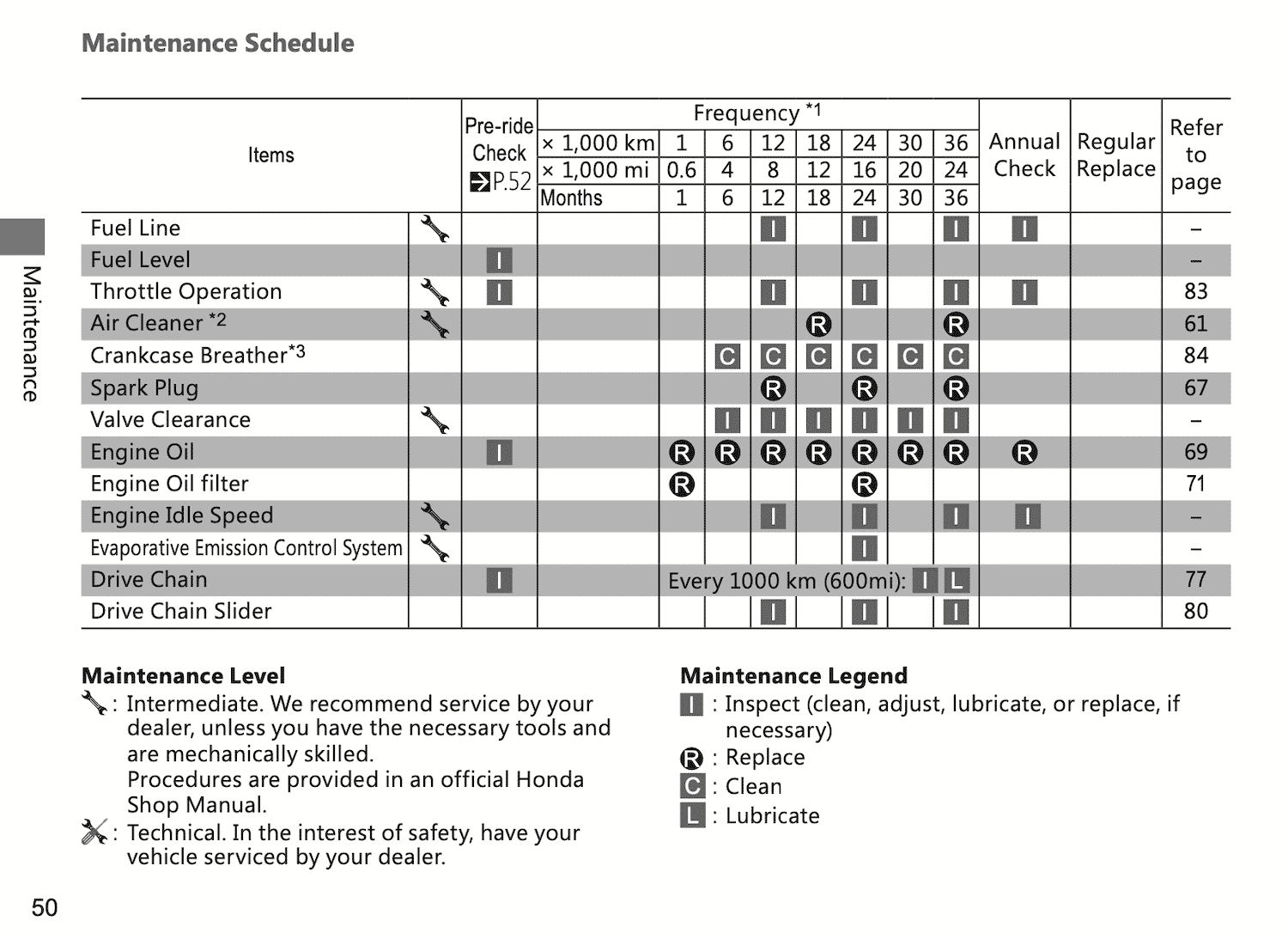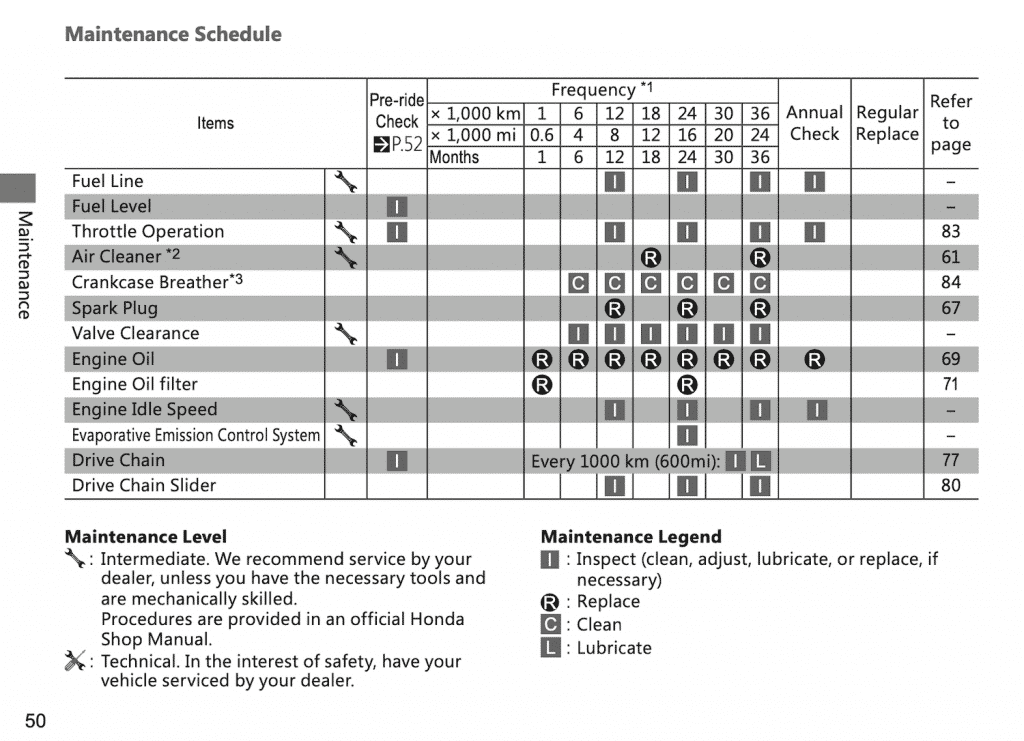 You can download the manuals from Honda's Indian website here.