Suzuki GSX-S1000GT (2022+) Maintenance Schedule and Service Intervals
This is the maintenance schedule and associated service intervals for the Suzuki GSX-S1000GT made from 2022 onward.
The Suzuki GSX-S1000GT is a revamp of the Suzuki GSX-S1000F sport tourer that has been produced since 2016. It gets dramatic new styling, a re-designed subframe that's better able to carry luggage (and lighter weight as a result), cruise control, and modern EURO 5 compliance.
The engine is the same basic 999 cc inline four-cylinder engine that has powered the GSX-S1000 line since its inception. It's a re-purposing of the iconic block that was in the now-iconic K5 GSX-R1000, the "long stroke" motor with a broad spread of torque that gained so much acclaim.
The GSX-S1000GT is also released along with a refreshed 2022+ GSX-S1000 naked bike.
This site has links for things like oil and spark plugs from which we earn a commission (which unfortunately nobody can save, not even us). If you appreciate this work, then please use those links. Thanks!
Suzuki GSX-S1000GT (2022) Service Intervals
Your first service on the Suzuki GSX-S1000GT is at 600 miles or 1000 km, or 2 months — this is the break in service. Many people get there on the first day! The dealer should change the oil and filter and look everything over.
Following that, basic service intervals for the new Suzuki GSX-S1000GT are every 3750 miles or 6000 km, at which point you should change the oil and inspect or replace the spark plugs as well as the air filter.
The valve service is every 15000 miles or 24000 km.
The GSX-S1000GT has a cable clutch but hydraulic brakes, so make sure you change the brake fluid periodically. Also make sure the coolant is fresh using the appropriate spec coolant (Suzuki Long-Life, preferably).
Since the Suzuki GSX-S1000GT is an all-purpose bike, it's likely to get a lot of use in all conditions. For that reason, make sure you attend to chain maintenance and external lubrication (every 600 miles / 1000 km).
What you need to service your Suzuki GSX-S1000GT (2022)
Below is a list of the things you'll need to do a service on your Suzuki GSX-1000GT if you're doing your own service.
| Part | Suzuki GSX-S1000GT spec |
| --- | --- |
| Oil | Suzuki (like most motorcycle brands) requires engine oil with JASO MA spec, or at least API SF/SG or SH/SJ spec. Many oils fit this. Suzuki recommends SAE 10W-40 weight Suzuki motor oil, but I wouldn't over-think this and use another popular high-grade oil like Motul 7100 10W-40. |
| Oil filter | Use a Hiflofiltro HF138RC, which is a drop-in high-quality replacement. |
| Air filter | Use a K&N air filter as a drop-in replacement, part number SU-9915. |
| Spark plugs | The standard spark plug is NGK CR9EIA9, an iridium plug. You need four. |
| Brake fluid | Suzuki (like most motorcycles) requires DOT 4 brake fluid, e.g. Castrol DOT 4. |
| Brake pads | Most people upgrade their brake pads to EBC ones for better performance (and they're very affordable). Use EBC part codes FA447HH for the front (two pairs) and FA174HH for the rear (one pair). |
| Coolant | Suzuki recommends using "Suzuki super long life coolant", or another ethylene glycol-based antifreeze compatible with an aluminium radiator. Use Motorex Coolant M3.0 or another alternative. |
| Chain maintenance | Use either Motul chain paste or a complete Motul chain care kit for frequent chain servicing. |
| Grease | Always handy to have some lithium soap-based grease for external pivot points, like the kickstand. |
Suzuki GSX-S1000GT maintenance parts
Suzuki GSX-S1000GT Maintenance Schedule
Below is the maintenance schedule for the Suzuki GSX-S1000GT.
Notes:
Follow the earlier of the distance or time intervals.
Coolant — If using super long-life kind, replace every four years or 48000 km; otherwise, replace every two years or 24000 km.
mi x 1000
0.6
3.75
7.5
11.25
15
km x 1000
1
6
12
18
24
Months
2
12
24
36
48
Every
Engine oil — Replace (High-grade synthetic, Motul 7100 10W-40)
✓
✓
✓
✓
✓
Engine oil filter — Replace (HF138RC)
✓
✓
Spark plugs — (I)nspect / (R)eplace (CR9EIA9)
I
R
I
R
Valve clearance — Inspect
✓
Air filter — (I)nspect / (R)eplace (K&N SU-9915)
I
I
R
I
Brakes — Check function
Brake fluid — (I)nspect / Replace (Castrol DOT 4)
Level in front and rear reservoirs should be above minimum
I
I
I
I
Replace every 2 years
Brake hoses — (I)nspect routing / Replace
I
I
I
I
Replace every 4 years
Radiator hose — Inspect condition, and for leaks
✓
✓
✓
✓
Engine coolant — Replace ("Super Long Life", e.g. Motorex M3.0 Coolant)
4 years or 48K km (29K miles)
Throttle valve synchronization — Inspect / Adjust
✓
✓
✓
Throttle bore — Clean
✓
✓
Clutch cable play — Adjust
Target play: 10-15 mm / 0.4-0.6 in measured at end of clutch lever
✓
✓
✓
✓
Fuel hoses — Inspect for wear / cracks
✓
✓
✓
✓
Steering — Inspect for smooth operation
✓
✓
✓
Front forks — Inspect for smooth operation, leaks
✓
✓
Rear suspension — Inspect for smooth operation, leaks
✓
✓
Exhaust pipe bolts and muffler bolts — Tighten
✓
✓
✓
PAIR (air supply) system — Inspect
✓
✓
Evaporative emission control system (if fitted) — Check
✓
✓
Exhaust control valve — Inspect
✓
✓
✓
Tires — Inspect condition and tread
✓
✓
✓
✓
General lubrication — Perform
✓
✓
✓
✓
✓
1000 km / 600 mi
Chassis bolts and nuts — Tighten
✓
✓
✓
✓
✓
Suzuki GSX-S1000GT maintenance schedule
Maintaining the Chain on your Suzuki GSX-S1000GT
Maintain your GSX-S GT's chain regularly according to the following schedule. Either use a good-quality (and affordable) chain lube like Motul Chain Paste, which is portable enough to take on your journeys, or use a full on Motul Chain Care Kit to clean and restore a chain.
Suzuki recommends that you maintain your chain regularly according to the following schedule.
Chain maintenance item
Every
Check chain
* Correct tension / slack (20-30mm / 0.8-1.2 in at loosest point)
* Adequate lubrication
* No excessive wear / damage
Ride (pre-ride check)
Clean and lubricate chain
1000 km / 600 miles
Suzuki GSX-S1000GT chain maintenance
Damage includes loose pins, damaged rollers, dry or rusted links, kinked or binding links, excessive wear, and improper adjustment.
Wheel size and tire pressure for the Suzuki GSX-S1000GT
The manual for the GSX-S1000GT specifies the following tire sizes and pressures.
The GT ships with Dunlop Roadsport 2 tire, same as the naked GSX-S.
| Wheel | Size | Tyre pressure (cold) |
| --- | --- | --- |
| Front | 120/70 ZR17 58W | 36 psi / 250 kPa / 2.5 bar |
| Rear | 190/50ZR17 73W | 42 psi / 290 kPa / 2.9 bar |
Tire size and tire pressures for the Suzuki GSX-1000GT
About the Suzuki GSX-S1000GT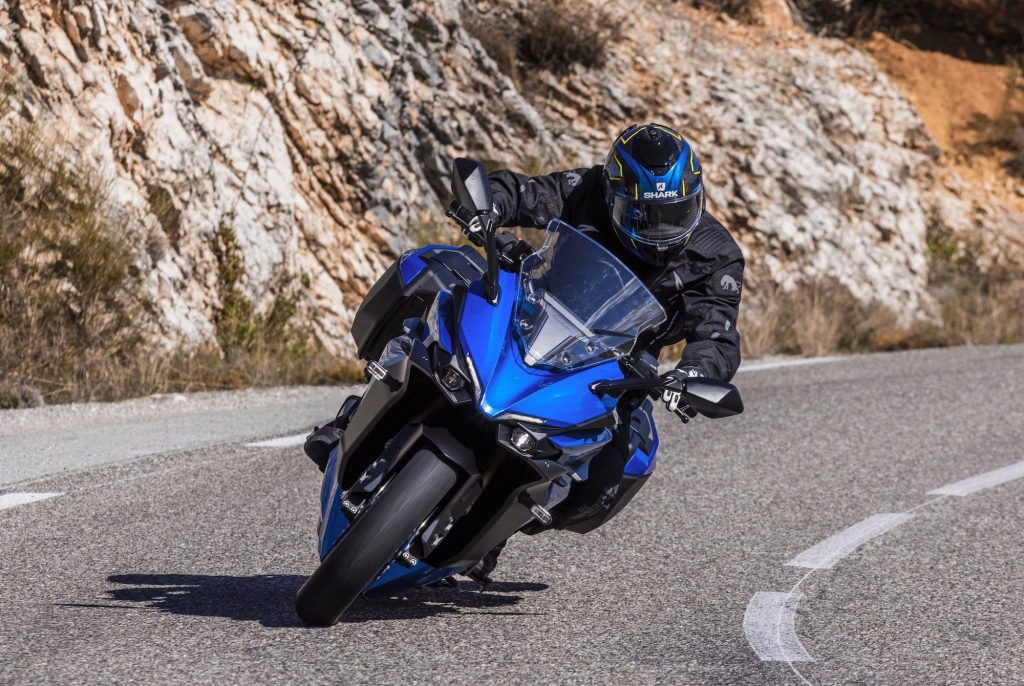 The Suzuki GSX-S1000GT is one of the few sport tourers on the market in a world of adventure sport tourers, which are similar but are often lower power and have a more upright riding position — more "SUV-like".
But the GSX-S1000GT is more like a sport bike, just one that's comfortable to be on all day.
The biggest hint that the GT is a sport bike and not just a tourer is the engine. Its heritage is legendary, coming from the 2005-2008 Suzuki GSX-R1000. It's known as a "long-stroke" engine, as compared to more recent sport bikes it was a little lower-revving, and produced a more even amount of torque through the rev range compared to more recent superbikes, which trade low-end torque for high-rpm power.
The long-stroke engine is much more suited to everyday riding. No wonder it's found in other 1000 cc bikes from Suzuki like inevitable future classic, the Suzuki Katana (just wait and see!).
The Suzuki GSX-S1000GT retains a lot of the characteristics of its predecessor, but does it better.
Firstly, the GT's engine makes ample power. It makes 110 kW (150 hp) at 11000 rpm, with a broad spread of torque that addresses the mid-range holes in the torque curve of the previous F model.
The GSX-S1000F was already a capable sport tourer. But it never looked that modern, lacked niceties like cruise control, and its engine needed smoothing out. That's what the GT has taken care of.
The front-end looks are somewhat divisive — some call it "Yamaha-like" and either think that's off-brand or just ugly. But by and large it has been a well-received improvement over the previous generation.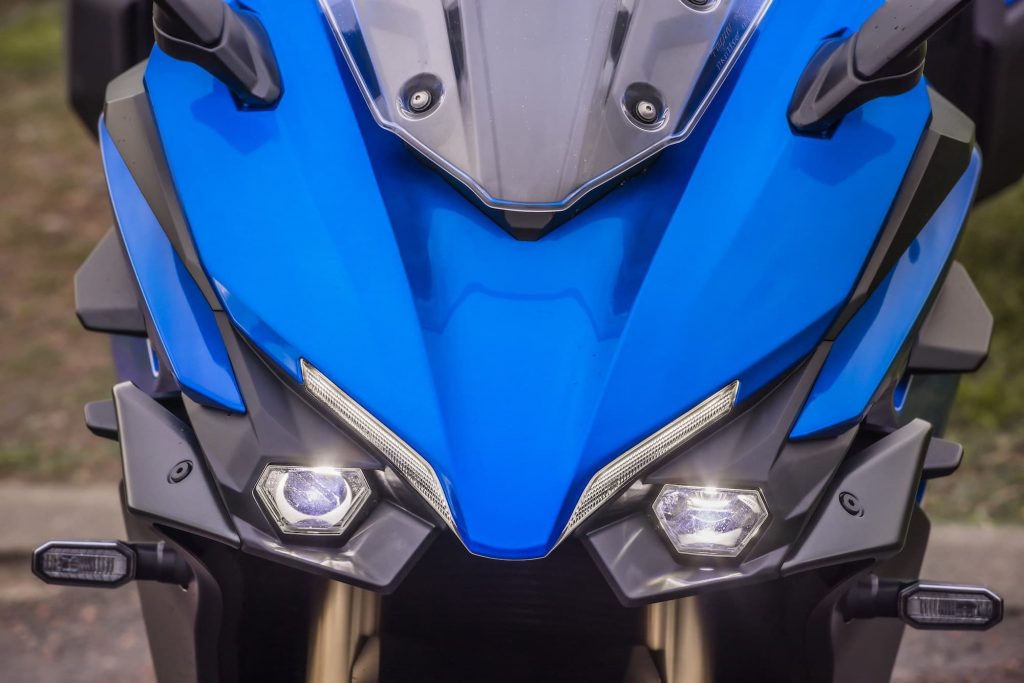 The headlights are of the style that only one is illuminated in low-beam, and both are illuminated in high-beam. Again, some don't like this, but it's never a problem except for those rare times when someone decides to tell you a light is out… which is all the time.
But the compact front headlights (which are LED) give very good illumination at night time.
The GSX-S1000GT has a lot of other nice features that distinguish it from its predecessor.
The instrument cluster has received a huge upgrade with a big TFT display. It's bright, easy to read, clear, and uncomplicated.
Unlike other motorcycles in the same class, there aren't a million settings to adjust. You can't dive into menus and fine-tune ABS response or suspension (as the GT doesn't have active suspension, or even semi-active suspension). You can choose ride modes and traction control settings, though, so there's a little to play with (including just turning TC off).
No, the suspension is not active. This means that you'll have to adjust the suspension yourself. Fortunately, the 43mm KYB inverted fork up front is fully adjustable, and the shock at the rear has adjustability for rebound damping and preload as well.
The Suzuki GSX-S1000GT also gets locking side cases as an option. These weren't an option on the previous model, and now they're one that few would find hard to pass up for the small extra price to pay (US$650, or a similar amount in other markets). You can also add them later (though you might pay more).
The only downside to the GT as a tourer is that because of the dual catalytic converters (necessary for passing emissions tests), there's no way of adding a centre stand. That will make roadside chain lubrication a bit of a pain on long trips. So invest in a Scottoiler if you foresee yourself doing distance on the GT.
Reference Manual for the Suzuki GSX-S1000GT
The above maintenance schedule comes directly from the user's manual for the Suzuki GSX-S1000GT. It's similar to the schedule for previous years, but with differences due to ride by wire.
See below screenshots for reference.
You can download manuals for Suzuki motorcycles from here with limited availability.