Honda CRF450L (2018+) Maintenance Schedule and Service Intervals
This is the maintenance schedule and associated service intervals for the Honda CRF450L, known as the CRF450RL from 2020 onward.
Honda took the dual-sport world by storm in 2018 with the road-legal CRF450L. The Honda CRF450L is based on the off-road CRF450R, but gives you the option of getting to the best riding trails by riding on asphalt roads, rather than carting your bike there in a truck.
The CRF450L is a lot more off-road-focused than the mild-mannered and easy-to-service CRF250L. This is reflected in its maintenance schedule which is quite intense. You basically have to service it every 1000 km or 600 miles, including changing the oil. Not for the faint of heart!
Already armed with features like a titanium fuel tank, six-speed transmission and LED lighting, the CRF450L got updated graphics for 2020, as well as being named CRF450RL.
This site has links for things like oil and spark plugs from which we earn a commission (which unfortunately nobody can save, not even us). If you appreciate this work, then please use those links. Thanks!
What you need to service the Honda CRF450L
To service the Honda CRF450L, you need the following general consumables.
| Item | Honda CRF450L Spec |
| --- | --- |
| Fuel filter | Honda's part number for the fuel filter is 06160-MKE-A00. |
| Air cleaner | The air filter in the Honda CRF450L is cleanable! |
| Coolant | The engine is liquid cooled. Use Honda Coolant. |
| Engine oil | Honda recommends SAE 10W-30 oil with "SG or higher, except oils labeled as energy conserving or resource conserving", recommending Pro Honda GN4 oil or equivalent. |
| Oil filter | Hiflofiltro HF116 filter is a great replacement oil filter (better than K&N). |
| Brake fluid | The Honda requires DOT 4 brake fluid (as do most motorcycles). You may as well use Honda DOT 4. |
| Grease | A generic grease is invaluable for all external moving parts, like Valvoline moly-fortified grease. |
| Chain | You need to grease the chain often, especially when it gets dirty. Motul chain paste is quite well-liked. |
| Spark plug | Replace the spark plug with either SILMAR9A-9S or SILMAR10A-9S. The spark plug needs to be gapped to 0.8-0.9mm — use a gapping tool. |
| Brake pads | Front brake pads: EBC FA185R, rear brake pads; FA346R. |
Honda CRF450L parts
Honda CRF450L Maintenance Schedule (on-road use)
Below is the maintenance schedule for the Honda CRF450L.
Notes:
At higher odometer readings, repeat at the frequency interval established here
Honda recommends you get engine interior components, steering head bearings, and wheels serviced by a mechanic for safety reasons.
Follow the earlier of distance or time-based intervals, where relevant.
Note the 20000 mile / 30000 km engine rebuild maintenance schedule in the section below.
Maintenance Procedures legend:
I: inspect and clean, adjust, lubricate, or replace, if necessary
C: clean
A: adjust
L: lubricate
R: replace
mi x 1000
0.1
0.6
1.2
1.8
24
3
3.6
–
km x 1000
0.15
1
2
3
4
5
6
–
Months
1
4
8
12
16
20
24
Every
Fuel line
I
I
Fuel filter
R
R
Throttle operation
I
I
Air filter
C
C
C
C
C
C
3 years, R
More often if riding frequently in rain / dust
Crankcase breather
I
I
I
I
I
I
More often if riding at rain / full throttle
Spark plug (SILMAR9A-9S)
I
I
Valve clearances
I
I
Engine oil (Pro Honda GN4)
R
R
R
R
R
R
Engine oil filter (HF116)
R
R
R
R
R
R
Decompressor system
I
I
Engine idle speed
I
I
I
I
I
I
I
Coolant
I
I
3 years (earlier of distance / time)
Cooling system
I
I
I
I
I
I
I
Secondary air supply system
I
I
Evaporative emission control system
I
More often when riding off road
Drive chain (Motul chain care kit)
I,L
I,L
I,L
I,L
I,L
I,L
I,L
300 mi (500 km)/ 3 mon): I, L
More often when riding in rain / dust
Drive chain slider
I
I
I
I
I
I
I
Brake fluid (Honda DOT 4)
I
I
I
I
I
I
R
2 years: R
(earlier of distance / time)
Brake pads wear
I
I
I
I
I
I
I
Brake system
I
I
I
I
I
I
I
Brake light switch
I
I
I
I
I
I
I
Headlight aim
I
I
Clutch system
I
I
Side stand
I
I
Suspension, front and rear
I
I
Spark arrester
10 mi (1600 km)/ 100 hours: C
Nuts, bolts, fasteners
I
I
I
Wheels / tyres
I
I
I
I
I
I
I
Steering head bearings
I
I
I
Honda CRF450L Maintenance Schedule
Engine rebuild
At 20000 miles or 30000 km, rebuild the engine, addressing the following items. These were in the maintenance schedule but are separated out below for clarity.
| 20000 mi / 30000 km maintenance item | Action |
| --- | --- |
| Intake / exhaust valve | R |
| Piston and piston rings | R |
| Piston pin | R |
| Crankshaft | R |
| Crankshaft bearing | R |
| Transmission | I |
| Cam chain tensioner lifter | R |
Honda CRF450L Maintenance Schedule 20000 mi / 30000 km service
Maintenance Schedule — Off-road Use
All items should be checked before each off-road event. See your dealer unless you are mechanically qualified and have the proper tools.
This maintenance schedule is based upon average riding condition. Machine subjected to severe use require more frequent servicing.
Notes in this maintenance schedule:
Clean after every use in dusty conditions.
Replace every 2 years. Replacement requires mechanical skill.
Replace after the first break-in ride.
Inspect after the first break-in ride.
Replace the engine oil, if the clutch discs and plates are replaced.
Replace every year
Honda recommends servicing these items using an official Honda service manual for the CRF450L.
Every # Races
1
4
8
Every # Hours
3.5
15
30
Every
Fuel line
I
R
Year: R
FUEL PUMP FILTER
R
Year: R
THROTTLE OPERATION
I
AIR FILTER
C
Clean more often after riding in dust
CRANKCASE BREATHER
I
SPARK PLUG (NGK SILMAR9A-9S)
Replace after break-in.
Replace engine oil when replacing spark plug.
I
Valve clearance & Decompressor system
Check after break-in.
I
Engine oil (Pro Honda GN4)
I
R
Oil filter (HF116)
R
Engine idle speed
I
Piston and piston rings
R
Piston pin
R
Radiator Coolant (Pro Honda Coolant)
I
2 years: R
Cooling system
I
Drive chain (Motul chain care kit)
I, L
R
Drive chain slider
I
Drive chain roller
I
Drive sprocket
I
Driven sprocket
I
Brake fluid (Honda DOT 4) (Note 2)
I
Brake pads wear
I
Brake system
I
Clutch system
Replace engine oil/filter when replacing clutch
I
Control cables
I, L
Exhaust pipe / muffler
I
Suspension
I
Swingarm / shock linkage
L
Fork oil
R
Replace after break-in.
Nuts, bolts, and fasteners
I
Wheels and tires
I
Steering head bearings
I
Side stand
I
Honda CRF450L — Maintenance schedule for off-road use
Tyre size and tyre pressure for the Honda CRF450L
Honda's manual for the CRF450L recommends the following tyre sizes, types, and pressures.
| Tyre | Size | Brand(s) | Tyre pressure (cold) |
| --- | --- | --- | --- |
| Front | 80/100-21 M/C 51P | IRC GP-21F | 22 psi (150 kPa , 1.50 kgf/cm2 ) |
| Rear | 120/80-18 M/C 62P | IRC GP-22R | 22 psi (150 kPa , 1.50 kgf/cm2 ) |
Tyres and tyre pressures
About the Honda CRF450L
The biggest mistake you can make with the CRF450L is to think it's a bigger version of the Honda CRF300L (or the earlier 250L). It's not.
Rather than being just a "bigger" dual sport, the CRF450L is more aptly described a road-legal dirt bike, just like the XR650R (where it's road legal, anyway).
So much was the branding confusion that from 2020, Honda renamed the CRF450L the CRF450RL, to remind everyone that this is an R bike with some street-legal componentry, not just another learner-legal dual sport. In fact, it's much closer to the CRF450X!
So what makes this an off road-focused dual sport? Let's start with the engine, a 449 cc liquid-cooled 4-valve single with a single overhead cam. It's a sweet motor, with strong torque all the way from 3000 to 10000 rpm, with torque peaking somewhere around the middle. It's enough torque for anything you might need, from low-speed maneuvering to wheel-in-the-air high jinks.
The CRF450L has an electric starter, but that's about all you'll get in terms of ride technology.
Front suspension is a fully adjustable Showa fork with 305 mm (12 inches) of travel, and the rear shock is a fully-adjustable Showa shock with 300 mm(11.8 inches) of travel.
Front and rear brakes are respectively 260mm disc with a 2-piston caliper, and a 240 mm disc with a single piston caliper. All is plenty to bring the 132 kg / 291 lb bike to a halt.
The Honda CRF450L is a versatile bike. Its happy place is somewhere between paved and unpaved backroads. You can rip your way around winding country roads and you won't at all care when you get to a 4WD-only track. Hill climbs are exhilarating with the torquey engine.
Where it gets a little hairy is at the extremes of either end. On the one hand, the gnarliest of off-road tracks might be better served by a lighter bike with a smaller engine. The CRF450L's engine does tend to stall at lower RPMs. And of course while the engine will let you ride at 110 km/h or 65 mph all day, who'd want to do that on a dirt bike?
As an off-road oriented bike, the maintenance schedule for the Honda CRF450L is quite intense.
Service intervals are every 600 miles (1000 km) at which point you have to change the oil And you have to check the valve clearance every 1800 miles (3000 km), which is extremely frequent — far too much if you actually want to use the bike on-road.
Further, Honda recommends rebuilding the engine every 20000 miles (30000 km). Owners think these numbers are a bit extreme, but then maintenance schedules tend to be conservative.
Reference — Screenshots from the Manual for the Honda CRF450L
The above maintenance schedule comes directly from the user's manual for the Honda CRF450L.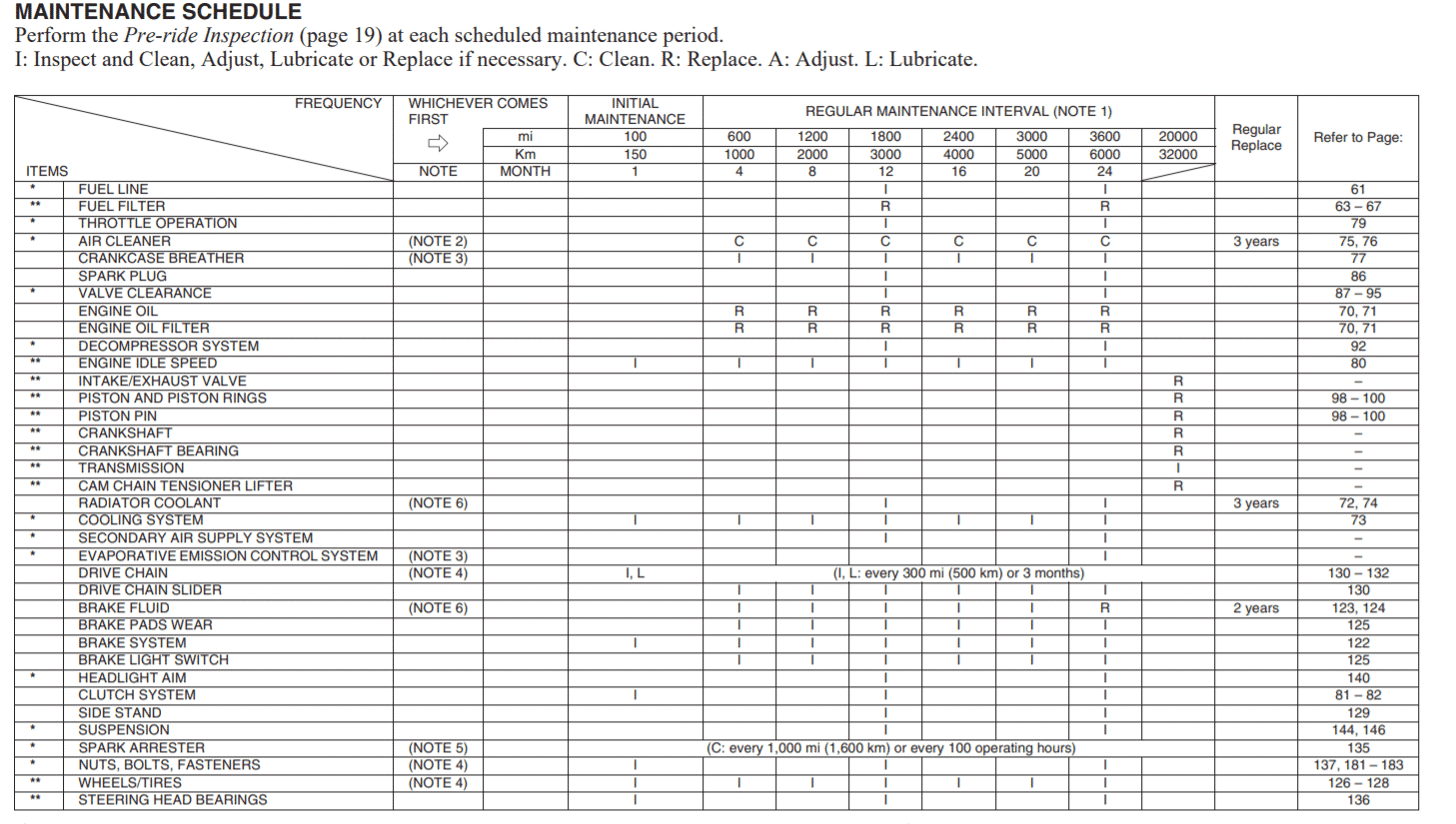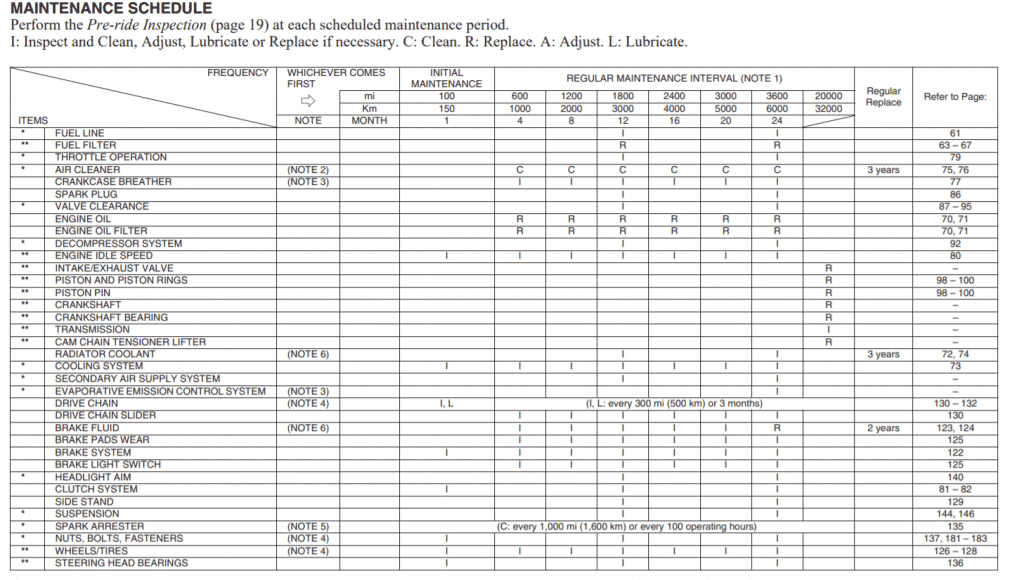 You can download it from Honda here.