Triumph Bonneville T100 (2021+) Maintenance Schedule
This is the maintenance schedule with associated service intervals for the Triumph Bonneville T100 motorcycles made from 2021+ to conform to EURO 5 specification.
The Bonneville T100 (2021+)'s maintenance schedule is an evolution of the pre-2021 Bonneville T100. It shares the same basic block, but a number of parts were upgraded, not the least of which was the engine, which is now 10 horsepower more powerful.
The engine is still a 900cc liquid-cooled parallel-twin engine with a 270-degree crankshaft. After the power upgrade, performance is similar to its stablemate, the 2019+ Street Twin (which was also refreshed in 2021).
The new 2021+ Bonneville T100 also got Brembo front brakes, plus a higher-spec cartridge front fork.
This post was originally published July 28, 2021, but has since been significantly updated.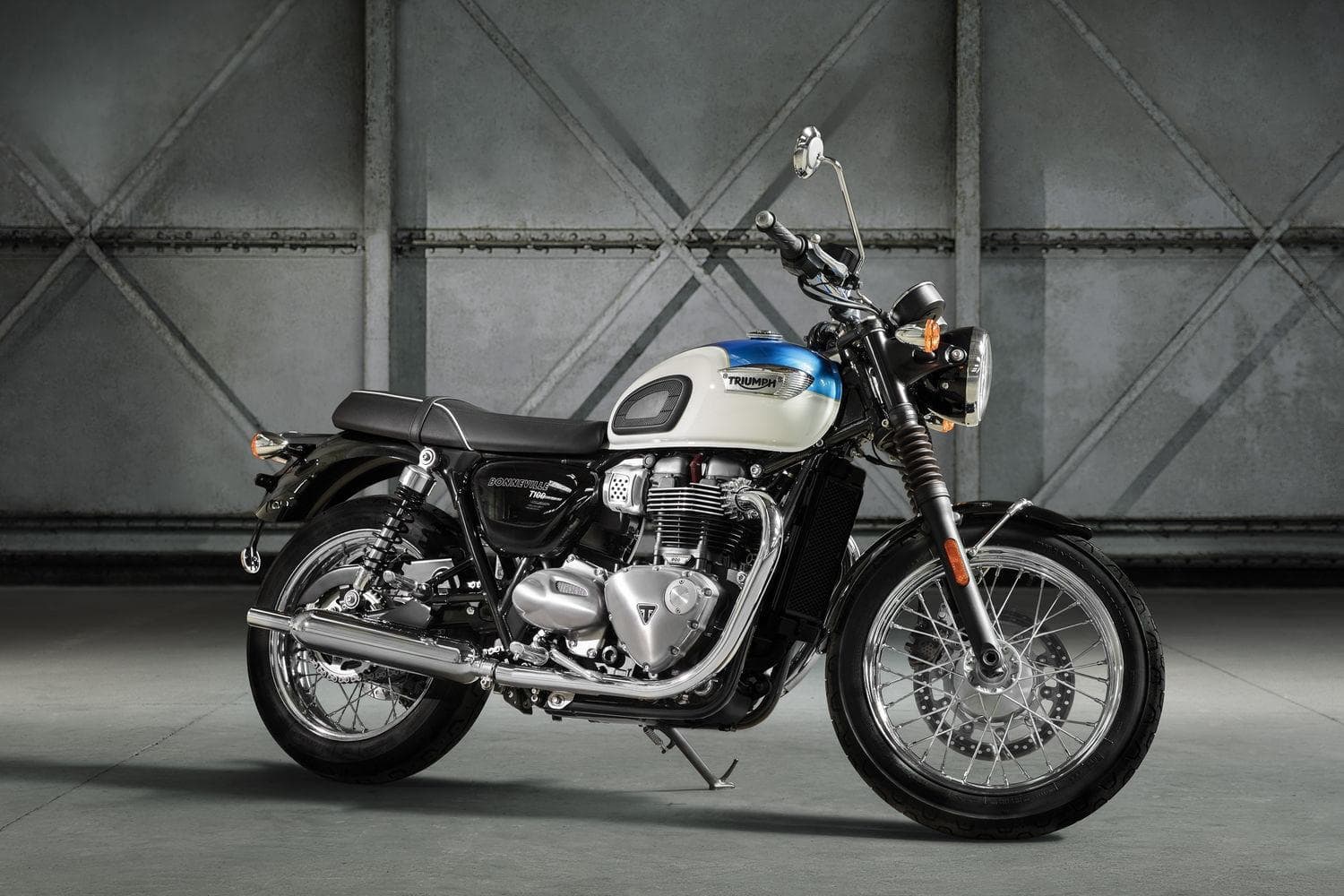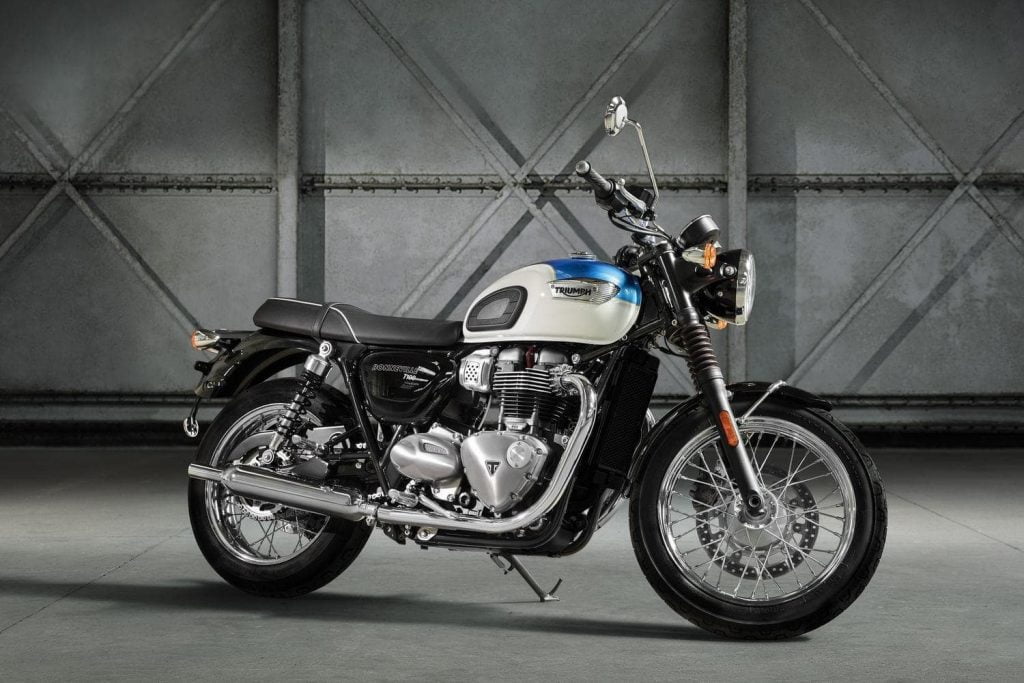 This site has links for things like oil and spark plugs from which we earn a commission (which unfortunately nobody can save, not even us). If you appreciate this work, then please use those links. Thanks!
Triumph Bonneville T100 Service Intervals
The Triumph Bonneville T100 has 10 000 mile / 16 000 km or annual service intervals. At every service, you change the oil and oil filter, change the air filter, and do a list of checks.
The service schedule is similar to the 2016-2020 Bonneville T100, but Triumph simplified it a bit. For example, they no longer suggest you check the spark plugs at every service.
The valve service interval for the T100 is every two services, or 20000 miles / 32000 km. That's also the point at which you change the spark plugs.
Since the T100 has a liquid-cooled engine, make sure you keep the coolant up to date. And replace the brake fluid per the schedule.
You may need to service your T100 more frequently if you ride it aggressively, e.g., if you enjoy winding roads or track days!
What you need to service the Triumph Bonneville T100 2021+
Servicing the Bonneville T100 is a lot like servicing the previous generation T100. After all, they're very similar motorcycles (same engine base) — just different in terms of engine performance.
| Part | Triumph 900cc Bonneville T100 (2021+) |
| --- | --- |
| Oil | Triumph recommends 10W/40 or 10W/50 semi or fully synthetic motorcycle engine oil that meets specification API SH (or higher) and JASO MA, such as Castrol Power 1 Racing 4T 10W-40 (fully synthetic) engine oil, sold as Castrol Power RS Racing 4T 10W-40 (fully synthetic) in some countries. A high-quality alternative is Motul 7100. |
| Oil filter | Replace the oil filter every time you change the oil. Use Triumph part number T1218001, which fits a lot of Triumph motorcycles. You can also use Hiflofiltro HF204RC which has a neat nut on the end. |
| Brake fluid | Triumph motorcycles need DOT 4 brake fluid (the 900cc range has a clutch cable, so you don't need fluid for the clutch). |
| Coolant | Triumph uses Hybrid Organic Acid Technology coolant with a 50% ethylene glycol mix. Zerex Asian Vehicle Coolant is a HOAT coolant that meets this spec. |
| Front brake pads | Standard brake pads code is T2026565 (for the Brembo caliper). The part number for EBC brakes is FA322/4HH. |
| Rear brake pads | Use original part number T2022955. The equivalent part number for EBC brakes is FA214/2HH. |
| Spark plugs | NGK code LMAR8A-9. Note they're sold individually. Make sure they're gapped to 0.9mm (+0.0, -0.1mm) with an appropriate spark plug gap tool. |
| Air filter | The part number for the air filter is T2201057. You can also use K&N part TB-9016. |
Consumables for Triumph 900cc Bonneville T100 (2021+)
Maintenance Schedule for Triumph Bonneville T100 (2021+)
Below is the maintenance schedule for the 2021 Triumph Bonneville T100.
It's quite similar to the earlier generation 2017-2020 Bonneville T100 but the order changed and there are a few less items to maintain.
We've split the maintenance schedule for the T100 into three parts:
Daily / pre-ride checks
The service schedule
The annual service checklist.
Daily / Pre-ride checks
Do the following safety checks daily or before rides. Also perform these at the time of your scheduled service.
Triumph Bonneville T100 Daily / Pre-ride checks
Engine – check for leaks
Cooling system – check for leaks
Coolant level – check/adjust
Clutch – check operation and free play.
Clutch free play: 2-3mm
Tire wear/tire damage – check
Tire pressures – check/adjust
See below or tire pressures
Wheels – inspect for damage
Steering – check for free operation
Front and rear suspension – check for damage, leaks, and smooth operation
Brake system – check operation (easy lever operation, no stuck calipers) and for leaks
Brake pads – check wear levels
Brake fluid levels – check
Drive chain slack – check/adjust
See below for guidance
All lights, instruments and electrical systems – check/adjust
Bank angle indicators – check for wear
Side stand/Center stand – check for wear / smooth operation. Lubricate as necessary
Triumph Bonneville T100 daily / pre-ride checks
Annual service items
Below is the list of items to be done at every service, according to the schedule.
Note
[T] Some maintenance items are only able to be done by a Triumph mechanic with all the Triumph official tools.
Triumph Bonneville T100 standard annual service checklist
[T] Autoscan – Carry out a full Autoscan using the Triumph Diagnostic Tool
[T] Instruments, chassis ECM (if equipped) and engine ECM – check for latest calibration
Clutch lever pivot – Lubricate (Lithium soap-based grease)
Cooling system – check coolant hoses for chafing/ cracks/ damage. Replace if necessary.
Fuel system – check for leaks, chafing etc. (Not strictly required annually if limited mileage done, but trivial to perform)
Drive chain rubbing strips – check for wear, cracks or damage
[T] Carry out all outstanding Service Bulletin and warranty work (Triumph mechanics only)
Carry out road test
[T] Complete the service record book and reset the service indicator
Annual service checklist — Bonneville T100 2021-2022
Service schedule
Below is the scheduled maintenance for the Triumph Bonneville T100. Do the daily maintenance items along with the following.
Notes
At the end of the maintenance schedule, continue it in the pattern shown (everything is every 1, 2, or 4 service intervals)
The break-in schedule is omitted as this bike is no longer sold new.
Miles x 1000
10
20
30
40
Km x 1000
16
32
48
64
Every
Perform all daily checks (see above)
✓
✓
✓
✓
Year
Perform all annual service items (see above)
✓
✓
✓
✓
Year
Engine oil – replace (Castrol Power 1 Racing 4T 10W-40)
✓
✓
✓
✓
Year
Engine oil filter – replace (HF204RC)
✓
✓
✓
✓
Year
Air filter – replace (TB-9016)
✓
✓
✓
✓
Spark plugs – replace (NGK LMAR8A-9)
No requirement to check spark plugs between services
✓
✓
Valve clearances – check / adjust
✓
✓
Camshaft timing – check
✓
✓
Fuel filter – replace
✓
✓
Fork oil – replace
✓
Steering head bearings (headstock bearings) – check / adjust, or lubricate as needed (use lithium soap-based grease)
✓
✓
Wheel bearings — Check for wear / smooth operation
✓
✓
Brake fluid – replace (Castrol DOT 4)
2 years
Coolant – replace (Triumph HD4X or an alternative)
3 years
Triumph Bonneville T100 (2021-2022) Maintenance schedule
Chain maintenance on the Bonneville T100
Below are the chain maintenance items for the T100 (and all Triumph chain-driven motorcycles).
Chain maintenance item
Every
Drive chain – wear check
500 miles (800 km)
Drive chain – lubricate (Motul chain paste)
200 miles (300 km)
(Or after riding in rain or washing motorcycle)
Triumph Bonneville T100 chain maintenance
When checking for wear, check for sticking parts of the chain, broken / rounded off teeth, and rust.
Triumph recommends you also regularly check the chain slack on your Street Twin and adjust as necessary.
How to check chain slack on a Triumph Bonneville T100
Every brand of motorcycle measures chain slack differently. For the T100, like other Modern Classics including the T120, slack is the free vertical movement of the center part of the bottom chain segment. (And not, for example, defined as the distane between the chain and the swing arm.)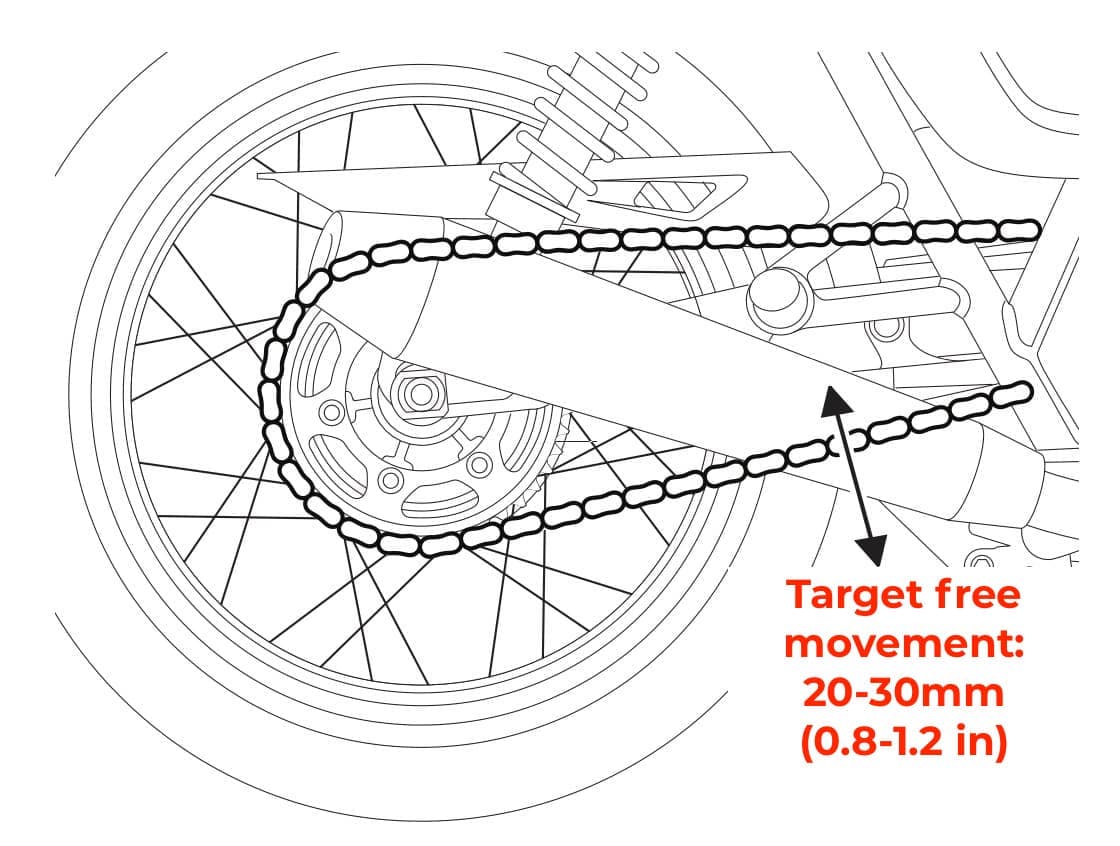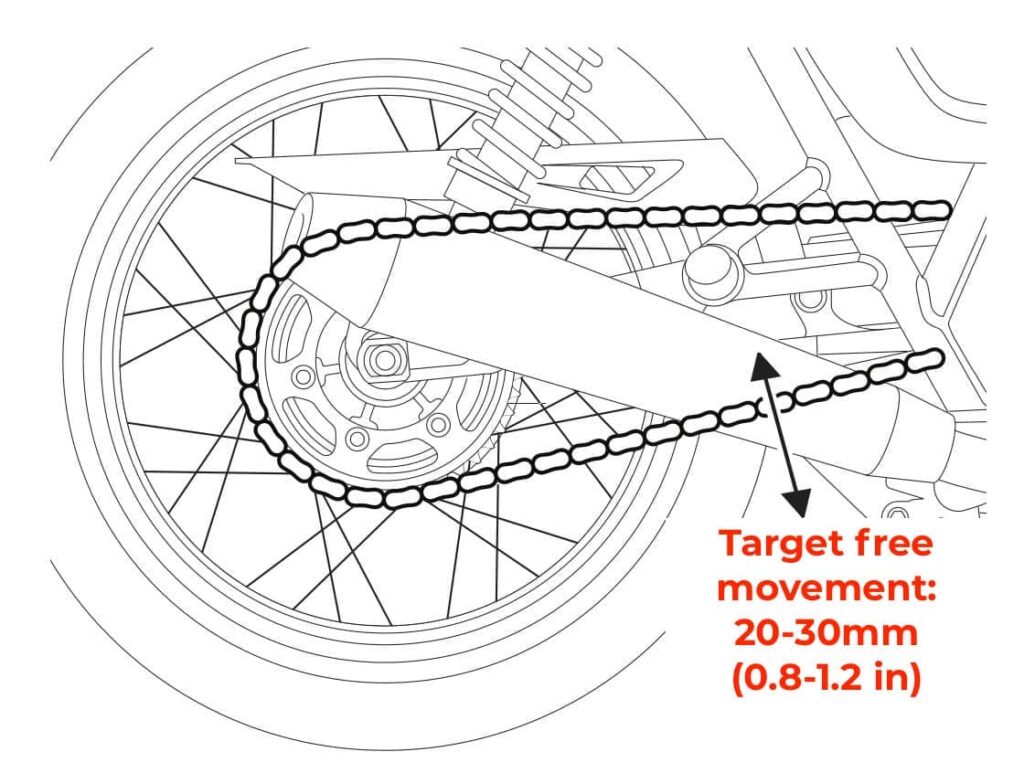 You need a ruler (or tape measure) and nitrile gloves or a rag (to avoid getting grease on your hands)
Put the motorcycle in neutral, on a level service, and elevate the rear wheel with a stand or center stand if you have one fitted.
Rotate the wheel and find the tightest part of the chain, in the middle.
Use a finger to lightly push the chain up and down. Measure the deflection, which is the chain slack.
Target chain slack: 20-30 mm (0.8 – 1.2 in)
How to adjust chain slack on the Triumph Bonneville T100
The procedure is similar to on many motorcycles, but of course specifics vary between brands. It's the same as on other Modern Classics, however.
You need wrenches and torque wrenches to re-tighten the rear wheel. You particularly need a large torque wrench for the rear axle.
Keep the motorcycle's rear wheel elevated.
Loosen the rear axle nut.
Loosen the lock nuts on the left and hand side.
Turn the adjuster bolts, usually counter-clockwise, extending the bolt "outward" to lengthen the chain and make it tighter. (Sometimes you'll want to make it looser — in those cases, turn it clockwise / inward)
Make sure to adjust the bolts the same amount on each side — check the markings.
Tighten both adjuster nuts to 15 lb-ft / 20 Nm, and the rear axle nut to 81 lb-ft / 110 Nm ("very tight").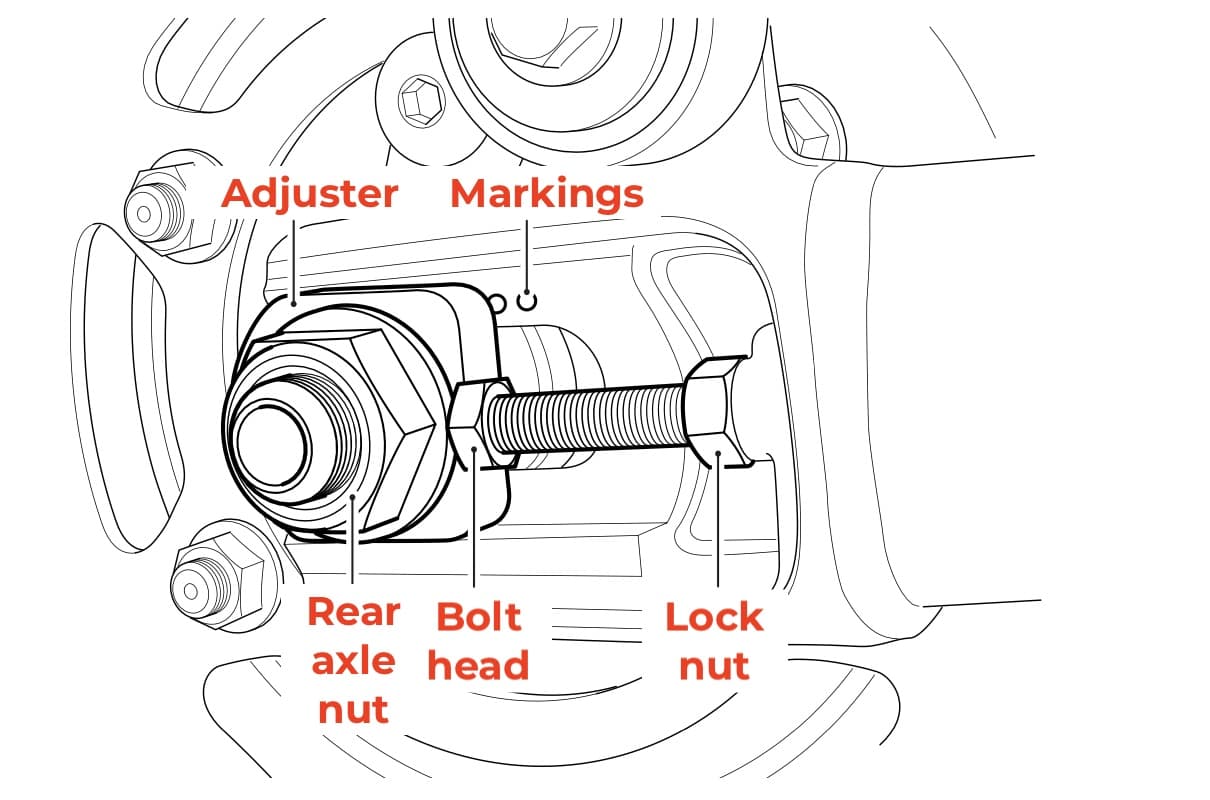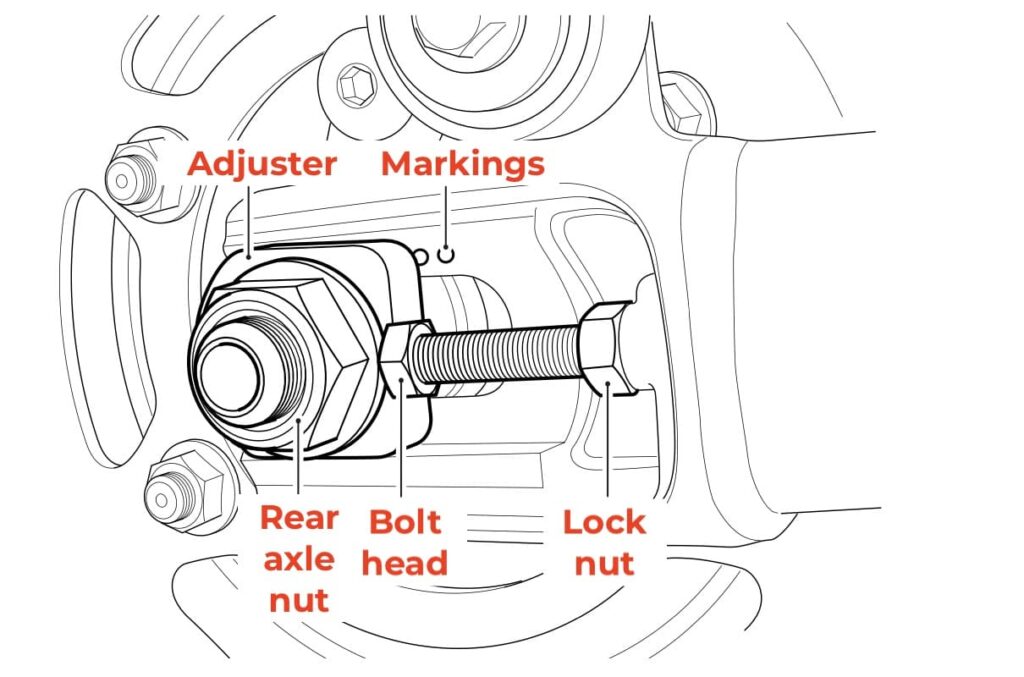 About the Triumph Bonneville T100
The Triumph Bonneville line is a long-standing brand within Triumph's range. It's the "relaxed standard" motorcycle made by Triumph.
Calling it a "naked bike" would be a disservice, because the Bonneville wouldn't dream of having fairings, so comparing it to street-tuned sportbikes — even vintage-styled ones like the Yamaha XSR900 — would not work.
In 2017, Triumph updated their Bonneville T100 line, updating the 865cc air/oil-cooled engine to the new water-cooled "high torque" 900cc engine. In 2021, Triumph updated the Bonneville again, this time making it Euro 5 complaint.
But at the same time, Triumph updated the Bonneville T100's engine, giving it a power bump. Power is now up to 64 hp from the previous 55, matching the power bump that the Triumph Street Twin and Street Scrambler received in 2019.
The engine is a gem. It's a liquid-cooled 900cc parallel twin with a 270-degree firing order. It has lots of torque down low and revs quite well past 6,000 rpm, making it fun to ride at all kinds of speeds (as long as they're well below racing track speeds).
Since 2021, the Bonneville T100 has become much closer in spec to the Street Twin. The engine performs very similarly, and the chassis is lighter. However, the chassis is still a lot heavier (15 kg or 33 lb) than the one in the Street Twin — the price you pay for style (and comfort).
Other aspects of the Bonnie T100 have stayed the same. It still has a single front disc, a comfortable riding position, and twin gauges.
Manual for the Triumph Bonneville T100 (2021+)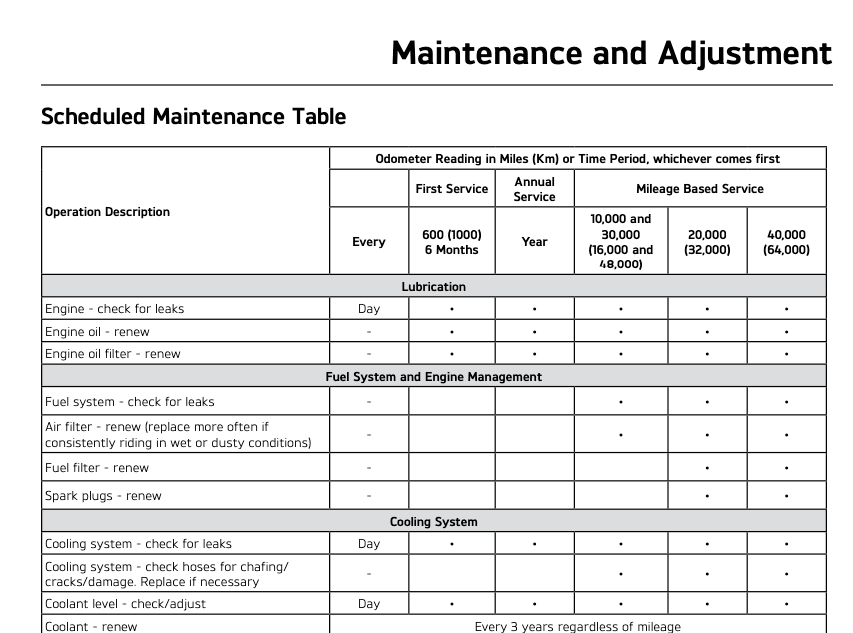 The above maintenance schedule comes directly from the user's manual for the Triumph Bonneville T100 (2021+), which is available on the Triumph website.